K12 Education Market Research, 2031
The global k12 education market was valued at $103.5 billion in 2021, and is projected to reach $525.7 billion by 2031, growing at a CAGR of 17.7% from 2022 to 2031. Virtual online learning in K–12 schools uses a range of electronic communication techniques to conduct the class, including online chat, video conferencing, synchronous conferencing, and specifically built software, with teachers and students geographically separated.
Global schooling challenges have been greatly exacerbated by lockdowns meant to stop the COVID-19 epidemic from spreading. During the COVID-19 epidemic, it was necessary to close schools, colleges, and other educational institutions in order to stop the coronavirus from spreading. Online learning had to be incorporated into schools and institutions' curricula. Students from remote areas of developing and undeveloped countries, however, were unable to buy the technology needed for online instruction. For some of them, having a steady internet connection in these remote regions was a problem. As a result, the COVID-19 epidemic had a big effect on K–12 schooling.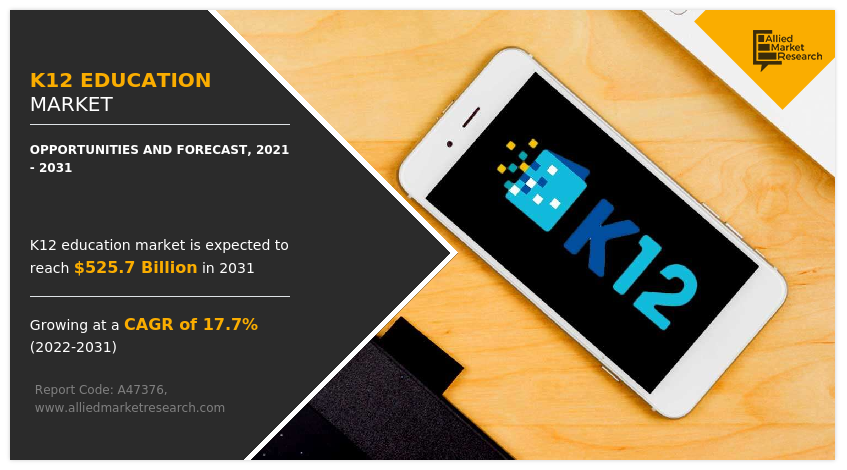 The millennial generation's K–12 kids are digital natives who, generally speaking, are considerably more comfortable with technology than their parents and teachers. Another sector experiencing rapid growth and change is online education for children in grades K–12. K12 education is integrated to enhance time more effectively to meet the needs of all students.            
The use of learning analytics in the educational sector has grown in prominence owing to quick technical advancements. Therefore, educational institutions can provide a customized learning experience with the help of K12 education. K12 is backed by artificial intelligence. Based on student profiles, performance, and engaged behavior, it offers tailored content. Therefore, institutions are making significant investments in virtual learning models, which are projected to drive the expansion of the K12 education market forecast.
One of the main disadvantages of e-learning platforms is their inability to generate social interaction with other learners and instructors. Students with higher peer interaction on online learning platforms tend to have a degree higher learning achievement and satisfaction than that of students with no or lesser peer engagement in their learning process. This scenario is estimated to create an imbalance in the penetration rate of e-learning platforms, thereby restraining the K12 education market growth. However, to counter this, many K12 education industry players such as edX and Coursera started integrating discussion threads with their learning materials, where learners can discuss and even showcase their progress with other learners on the platform.  
E-learning platforms are more time effective and cost-effective for learners. With e-learning platforms, learners possess the convenience of education irrespective of time and location. This factor is anticipated to change the market growth majorly. Moreover, learners can schedule their classes according to their own lifestyles and needs. This factor encourages individuals of various age groups to adapt to e-learning platforms that promise great opportunities for the K12 education market. Many educational institutions save a lot of money by using e-learning platforms to train and educate students with e-learning solutions, as there is no need to employ a physical classroom, resulting in lower monetary expenditure.
The key players for K12 education analysis in this report include IBM Corporation, Adobe, Microsoft Corporation, Samsung, D2L Corporation, Oracle Corporation, Pearson Media Company, Knewton, Cengage Group, and Smart Technologies.
The K12 education market size is segmented on the basis of type, deployment mode, application, spend analysis, and region. By type, the market is classified into public and private. By deployment mode, the market is divided into cloud and on-premise By application, the market is classified into high school, middle school, and pre-primary school and primary school. By spend analysis, the market is divided into hardware, software, and others. By region, the market is analyzed across North America, Europe, Asia-Pacific, and LAMEA.
The k12 education market is segmented into Type, Deployment Mode, Application and Spend Analysis.
K12 Education Market

---
By Type
Private held the highest revenue in 2021 and is anticipated to continue its dominating over the forecast period
By type, the private sub-segment dominated the K12 education market in 2021. Technology has changed education, such as student information systems (SIS) that simplify attendance tracking and grade books, test prep software, smartboards, and paperless classrooms. These innovations, including AR, VR, machine learning, and digital textbooks, will witness higher growth during the forecast period. Several private educational institutions are focusing on safeguarding confidential data from cybersecurity attacks and how to leverage it to improve student outcomes. All these aforementioned factors are likely to boost the growth of the market.
K12 Education Market

---

By Deployment Mode
Cloud is anticipated to grow at a fastest CAGR during the forecast period
By deployment mode, the on-premise sub-segment dominated the K12 education market in 2021. The adoption of on-premises is expected to grow significantly in the coming years as it runs in a combination of both private and public clouds and provides benefits such as security, cost, control, and speed. Furthermore, on-premises, all generated data is collected and securely stored in the cloud, where it can be accessed from added complexity and can eliminate many securities risks. These factors are propelling the growth of the on-premise sub-segment.
K12 Education Market

---

By Application
Middle school is anticipated to grow at a fastest CAGR during the forecast period
By application, the high school sub-segment dominated the global K12 education market share in 2021. Many educational systems throughout the world has standardized that a child receives at least the primary and secondary levels of education. Within primary and high school education, gamification is one of the most prevalent trends among online education providers to encourage learning through immersive experiences. Simulation of concepts, level advancement badges, and incentive-based learning drive user engagement on online education platforms. Online learning players nowadays are continuously competing to offer differentiated products to the target audiences, mostly by offering value added services with regular courses.
K12 Education Market

---
By Spend Analysis
Hardware held the highest revenue in 2021 and is anticipated to continue its dominating over the forecast period
By spend analysis, the hardware sub-segment dominated the global K12 education market share in 2021. E-learning content providers deliver online course libraries and virtual training labs to individuals and enterprises. Course libraries are organized around subjects, commonly leadership and compliance related topics and competencies. Some of the major players in the industry are Udemy, LinkedIn Learning, Coursera, and others.
K12 Education Market

---
By Region
North America held the highest market share in 2021
By region, North America dominated the global market in 2021. North America is dominating region in the K12 education market owing to the increase in demand for distance learning during the COVID-19 pandemic. In addition, the COVID-19 pandemic has forced various organizations to adopt digital solutions in a bid to train frontline workers, which in turn, fuels the growth of the market. The U.S. is expected to be a major contributor to the K12 education market owing to the availability of high-speed Internet and the advent of the 5G network. In addition, the 5G network enables service provider to improve learning through the incorporation of AR & VR technologies that require a high-speed Internet connection for effective operation. Moreover, technological advancement in digital infrastructure in the U.S. and Canada is likely to boost the North America K12 education market.
Impact of COVID-19 on the Global K12 Education Industry
The COVID-19 pandemic has significantly impacted almost every facet of life, including schooling. Many issues arose as educators transitioned from traditional face-to-face learning to digital platforms for remote teaching, necessitating quick responses and adjustments to policy and procedures in order to deliver equitable and suitable remote learning to all students.
The majority of the countries, including the U.S., closed their schools in March 2020, as lockdown protocols were created to stop the virus's spread. During the COVID-19 pandemic, children in schools had to attend coursework online.
In post-pandemic period, governments of various countries all over the world are working to create open-source eLearning programs so that all children, despite their technical restrictions, can obtain an education
Key Benefits For Stakeholders
This report provides a quantitative analysis of the market segments, current trends, estimations, and dynamics of the k12 education market analysis from 2021 to 2031 to identify the prevailing k12 education market opportunities.
The market research is offered along with information related to key drivers, restraints, and opportunities.
Porter's five forces analysis highlights the potency of buyers and suppliers to enable stakeholders make profit-oriented business decisions and strengthen their supplier-buyer network.
In-depth analysis of the k12 education market segmentation assists to determine the prevailing market opportunities.
Major countries in each region are mapped according to their revenue contribution to the global market.
Market player positioning facilitates benchmarking and provides a clear understanding of the present position of the market players.
The report includes the analysis of the regional as well as global k12 education market trends, key players, market segments, application areas, and market growth strategies.
 K12 Education Market Report Highlights
Aspects
Details
Market Size By 2031
USD 525.7 billion
Growth Rate
CAGR of 17.7%
Forecast period
2021 - 2031
Report Pages
300
Type
Deployment Mode
Application

High School
Middle School
Pre-Primary School and Primary School

Spend Analysis
By Region

North America (U.S., Canada, Mexico)
Europe (Germany, France, UK, Italy, Spain, Rest of Europe)
Asia-Pacific (China, Japan, India, South Korea, Australia, Rest of Asia-Pacific)
LAMEA (Brazil, Saudi Arabia, UAE, South Africa, Rest of LAMEA)

Key Market Players
International Business Machines Corporation, Adobe Systems Inc., Microsoft Corporation, Samsung Electronics Co Ltd, D2L corporation, Oracle Corporation, pearson media company, Cengage Group, smart technologies, BLACKBOARD MEDIA PRIVATE LIMITED