The kosher food market size was valued at $19.1 billion in 2018, and is projected to reach $25.6 billion by 2026, growing at a CAGR of 3.7% from 2019 to 2026.
Kosher food products are those products that abide by the rules and regulations of Jewish law kashrut. A versatile range of kosher food products is available in the kosher food market including pasta, bread, cereals, juices, and others. In addition, kosher certified food products are very popular especially among the Jewish and non-Jewish communities across the globe. kosher animals (exception of fish) may be eaten only when they have been ritually slaughtered in accordance with the Jewish food laws. The Kashrut law exerts strict regulations for separation between meat and dairy products. Products that contain neither meat nor milk are described as Parve. Neutral foods/Parve can be eaten together with both dairy dishes and meaty dishes.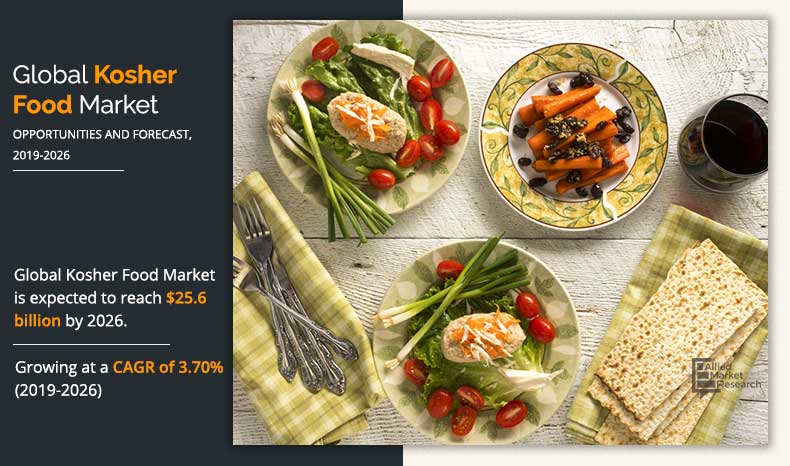 Surge in disposable income, improvement in living standard, rise in health expenditure, and large scale promotion of kosher certified food owing to its benefits, such as chemical free and natural, supplements the of the kosher food market growth. Further, there is an increase in the demand for nutritional and quality food due to rise in urbanization, and increase in working population. Products such as, frozen meals, packaged snacks, dairy products, soft drinks, energy drinks, and baked food are an integral part of daily life, and manufacturers are taking efforts to make these items kosher certified. The demand for food ingredients that are certified as kosher is expected to rise as these food contain various new flavors and natural preservatives to increase the shelf life of the products, maintain the quality, and reduce spoilage by various microorganisms. Consumers are demanding addition of kosher food in these daily life products. It is proving to be a driving factor for the kosher food market forecast.
Rise in adoption of kosher food by health conscious consumers, vegetarian consumers, non-Jewish population, and patients with celiac disorders, and lactose intolerance is further expected to drive the growth of the kosher food market. Number of kosher food manufacturers that are focusing on gluten-free certification is experiencing continuous growth owing to high demand from consumer  with gluten and lactose intolerance.
In a global marketplace, regional attitudes can have major implications, making it a challenge to establish a universal set of standards for kosher food. All natural/cleaner ingredients are more expensive, and they potentially shorten the shelf life of the product.
The countries in Asia-Pacific and LAMEA have witnessed substantial economic growth over the past few years. This has increased the number of working people. This has affected the number of people who invest time in cooking food, thus boosting the demand for ready to eat kosher foods.
Kosher Food Market

---
By Product Type
Others segment would exhibit the highest CAGR of 5.30% during 2019-2026.
The global kosher food market is segmented by product type,  distribution channel, and region. Depending on product type, the market is categorized into culinary products, snacks and savory, baker and confectionery products, meat, and others. Among these, the meat segment accounted for a higher value of kosher food market share in 2018 owing to surge in demand for kosher certified frozen meat products from various consumers in all the regions.
Kosher Food Market

---
By Distribution Channel
Online Stores segment would exhibit the highest CAGR of 6.10% during 2019-2026.
North America and Europe dominate the kosher food market. North America has witnessed higher rate of traction for different types of kosher ingredients owing to their increased demand from the food & beverage industry. Some of the key macroeconomic factors such as rise in internet penetration rate, and surge in per-capita income also play an important role in contributing toward the overall growth of the kosher food market.
However, Asia-Pacific is expected to exhibit significant growth in the future, owing to rise in demand for different types of kosher food and food items made by kashrut law. In addition, the Asia-Pacific region has witnessed considerable surge in the number of millennials, who are the prime consumers of kosher food. Therefore, rise in millennial population is anticipated to offer remunerative opportunity growth for the kosher food market.
Kosher Food Market

---
By Region
Asia-Pacific would exhibit the highest CAGR of 5.70% during 2019-2026.
Some of the key companies profiled in the kosher food industry report include Empire Kosher Poultry, Inc., Unilever, General Mills (Yoplait), Cargill, Nestle, Conagra Brands, Dean Foods, PepsiCo Beverage & Foods (Tropicana), The Hain Celestial Group, and Bob's Red Mill.
Key Benefits for Stakeholders:
The report provides an extensive analysis of the current and emerging market kosher food market trends and opportunities in the market.
The report provides detailed qualitative and quantitative analysis of current trends and future estimations that help evaluate the prevailing market opportunities.
A comprehensive analysis of the factors that drive and restrict the growth of the market is provided.
An extensive kosher food market analysis of the market is conducted by following key product positioning and monitoring the top competitors within the market framework.
The report provides extensive qualitative insights on the potential segments or regions exhibiting favorable growth.
 Kosher Food Market Report Highlights
Aspects
Details
By Product Type

Culinary Products
Snacks and Savory
Baker and Confectionery Products
Meat
Others

By Distribution Channel

Supermarkets and Hypermarket
Grocery Stores
Online Stores

By Region

North America (U.S, Canada, Mexico)
Europe (. FRANCE, UK, Netherlands, Germany, Russia, Rest of Europe)
Asia-Pacific (China, Japan, India, South Korea, Australia, Rest of Asia-Pacific)
LAMEA (Brazil, South Africa, Rest of LAMEA)

Key Market Players
Bob's Red Mill, CARGILL, INC., Conagra Brands, Inc., Dean Foods, Empire Kosher, Nestle S A, The Hain Celestial Group, Inc. (Hain Celestial), Tropicana (PepsiCo), UNILEVER GROUP, GENERAL MILLS, INC. (YOPLAIT)