The Kvass market size was valued at $2,389.4 million in 2020 and is estimated to reach $6,231.2 million by 2030, registering a CAGR of 10.2% from 2021 to 2030.          
Kvass is a traditional fermented Slavic and Baltic beverage commonly made from rye bread, which is known in many Central and Eastern European and Asian countries as "black bread". It is available with various flavors such as apple, lemon, cherry, mint, beets and strawberry. It is one of the most popular beverage in Europe region especially in Russia and Poland. Owing to its medicinal benefits, its popularity sprayed in most of the countries of North America including US and Canada. Restore balance to the gut microbiome, prevent infections, increase nutrient absorption, break down toxins, reduce inflammation, and improve mood are some of the health benefits of the kvass.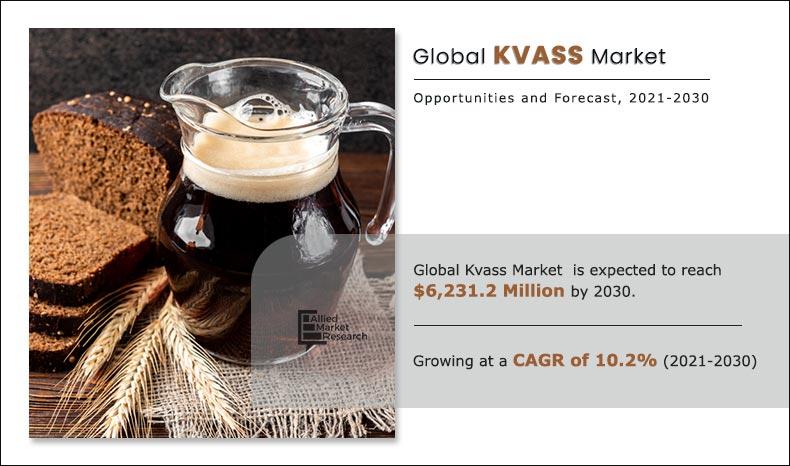 Increasing demand for flavored alcoholic and non-alcoholic beverages and rise in consumption of the functional beverages is likely to drive the growth of the product market during the forecast period. Growing problems associated with obesity, people are increasingly shifting their food and beverage presences and inclining to have functional beverages which content low fat and carbohydrates is likely to favor the kvass market growth during the forecast period.     
On-premise distribution of the kvass has considerably preferred as it can serve with food. On-premise distribution channels, such as restaurants, cafes, disco, and bars serve kvass, flavored alcoholic beverages and low ABV content beverages. The on-premise distribution channels have witness higher demand with rise in disposable income and change in consumer preferences. Increment in the number of restaurants and bars have resulted in greater consumption of these beverages, as people increasingly prefer on-premise drinking rather than off premise drinking.
The food & beverage industry is anticipated to experience differential impact of this rapid spreading COVID-19 on each stage of its value chain through mediums of affected workforce at industrial level, raw material supply, trade & logistics, demand-supply volatility, and uncertain consumer demand at foodservice outlets. Thus, Covid-19 has negatively impacted the growth of the product market.     
According to the kvass market analysis, the kvass market segmented into flavor type, packaging type, price point, distribution channel, and region. On the basis of flavor type, the market is categorized into apple, lemon, cherry, mint, beets, strawberry and others. By packaging type, it is bifurcated into bottle, can and others. Depending on price point, it is segregated into premium and mass. As per distribution channel, it is fragmented into supermarket, convenience store, e-commerce, food service and others. Region wise, it is analyzed across North America (the U.S., Canada, and Mexico), Europe (Russia, Poland, Belarus, Latvia, Lithuania, Estonia, EU5 and Rest of Europe), Asia-Pacific (China, South-East Asia, Australia, India, Japan and Rest of Asia-Pacific), and LAMEA (Latin America, Middle East and Africa).
On the basis of flavor type, beets segment accounted for 18.1% share in global product market and is expected to sustain its share during forecast period. People are highly inclined toward the use of food and beverage products manufactured using natural ingredients. This is majorly attributable for rising awareness about the harmful effect of chemical or synthetic ingredients in various products. As a result, there is remarkable growth in demand for beet flavor. Benefits of beets attracting consumer as it is rich in calcium, dietary fiber, potassium, antioxidants, manganese, iron, and other nutrients. Thus, beets flavored kvass is expected to garner the growth of the market during forecast period. 
Kvass Market

---
By Flavor Type
Beets segment helds the major share of 17.3% in 2020
According to the kvass market trends, on the basis of packaging type, the bottle segment is expected to grow to $2,846.2 million by 2030, registering a CAGR of 9.7%. This is attributed to benefits offered by plastic and glass bottles such as high design flexibility, lightweight, and recyclability. For instance, PET bottles are up to 86% lighter as compared to its glass counterpart, which is expected to significantly improve supply chain performance; thereby, reducing packaging related production cost. Moreover, PET bottles provide high impermeability to gases; and thus, provides high resistance to oxygen uptake and carbon dioxide loss thereby providing a shelf life up to six months. Thus, bottle packaging is expected to boost the growth of product market share during the forecast period.
Kvass Market

---
By Packging Type
Bottle segment helds the major share of 48.1% in 2020
Depending on price point, the mass segment accounted for 67.8% share in global product market and is expected to grow at CAGR of 8.9% during forecast period. The mass pricing is a form of pricing strategy deployed by market players to promote sales for the target cohort who cannot or do not want to invest in highly priced food and beverages. The target consumers of this type of pricing group are mostly lower middle and upper middle class consumers. Increase in consumption of mass pricing beverages by lower-middle and upper-middle class consumers significantly contributes toward the growth of the kvass market
Kvass Market

---
By Price Point
Mass segment helds the major share of 32.2% in 2020
By distribution channel, the convenience store segment was the highest contributor to the market, with $645.97 million in 2020, and is estimated to reach $1,563.34 million by 2030, at a CAGR of 9.4% during the forecast period. A convenience store is a retail business designed to provide products such as grocery items, food and beverages where people can quickly purchase. Therefore, these stores are located at convenient locations. Kvass is low alcohol content beverages which is why it can sold through convenience stores. Growing urbanization and disposable income of the people is likely to favor the growth of the convenience stores expansions, which in turn supports growth of the product market through convenience stores segment. 
Kvass Market

---
By Distribution Channel
Convenience Store segment helds the major share of 27.0% in 2020
According to the Kvass market opportunities. Region wise, Europe garnered the major share in Kvass market in 2020, and is expected to maintain its dominance throughout the Kvass market forecast period. High disposable income and increased popularity for the flavored and low ABV content beverages has been driving the growth of the kvass market during the forecast period. Sprit and wine are the majorly consumed in the European countries including the UK and Sweden, which can be biggest challenge for the kvass producers to market the kvass beverages in Europe region. Kvass is increasingly substituting beer and wine attributable to its flavors, low alcohol content, and natural ingredients. Furthermore, High popularity of the hard seltzer in Russia and Poland is likely to attract international alcohol and non-alcohol beverage producing companies to invest in the Europe kvass market is expected to support the growth region market.
Europe region helds the major share of 43.3% in 2020
The players operating in the global kvass market have adopted various developmental strategies to expand their market share, increase profitability, and remain competitive in the market. The key players profiled in this report include All Stars Beverages, Bryanskpivo, Carlsberg Group, Coca-Cola Company, Gubernija, Kvass Beverages LLC, Maltra Foods, Ochakovo, PepsiCo, Inc. and Piebalgas alus.
Key Benefits For Stakeholders
The report provides a quantitative analysis of the current trends, estimations, and dynamics of the market size from 2020-2030 to identify the prevailing opportunities.
Porter's five forces analysis highlights the potency of buyers and suppliers to enable stakeholders to make profit-oriented business decisions and strengthen their supplier–buyer network.
In-depth analysis and the market size and segmentation assist to determine the prevailing market opportunities.
The major countries in each region are mapped according to their revenue contribution to the Kvass market. 
The market player positioning segment facilitates benchmarking and provides a clear understanding of the present position of the market players in the kvass industry.
Key Market Segments  
By Flavor Type
Apple
Lemon
Cherry
Mint
Beets
Strawberry
Others 
By Packaging Type
By Price Point
By Distribution Channel
Supermarket
Convenience Store
E-Commerce
Food service
Others
By Region
North America
Europe

Russia
Poland
Belarus
Latvia
Lithuania
Estonia
EU5
Rest of Europe

Asia-Pacific

China
South-East Asia
Australia
India
Japan
Rest of Asia-Pacific

LAMEA

Latin America
Middle East
Africa  
 Kvass Market Report Highlights
Aspects
Details
By Flavor Type

Apple
Lemon
Cherry
Mint
Beets
Strawberry
Others

By Packaging Type
By Price Point
By Distribution Channel

Supermarket
Convenience Store
E-Commerce
Food service
Others

By Region

North America (U.S., Canada, Mexico)
Europe (France, Germany, Italy, Spain, UK, Russia, Rest of Europe)
Asia-Pacific (China, Japan, India, South Korea, Australia, Thailand, Malaysia, Indonesia, Rest of Asia-Pacific)
LAMEA (Brazil, South Africa, Saudi Arabia, UAE, Argentina, Rest of LAMEA)

Key Market Players
COCA-COLA COMPANY, MALTRA FOODS, CARLSBERG GROUP, KVASS BEVERAGES LLC, PEPSICO, INC., GUBERNIJA, BRYANSKPIVO, .PIEBALGAS ALUS, OCHAKOVO, ALL STARS BEVERAGES