Kyphoplasty Market Research, 2031
The global kyphoplasty market was valued at $632.45 million in 2021, and is projected to reach $1.2 billion by 2031, growing at a CAGR of 6.2% from 2022 to 2031. A surgical treatment called kyphoplasty is used to widen and stabilize spinal compression fractures. It involves injecting a specific cement into the spine and creating space for the procedure with a balloon-like device. Kyphoplasty is a kind of vertebroplasty that restores the height of a damaged vertebra while also reducing pain. It is one of the treatments for vertebral body compression fractures, which are tiny breaks in the thick bone mass that makes up the front segment of the spinal cord.
The COVID-19 outbreak is anticipated to have a negative impact on the kyphoplasty market. A huge number of clinics and hospitals across the globe were restructured to increase hospital capacity for patients diagnosed with COVID-19. Non-essential procedures took a potential backlog, owing to rapidly rising COVID-19 cases. The lockdown led to disruption of manufacturing and transportation of healthcare essentials. Furthermore, other factors responsible for the impact on the market include limited availability of medical care, shortage of healthcare staff, and rise in burden of COVID-19 related hospitalization. Patients with uncomplicated VCF who could endure the discomfort probably favored community care. Moreover, a higher desire for home care over the hospital rehab was observed.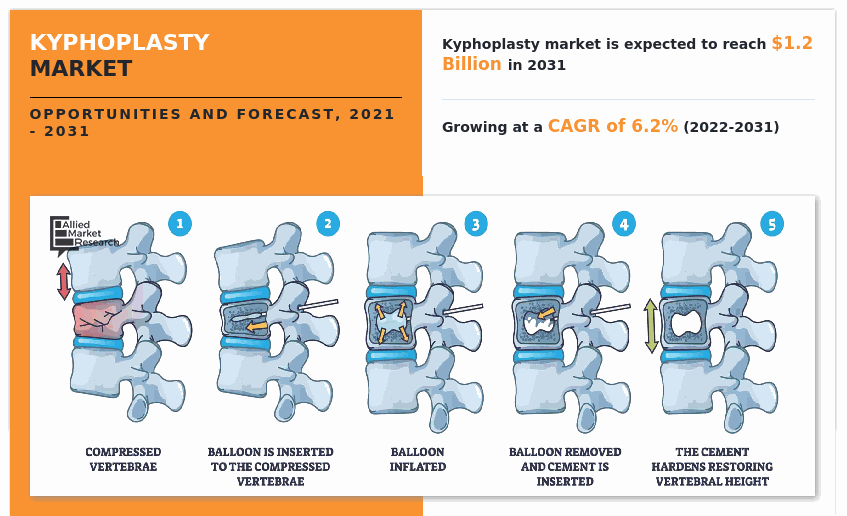 Patients who are not improving with their current therapy and are in danger of significant deterioration might consider kyphoplasty. It's a pretty particular treatment that's only used in patients who've suffered a vertebral fracture, and not for other causes such as disc rupture or arthritis. Untreated vertebral compression fractures can have substantial clinical effects and have a considerable influence on the quality of life of patients as well as caretakers. Because non-surgical treatment of these fractures is ineffective, kyphoplasty operations for fracture stabilization and pain control are becoming more common in medical practice.
The drivers contributing to the growth of the kyphoplasty market include increase in elderly population, increase in incidence of osteoporosis and arthritis, increase in frequency of spine problems, and increase in patient knowledge regarding innovations in spine procedures. Furthermore, the market's push toward minimally invasive spine operations is a crucial trend that is expected to drive the development throughout the forecast period. Risks associated with post-surgical complications are projected to stifle market expansion, particularly poor reimbursement circumstances.
The kyphoplasty market is segmented on the basis of product, indication, end user, and region. On the basis of product, the market is categorized into kyphoplasty systems and accessories. By indication, it is divided into osteoporosis and others. By end user, it is segmented into hospitals & clinics and ambulatory surgical centers.
Region wise, the market is analyzed across North America (the U.S., Canada, and Mexico), Europe (Germany, France, UK, Italy, Spain, and rest of Europe), Asia-Pacific (Japan, China, Australia, India, South Korea, and rest of Asia-Pacific), and LAMEA (Brazil, South Africa, Saudi Arabia, and rest of LAMEA).
Segment Review
Depending on product, the accessories segment held the largest share in the global market in 2021 and is expected to remain dominant during the forecast period, owing to increase in demand for bone cements and biopsy kits due to surge in vertebral related cancer cases. The kyphoplasty systems segment is expected to witness highest CAGR of 6.6% during the kyphoplasty market forecast period, owing to various development and launch of products such as the balloon inflation devices and bone access devices.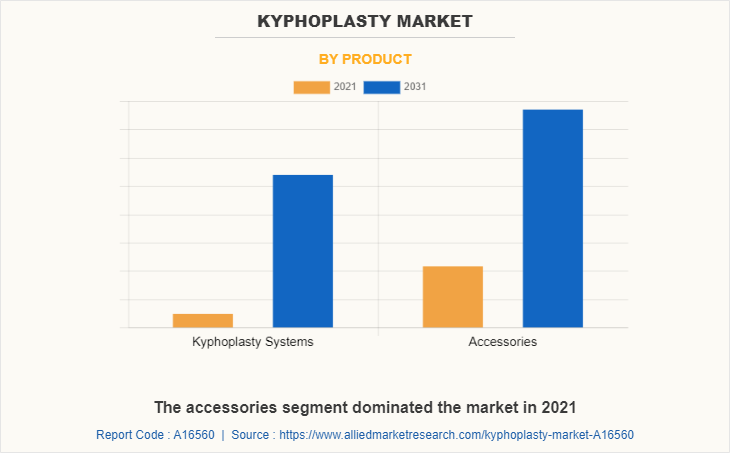 Depending on indication, the osteoporosis segment held the largest kyphoplasty market share in the global market in 2021 with and is expected to remain dominant during the forecast period, owing to increase in geriatric population and rise in osteoporosis cases globally. The others segment is expected to witness highest kyphoplasty market growth of 7.2% during the forecast period owing to surge in road accidents, sports injuries and cancer cases among the population.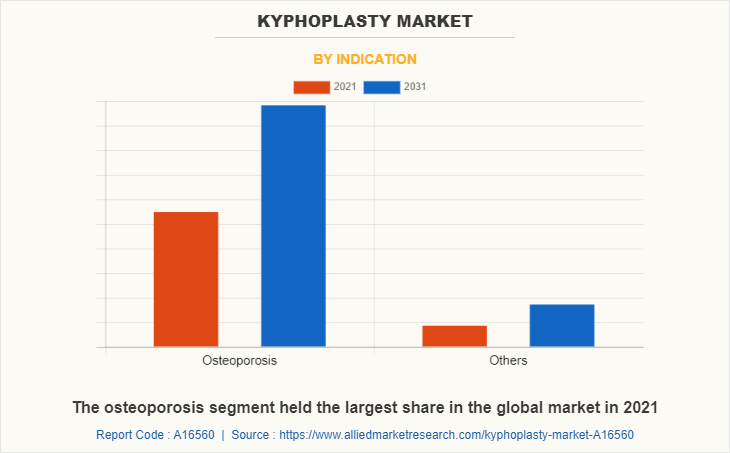 Depending on end user, the hospitals & clinics segment held the largest kyphoplasty market size in 2021 with and is expected to remain dominant during the forecast period, owing to increase in number of hospital admissions for vertebral compression fractures and accidental injuries to spinal cord. The ambulatory surgical centers segment is expected to witness highest CAGR of 7.2% during the forecast period owing to surge in osteoporosis diagnosis and demand for ASCs owing to their specific care and comfortable settings for elderly.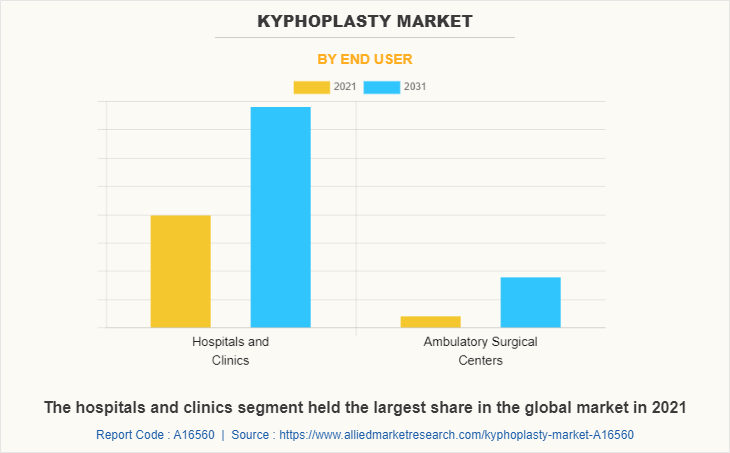 Region wise, North America is expected to account for the largest kyphoplasty market size, owing to established robust infrastructure of hospitals, advanced technology and availability of key players across the region, followed by Europe, Asia-Pacific, and LAMEA. Asia-Pacific is expected to register the fastest CAGR during the forecast period, due to increase in geriatric population, rapid development in healthcare technology, and increase in public–private investment. Moreover, India and China are expected to offer lucrative kyphoplasty market opportunity and are set to witness growth at high CAGR in the kyphoplasty market of Asia-Pacific.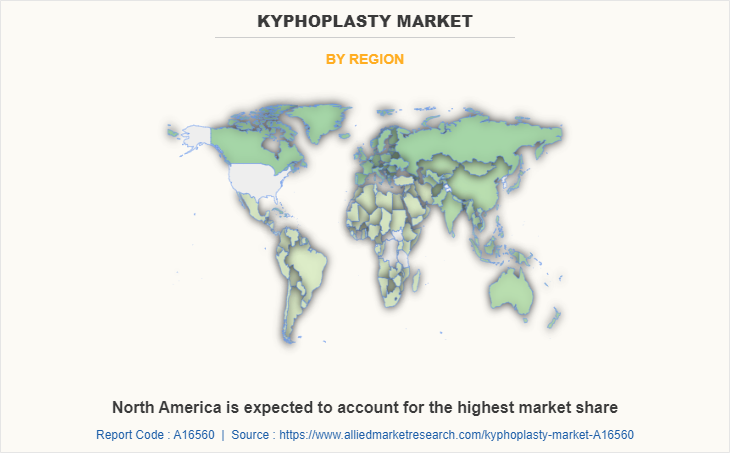 The key players operating in the global kyphoplasty industry are Alphatec Holdings Inc., Benvenue Medical Inc., Globus Medical Inc., IZI Medical Products, Johnson and Johnson, Medtronic Plc., Merit Medicals Systems, Stryker Corporation, Seawon Meditech and Zimmer Biomet Holdings, Inc.
Key Benefits For Stakeholders
This report provides a quantitative analysis of the market segments, current trends, estimations, and dynamics of the kyphoplasty market analysis from 2021 to 2031 to identify the prevailing kyphoplasty market opportunities.
The market research is offered along with information related to key drivers, restraints, and opportunities.
Porter's five forces analysis highlights the potency of buyers and suppliers to enable stakeholders make profit-oriented business decisions and strengthen their supplier-buyer network.
In-depth analysis of the kyphoplasty market segmentation assists to determine the prevailing market opportunities.
Major countries in each region are mapped according to their revenue contribution to the global market.
Market player positioning facilitates benchmarking and provides a clear understanding of the present position of the market players.
The report includes the analysis of the regional as well as global kyphoplasty market trends, key players, market segments, application areas, and market growth strategies.
 Kyphoplasty Market Report Highlights
Aspects
Details
By Product

Kyphoplasty Systems
Accessories

By Indication
By End User

Hospitals and Clinics
Ambulatory Surgical Centers

By Region

North America (U.S., Canada, Mexico)
Europe (Germany, France, U.K., Italy, Spain, Rest of Europe)
Asia-Pacific (Japan, China, Australia, India, South Korea, Rest of Asia-Pacific)
LAMEA (Brazil, Saudi Arabia, South Africa, Rest of LAMEA)

Key Market Players
Stryker, Jhonson and Jhonson, IZI Medica Products, Swawon Meditech, Medtronic, Globul Medical Inc, Benvenue Medical Inc, Alphatec Holdings TNC, Merit Medicals Systems