The lager market size was valued at $292.4 billion in 2020, and is estimated to reach $392.0 billion by 2030, registering a CAGR of 2.7% from 2021 to 2030.
Lager is a type of bottom-fermented beer made with a slow fermentation and refrigeration procedure at low temperatures. Conditioning beer at low temperatures slows yeast activity, improving the beer's stability and allowing it to achieve the proper flavor, smell, and color. It has a black, amber, or light tint and is high in vitamins and natural antioxidants, which help to reduce the incidence of kidney stones, heart attacks, and stroke. Lagers, in compared to ale fermented at higher temperatures, have a mellow, smooth, light, and crisp flavor, as well as more carbonation.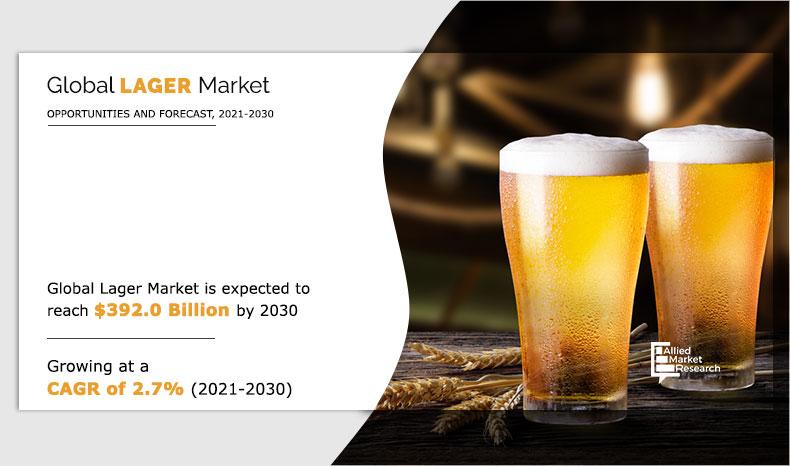 One of the primary factors driving the market's expansion is a significant increase in worldwide alcoholic beverage consumption. Furthermore, consumers, particularly millennials, are driving market expansion by increasing their demand for premium and super-premium lager. Experimenting with a range of alcoholic beverages supplied in bars, restaurants, motels, and fast service restaurants is becoming more popular. In addition, the development of novel tastes such as apple, cheese, blueberry, chocolate, and lemon has aided in the expansion of the company.  Thus, above mentioned factors are likely to bolster the lager market demand during the forecast period.
Proliferation of the smartphones and growing usage of social media nowadays are attracting alcohol and non-alcoholic beverage manufactures and advertising media companies to promote their product on social media. The large number of consumers especially youth population are present on social media platforms. Social media including Facebook and Instagram are very popular among young consumers. Thus, the brands are using these social media platforms to build advertising campaign for promotion and providing products through online platforms, including Amazon and their websites. Thus boosting the lager market growth during the forecast period.
Based on the analysis of the COVID-19 pandemic, people are facing huge losses in their business and temporary stagnation in export and import activities, which negatively impacted the lager market growth in 2020.
Lager Market

---
By Product Type
Glass segment helds the major share of 70.9% in 2020
The lager market is segmented into packaging type, price point, distribution channel, and region. On the basis of packaging type, the market is categorized into glass, metal can, and others. By price point, it is segregated into popular priced, premium, and luxury. According to distribution channel, it is divided into on trade and off trade. Region-wise, it is analyzed across North America (the U.S., Canada, and Mexico), Europe (Germany, UK, France, Italy, Spain, Russia and Rest of Europe), Asia-Pacific (China, Japan, Australia & New Zealand, India, Indonesia, South Korea, Thailand and Rest of Asia-Pacific), and LAMEA (Brazil, South Africa, Turkey and Rest of LAMEA).
According to lager market opportunities, on the basis of packaging type, the glass segment has gained major share in the global lager market 2020, and is expected to sustain its market share during the forecast period 2021-2030. For superior lager packaging, glass bottles are commonly used. Because of the design and color of the glass bottle, it attracts more attention and provides the container a more beautiful appearance. Also, some bottles are brown in color, while others are green in color. These colors serve a variety of purposes in packaging, including giving the lager a more appealing appearance and ensuring product consistency. Glass bottles can also be easily recycled, and certain companies may offer discounts when purchasing large quantities of a product, and these discounts are especially prevalent when returning lager bottles.
Lager Market

---
By Age Group
Premium segment helds the major share of 59.9% in 2020
According to lager market trends, depending on price point, the premium segment was valued at $175.2 billion in 2020, and is expected to reach $225.5 billion by 2030, with a CAGR of 2.3. The rising use of the product in pubs, restaurants, and hotels has resulted in a rise in product consumption. Furthermore, due to altering customer preferences for premium beer, demand has seen tremendous growth in the past. Furthermore, improvements in brewing process technology, together with the use of the highest quality raw materials, have improved the product's overall features.
According to lager market forecast, on the basis of distribution channel, off trade segment was valued at $231.2 billion in 2020, and is projected to reach $221.3 billion by 2030, registering a CAGR of -0.8%. Lager is increasingly sold through the hypermarket, mini market, and spirit shops. This segment is included with online platforms where people can buy or order lager online. Growing urbanization and dynamic changes in the buying pattern of the customer is likely to promote the growth of the retail sector, which in turn boost the off-trade sales for lager.
Lager Market

---
By Distribution Channel
Off Trade segment helds the major share of 79.1% in 2020
According to lager market analysis, region-wise, Europe dominated the lager market in 2020, and is expected to sustain its dominance over the forecast period. Flavored beer is a premium drink in Europe, particularly in the UK, Germany, and France. Furthermore, premium products, such as varied lager varieties, are attracting new consumers including male and female drinkers. European countries including Germany, the UK, and France alcohol beverage producing companies are increasingly investing to launch lager in respective countries, which contributes for the growth of the Europe lager market during the forecast period.
The players operating in the global lager market have adopted various developmental strategies to expand their lager market share, increase profitability, and remain competitive in the market. The key players profiled in this report include Anheuser-Busch InBev, Founders Hill Brewing Co., LLC, Carlsberg A/S, Diageo Plc, Lakefront Brewery Inc, Anchor Brewing Co., LLC, Squatters Pubs and Craft Beers, Sierra Neveda Brewing Company, The Boston Beer Company and United Breweries Limited.
Asia Pacific region helds the major share of 39.2% in 2020
Key Benefits For Stakeholders
The report provides a quantitative analysis of the current market trends, estimations, and dynamics of the market size from 2020 to 2030 to identify the prevailing opportunities.
Porter's five forces analysis highlights the potency of buyers and suppliers to enable stakeholders to make profit-oriented business decisions and strengthen their supplier–buyer network.
In-depth analysis and the market size and segmentation assist to determine the prevailing market opportunities.
The major countries in each region are mapped according to their revenue contribution to the market.
The market player positioning segment facilitates benchmarking and provides a clear understanding of the present position of the market players in the lager industry.
 Lager Market Report Highlights
Aspects
Details
By Packaging
By Price point

Popular Priced
Premium
Luxury

By Distribution Channel

On Trade
Off Trade
Multi Brand Store

By Region

North America (U.S, Canada, Mexico)
Europe (Germany, UK, France, Italy, Spain, Russia, Rest of Europe)
Asia-Pacific (China, Japan, Australia New Zealand, India, Indonesia, South Korea, Thailand, Rest of Asia-Pacific)
LAMEA (Brazil, South Africa, Turkey, Rest of LAMEA)

Key Market Players
ANHEUSER-BUSCH INBEV, FOUNDERS HILL BREWING CO., LLC, CARLSBERG A/S, DIAGEO PLC, LAKEFRONT BREWERY INC., ANCHOR BREWING CO., LLC, SQUATTERS PUBS AND CRAFT BEERS, SIERRA NEVADA BREWING COMPANY, THE BOSTON BEER COMPANY, UNITED BREWERIES LIMITED