Loyalty Management Market Statistics: 2023
Loyalty management market incorporates effective and planned activities to select, manage, relate, and control customers buying behavior. This method is used to retain a customer by offering rewards on frequent purchases. Such loyal customers share their experiences with their known contacts with advocacy-driven, cloud-based, and mobile-delivered programs. This enables brand promotion and attracts a new audience for the organization. It helps to gather more data and insights to create a more refined customer profile. Loyalty management has become an important part of vendor strategy due to its impact on brand value and the ability of loyalty management programs to retain, as well as attract potential customers. The global loyalty management market size was valued at $1,931 million in 2016, and is expected to reach $6,955 million by 2023, growing at a CAGR of 20.8% from 2017 to 2023.
The global loyalty management market is segmented based on type, organization size, industry vertical, and geography. As per type, the market is segmented into customer retention, customer loyalty, and channel loyalty. Based on organization size, the market is bifurcated into large and small & mid-size. Industry verticals analyzed in the report include BFSI, retail, travel & hospitality, manufacturing, IT & telecom, media & entertainment, healthcare, and others (Education, oil & gas, energy & utilities). Based on geography, the market is studied across North America, Europe, Asia-Pacific, and LAMEA.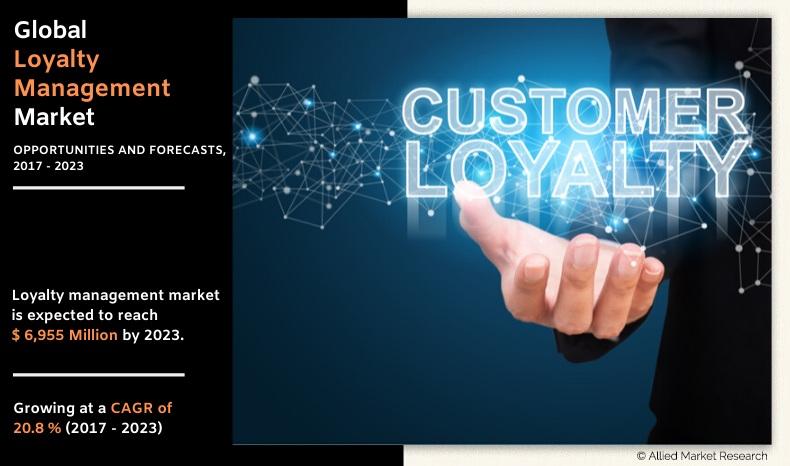 The major factors that drive the market growth are rising usage of mobile phones, a significant increase in a number of card holders, lack of awareness about loyalty programs among consumers, and growing appreciation for online reward management solutions. Other factors that influence the market growth include recurrent alteration of end-user demographics, increase in spending on loyalty programs from the organizations, stringent government rules & regulations and rapidly growing applications of big data and machine learning.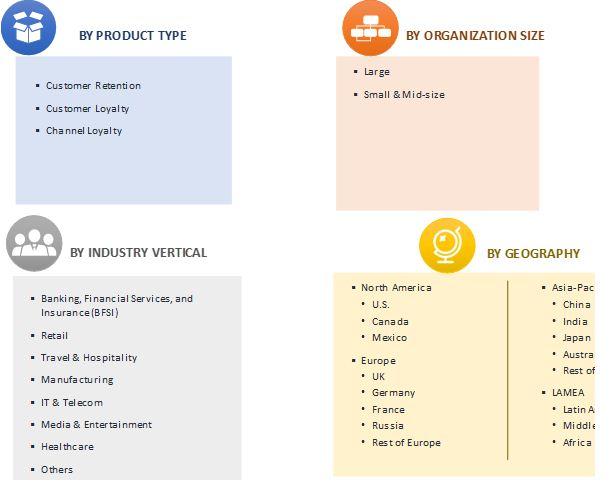 The North America loyalty management market generated the highest revenue in 2016, attributed to adequate technology infrastructure, the presence of a large number of enterprises, and a large number of loyalty programs in the region. The Asia-Pacific market is expected to grow at the highest CAGR, owing to the high penetration of internet; changing consumer demographics; and surge in need of better data management.
The key players operating in the global loyalty management industry include Oracle Corporation, IBM Corporation, SAP SE, Aimia Inc., Comarch, Bond Brand Loyalty, Tibco Software, Epsilon, ICF International, Inc., and Kobie Marketing, Inc. These players have expanded their market presence by adopting various business strategies such as acquisition, geographical expansion, product development, strategic alliance, and collaboration.
Top Investment Pockets
The following graph signifies the growth potential of the global loyalty management market by vertical. It is observed that the market is driven by the BFSI vertical, which occupied the largest market share in 2016. The major factors that drive growth in these segments include growing usage of smartphones, consistent improvements in loyalty management system technology, and growing number of card holders.
Rising Use of Mobile Applications
Brands are considering mobile applications to create and grow customer loyalty. Schemes or offerings are being launched for various brands exclusively on their mobile applications. For instance, upmarket retailer Harvey Nichols launched a loyalty scheme exclusively as a mobile app in May 2015, which indicates increasing influence of digital and mobile channels as compared to traditional cards.
Recurrent Alteration of End-user Demographics
The changing end-user demographics have influenced loyalty management market vigorously. Consumers are shifting their priorities from desire for possession to the desire for a worthy experience, i.e. value for money. This changing shift of expectations has urged loyalty marketers to develop innovative loyalty programs by utilizing numerous marketing practices.
Increase in Spending On Loyalty Programs
Organizations are investing in their customer loyalty management programs more than ever before. Customer loyalty management programs are currently expensive, complex, and expansive businesses. For instance, in 2015, companies in U.S. spent around $2 billion on loyalty programs. This spending was mostly done to achieve program growth and revenue production metrics.
Rapidly Growing Applications of Big Data And Machine Learning
Big data analytics help loyalty management systems to automate customer experience programs. Latest analytics software programs are tuned with the companys customer interactions and to social media sites where the data is anticipated to be tracked & analyzed. Abundant unstructured customer data is collected from mobile devices, wearable devices, the Internet, and social media. This data, if upgraded optimally, is expected to benefit organizations for better strategic plans for their offerings, as per the changing dynamics of the target audience.
Impact of covid-19 on Loyalty Management Market:
When Covid-19 has imposed significant threat on a number of industry verticals, companies across the world have also initiated to provide excellent value to their customers as they want to get back to their stance as soon as they can after the crisis ends. 
This new drift has led business ventures to take innovative steps into consideration. The new strategies are not only meant to serve customers' needs the best, but are also designed to provide momentum into the future.
By letting customers know they are important, organizations can retain customer loyalty and trust during the pandemic which, in turn, has provided the global loyalty management market a substantial boost.
Key Benefits
In-depth analysis of the global loyalty management market and dynamics is provided to understand the market scenario.
Quantitative analysis of the current trends and future estimations from 2017 to 2023 is provided to assist strategists and stakeholders to capitalize on prevailing opportunities.
Porters Five Forces analysis examines the competitive structure of the market and provides a clear understanding of the factors that influence the market entry and expansion.
A detailed loyalty management market analysis of the geographical segments enables identification of profitable segments for market players in the global loyalty management industry.
Comprehensive analyses of the trends, sub-segments, and key revenue pockets are provided.
Detailed analyses of the key players operating in the global loyalty management industry and their business strategies are anticipated to assist stakeholders to take informed business decisions.
 Key Market Segments & Key Market Players
Segments
Sub-segments
By Type

Customer Retention
Customer Loyalty
Channel Loyalty

By Organization Size

LARGE ORGANIZATIONS
SMALL & MID-SIZE ORGANIZATIONS

By Industry Vertical

BANKING, FINANCIAL SERVICES, AND INSURANCE
Retail
Travel & Hospitality
Manufacturing
IT & Telecom
Media & Entertainment
Healthcare
OTHERS (EDUCATION, OIL & GAS, ENERGY & UTILITIES)

By Geography

North America
Europe

UK
Germany
France
Italy
Rest of Europe

Asia-Pacific

China
India
Japan
Australia
Rest of Asia-Pacific

LAMEA

Latin America
Middle East
Africa

Key Market Players
AIMIA INC., BOND BRAND LOYALTY, COMARCH, EPSILON, ICF INTERNATIONAL, INC., IBM CORPORATION, KOBIE MARKETING, INC., ORACLE CORPORATION, SAP SE, TIBCO (THE INFORMATION BUS COMPANY) SOFTWARE INC.