The global luxury travel market was valued at $638.2 billion in 2021, and is projected to reach $1650.5 billion by 2031, growing at a CAGR of 8.9% from 2022 to 2031.
Increasing preference for unique and exotic vacation experiences, the growing middle- and upper-class spending, and the advent of social media and its effects on the travel industry are key reasons that are fueling the growth of the luxury travel market.
Luxury travel services cover most desirable and premium experience in terms of luxurious accommodations, convenient transport facilities, and authentic travel experience. The service providers aim to provide outstanding services to its travelers. Private jet planes, spas, special menus, private island rentals, and private yacht are some of the unique services offered by the stakeholders to the travelers. Travelers, nowadays, focus on experimenting with destinations to gain experience in terms of cultures, foods, and other experiences. To gain a valuable and unforgettable experience, people increasingly opt for unique trips, which include cultural visit, cruising, and adventure activities. The luxury travel industry has emerged as one of the fastest growing sectors to contribute significantly to the global economic growth and development. Growth in disposable income and increase in upper middle class expenditure has raised the demand for higher service standards. To capitalize the same, market players formulate unique strategies to target the growth in middle class segment; for instance, hiring qualified individuals who can speak international language and communicate easily with travelers. This rise in demand for unique travel experiences offers tremendous opportunities for the market players to remain competitive.
The luxury travel market size is projected to be the fastest growing segment of the travel industry worldwide during the forecast period. The key drivers of rising luxury travel trend include inclination of people toward unique and exotic holiday experiences, increase in the middle- & upper-class disposable income & related expenditure, and growth in need and interest of people to spend more time with family. The growth luxury travel market is attributed to the increase in disposable income and growth in middle class population in countries such as China, Hong Kong, India, and Malaysia. As per recent statistics, Asia-Pacific millionaires now control more wealth than their peers in North America. In terms of future spending options, travel has been recognized as the top priority with greater focus on unique luxury experiences and adventure activities. Although the key developed countries such as the U.S. hold a highest revenue share of the luxury travel market, there has been a rise in demand for international luxury travel in developing countries such as China and India. This drift is due to the increase in the per capita income of middle-class travelers in the developing countries.
COVID-19 pandemic has impacted all industries globally. The tourism industry has been hit hard all over the world, impacting its associated sectors such as travel agencies, hospitality, tour operators, all kinds of transportation services. Around 90% of the global population was adjusted to their lifestyle under several travel restrictions and remaining population stayed home in fear of the virus itself. Thus, the tourism sector came to a near standstill. According to the article published by the World Travel and Tourism Council (WTCC) in August 2020, the COVID-19 pandemic is likely to cost the tourism industry revenue loss of almost $25 billion and a loss of almost 100 million jobs worldwide. Furthermore, owing to the implementation of lockdown and social distancing norms in almost every country of the world, flights were grounded, trains stopped running, and almost all public transport services were halted. With social distancing becoming the new lifestyle in public places and masks & gloves turning to be daily wear accessories, people prefer to remain safe at homes, thereby declining the number of travelers.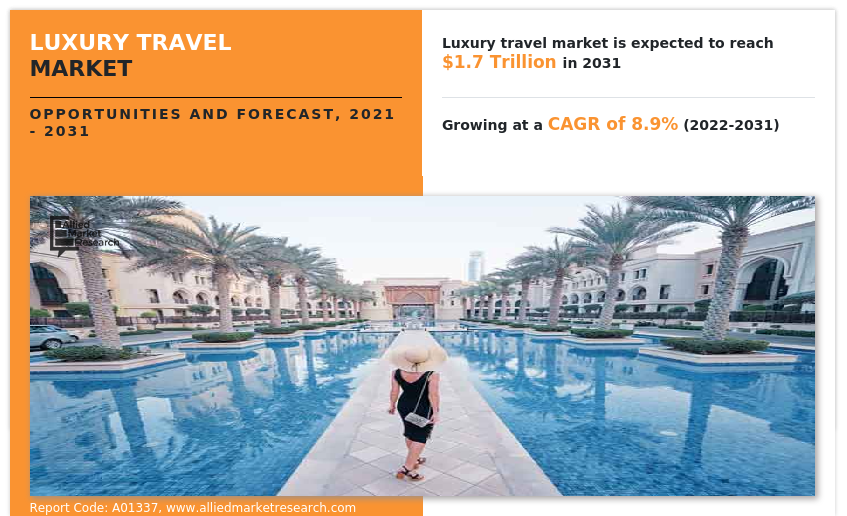 According to the market analysis, the luxury travel market is segmented into types of tour, age group, types of travelers, and region. As per types of tour, the market is categorized into customized and private vacations, adventure and safari, cruise/ship expedition, small group journey, celebration and special events and culinary travel and shopping. By age group, it is segregated into millennial, generation x, baby boomer and silver hair. Depending on types of travelers, it is segmented into absolute luxury, aspiring luxury and accessible luxury. Region wise, it is analyzed across North America (the U.S., Canada, and Mexico), Europe (Germany, France, Spain, Italy and Rest of Europe), Asia-Pacific (China, India, Singapore and Rest of Asia-Pacific), and LAMEA (Middle East, Latin America and Africa).
On the basis of type of tour, the cruise/ship expedition segment accounted for around 4.6% of global luxury travel market share in 2021, and is expected to sustain its share throughout luxury travel market forecast period.  Luxury cruising is gaining attraction and is expected to get tripled by the next decade. From the growth perspective, Asia-Pacific and LAMEA are the two potential markets, expected to witness considerably higher growth rates during the forecast period. Introduction of innovative cruise design concepts, new ship lengths, new and more exotic destinations around the globe, and new on-board and on-shore activities and themes drive the growth of the market for cruise/ship expedition. Luxury cruising is mostly opted by silver hair group since it is much more convenient, relaxing, and more glorious mode of traveling. With the advent of Crystal Cruises' luxury travel portfolio has expanded into the luxury river cruise market and yachting & air market. Thus, aforementioned factors are likely to supplement for the growth of the luxury travel market through cruise/ship expedition segment during forecast period.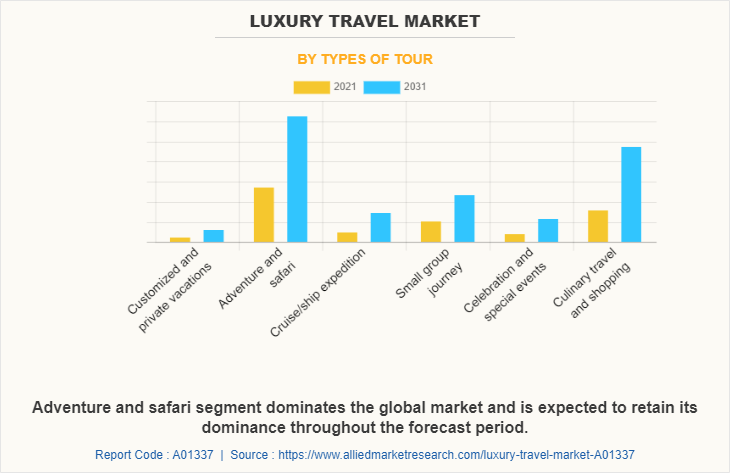 On the basis of age group, the millennial segment was valued at $83,842.5 million in 2021, and is expected to reach $242,050.1 million by 2031, with a CAGR of 10.1%. North America and Europe together accounted for about 67.4% of the millennial luxury travel market revenue in 2021, with the former constituting around 28%. From a growth perspective, Asia-Pacific and LAMEA are the two potential markets, expected to witness considerably higher growth rates over the forecast period. Millennial's are avid travelers comprising of maximum number of population of traveling, on an average, millennial's spend $527 a day on a trip which is 62% less than their older counterparts. They generally look for cultural and leisure breaks. Millennial's are driven by wanderlust and breaking life's monotony, these group of youngsters prefer short trips to culturally rich and different countries, also local shopping is a major factor of their traveling. Honeymoons and romantic gateways are also some important factors driving this category. Thus, above factors collectively increase luxury travel market demand through the millennial segment.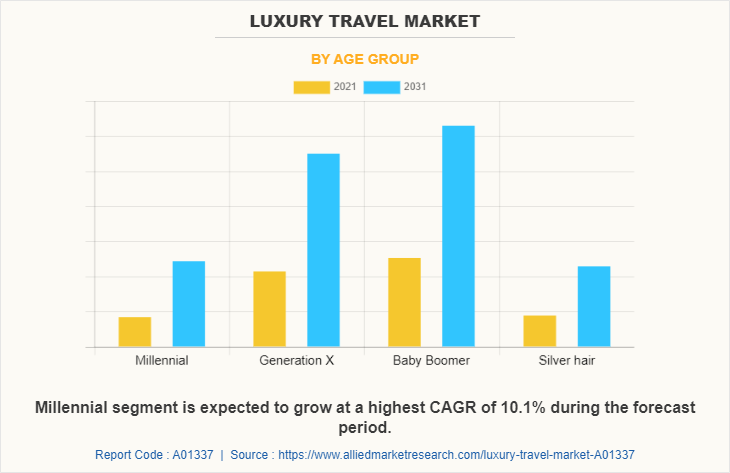 According to the luxury travel market trends, depending on types of travelers, the aspiring luxury segment was valued at $202,139.7 million in 2021, and is expected to reach $513,454.9 million by 2031, with a CAGR of 8.7%. Aspiring luxury class majorly comprises the millennial generation who prefer short, luxury trips, as they are moderately wealthy. This segment also comprise of 'newly rich', which are willing to pour money into the luxury travel industry and are the front-runner of this segment. Aspiring luxury travelers take an average of five business and leisure trips per year, owing to their high spending power and the potential to afford luxury traveling. Mid-income and aspirational shoppers are fostering the growth of upper premium brands and the second-hand market. Destinations such as Dubai have initiated programs to encourage investments in midmarket hotels such as releasing government land plots for three and four star hotel projects. Aspiring luxury prefer exclusive and unique destinations for their shopping which are specifically abroad destinations, while they have ample resources to spend, they are comparative don't go all out for luxury services. This segment includes young, aspirational individuals who earn significantly and have limited family responsibilities. Increasing aspiring luxury travelers are likely to supplement the luxury travel market growth during forecast period.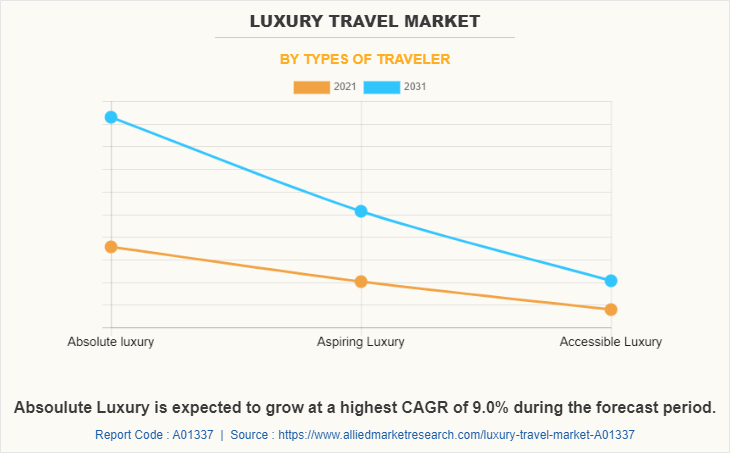 Region wise, the North America was valued at $152,531.4 million in 2021, and is expected to reach $354,846.3 million by 2031, with a CAGR of 7.8%. The U.S. is driving the luxury travel market in North American region, with wealthiest of population and most outbound trips. Canada and Mexico's luxury travel market also show a hike in the number of people opting for luxury travel owing to serene winter destinations in Canada and glittering white Caribbean beaches and private luxury resorts in Mexico. The luxury travelers are attracted to Mexico due to its established and highly exclusive resorts like Four Seasons and St. Regis in Punta Mita and high-end resorts in Los Cabos. Luxury travel is also expected to see vigorous growth across North America due to increasing income trends, strong dollar, and growing middle class segment. Thus, above mentioned factors are likely to support the North America luxury travel market during forecast period.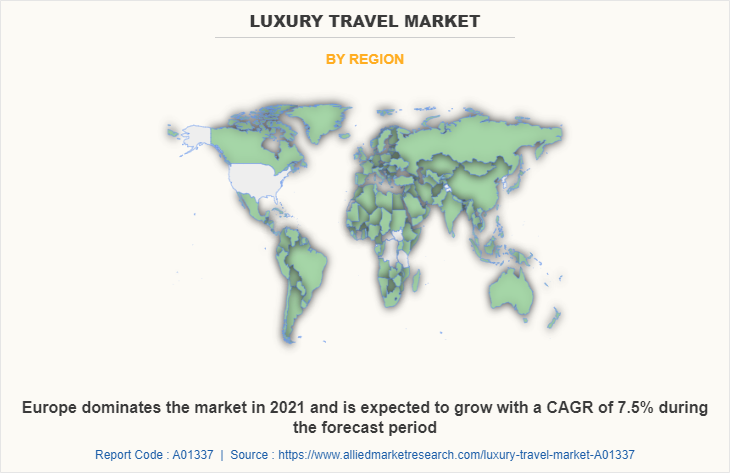 The players operating in the global luxury travel market have adopted various developmental strategies to expand their market share, increase profitability, and remain competitive in the market. The key players profiled in this report include Abercrombie & Kent USA, LLC, Cox & Kings Ltd, Travcoa, Micato Safaris, Ker & Downey, Tauck, Thomas Cook Group PLC, Scott Dunn Ltd., Kensington Tours, Butterfield & Robinson Inc., TUI Group, Zicasso, Inc., Black Tomato, Backroads, Lindblad Expeditions and Exodus travels.
Key Benefits For Stakeholders
This report provides a quantitative analysis of the market segments, current trends, estimations, and dynamics of the luxury travel market analysis from 2021 to 2031 to identify the prevailing luxury travel market opportunities.
The market research is offered along with information related to key drivers, restraints, and opportunities.
Porter's five forces analysis highlights the potency of buyers and suppliers to enable stakeholders make profit-oriented business decisions and strengthen their supplier-buyer network.
In-depth analysis of the luxury travel market segmentation assists to determine the prevailing market opportunities.
Major countries in each region are mapped according to their revenue contribution to the global market.
Market player positioning facilitates benchmarking and provides a clear understanding of the present position of the market players.
The report includes the analysis of the regional as well as global luxury travel market trends, key players, market segments, application areas, and market growth strategies.
 Luxury Travel Market Report Highlights
Aspects
Details
Market Size By 2031
USD 1650.5 billion
Growth Rate
CAGR of 8.9%
Forecast period
2021 - 2031
Report Pages
287
By Types of Tour

Customized and private vacations
Adventure and safari
Cruise/ship expedition
Small group journey
Celebration and special events
Culinary travel and shopping

By Age Group

Millennial
Generation X
Baby Boomer
Silver hair

By Types of Traveler

Absolute luxury
Aspiring Luxury
Accessible Luxury

By Region

North America (U.S., Canada, Mexico)
Europe (Germany, France, Spain, Italy, Rest of Europe)
Asia-Pacific (China, India, Singapore, Rest of Asia-Pacific)
LAMEA (Middle East, Latin America, Africa)

Key Market Players
Travelopia Holdings Limited, Zicasso, Inc., Thomas Cook India Ltd., Butterfield & Robinson Inc., Kensington Tours, Scott Dunn Ltd., Abercrombie & Kent USA, LLC, TUI Group, Tauck, Inc., Micato Safaris