Magnetic Sensor Market Outlook - 2026
The global magnetic sensor market size was valued at $2.21 billion in 2018, and is projected to reach $4.22 billion by 2026, registering a CAGR of 6.9% from 2019 to 2026. Magnetic sensors are used for measuring and detecting distance, size, direction, width, and speed. Magnetic sensors are also known as Microelectromechanical System-Based Sensors (MEMS) that convert magnetic field into an electrical signal. It is widely used by industries for rotation sensing, contactless current sensing, linear, and angular position. Moreover, it consumes less power, operates in high temperature, is highly durable, and delivers reliable performance.
Magnetic sensor is used in various applications such as cars, smart phones, refrigerators, and others. In cars, it is used for identifying the gap between two cars and controlling the speed accordingly. For instance, Infineon Technologies, a well-known manufacturer of sensors, provides solutions to meet requirements of automotive and industrial applications. It developed a sensor called "ISO26262" used in the automotive industry for detecting linear position, pedal position, and electric power steering. It is used in smart phones for navigation. A MEMS-based magnetic field sensor is small in size, due to thus it can be kept near to the measurement location is used in vehicles for measurement and thereby it achieve higher spatial resolution than other magnetic field sensors.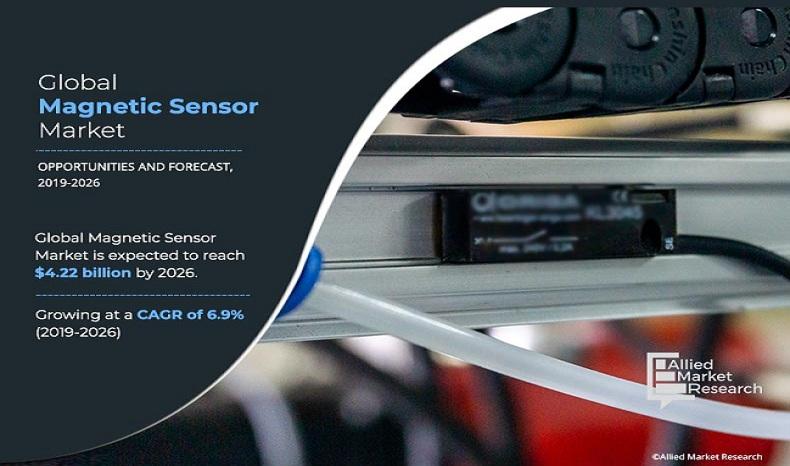 The growth of the magnetic sensor market is driven by substantial rise in demand for magnetic sensor in consumer electronics, growth in automotive industry, and surge in need for the adoption of magnetic sensor in medical application. However, high installation cost limits the magnetic sensor market growth. Furthermore, growth in trend of Internet of Things and developments in autonomous vehicles offer lucrative growth opportunities to the magnetic sensor market.
Sensors have become an intrinsic part of the production process, as they help increase the efficiency and precision through automation. Magnetic sensors are used to keep a track of various parameters such as speed sensing, position sensing, switching, current sensing, and other parameters to control the whole process and ease it through robots. Magnetic sensors such as hall effect switches and linear angle sensors are used in accelerometers that are equipped in vehicles in the automobile industry to provide benefits such as safety and fuel efficiency. In addition, magnetic sensor contributes significantly toward car electrification. This in turn boosts the growth of the market for powertrain & auxiliary motors and autonomous cars, which generates the need for magnetic sensors. Furthermore, magnetic sensor processes real-time data and notifies the speed-related problems. Moreover, these facilitate communication between engine, suspension, braking, and other controls of vehicles.
Segmentation
The magnetic sensor market is segmented on the basis of type, application, end user, and region. On the basis of type, the market is classified into Hall Effect sensor, magnetoresistive sensor, squid sensor, and fluxgate sensor. Applications covered in the study include speed sensing, detection, position sensing, navigation, and others. End user includes consumer electronics, automotive, industrial, aerospace & defense, healthcare, and others. By region, the market is analyzed across North America, Europe, Asia-Pacific, and LAMEA. 
Magnetic Sensor Market

---
By Type
Hall Effect Sensor Magnetic Sensor based type segment is projected as one of the most lucrative segments.
The key players profiled in the report include Analog Devices, Amphenol, Honeywell International, NXP semiconductors N.V., Schneider Electric, Infineon Technologies AG, ST Microelectronics, TE Connectivity, TDK Corporation, and Texas Instruments. These key players have adopted strategies, such as product portfolio expansion, mergers & acquisitions, agreements, geographical expansion, and collaborations, to enhance their magnetic sensor market share.
Top Impacting Factors
The significant impacting factors in the magnetic sensor market include rise in demand for magnetic sensor in consumer electronics, and growth in automotive industry. However, high installation cost is expected to hinder the market growth. Conversely, surge in need for the adoption of magnetic sensor in medical application is projected to offer remunerative opportunities to the magnetic sensor market. Each of these factors is anticipated to have a definite impact on the market during the forecast period. 
Magnetic Sensor Market

---
By End User
Automotive segment is expected to secure leading position during forecast period.
Some major factors impacting the market growth are given below:
Rise in demand for magnetic sensor in consumer electronics
Growth in demand for navigation on consumer electronic products such as printers, scanners, cameras, flat panels, and others builds pressure on manufacturers to invest in improved navigation systems and provide connectivity in reach of consumers. In recent years, increased Internet penetration is witnessed, in terms of live content for direction, which resulted in need for magnetic sensors. A majority of the smartphone users depend on navigation systems to find required destinations. Various electronic devices such as smartphone has integrated ecompass, which uses features of 3D magnetic sensor to keep a track on direction. The smartphone manufacturing companies have been observed to provide advance navigation features in their devices for enhancing the overall user interface experience and to keep ahead of their competitors in the market. .
High installation cost
The addition of magnetic sensors help increase automation in electronic devices; however, it incurs an extra cost and thus use of these sensors is avoided in cost-effective devices. The incorporation of magnetic sensors facilitates extra features and makes the devices automated, although, it incurs some additional cost and thereafter it is avoided in cost-effective applications. In addition, sensors generate heating issues in case of continuous use, which further impacts on overall life span of electronic devices. 
Magnetic Sensor Market

---
By Geography
Asia Pacific region would exhibit the highest CAGR of 8.1% during 2019-2026
Growth in Internet of things (IoT)
In the current IT-dominant world, people are moving toward automation-based solution and services. This has led to increased focus on IoT-based devices due to their innovative and advanced applications. IoT is a technology for providing internet or internet-working for almost all applications such as smartphones, printers, scanners, and cars infotainment systems. IoT uses electronic software, sensors for connecting all these things to a common network. It incorporates several sensors such as touch sensor, proximity sensor, and magnetic sensor. Escalating growth in IoT market and government initiatives are anticipated to foster the growth in the magnetic sensor market during the next five to six years. This advantage of magnetic sensor is expected to provide lucrative opportunities to the market.
Key Benefits for Stakeholders:
This study includes the analytical depiction of the global magnetic sensor market share along with the current trends and future estimations to determine the imminent investment pockets.
The market size is determined to understand the profitable trends to gain a stronger foothold.
The report presents information related to key drivers, restraints, and opportunities with a detailed impact on the magnetic sensor market analysis.
The current magnetic sensor market forecast is quantitatively analyzed from 2018 to 2026 to benchmark the financial competency.
Porter's five forces analysis illustrates the potency of the buyers and suppliers in the magnetic sensor industry.
The report includes the magnetic sensor market trends and market share of key vendors.
 Magnetic Sensor Market Report Highlights
Aspects
Details
By Type

Hall Effect Sensor
Magnetoresistive Sensor
Squid Sensor
Fluxgate Sensor

By Application

Speed Sensing
Detection
Position Sensing
Navigation
Others

By End User

Consumer Electronics
Automotive
Industrial
Aerospace & Defense
Healthcare
Others

By Region

North America (U.S., Canada, Mexico)
Europe (UK, Germany, France, Italy, Rest of Europe)
Asia-Pacific (China, India, South Korea, Rest of Asia-Pacific)
LAMEA (Latin America, Middle East, Africa)

Key Market Players
Analog Devices, Amphenol, Honeywell International, NXP SEMICONDUCTORS N.V., Schneider Electric, Infineon Technologies AG, ST Microelectronics., TE Connectivity, TDK Corporation, Texas Instruments