Mainframe Market Outlook - 2025
Mainframes are used among large organizations for mission-critical applications, which require high volumes of data processing. These systems are known for their large amount of storage and processing power, high level of reliability, and security. The rise in pressure on different businesses to manage a greater volume, and variety of transactions due to ongoing trend of digitization and mobility are the major factors which drive the mainframe market growth. The mainframe hardware and software products are considered ideal for growing number of transactions and data sets as they possess capabilities to allow huge numbers of users and applications to access the same data among each other simultaneously without any interference.  The global mainframe market size was valued at $2,094.12 million in 2017, and is projected to reach $2,906.61 million by 2025, registering a CAGR of 4.3% from 2018 to 2025.
The growth of the global mainframe market is driven by rise in demand of high-performance computing, development of IoT landscape, increase in large data sets, and growth in adoption of mainframe as a service. Furthermore, cost issues associated with mainframe solutions and lack of mainframe skilled professionals are expected to considerably impact the growth of the mainframe market during the forecast period. Moreover, on-going mainframe modernization and the integration of blockchain in mainframe are expected to be opportunistic for the global mainframe market during the forecast period. These factors collectively provide opportunities for the market growth. However, each factor has its definite impact on the market.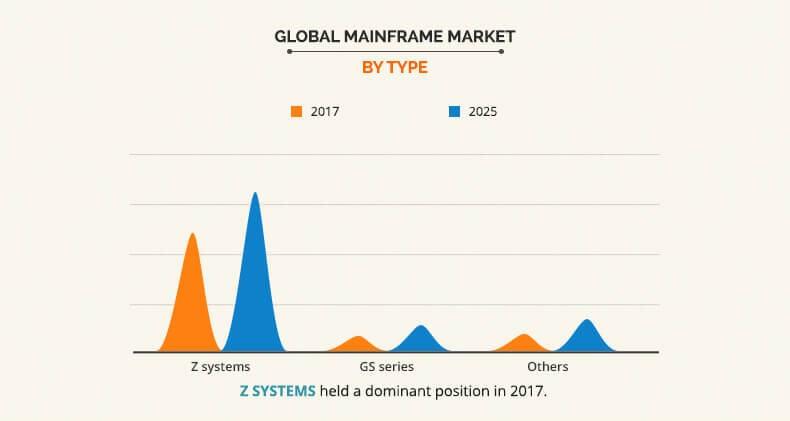 The Z systems dominated the overall mainframe market in 2017, owing to significant adoption of IBM mainframe solution among various end users. For instance, about 44 of the top 50 banks, healthcare organizations and government agencies as well as all the top 10 insurers have been using IBM Z mainframes for their business critical applications, which supplements the growth of the segment. However, the GS series and others segments are expected to exhibit the highest growth rate during the forecast period, owing to rise in investments and developments of new solutions among domestic players in the developing countries.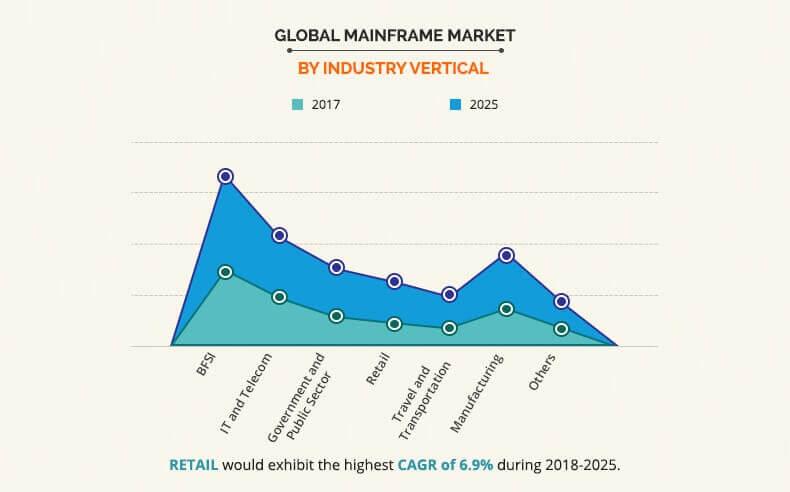 The BFSI segment dominated the global market in 2017, owing to significant adoption of mainframe solutions among banking industry across the globe to meet the increase in financial transaction workloads across its countries. However, the retail segment is expected to grow at the highest rate, due to the ongoing trend of digitalization of retail industry and growth in need to provide the unique in-store experiences which augments the need for mainframe solutions. For instance, a study indicated that most of the retailers say 18 of the top 25 retailers have started hosting their core business support systems and applications on mainframes.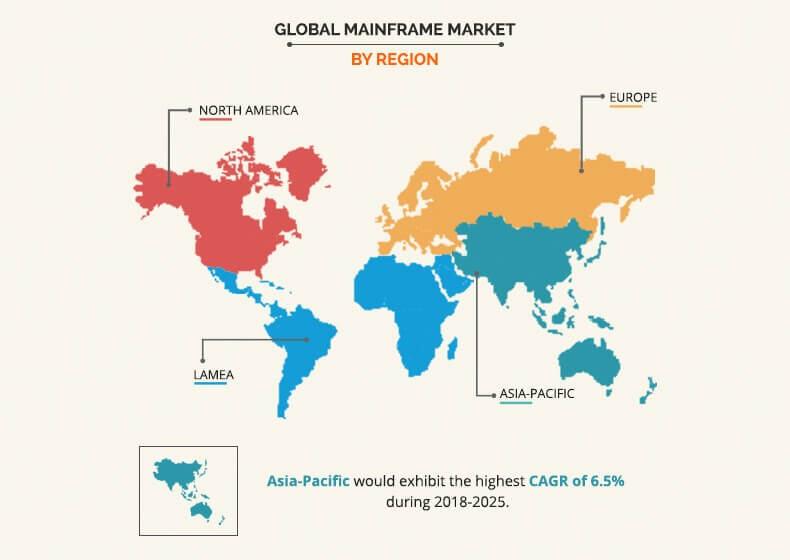 North America governed the overall mainframe market share, in terms of revenue, in 2017, owing to heavy demand of mainframe solutions in various industry verticals such as banking, insurance, federal agencies, and other Fortune 500 businesses across the region. However, Asia-Pacific is expected to witness the highest growth rate during the mainframe market forecast period, owing to factors such as rise in IT spending among government and financial organizations in the emerging economies such as China, Japan, India, Singapore, and South Korea. In addition, well-established telecommunication industry has also been considered opportunistic for the market.

The report focuses on the growth prospects, restraints, and trends of the global mainframe market analysis. Moreover, the study includes the Porter's five forces analysis of the industry to understand the impact of various factors such as bargaining power of suppliers, competitive intensity of competitors, threat of new entrants, threat of substitutes, and bargaining power of buyers on the growth of the market.

Segment review

The global mainframe market is segmented based on type, industry vertical, and region. Based on type, the market is divided into Z systems, GS series, and others. According to industry vertical, it is classified into BFSI, IT & telecom, government & public sector, retail, travel & transportation, manufacturing, and others. Based on region, it is analyzed across North America, Europe, Asia-Pacific, and LAMEA.

The key players operating in the global mainframe market include BMC Software, Inc., CA Technologies, Compuware Corporation, Dell EMC, Fujitsu Ltd., HCL, Hewlett-Packard, IBM Corporation, NEC Corporation, and Unisys Corporation.

Top impacting factors

Growth in demand for high performance computing

High Performance Computing (HPC) has become highly pervasive into many different business areas. These different industry verticals and the critical applications demand the quickest processor, the largest storage systems, and the lowest latency. This technology is now widely used in financial analytics, industrial and other consumer applications. Increase in large data sets and need of high processing power has been the significant factor that drives the adoption of high-performance systems such as mainframes. For instance, rise in online transactions across the banking industry has been recorded in the recent years. A study found that digital payments are expected to reach 726 billion by 2020, which need the systems capabilities to process such large amount of transactions. These mainframe systems are highly used among banking industry in the region to meet the increase in financial transaction workloads across its countries. Moreover, banks and financial services organizations have been using mainframe to tackle millions of credit card transactions across the region. As a result, rise in number of transactions and increase in fraudulent activities have driven the demand for high performance computing systems, which further impacts the growth of the mainframe market.

Lack of mainframe skilled professionals

The major challenge faced by mainframe industry is shortage of skilled professionals, due to retirement of experienced mainframe workers and other factors. A survey conducted by IBM Systems Magazine in 2016 has shown that 85% of 1,400 IT professionals agreed about mainframe skills gap. Around 18% of mainframe staff planned to retire within five years. In addition, another study also found that young generation isn't interested in working with these old lines of machines such as mainframes. Moreover, it has been predicted as more than 84,000 open positions are expected in mainframe industry by 2020. Several companies have been willing to train their existing workforce as well as hire and train new talent about mainframe skills, however it has barely improved and it needs time to bring everyone up to speed. Mainframe being heavy demand technology require a number of highly advanced skills and with current scenario, its talent pool is relatively tiny which limits its applications and restricts the market growth.

Integration of blockchain technology with mainframe

Blockchain has been one of the fastest growing technologies with more than $94 billion worth of the cryptocurrency. Several new applications for blockchain have evolved in the recent years and its potential can also be used in enhancing the security of enterprise mainframes. A blockchain tracks digital transactions across a network of computers as it verifies user's ID once a transaction is logged and, the ledger further creates an unalterable "block" of data. In addition, no central authority or any other party can tamper with the record, which makes it more secure than other transaction forms. Thus, integration of blockchain and mainframes can help organizations achieve data reliability and security. Moreover, hosting a blockchain on a mainframe enables organizations to utilize tremendous computing power offered by mainframe systems. This computing power is considered crucial in a blockchain context and compute intensive tasks, such as cryptographic hashing. Furthermore, mainframes also possess capabilities to overcome an infrastructure gap for companies, which are focused to build their own blockchains. These factors offer the global mainframe market opportunity for growth.

Key Benefits for Mainframe Market:
This study includes the analytical depiction of the global mainframe market trends and future estimations to determine the imminent investment pockets.
The report presents information related to key drivers, restraints, and opportunities.
The current mainframe market is quantitatively analyzed from 2017 to 2025 to highlight the financial competency of the industry.
Porter's five forces analysis illustrates the potency of buyers & suppliers in the global mainframe industry.
 Mainframe Market Report Highlights
Aspects
Details
By Type

Z systems
GS series
Others

BY INDUSTRY VERTICAL

BFSI
IT & Telecom
Government & Public Sector
Retail
Travel & Transportation
Manufacturing
Others

By Region

North America (U.S, Canada)
Europe (UK, Germany, France, Italy, Spain, Rest of Europe)
Asia-Pacific (China, India, Japan, Rest of Asia-Pacific)
LAMEA (Latin America, Middle East, Africa)

Key Market Players
BMC SOFTWARE, INC, CA TECHNOLOGIES (BROADCOM), COMPUWARE CORPORATION, DELL EMC (DELL TECHNOLOGIES), FUJITSU LIMITED, HEWLETT PACKARD ENTERPRISE (HPE), HCL TECHNOLOGIES LIMITED, INTERNATIONAL BUSINESS MACHINES CORPORATION (IBM), NEC CORPORATION, UNISYS