Malt Whiskey Market Research, 2031
The global malt whiskey market size was valued at $4.3 billion in 2021, and is projected to reach $6.7 billion by 2031, growing at a CAGR of 4.7% from 2022 to 2031.
The global pandemic has hit the business world exhaustively at an unprecedented scale all across the globe since 2020. The alcoholic beverages industry is one of the negatively impacted sectors that has witnessed significant disruptions, owing to the imposed lockdowns and market closure. Consumer spending has further declined across entire alcoholic beverage categories such as vodka, whiskey, and gin. Amidst growing health concerns, travel & go-out restrictions, and closure of on-trade premises for liquor consumption, several companies faced the heat of the pandemic.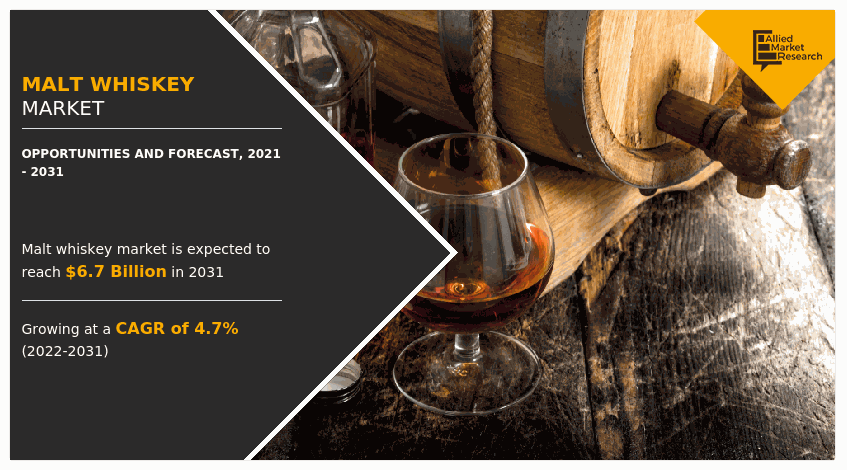 The malt whiskey market is segmented into Type and Distribution Channel.
In 2021, the scotch whiskey segment accounted for the highest market share in the whiskey market. Whiskey refers to an alcoholic beverage distilled from grains and aged in wood barrels. The type of whiskey produced depends on the type of grain and barrel used in the distilling process. In addition, location also plays an important role in defining a whiskey.
In recent years, number of bars, pubs, restaurants, and breweries serving alcoholic beverages have increased exponentially. This is primarily driven by rise in consumer spending, product innovations, rapid urbanization, and growth in demand from young consumers. There has been a shift from beer and wine to spirits consumption. Millennials value quality, authenticity, and provenance, hence are willing to pay more to enjoy such characters in their drinks. Moreover, they are inclined to experiment with their alcoholic beverages, which has essentially led to rise in ‐˜cocktail culture‐™. This trend has further enhanced use of whiskey as an ingredient, thereby leading to growth of the global malt whiskey market demand. Similarly, rise in spirit tourism, especially in western countries, encourages tourists from overseas to indulge and develop taste for local beverages, including whiskey. Countries such as the UK, France, the U.S., and Scotland have developed spirit led-tourism, which enables tourists to comprehend the history and processes involved in producing whiskeys. This is regarded as one of the highest revenue generating factors for the whiskey market. However, popularity of alcoholic beverages lead to issues of dependency, addiction, and excessive consumption leading to health concerns. Rise in number of consumers suffering from alcohol addiction has been a concern for governments. Hence, many governments have made stringent rules and regulations about sales and distributions of these products. These restrictions are expected to hamper growth of the global whiskey market.
However, alcoholic drinks have been known for their addictive as well as health concerning nature, if consumed in excess. Rise in number of consumers suffering from alcohol addiction has been a great concern for governments of different nations. As a result, many governments have imposed stringent rules and regulations about sales and distribution of these products. Moreover, there are restrictions on advertisements and promotions of such products, which restricts marketing strategies available to the manufacturers. In addition, some governments also support campaigns and non-government organizations (NGO) that condemn the use of such beverages. These factors act as major hindrances for the growth of malt whiskey industry.
Online grocery and delivery services have gained high traction in the last 5 years. Growth of such platforms is further accelerated by the ongoing pandemic. As a result, engaged stakeholders in the industry have partnered with existing delivery services such as Uber and Deliveroo. Though the distribution of whiskey via e-commerce platforms faces challenges, such as logistics, regulations, and temperature control requirements, with advancements of technologies in logistics, ease of regulations, and increase in digital connectivity, sales via ecommerce channels are expected to gain high traction, thereby providing growth opportunities for stakeholders in the coming years. Attributed to high negative impact of dark spirits such as whiskey on human health, they are heavily taxed. Furthermore, taxes on whiskey are higher than their counterparts in the U.S. In India, which is one of the largest consumers of whiskey in the world, raw materials for whiskey are heavily taxed to discourage consumption. Molasses, one the prominent ingredients for manufacturing whiskey, is taxed at 28%. Similarly, other inputs, such as chemicals and coloring agents, are taxed below 18%. High taxation exerts negative pressure on consumers and has profound impacts on their purchasing decisions. With high taxation on whiskey, the dark spirits market continues to flounder across several regions.
 
The malt whiskey industry is segmented on the basis of type, distribution channel. By type, the market is divided into scotch whiskey, American whiskey, Irish whiskey and others. On the basis of distribution channel, the market is categorized into on-trade and off-trade. Â Region wise, the global market is studied across North America, Europe, Asia-Pacific and LAMEA. North America consists of the U.S., Canada, and Mexico. Europe is studied across the UK, Germany, France, Spain, Russia, and rest of Europe. India, China, Japan, Australia, and rest of Asia-Pacific are the countries analysed under Asia-Pacific. LAMEA includes Brazil, Argentina, the UAE, South Africa, and rest of LAMEA.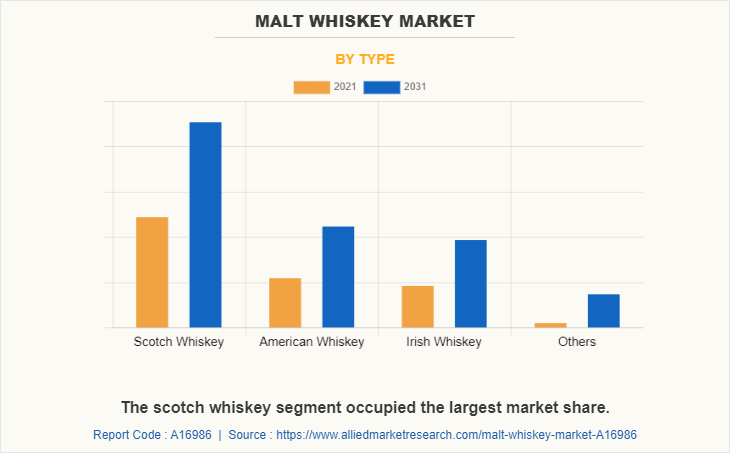 On the basis of type, the scotch whiskey segment accounted for maximum share in 2021. Scotch whiskey has the highest set of product offerings by whiskey manufacturing companies, owing to its consumer demand. Furthermore, owing to its strict, regulated methods of production and rich, smooth flavour, it has become the most popular choice of whiskey among other products. Scotch whiskey has also been used as a mixer in cocktails, which has further led to malt whiskey market growth among young consumers.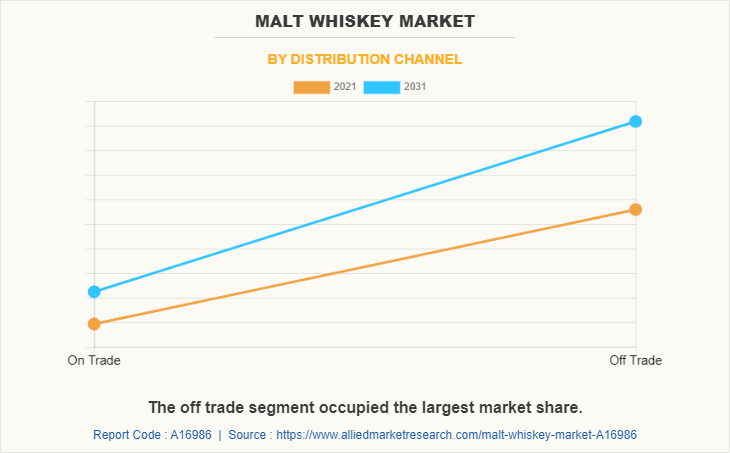 On the basis of distribution channel, the off-trade category was the dominant global whiskey market segment in 2021 with more than half of the market share and is expected to retain its dominance throughout the malt whiskey market forecast period. Off-trade sales channel comprises all retail outlets including supermarkets/hypermarkets, wines & spirits shops, and convenience stores. Majority of sales volume of whiskey is generated by large supermarket chains. This is attributed to sales promotions through in-store strategies such as price off promotions and tastings for selective products.
On the basis of region, Europe was the highest malt whiskey market share holder. This is attributed to tremendous popularity and substantial consumption of alcohol in the region. Consumers in the EU-member states and the UK drink a regular amount of alcohol almost daily. However, Asia-Pacific is expected to witness a significant CAGR, owing to rapid demand and acceptance of whiskey for social drinking, coupled with rise in income spending in these regions and rise in young consumers.
Some of the key players profiled in the malt whiskey market analysis include Bacardi Limited Alliance Global Group, Inc., Asahi Group Holdings, Ltd., Diageo plc, Pernod Ricard, RÃmy Cointreau, Suntory Holdings Limited, The Brown-Forman Corporation, The Edrington Group, and William Grant & Sons
Key Benefits For Stakeholders
This report provides a quantitative analysis of the market segments, current trends, estimations, and dynamics of the malt whiskey market analysis from 2021 to 2031 to identify the prevailing malt whiskey market opportunities.
The market research is offered along with information related to key drivers, restraints, and opportunities.
Porter's five forces analysis highlights the potency of buyers and suppliers to enable stakeholders make profit-oriented business decisions and strengthen their supplier-buyer network.
In-depth analysis of the malt whiskey market segmentation assists to determine the prevailing market opportunities.
Major countries in each region are mapped according to their revenue contribution to the global malt whiskey market size.
Market player positioning facilitates benchmarking and provides a clear understanding of the present position of the market players.
The report includes the analysis of the regional as well as global malt whiskey market trends, key players, market segments, application areas, and market growth strategies.
 Malt Whiskey Market Report Highlights
Aspects
Details
By Type

Scotch Whiskey
American Whiskey
Irish Whiskey
Others

By Distribution Channel
By Region

North America (U.S., Canada, Mexico)
Europe (U.K., Germany, France, Spain, Russia, Rest of Europe)
Asia-Pacific (India, China, Japan, Australia, Rest of Asia-Pacific)
LAMEA (Brazil, Argentina, UAE, South Africa, Rest of LAMEA)

Key Market Players
Suntory Holdings Limited, Asahi Group Holdings, Ltd., The Edrington Group, Alliance Global Group, Inc., William Grant & Sons, The Brown–Forman Corporation, Diageo plc, Pernod Ricard, Rémy Cointreau, Bacardi Limited