Medical Implant Market Statistics - 2027
The global medical implants market size accounted for $85,389 million in 2019, and is expected to reach $147,464 million by 2027, registering a CAGR of 7.2% from 2020 to 2027.Medical implant is an artificial device or tissue, which is used to replace damaged biological structures or enhance an existing biological structure. Medical implants are used in areas such as cardiovascular, orthopedic, neurological, and dental ailments. Some of the implants are made from skin, bone, or other body tissues, whereas some are made from metal, plastic, or ceramic materials. Medical implants can be permanent or temporary and can be removed when they are no longer required. Risks and complications associated with medical implantation are infection, surgical failure, and implant failure.
What is the Impact of COVID-19 Pandemic on the Medical Implant Market?
Most markets are witnessing decline in growth rate, owing to the outbreak of COVID-19, including the medical implants market. In addition, the American College of Surgeons (ACS) has recently developed guidelines for triage of vascular surgery patients, suggesting that non-emergency peripheral vascular procedures such as endovascular therapy for claudication should be postponed. Moreover, in regions severely affected by COVID-19, vascular procedures have been reduced to life or limb salvaging cases, owing to new government directives or hospital guidelines. All these factors are anticipated to impact the medical implants market in the future.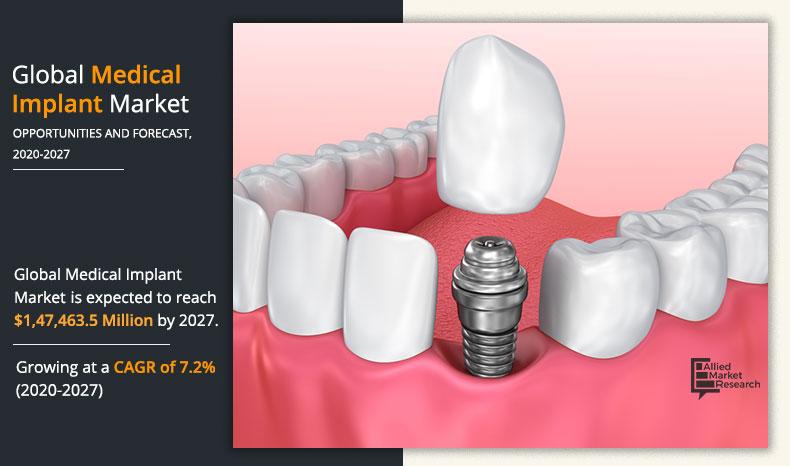 Rise in aging population and increase in prevalence of chronic diseases are some of the major driving factors for the medical implants market. Aged people are more susceptible to chronic diseases such as cardiovascular diseases, orthopedic disorders, endovascular diseases, and dental disorders, thus being the major users of medical implants. For instance, with the increasing aging population, the demand for tooth loss is expected to grow. According to the American Academy Of Implant Dentistry (AAID), about 3 million people in the U.S. currently have dental implants, and this number is expected to grow by 500,000 annually.
The growth of the global medical implants market is further driven by technological advancements in medical implants. Moreover, hike in disposable income, availability of better medical facilities, surge in number of cases with damaged limbs or organs caused by different accidents are the factors that play pivotal role in accelerating the growth of the medical implants market.
Furthermore, increase in awareness about the different types of medical implants among healthcare professionals boosts the medical implant market growth. In addition, initiatives from medical health insurance companies to support the critical health issues is facilitating the growth of the market, globally. Moreover, rise in government support to provide medical insurance coverage to downtrodden people in the society for their better health is fueling the demand for medical implants. However, high cost of treatment associated with medical implant and stringent approval process hamper the growth of the market.
Medical Implant Market

---
By Product
Cardiovascular Implants segment holds a dominant position in 2019 and would continue to maintain the lead over the forecast period.
Medical Implant Market Segmentation
The global medical implants market is segmented into product type, biomaterial, and region. On the basis product type, the market is categorized into orthopedic implants, cardiovascular implants, spinal implant, neurostimulators, ophthalmic implants, dental implants, facial implants, and breast implants. By biomaterial type, it is fragmented into metallic biomaterials, ceramic biomaterials, polymers biomaterials, and natural biomaterials. Region wise, it is analyzed across North America (the U.S., Canada, and Mexico), Europe (Germany, the UK, France, Spain, Italy, Spain, and rest of Europe), Asia-Pacific (Japan, China, India, Australia, South Korea, and rest of Asia-Pacific), and LAMEA (Brazil, South Africa, Saudi Arabia, and rest of LAMEA).
Segment review
On the basis of product type, the orthopedic implants segment is expected to hold a major medical implants market share in the global market, 2019, and is anticipated to continue this trend throughout the forecast period, owing to rise in prevalence of osteoporosis among aging population and increase in physical illness such as obesity. In addition, by biomaterial, the metallic biomaterial segment dominated the global medical implants market, due to increase in R&D investments, rise in applications of biomaterials, surge in demand for plastic surgery, and favorable reimbursements scenario.
Medical Implant Market

---
By Biomaterial
Polymers Biomaterials Segment is projected as one of the most lucrative segment.
Snapshot of Asia-Pacific medical implant market
Asia-Pacific expected to hold a significant share in the market and presents lucrative opportunities for key players operating in the medical implant market, owing to increase in population, increase in awareness among consumers about these devices, and availability of trained healthcare professionals. In addition, rise in healthcare expenditure and improvement in healthcare infrastructure are expected to propel the medical implants market growth in the region.
The report provides comprehensive analysis of the key players operating in the medical implant market such as Medtronic Plc., Johnson and Johnson, Boston Scientific Corporation, Biotronik, LivaNova PLC, Globus Medical, Inc., NuVasive, Inc., Integra LifeSciences Holding Corporation, Institut Straumann AG, and Conmed Corporation.
Medical Implant Market

---
By Region
Asia Pacific region would exhibit the highest CAGR of 8.8% during 2020-2027.
Key Benefits for Stakeholders
The study provides an in-depth analysis of the medical implants market along with current trends and future estimations to elucidate the imminent investment pockets.
It offers a quantitative analysis from 2019 to 2027, which is expected to enable stakeholders to capitalize on prevailing market opportunities.
The medical implants market size and estimations are based on a comprehensive analysis of key developments in the industry.
The key market players and their strategies have been analyzed to understand the competitive outlook of the medical implants market.
Key Market Segments
By Product Type
Orthopedic Implants

Reconstructive Joint Replacements

Knee Replacement Implants
Hip Replacement Implants
Extremities

Orthobiologics
Trauma & Craniomaxillofacial
 

Cardiovascular Implants

Pacing Devices

Cardiac Resynchronization Therapy Devices (CRTs)

CRT-P (CRT with pacemaker function)
CRT-D (CRT with pacemaker and ICD function)

Implantable Cardioverter Defibrillators (ICDs)

Transvenous Implantable Cardioverter Defibrillator (T-ICDs)
Subcutaneous Implantable Cardioverter Defibrillator (S-ICDs)

Implantable Cardiac Pacemakers (ICPs)

Stents

Coronary Stents

Drug-eluting Stents (DES)
Bare-metal Coronary Stents
Bioabsorbable Stents

Peripheral Stents
Iliac
Femoral–Popliteal
Renal
Carotid

Stent-related Implants

Synthetic Grafts
Vena Cava Filters

Structural Cardiac Implants

Mechanical Heart Valves
Implantable Ventricular-assist Devices

Spinal Implants

Spinal Fusion Implants
Spinal Bone Stimulators
Vertebral Compression Fracture (VCF) Devices
Motion Preservation Devices/Non-fusion Devices

Neurostimulators

Deep Brain Stimulation (DBS)
Sacral Nerve Stimulation (SNS)
Vagus Nerve Stimulation (VNS)
Spinal Cord Stimulation (SCS)
Other neurostimulators

Opthalmic Implants

Intraocular Lens
Glaucoma Implants

Dental Implants

Plate Form Dental Implants
Root Form Dental Implants

Facial Implants
Breast implants
By Biomaterial Type
Metallic Biomaterials
Ceramic Biomaterials
Polymers Biomaterials
Natural Biomaterials
By Region
North America
Europe

Germany
UK
France
Italy
Spain
Rest of Europe

Asia-Pacific

Japan
China
India
Australia
South Korea

Rest of Asia-Pacific

LAMEA
Brazil
Saudi Arabia
South Africa
Rest of LAMEA
Key Market Players
Medtronic Plc.
Johnson and Johnson
Boston Scientific Corporation
Biotronik
LivaNova PLC
Globus Medical, Inc
NuVasive, Inc.
Integra LifeSciences Holding Corporation
Institut Straumann AG
Conmed Corporation