Membrane Microfiltration Market Research, 2030
The global membrane microfiltration market size was valued at $3,772.70 million in 2020, and is projected to reach $8,849.50 million by 2030, growing at a CAGR of 8.9% from 2021 to 2030. Microfiltration is a low-pressure separation strategy that utilizes membranes with large pore sizes. Microfiltration filters can be produced from both organic and inorganic materials, such as polymer-based membranes and ceramic or stainless steel. Microfiltration membranes have the largest open pore diameters ranging from 0.1 to 10m. It can separate large suspended particles such as particulates, colloids, bacteria, and lipids while allowing proteins, carbohydrate, salts, and low molecular weight molecules to flow through.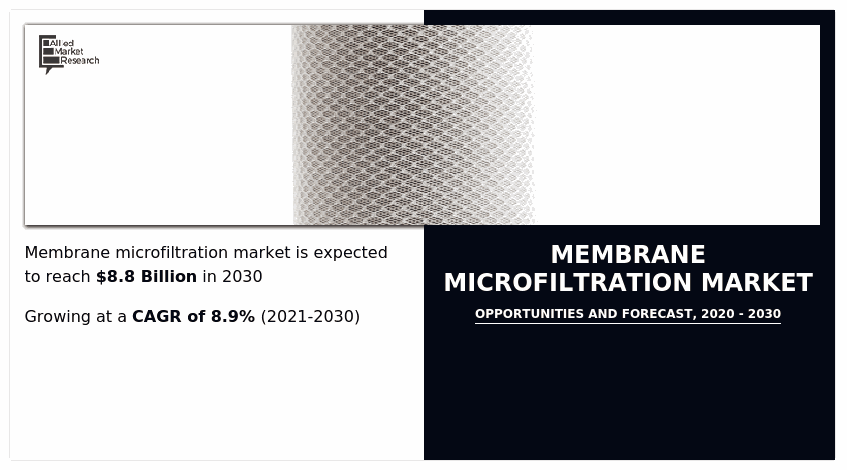 The membrane microfiltration market will increase in the coming years owing to rise in pharmaceutical and biotech companies. They have propelled the market demand for sterile surroundings and contamination-free surfaces. Moreover, the microfiltration industry has expanded due to the removal of microfibers from textile wastewater. Furthermore, microfiltration device sales have increased as the need for wastewater treatment has grown in various regions. Market demand for microfiltration techniques and equipment has grown as a result of government limitations on filtration processes and environmental concerns. In addition, growth in health awareness among costumers has resulted in surge in demand for membrane microfiltration in food & beverage sectors.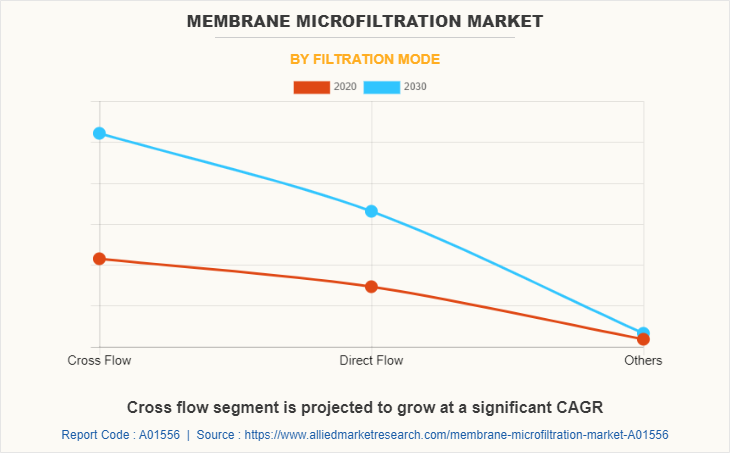 Microfiltration is a physical separation procedure for removing pollutants from process fluids such as suspended particles, lipids, and microorganisms. Microfiltration can be utilized alongside other membrane technologies such as ultrafiltration, reverse osmosis, and nanofiltration.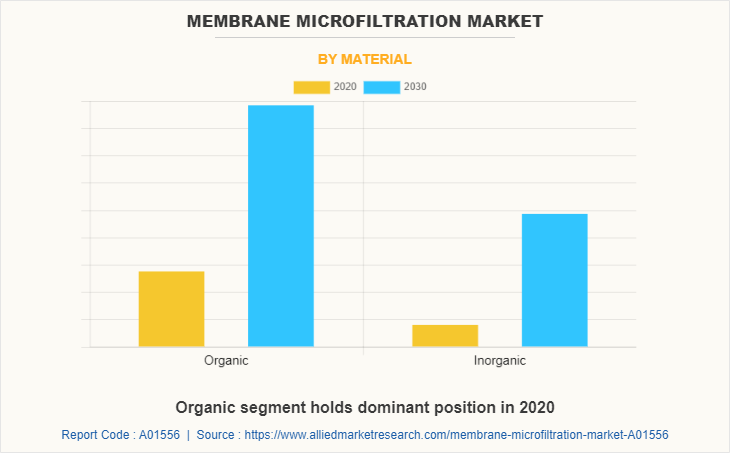 Furthermore, key players have expanded their filtration solution process by acquiring other companies and strengthening their market position. For instance, in December 2020, Sartorius Stedim Biotech acquired WaterSep BioSeparations, a filtering specialist. WaterSep BioSeparations designs, produces, and sells hollow fiber membrane devices as well as pre-sterilized devices for biopharmaceutical applications both downstream and upstream.
The COVID 19 outbreak has affected the growth of the membrane microfiltration industry owing to the lockdown measure in the countries and delay in production and manufacturing of membrane microfiltration which are utilized in water, waste water, food, beverage, and other industries.
The novel coronavirus has rapidly spread across various countries and regions, causing an enormous impact on lives of people and the overall community. It began as a human health condition and has now become a significant threat to global trade, economy, and finance. The COVID-19 pandemic halted production of many products in the membrane microfiltration market, owing to lockdowns. Furthermore, the number of COVID-19 cases is expected to reduce in the future as the vaccine for COVID-19 is introduced in the market. This has led to the reopening of membrane microfiltration companies at their full-scale capacities. This is expected to help the market recover by the start of 2022. After COVID-19 infection cases begin to decline, equipment & machinery producers must focus on protecting their staff, operations, and supply networks to respond to urgent emergencies and establish new methods of working.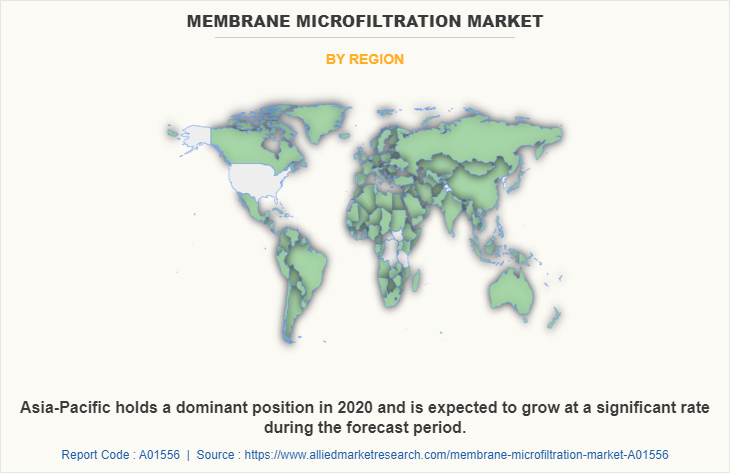 The membrane microfiltration market is segmented on the basis of filtration mode, material, end user, and region. In terms of filtration mode, the market is divided into cross-flow, direct-flow, and others. By material, the market is bifurcated into organic and inorganic. On the basis of end user, the market is categorized into hospitals & laboratories, pharmaceutical & biopharmaceutical companies, food & beverage, water & wastewater treatment, and others. Region wise, the global membrane microfiltration market is conducted across North America (the U.S., Canada, and Mexico), Europe (the UK, France, Germany, Italy, and rest of Europe), Asia-Pacific (China, Japan, India, South Korea, and rest of Asia-Pacific), and LAMEA (Latin America, the Middle East, and Africa). The membrane microfiltration market share has increased in Asia-Pacific region owing to increase its adoption in harmaceutical & biopharmaceutical companies, food & beverage, water & wastewater treatment.
COMPETITION ANALYSIS
The key players operating in the global membrane microfiltration market are 3M Company, Alfa Laval, General Electric Company, Danaher Corporation, Aquatech International LLC, MERCK Group, Kubota Corporation, Koch Membrane Systems, Inc., Pentair PLC, and Sartorius AG.
Key Benefits For Stakeholders
This report provides a quantitative analysis of the market segments, current trends, estimations, and dynamics of the membrane microfiltration market analysis from 2020 to 2030 to identify the prevailing  market opportunities.

The market research is offered along with information related to key drivers, restraints, and opportunities.

Porter's five forces analysis highlights the potency of buyers and suppliers to enable stakeholders make profit-oriented business decisions and strengthen their supplier-buyer network.

In-depth analysis of the membrane microfiltration market segmentation assists to determine the prevailing market opportunities.

Major countries in each region are mapped according to their revenue contribution to the global market.

Market player positioning facilitates benchmarking and provides a clear understanding of the present position of the market players.

The report includes the analysis of the regional as well as global membrane microfiltration market trends, key players, market segments, application areas, and market growth strategies.

The global membrane microfiltration market forecast analysis from 2021 to 2030 is included in the report

The key players within market are profiled in this report and their strategies are analyzed thoroughly, which help understand the competitive outlook of the membrane microfiltration market growth.
 Membrane Microfiltration Market Report Highlights
Aspects
Details
By Filtration Mode

Cross Flow
Direct Flow
Others

By Material
By End User

Hospitals And Laboratories
Pharmaceutical And Biopharmaceutical Companies
Food And Beverage
Water And Waste Water Treatment
Others

By Region

North America (U.S., Canada, Mexico)
Europe (Germany, France, U.K., Italy, Rest of Europe)
Asia-Pacific (China, India, Japan, South Korea, Rest of Asia-Pacific)
LAMEA (Latin America, Middle East, Africa)

Key Market Players
Sartorius AG, General Electric Company, Koch Membrane Systems, Inc., Danaher Corporation, Kubota Corporation, 3M Company, MERCK Group, Alfa Laval, Aquatech International LLC, Pentair PLC