Micromanipulators Market Research, 2030
The global micromanipulators market size was $ 9,302.48 thousand in 2020 and expected to reach $14,316.85 thousand in 2030, with a CAGR of 4.4% from 2021 to 2030. A micromanipulator is a gadget that allows physical interaction with a sample under a microscope at a level of precision that is impossible to attain with the human hand alone. It consists of an input joystick, a mechanism for limiting the range of motion, and an output section to hold a micro tool for carrying, injecting, cutting, or otherwise manipulating the sample as needed. It is used to study metal particles and colloids in an industrial setting. Micromanipulators are utilized for a variety of tasks, including cell manipulation and industrial micromanipulation. The technique of cell micromanipulation is frequently used for intracytoplasmic sperm injection. The need for micromanipulators has increased as the number of male infertility cases has increased creating micromanipulators market opportunity.
The pandemic had a significant impact on global micromanipulators market. The global micromanipulators market suffered a negative impact, which is attributed to postpone surgical procedures. With rise in pandemic, the hospital facilities were more focused on the COVID patients and with rush in treatments of symptoms and vaccination facilitation across the globe, other medical operations were shut down. Furthermore, delay in manufacturing units also impacted the rendering growth of the market. In addition, with COVID-19cases declining, the market is supposed to outcome the hindrances and flourish in the given forecast period
Micromanipulators market trends such as rise in R&D activities in the fields of neurology and biology, as well as the expansion in semiconductor and electronics sectors are expected to accelerate the growth of the global micromanipulators market. In addition, the surge in demand and a rise in cases of infertility diseases are considered as the major growth factors for global micromanipulators industry. Furthermore, owing to enhanced micromanipulation processes and the accuracy of electronic micromanipulators, the worldwide micromanipulator market is expected to rise rapidly in the next few years. Moreover, the global micromanipulators market growth is also driven by life science applications such as cell manipulation, microinjections, and physiochemical operations. Furthermore, with upsurge in the number of male infertility cases, demand for electronic micromanipulators industry is likely to rise during the forecast period. This growth is most likely to provide significant opportunities for the key players.
However, the expensive cost of sophisticated micromanipulators systems, on the other hand, is expected to hinder market expansion. Wafer probing, analytical probing stations, and testing wafers for semiconductor parameters are just few of the applications for micromanipulators in the semiconductor and electronics industries.
The micromanipulators market is segmented by type, application, and region. The micromanipulators market, by type is categorized into hydraulic, electric, and manual. The two major application segments include cell micromanipulation and industrial micromanipulation. Cell micromanipulation is further segmented into embryonic stem cell transfer, intra-cytoplasmic sperm injection (ICSI), pronuclear zygote injection, embryo reconstruction, micro-surgical applications, and biopsy applications. By region, the micromanipulators market is analyzed across North America, Europe, Asia Pacific, and LAMEA.
Segment Review
By type, the market is segmented into hydraulic, electric, and manual. The electric manipulators held largest micromanipulators market share in 2020 however hydraulic manipulators are anticipated to be the fastest growing segment and tend to flourish in the given micromanipulators market forecast period with a CAGR of 5.1%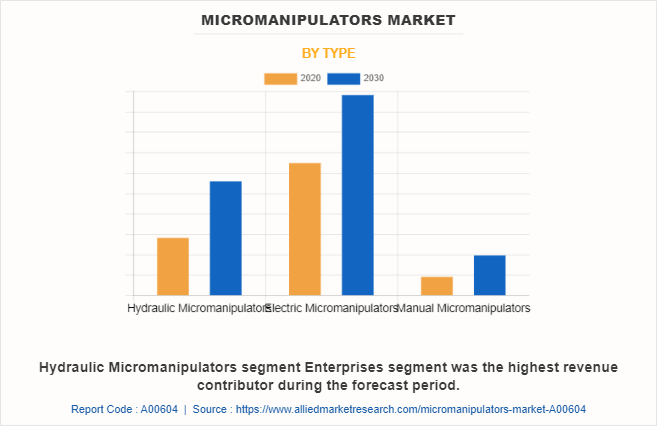 By application, cell manipulation was the largest segment in 2020 attributed to the surge in innovative, rise in male infertility and IVF failures and research application of micromanipulator.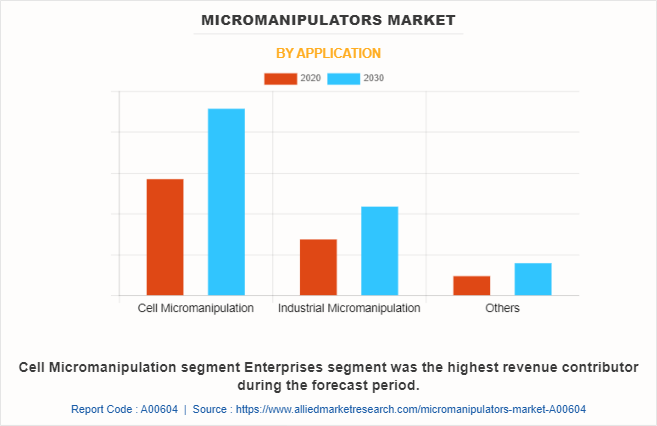 By region, North America dominated the market in 2020 credited to intense research activities, high awareness among the consumers for the adoption of micromanipulators, and heavy investment in the research and development field. Asia-Pacific is anticipated to be the fastest growing segment in the forecast period with a CAGR of 5.9% which is attributed to awareness in healthcare regarding micromanipulation for clinical research and medical innovation.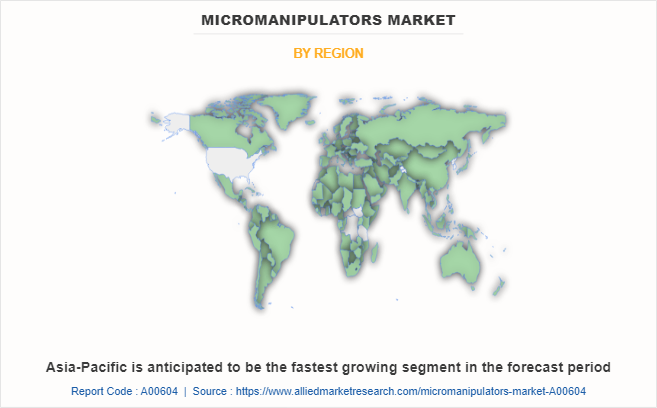 Major key players operating in the global micromanipulator market are Leica Microsystems, Luigs & Neumann GMBH & Co. KG, Narishige group, Nikon Healthcare, Scientifica, Ltd., Sensapex, Siskiyou corporation, Sutter health, The Micromanipulator Company, and Zeiss.
Key Benefits For Stakeholders
This report provides a quantitative analysis of the market segments, current trends, estimations, and dynamics of the micromanipulators market analysis from 2020 to 2030 to identify the prevailing micromanipulators market opportunities.
The market research is offered along with information related to key drivers, restraints, and opportunities.
Porter's five forces analysis highlights the potency of buyers and suppliers to enable stakeholders make profit-oriented business decisions and strengthen their supplier-buyer network.
In-depth analysis of the micromanipulators market segmentation assists to determine the prevailing market opportunities.
Major countries in each region are mapped according to their revenue contribution to the global market.
Market player positioning facilitates benchmarking and provides a clear understanding of the present position of the market players.
The report includes the analysis of the regional as well as global micromanipulators market trends, key players, market segments, application areas, and market growth strategies.
 
 
 Micromanipulators Market Report Highlights
Aspects
Details
Market Size By 2030
USD 131.9 million
Growth Rate
CAGR of 8.7%
Forecast period
2020 - 2030
Report Pages
150
By Application

Cell Micromanipulation

Type

Embryonic Stem Cell Transfer
Intra cytoplasmic sperm injection (ICSI)
Pronuclear Zygote Injection
Embryo Reconstruction
Microsurgical Application
Biopsy Application

Industrial Micromanipulation

Type

Semiconductors and Microelectronics
Flat Screens
Others

Others

By Type

Hydraulic Micromanipulators
Electric Micromanipulators
Manual Micromanipulators

By Region

North America (U.S., Canada, Mexico)
Europe (Germany, France, UK, Italy, Spain, Rest of Europe)
Asia-Pacific (Japan, China, India, Rest of Asia-Pacific)
LAMEA (Latin America, Middle East, Africa)

Key Market Players
Sutter Instruments, The Micromanipulator Company, Luigs and Neumann, Narishige Co. Ltd., Sensapex Inc., Leica microsystems, ZEISS Group., Siskiyou Corporation, Nikon Healthcare, Scientifica Ltd
Analyst Review
A micromanipulator is a tool for interacting with and manipulating a sample under a microscope. Micromanipulators are utilized when precise movements on the submicron scale are required, which are impossible to do by hand. Micromanipulation is used to study metal particles and colloids in industrial settings. It can be done with both upright and inverted microscopes. Labs can easily generate their own micropipettes using microinjection systems, micropipette pullers, bevellers, and micromanipulators. They are employed in a wide range of scientific and engineering disciplines, including life sciences, optics, and circuit engineering.
Factors such as rise in demand for micromanipulators in life science applications such as microsurgery, chemical, and physiological operations are major attributes for growth of micromanipulator market. Cell manipulation, transgenic, microinjection of adherent cells, and other applications fuel the market's growth. They also have a lot of use in clinical research for advancing molecular development and contributing to potential growth. Furthermore, significant technological advancements result in the development of fully automatic equipment with improved optical performance and precision. During the projected period, the market is expected to see significant capital investments in R&D, which is anticipated to fuel market growth. Top manufacturers now control the market, however new companies are projected to emerge throughout the forecast period.
North America dominated the market, this growth is credited to the significant concentration of leading manufacturers, and it is likely to remain dominant during the forecast period. Asia-Pacific is the fastest due to the increased usage of micromanipulators among end users during the projection period. Owing to lower adoption, the rest of the world is likely to account for a minor portion of the market.