Microscope Market Outlook – 2027 
The global microscope market size was valued at $1.39 billion in 2019 and is expected to reach $1.64 billion by 2027, growing at a CAGR of 3.2% from 2020 to 2027. An electron microscope is a scientific imaging instrument that utilizes a beam of accelerated electrons as a source of illumination. As the wavelength of an electron can be much shorter than that of visible light photons, electron microscopes provide higher resolving power than light microscopes and can reveal the structure of smaller objects with high-quality imaging.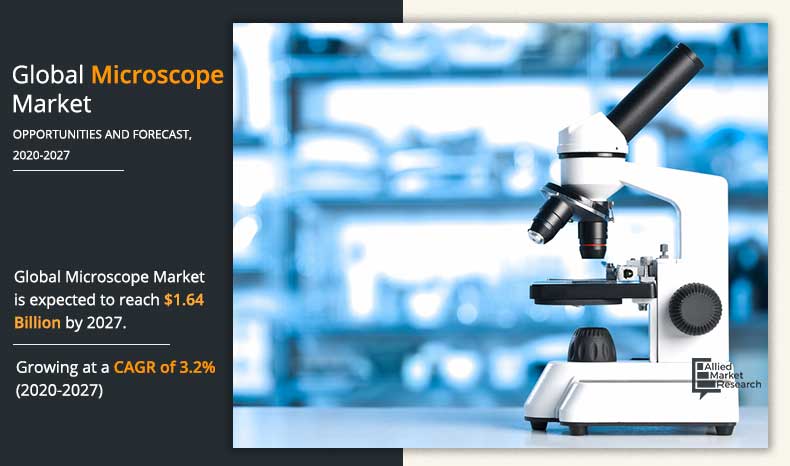 These microscopes are used in various applications such as precision measuring in nanostructures, molecular imaging, atomic structuring, and bio-technology, among others. Electron microscopes are of various types such as scanning electron microscope, transmission electron microscope, and focused-ion beam, among others.
Microscope Market

---
By Type
Scanning Electron Microscope segment is projected to be the most lucrative segment
The microscope market is segmented on the basis of type, end use, and region. On the basis of type, the market is categorized into scanning electron microscope, transmission electron microscope, focused ion beam, and others. On the basis of end use, it is divided into semiconductor & microelectronics, healthcare, general manufacturing, food processing, construction, and other. By region, the market is analyzed across North America, Europe, Asia-Pacific, and LAMEA.
Microscope Market

---
By End Use
Semiconductor and Microelectronics segment will dominate the market throughout the forecast period
Top Impacting Factors
The significant factors impacting the growth of the global microscope sensor market include increased demand of electron microscope in semiconductor & microelectronics, adoption of electron microscopy in the field of healthcare and life-science, and rise in demand due to advancement in electron microscope. Whereas, high initial investment which is a challenge for its adoption in small and medium scale industries hampers the market growth. Whereas, increased R&D activities in the automotive sector is expected to create lucrative opportunity for the microscope market growth. 
Microscope Market

---
By Geography
Asia-Pacific region would exhibit the highest CAGR of 3.6% during 2020-2027
Increased Demand For Electron Microscope in Semiconductor & Microelectronics
Scanning electron microscope is used in the semiconductor industry to inspect quality of components and devices developed as per the standards. Moreover, recent advancement in the electron microscopy techniques has made possible to control structure of devices and components developed at micro-level. Electron microscopes are used to inspect a wide range of application that is from packaged devices to atomic level structure. Therefore, the increased demand in applications for the semiconductor and microelectronics industry drives the market demand. 
Rise in Demand Due to Advancement in Electron Microscope
The advancement in electron microscope by the market players have increased industrial competition. Enhanced features such as higher magnification and low-light high-quality imaging, among other features have increased the market demand. The new product development and product launches elevate electron microscopy and microanalysis solutions that benefit the consumer in the end uses such as healthcare, semiconductor & microelectronics, and assist scientists to gather information more precisely. 
Adoption of Electron Microscopy in the Field of Healthcare and Life Science
Healthcare and life-science have wider laboratory R&D activities. These need higher quality imaging and magnification with less turn-around time. This demand the use of electron microscope. Primarily, the features of electron microscope are exhausted in gathering information about biopsy samples, cells, and microorganisms. Further, the advancement of electron microscope has increased its demand for various healthcare applications such as nano-particle imaging, bio-technology, and molecular structuring, among others. In addition, application of an electron microscope is observed for data storage, material research, and biology & life sciences.
High Initial Investment
Electron microscope is one of the advanced emerging technology and is used in various industries such as automotive, healthcare, aerospace, & others for high resolution. However, high cost of electron microscope due to inbuilt electrons which improves the level of screen with the help of beams and makes images look more realistic is expected to restrain the market growth. In addition, the high investments in initial level restricts initial acceptance of electron microscopes majorly in small and medium scale industries. 
Covid-19 Impact Analysis
The COVID-19 pandemic situation has impacted the world economy, and microscope market is no exception to this. It has hampered the growth of industries globally including semiconductor & microelectronics, general manufacturing, food processing, and construction. The industries have majorly witnessed numerous challenges amidst the novel corona virus outbreak. However, the situation has created opportunity for the healthcare and life-science sector. 
Competitive Analysis
The key players that have a major microscope market share include Angstrom Advanced INC, Hitachi High Technologies, TESCAN GMBH, Thermo Fisher Scientific, Carl ZEISS AG, JEOL LTD., Horiba Ltd., Olympus Corporation, Nikon, and Leica Microsystems, which are profiled in this report. The microscope industry key market players adopt various strategies such as such as product portfolio expansion, mergers & acquisitions, agreements, geographical expansion, and collaborations to enhance their market penetration. 
Key Benefits For Stakeholders
This study comprises analytical depiction of the global microscope market size along with the current microscope market trends and future estimations to depict the imminent investment pockets.
The overall microscope market analysis is determined to understand the profitable trends to gain a stronger foothold.
The report presents information related to key drivers, restraints, and opportunities with a detailed impact analysis.
The current microscope market forecast is quantitatively analyzed from 2019 to 2027 to benchmark the financial competency.
Porter's five forces analysis illustrates the potency of the buyers and suppliers in the microscope market.
 Microscope Market Report Highlights
Aspects
Details
By Type

Scanning Electron Microscope
Transmission Electron Microscope
Focused Ion Beam
Others

By End Use

Semiconductor & Microelectronics
Healthcare
General Manufacturing
Food Processing
Construction
Others

By Region

North America (U.S., Canada, Mexico)
Europe (Germany, UK, France, Italy, Rest of Europe)
Asia-Pacific (China, Japan, India, South Korea, Rest of Asia-Pacific)
LAMEA (Latin America, Middle East, Africa)

Key Market Players
JEOL LTD., HORIBA LTD., OLYMPUS CORPORATION, NIKON, ANGSTROM ADVANCED INC, TESCAN ORSAY HOLDING, HITACHI HIGH-TECH CORPORATION, THERMO FISHER SCIENTIFIC, INC, LEICA-MICROSYSTEMS, CARL ZEISS AG