Mining Automation Market Overview:
The global mining automation market size was valued at $2,193 million in 2016, and is projected to reach at $3,810 million by 2023, growing at a CAGR of 7.9% from 2017 to 2023. Mining automation involves use of process and software automation, and incorporation of robotic technology in mining vehicles and automation. Mining automation involves extracting ores, minerals, or other resources using technology and information. The process is undertaken to ensure, better efficiency, productivity, safety, and reduction in operating cost at the mine site. It involves removal of human labor from the mining process.
Key factors such as rise in concerns for miner safety, increase in productivity of the mining activity through automation, controlled costs such as elimination of high labor cost and time, and emergence of mining automation software drive the demand for mining automation. However, depletion of natural resources restrains the market growth. Most of the manual tasks, involving entry level mining positions, have been taken over by mining automation, leading to loss of job opportunities for unskilled laborers, which impedes the market growth. Similarly, increase in transition of consumers toward automation fuels the growth.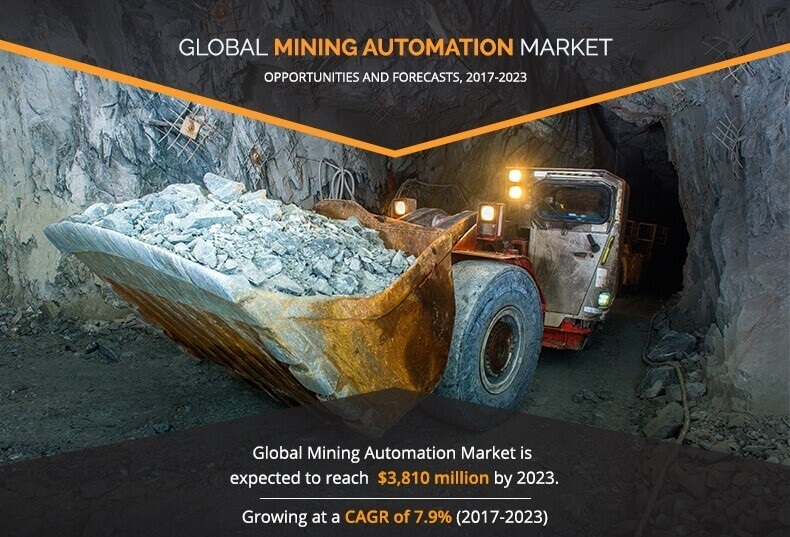 Segment Overview
The global mining automation market is segmented based on technique, type, and region. Underground mining and surface mining are studied under the technique segment. Based on type, the market is divided into equipment, software, and communication system. Based on region, it is analyzed across North America, Europe, Asia-Pacific, and LAMEA.
Growth in automation, urbanization in countries, such as India and China, and rise in the transition from manual cognitive work to automated cognitive work is anticipated to boost the growth of the Mining Automation Market from 2017 to 2023.
Increase in the Need for Worker Safety
Working in underground mines is considered to be extremely hazardous due to the potential dangers such as lack of proper ventilation, exposure to toxic gases, and adverse health effects. This concern derived the need for advanced mining equipment for underground mining techniques to safeguard mine workers, which majorly drives the market.
Reduction in Operating Cost
Automated mining involves removal of manual labor from the mining process. Further, reduction in time needed to travel through the mine during the shift reduces the overall cost involved in the mining process which drives the market growth.
Absence of High Skilled and Qualified Labor
The adoption of mining automation involves requirement of highly skilled and qualified labors at the mine site. The lack of required personnel to operate the technology is the major backdrop. Absence of such required work force acts as a major restraint for the market growth.
Key players operating in the global mining automation market include Autonomous Solution Inc., Atlas Copco, Caterpillar, Hexagon, Hitachi, Komatsu Ltd., Mine site technologies, RPM Global Holdings Ltd., Sandvik AB, and Trimble.
Key Benefits for Mining Automation Market:
This report provides an extensive analysis of the current and emerging mining automation market trends and dynamics.
In-depth mining automation market analysis is conducted by constructing market estimations for the key market segments between 2016 and 2023.
Extensive analysis of the market is conducted by following key product positioning and monitoring the top competitors within the market framework.
The global mining automation market forecast analysis from 2016 to 2023 is included in the report.
Key players operating in the global market are profiled in this report, and their strategies are analyzed thoroughly, which help to understand the competitive outlook of the mining automation industry.
 Mining Automation Market Report Highlights
Aspects
Details
By Technique

UNDERGROUND MINING AUTOMATION
SURFACE MINING AUTOMATION

By Type

EQUIPMENT
SOFTWARE
COMMUNICATION SYSTEM

By Region

North America (U.S., Canada, Mexico)
Europe (UK, Germany, France, Rest of Europe)
Asia-Pacific (China, India, Japan, Rest of Asia-Pacific)
LAMEA (Latin America, Middle East, Africa)

Key Market Players
AUTONOMOUS SOLUTION INC., ATLAS COPCO AB, CATERPILLAR, HEXAGON, HITACHI, LTD., KOMATSU LTD., MST (MINE SITE TECHNOLOGIES), RPM GLOBAL HOLDINGS LIMITED, SANDVIK AB, TRIMBLE INC.