Mixed Reality In Healthcare Market Research, 2031
The global mixed reality in healthcare market size was valued at $2.7 billion in 2022, and is projected to reach $30.6 billion by 2031, growing at a CAGR of 27% from 2023 to 2031. Mixed reality (MR) technology combines the viewer's virtual and real-world experiences. The goal of MR is to create an environment with interactive digital items that blurs the distinction between virtual and physical reality. . Because of this merging, MR is often referred to as hybrid reality or extended reality. Users in this type of virtual reality can engage with both the physical and virtual worlds at the same time. Digital objects can interact with physical objects using MR programs; for example, an MR-generated character can appear to be sitting on the user's real couch.
The COVID-19 pandemic had a profound impact on the healthcare market's mixed reality. The demand for virtual reality goods in the healthcare sector soared during the pandemic. Doctors were able to better grasp and research the impact of the novel virus strain thanks to the usage of virtual reality in healthcare. In healthcare, virtual reality has also helped medical workers acquire real-time radiographic insights, illustrating the impact of disease on patients' bodies. The majority of COVID-19 infection survivors developed Post-Intensive Care Syndrome (PICS). Virtual reality technology aided patients in recovering from this syndrome in this case through virtual rehab sessions.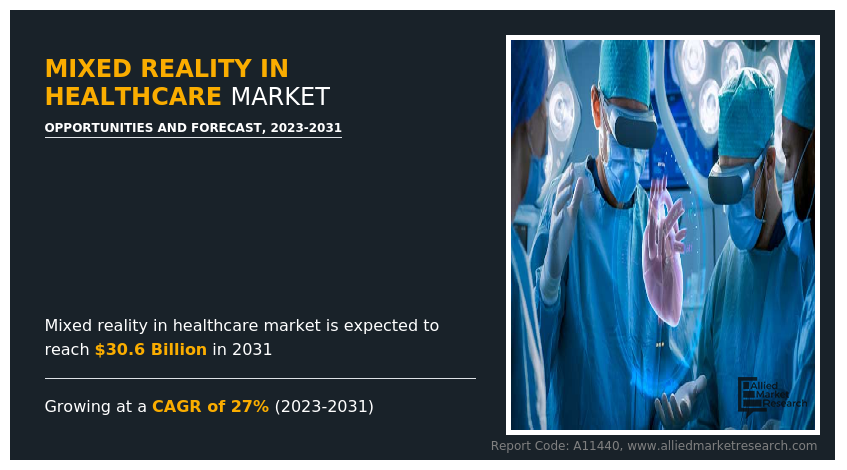 Mixed reality in modern surgery enables pre-procedural planning and visualization. It also helps in reducing errors and improving the overall experience of the patient. The most efficient approach of education is to imitate a specific procedure. It aids in the preparation for various situations that may arise during surgery. Mixed reality can assist a medical student in such unique instances that would be impossible to plan for in real clinical settings. MR simulations are far less expensive than standard simulation devices. One of the most significant advantages of mixed reality is the ability to train nurses before the surgery by virtually working out issues they may face during real-life surgeries, as well as improve collaboration and communication between doctors and patients. All these factors are anticipated to drive the mixed reality in healthcare market growth in the upcoming years.
Mixed reality in healthcare faces various technical problems, including tracking accuracy, latency, and computing power. These difficulties might have an impact on the user experience and make it difficult for developers to construct immersive MR applications. Furthermore, mixed reality has the potential to create social boundaries between users who are in the same area but seeing different things. This can be difficult in collaborative situations and may limit the use of MR technology. All these factors are anticipated to restrain the mixed reality in healthcare market growth in the future.
MR technology can also help medical personnel manage their time more effectively. This helps to increase the number of instances or patients that the healthcare practitioner can handle. For example, the Augmedix platform, developed by Augmedix, can save 2 to 3 clinician or physician hours every day. Therefore, such platforms will assist healthcare workers with inpatient and task management. Furthermore, rise in the number of research activities and the study related to the application of the mixed reality in certain medical conditions like pain management and mental health is further projected to create opportunities for the key players in the mixed reality in healthcare market. The technological advancements in the mixed reality sector which are helpful in the increasing the efficiency of the surgical procedures also help to boost the growth of the mixed reality in healthcare market. All these factors are anticipated to boost the mixed reality in healthcare market opportunity in upcoming years.
The key players profiled in this report include Daqri, EchoPixel, Inc., Oculus VR, Atheer, Inc., Firsthand Technology, Inc., Osso VR, Surgical Theater, Inc., Microsoft Corporation, Samsung Electronics Co. Ltd., and HTC Corporation. Investment and agreement are common strategies followed by major market players. For instance, in 2019, Osso VR announced a collaboration with Sawbones, the maker of hands-on medical and orthopedic workshop models, to digitize anatomical medical instruction using its MR technology. This action will assist Osso VR gain visibility in the world of mixed reality.
The mixed reality in healthcare industry is segmented on the basis of type, component, application, end user, and region. By type, the market is divided into augmented reality and virtual reality. By component, the market is classified into hardware, software, content and application, and others. By application, the market is classified into surgery and surgery simulation, patient care management, fitness management, medical training and education, and others. By end user, the market is classified into hospital, surgical centers and medical institutes, and others. By region, the market is analyzed across North America, Europe, Asia-Pacific, and LAMEA.
The mixed reality in healthcare market is segmented into Type, Component , Application and End User.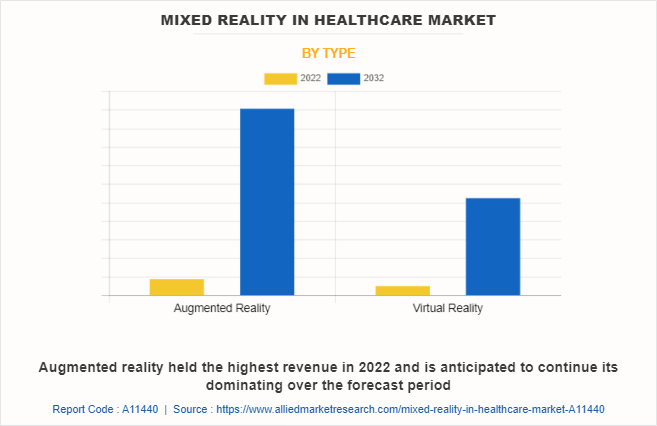 By type, the augmented reality sub-segment dominated the market in 2022. The increase in investments to develop augmented reality products is also predicted to boost market growth due to the rising introduction of novel AR goods into the market, consequently driving sales and market growth. For example, in January 2022, a group of healthcare companies was given early access to Magic Leap's second-generation augmented reality gear. SentiAR, for example, creates software that allows surgeons to operate on and inspect a 3D replica of a patient's heart. Brainlab, for example, wants to make its Mixed Reality Viewer software compatible with Magic Leap. These are predicted to be the major factors driving the mixed reality in healthcare market size during the forecast period.
[COMPONENTGRAPH]
By component, the software sub-segment dominated the global mixed reality in healthcare market share in 2022. The growth is due to recent technological breakthroughs in in-app design, including apps like EyeDecide. It diagnoses eye problems by measuring a variety of characteristics. Furthermore, programs like Applied VR assist patients in overcoming anxiety throughout any medical treatment. Interconnectivity and network services that allow patients gain access to these platforms have advanced dramatically in recent years. The high share of the segment is largely due to increased software accessibility and availability to users, as well as increased awareness of the use of software platforms in various healthcare applications. Furthermore, the increase in demand for software applications to improve patient involvement is expected to drive the development of mixed reality-based software.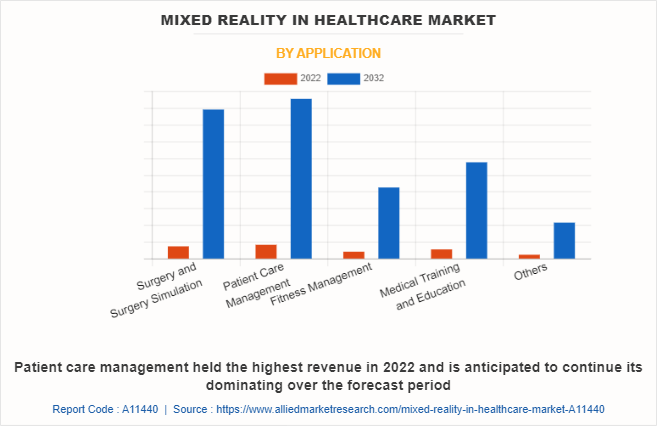 By application, the surgery & surgery simulation sub-segment is projected to be the fastest growing during the mixed reality in healthcare market forecast period. The use of mixed reality can assist surgeons in performing more precise procedures. During surgery, mixed reality devices can offer surgeons with real-time information on the patient's health status. They can also monitor real-time images from non-intrusive scanning technologies to keep them aware of the changes taking place in the patient's body during the process. This allows doctors to monitor the patient's internal systems that are not visible through the surgical incision, allowing them to avoid any hidden issues that may develop from surgical treatments.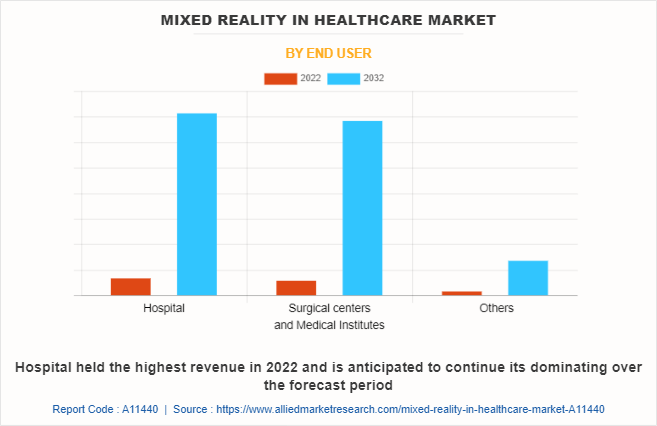 By end user, the hospital sub-segment dominated the global mixed reality in healthcare market share in 2022. The integration of mixed reality technology in the hospital sub-segment is expected to drive the mixed reality industry forward. Mixed reality (MR) combines virtual reality (VR) and augmented reality (AR) features, allowing users to interact with digital material in the real world.. Furthermore, the rising use of mixed reality technology for pain management, mental health, and other applications is driving the growth of the mixed reality in healthcare market.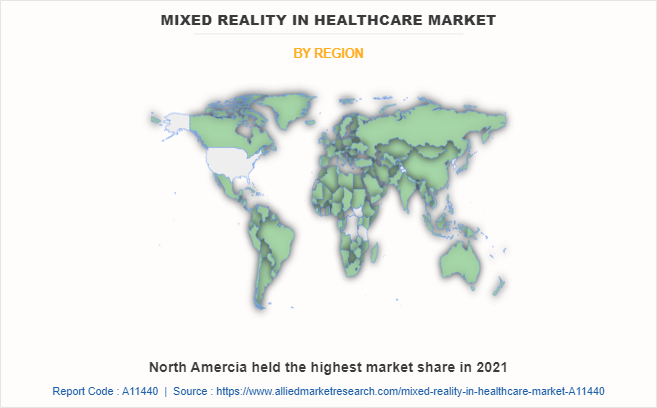 By region, North America dominated the global market in 2022. Some of the important factors driving the regional market expansion include the increasing acceptance of new technologies, the presence of a larger number of market competitors, and well-developed healthcare infrastructure. Furthermore, Arvizio, a corporate augmented and mixed reality (AR/MR) supplier, launched a suite of capabilities for its augmented reality workflow automation in March 2022 for medical organizations, healthcare professionals, and technicians to use in equipment training, operation, and maintenance. Furthermore, in November 2021, the U.S. FDA approved the sale of EaseVRx, a prescription-use immersive VR system that uses cognitive behavioral therapy and other behavioral approaches to help with pain reduction in patients 18 years of age and older with documented persistent lower back pain.
Impact of COVID-19 on the Global Mixed Reality in Healthcare Industry
The COVID-19 pandemic had a positive impact on the mixed reality in healthcare market. During the pandemic, the rising demand for services including telemonitoring, medical training & education, and patient management were major factors responsible for the market expansion.
Furthermore, there was a quick surge in demand for rapid digitalization, training of healthcare experts, and an increase in usage of mixed reality in the healthcare industry during the pandemic.
Virtual reality (VR) and augmented reality (AR), as two distinct technologies, have been used in a variety of fields for disaster emergency management during the pandemic. Increase in adoption of augmented reality in the post-pandemic period is projected to drive market growth.
Key Benefits For Stakeholders
This report provides a quantitative analysis of the market segments, current trends, estimations, and dynamics of the mixed reality in healthcare market analysis from 2022 to 2032 to identify the prevailing mixed reality in healthcare market opportunities.
The market research is offered along with information related to key drivers, restraints, and opportunities.
Porter's five forces analysis highlights the potency of buyers and suppliers to enable stakeholders make profit-oriented business decisions and strengthen their supplier-buyer network.
In-depth analysis of the mixed reality in healthcare market segmentation assists to determine the prevailing market opportunities.
Major countries in each region are mapped according to their revenue contribution to the global market.
Market player positioning facilitates benchmarking and provides a clear understanding of the present position of the market players.
The report includes the analysis of the regional as well as global mixed reality in healthcare market trends, key players, market segments, application areas, and market growth strategies.
 Mixed Reality in Healthcare Market Report Highlights
Aspects
Details
Market Size By 2032
USD 30.6 billion
Growth Rate
CAGR of 27%
Forecast period
2022 - 2032
Report Pages
280
By Type

Augmented Reality
Virtual Reality

By Component 

Hardware
Software
Content and Application
Others

By Application

Surgery and Surgery Simulation
Patient Care Management
Fitness Management
Medical Training and Education
Others

By End User

Hospital
Surgical centers and Medical Institutes
 Others

By Region

North America (U.S., Canada, Mexico)
Europe (Germany, UK, France, Spain, Italy, Rest of Europe)
Asia-Pacific (China, Japan, India, South Korea, Australia, Rest of Asia-Pacific)
LAMEA (Brazil, Saudi Arabia, United Arab Emirates, South Africa, Rest of LAMEA)

Key Market Players
HTC Corporation, Atheer, Inc., Daqri, Firsthand Technology, Inc., Microsoft Corporation, Osso VR, ECHOPIXEL, INC., Samsung Electronics Co. Ltd., Oculus VR, Surgical Theater, Inc.