Mobile 3D Market Research, 2032
The global mobile 3d market was valued at $64.8 billion in 2022, and is projected to reach $402.5 billion by 2032, growing at a CAGR of 20.4% from 2023 to 2032.
Mobile 3D has enabled users to view and interact with three-dimensional content on mobile devices such as smartphones, tablets, and other mobile devices. Without the use of special glasses or equipment, it enables users to enjoy a more immersive and realistic environment. Applications, games, and augmented reality apps that use 3D graphics to give users a more engaging and interactive experience are included in the category of mobile 3D services. Mobile 3D can improve the user experience by presenting a more dynamic and captivating environment. It can assist companies in developing more persuasive marketing strategies that enable them to present their goods and services more effectively and attractively. In addition, it can assist teachers in developing more interesting educational materials that make it simpler for pupils to comprehend difficult ideas. Further, the technology behind autostereoscopy, which enables the viewing of 3D image without the use of glasses, has advanced dramatically in yecent years. Modern autostereoscopic displays are more suited for mobile devices since they have improved resolution, large viewing angles, and less crosstalk. Users will able to view high quality 3D video on their mobile devices without buffering or lag due to the deployment of 5G technology, which enble easier and more reliable connection.
Surge in demand for 3D content and advancements in 3D technology primarily drive the growth of the Mobile 3D market. However, limited processing power of mobile devices hampers market growth to some extent. Moreover, increase in availability and affordability of mobile devices are expected to provide lucrative opportunities for market growth during the forecast period.
The COVID-19 pandemic has had a significant impact on various industries and sectors, including the mobile 3D market. In addition, the COVID-19 pandemic fueled the adoption of augmented and virtual reality technologies. As a result, interest in virtual experiences increased as more individuals were unable to travel or take part in physical events. Moreover, this has raised demand for mobile apps and games that include 3D graphics and virtual and augmented reality elements. Furthermore, due to the shift to virtual events, which frequently use 3D technology to create virtual worlds and immersive experiences, many organizations and corporations have changed their focus towards mobile 3D content during the pandemic.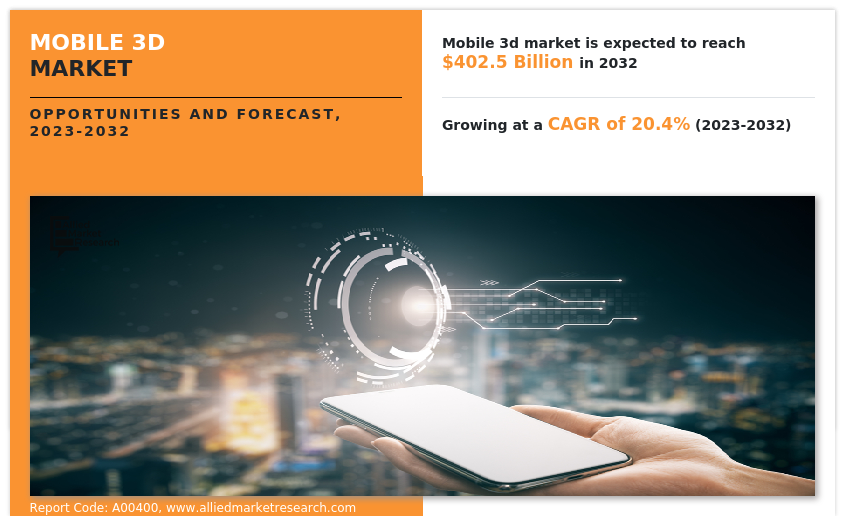 The mobile 3d market is segmented into Type and Application.
The mobile 3D market is segmented on the basis of type, application, and region. On the basis of type, it is segregated into smartphones, notebooks, tablets and others. On the basis of application, it is classified into animation, mobile gaming, advertisement, map & navigation, and others. On the basis of region, it is analyzed across North America, Europe, Asia-Pacific, and LAMEA.
The global mobile 3D market is dominated by key players such as Apple Inc., HTC Corporation, Hitachi, Ltd., Intel Corporation, LG Electronics, 3M Company, NVIDIA Corporation, Qualcomm Technologies, Inc., Samsung Electronics Co Ltd., and Sharp Corporation. These players have adopted various strategies to increase their market penetration and strengthen their position in mobile 3D industry.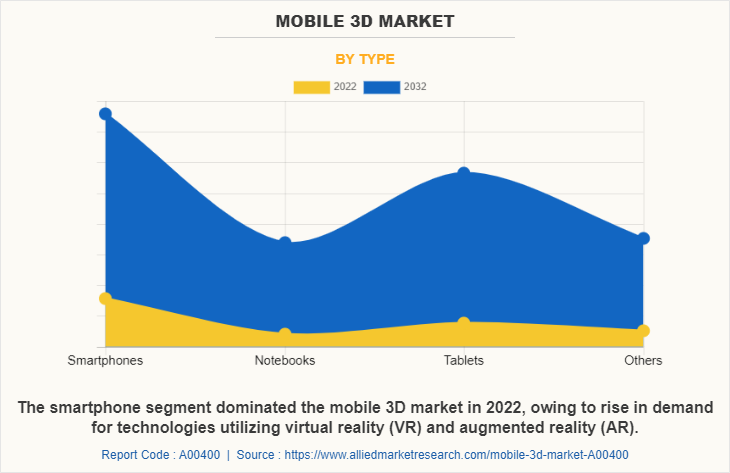 On the basis of type, smartphone segment dominated the intellectual property management market in 2022 and is expected to maintain its dominance in the upcoming years owing to rise in demand for technologies utilizing virtual reality (VR) and augmented reality (AR) propels the market growth significantly.As AR and VR mainly rely on 3D graphics to produce immersive and realistic experiences, there is probably more demand for mobile devices that can display high-quality 3D content as these technologies gain popularity. However, notebook segment is expected segment is expected to witness highest growth, owing to the surge in desire for high-performance mobile computing as well as the expansion in accessibility and affordability of 3D technology drive the development of mobile 3D laptops. Mobile 3D notebooks may have a chance to provide users with the capacity to build and examine 3D models in immersive and interactive environments as AR and VR become more common in a variety of industries.
.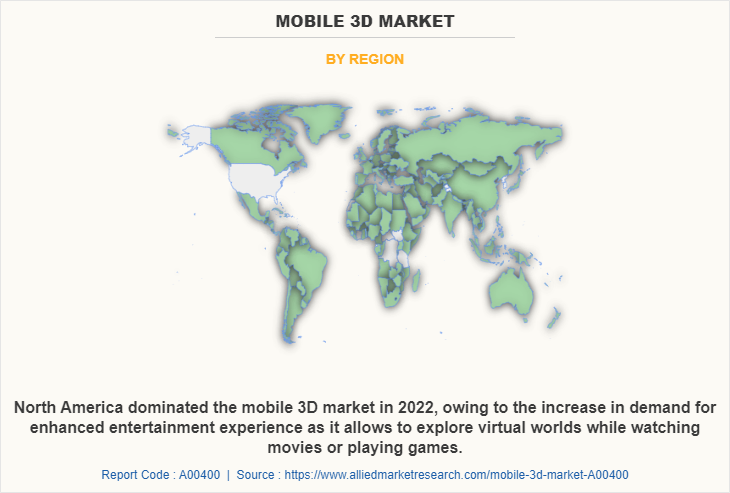 By region, North America dominated the market share in 2022 for the Mobile 3D market, owing to the large consumer base that actively seeks out new and immersive entertainment experiences in countries such as U.S. and Canada. The rise in investment in advanced technologies, such as AR and VR, business analytics solution, and IoT, to improve businesses and the customer experience are anticipated to propel the growth of the mobile 3D market size. However, Asia-Pacific is expected to exhibit the highest growth during the forecast period. This is attributed to the increase in penetration of digitalization and higher adoption of advanced technology are expected to provide lucrative growth opportunities for the market in this region. 
Top Impacting Factor
Increasing demand for 3D content  
The surge in interest among consumers in 3D content that can be watched on mobile devices contributes to the increase in demand for 3D content in the mobile 3D market.". People search for more immersive and compelling experiences as mobile technology advances, and 3D content provides both. This desire extends beyond entertainment to include things such as gaming, education, and advertising.
3D content is being used in education to give pupils a more interactive and interesting learning experience. Furthermore, it is utilized in marketing to produce more powerful and memorable advertisements that draw in customers. 3D content is being used in games to produce more immersive and realistic gameplay experiences. The surge in acceptance of virtual reality (VR) and augmented reality (AR) technology has increased the demand for 3D content. With the aid of these technologies, people can engage more readily and fully immerse themselves in 3D material. In addition, consumers' increased interest in more immersive and engaging experiences that they may enjoy on their mobile devices is reflected in the growing demand for 3D content in the mobile 3D market.
Advancements in 3D technology 
The constant development and enhancement of technology that makes it possible to create, share, and use 3D content on mobile devices is referred to as advancements in 3D technology in the mobile 3D industry. The accessibility, affordability, and user-friendliness of 3D technologies have significantly improved over time. The creation of autostereoscopic displays, which enable viewers to watch 3D information without the usage of special glasses, is one of the most significant developments in 3D technology. With the use of this technology, 3D material can now be viewed on mobile devices, making it easier for users to have immersive experiences while on the go. Users can take pictures of real-world objects and turn them into 3D models using 3D scanning. In fields where 3D models are used for numerous applications, such as healthcare, architecture, and manufacturing, this technology has created new opportunities. Owing to 3D, more potent processors and graphics cards have been created, enabling them to handle the intricate computations necessary for displaying real-time 3D graphics of the highest quality. Users now enjoy more lifelike and compelling 3D experiences as a result. Furthermore, consumers can now produce, share, and consume 3D content on their mobile devices more easily and conveniently due to mobile 3D. This has given companies and people new opportunity to develop captivating and immersive experiences for their audiences.
Key Benefits For Stakeholders
This report provides a quantitative analysis of the market segments, current trends, estimations, mobile 3D market forecast and dynamics of the mobile 3d market analysis from 2022 to 2032 to identify the prevailing mobile 3d market opportunities.
The market research is offered along with information related to key drivers, restraints, and opportunities.
Porter's five forces analysis highlights the potency of buyers and suppliers to enable stakeholders make profit-oriented business decisions and strengthen their supplier-buyer network.
In-depth analysis of the mobile 3d market segmentation assists to determine the prevailing market opportunities.
Major countries in each region are mapped according to their revenue contribution to the global mobile 3D market share.
Market player positioning facilitates benchmarking and provides a clear understanding of the present position of the market players.
The report includes the analysis of the regional as well as global mobile 3d market trends, key players, market segments, application areas, and mobile 3D market growth strategies.
 Mobile 3D Market Report Highlights
Aspects
Details
Market Size By 2032
USD 402.5 billion
Growth Rate
CAGR of 20.4%
Forecast period
2022 - 2032
Report Pages
251
By Type

Tablets
Others
Smartphones
Notebooks

By Application

Mobile Gaming
Animation
Advertisement
Map and Navigation
Others

By Region

North America (U.S., Canada)
Europe (UK, Germany, France, Italy, Spain, Rest of Europe)
Asia-Pacific (China, Japan, India, Australia, South Korea, Rest of Asia-Pacific)
LAMEA (Latin America, Middle East, Africa)

Key Market Players
Apple Inc., Qualcomm Technologies, Inc. , LG Electronics, Hitachi, Ltd., Intel Corporation., Sharp Corporation., NVIDIA Corporation, HTC Corporation, Samsung Electronics Co Ltd, 3M Company
Analyst Review
Major sectors, including gaming, education, and healthcare, already use mobile 3D technology. Future use cases for mobile 3D are anticipated to grow as the technology develops and becomes more widely available. Companies involved with mobile 3D are aware of the difficulties posed by mobile 3D, including the requirement for high-performance hardware and software as well as the shortage of qualified individuals with the ability to produce 3D content. However, they think that with the correct investments in skill and technology, these difficulties may be solved. Various firms believe that mobile 3D has tremendous market potential and is a key technology for the future. They think businesses who invest in mobile 3D are expected to have a competitive advantage over their rivals in the future.?  
For instance, Apple is one of the companies' making investments in mobile 3D. The firm has been working on its own 3D technology, which includes a 3D camera system that might be included in upcoming iPhone models. Tim Cook, the CEO of Apple, stated his enthusiasm for 3D technology's potential, saying that it may "change the game" in terms of user experience.   
On the same side, Samsung is another business looking into mobile 3D. For its Galaxy smartphones, Samsung has already created a 3D camera software, and it is apparently working on 3D display technology. In conclusion, mobile 3D is a technology that has the potential to revolutionize various industries and enhance the user experience. It provides new opportunities for creativity and innovation, making it an important technology for the future.