Mobile Robotics Market Outlook - 2026
The mobile robotics market size was valued at $9,340 million in 2018, and is projected to reach $39,585 million by 2026, registering a CAGR of 21.5% from 2019 to 2026. North America was the highest contributor to the global mobile robotics market, with $3,933.1 million in 2018, and is estimated to reach 14.492.1 million by 2026, registering a CAGR of 19.4% during the forecast period.
Mobile robotics is the branch of science and technology, wherein developers create mobile robots that can move in any environment without the need of human intervention. Devices such as sensors, software, and other gears, are used to control these robots. Robotic technology such as unmanned ground vehicles, unmanned aerial vehicles, and autonomous underwater vehicles, are taken into consideration while studying mobile robotics market through various industry verticals.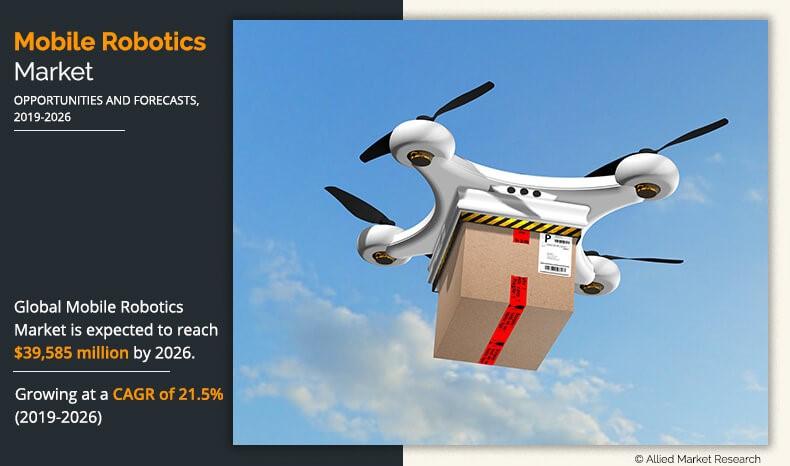 The robotic technology is witnessing increased adoption in various commercial and industrial settings. For example, hospitals are now using autonomous mobile robots to move materials and track patient health. The military & defense sector uses professional service robots that are deployed for combat scenarios. Moreover, mobile robotics enhance the soldier's capabilities by giving troops an advantage at the ground level.  In addition, field robot, a professional service robot, is used in this sector for a variety of functions such as carrying heavy equipment, operating in life-threating situations to protect soldiers, and rescuing wounded soldiers in combat zones.
With advancements in robotics technology and increased flexibility in the use of robotics, robots cover a wide range of applications in the healthcare industry. Robots are used in hospitals, clinics, pharmaceutical companies, and by medical device manufacturers. The application of mobile robotics in the healthcare industry includes drugs transportation, specimen delivery, pick & place, and patient care. For instance, SwissLog, a German company that designs, develops, and delivers automation solutions to the healthcare industry, provides products such as TransCar AGV, Relay Autonomous Service robots, and Robo courier, for heavy-duty moving and patient care.
Factors such as increase in need of safety for human life and rise in demand of mobile robotics from online retailers, are expected to drive the mobile robotics market growth in the future. However, high initial acquisition cost and challenges faced by mobile robots while working in untested environments act as major barriers and hamper the global mobile robotics Industry growth. On the contrary, factors such as emergence of industry 4.0 into logistics & warehousing and surge in adoption of mobile robotics in the agricultural sector, are expected to offer lucrative opportunities for the market globally.
The major companies profiled in the mobile robotics market report include Kuka AG, Honda Motor Co., Ltd., Northrop Grumman Corporation, iRobot Corporation, Lockheed Martin Corporation, Softbank Robotics, Amazon Robotics, Kongsberg Maritime, UBTECH Robotics, Inc., and Boston Dynamics.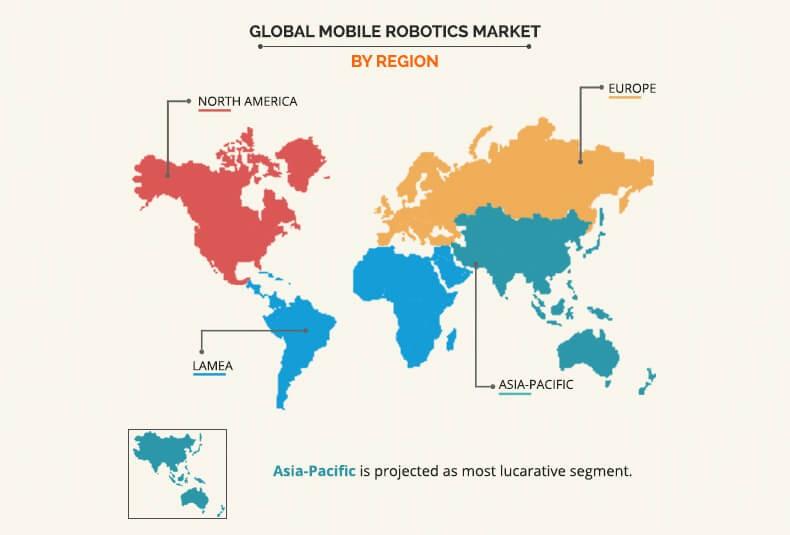 The global mobile robotics market is segmented based on product, component, application, and region. On the basis of product, the market is categorized into unmanned ground vehicle (UGV), unmanned aerial vehicle (UAV), and autonomous underwater vehicle (AUV). By component, it is divided into hardware, software, and support & services. The applications covered in the study include logistics & warehouse, military & defense, healthcare, domestic, entertainment, education, agriculture & forestry, and others. Based on region, it is analyzed across North America, Europe, Asia-Pacific, and LAMEA along with their prominent countries.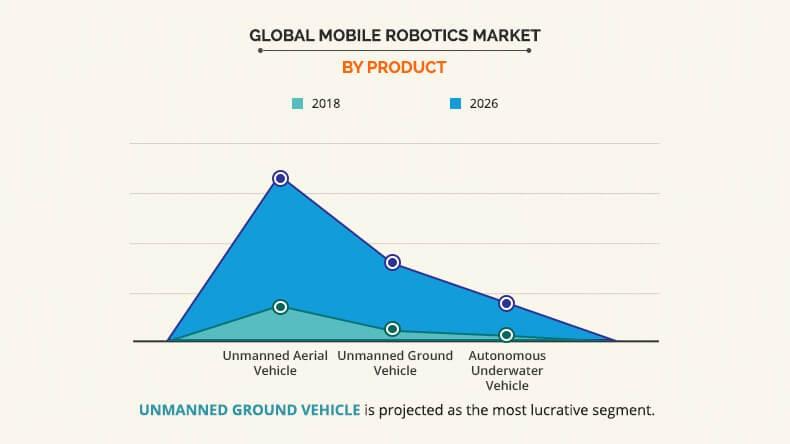 Top Impacting Factors
The notable factors positively affecting the mobile robotics market forecast include increase in need for safety for human life and upsurge in demand for mobile logistics from online retailers. However, high initial acquisition cost and challenges of working in untested environments are expected to hinder the mobile robot market growth. Conversely, the emergence of industry 4.0 into warehousing & logistics and surge in adoption of mobile robotics in the agriculture industry are anticipated to offer potential growth opportunities in the coming years.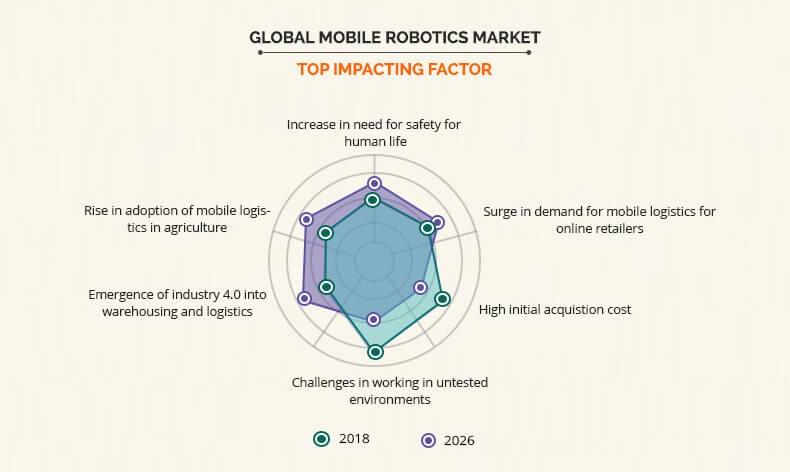 Increase in need for safety for human life
High demand has been witnessed for automation globally. Companies are automating their manufacturing and operation processes to reduce cost, save time, and deliver better quality products. With stiff competition in the global market, companies are automating their processes for better quality, increased productivity, and worker safety.  
Upsurge in demand for mobile logistics by online retailers
In many parts of Europe and North America, fast and low-cost delivery has been trending, owing to boom in online retail. This has been a positive development for customers who have increased access to e-commerce. For instance, major Chinese online retailers are putting in enormous efforts to build an intelligent logistics system by deploying robots in warehouses to enhance work efficiency.
High initial acquisition cost
High installation cost and integration capabilities required for the initial setup of mobile robotics restrain their adoption. Initial investment and maintenance costs of employing robotics systems are high due to the integration of high-quality hardware coupled with efficient software control system. The need for high initial investment limits the use of mobile robotics in various industries such as healthcare, logistics, education, agriculture, and others, thereby hampering the growth of the market.
Challenges of working in untested environments
The major challenge that hampers the growth of the mobile robotics market globally is navigating the unmapped environments. Mobile robots are designed and programed to perform tasks and functions in a set environment. Mapping and navigating techniques are anticipated to continue to evolve in the future. However, logistic robots cannot be programmed or are unable to function in untested environments, which hampers the growth of the market.
Emergence of industry 4.0 in warehousing and logistics 
Increase in networking of industrial production requires more intelligent solutions in the field of logistics. Emergence of industry 4.0 into logistics and warehousing is on the rise due to increasing automation in the devices used and its operation. Development of the industry 4.0 creates inter-connectivity between the machines and its processing. In addition, it enables autonomous production methods powered by Internet of Things (IoT). For instance, according to an online portal PICK-PLACE, by 2018, 45% of the 200 leading global commerce companies deployed robotics system in their order fulfillment, warehouse, and delivery operations.
Surge in adoption of mobile robotics in agriculture 
One of the major trends which is positively affecting the mobile robotics market globally is adoption of mobile robots in the agricultural sector. Farmers are adopting robotic technology to maintain productivity and improve yields. For instance, harvesting management is the most widely used application in agricultural robots, as it plays a vital role in understanding the field variability and helps farmers in maximizing their yields. In addition, autonomous mobile robots (AMRs) are leveraging advanced 3D vision systems and flexible grippers are being used to automate the picking process.
Key Benefits for Mobile Robotics Market:
This study comprises analytical depiction of the global mobile robotics market size along with the current trends and future estimations to depict the imminent investment pockets.
The overall mobile robotics market potential is determined to understand the profitable trends to gain a stronger foothold.
The report presents information related to key drivers, restraints, and opportunities with a detailed impact analysis.
The current market size is quantitatively analyzed from 2018 to 2026 to benchmark the financial competency.
Porter's five forces analysis illustrates the potency of the buyers and suppliers in the global mobile robotics market.
The report includes the share of key vendors and trends.
 Mobile Robotics Market Report Highlights
Aspects
Details
By Product

UNMANNED GROUND VEHICLE (UGV)
UNMANNED AERIAL VEHICLE (UAV)
AUTONOMOUS UNDERWATER VEHICLE (AUV)

By Component

Hardware
SOFTWARE
SUPPORT & SERVICE

By Application

Logistics & Warehousing
Military & Defense
Healthcare
Domestic
Entertainment
Education
Agriculture & Forestry
Others (PERSONAL & INSPECTION AND MAINTENANCE)

By Region

North America (U.S, Canada, Mexico)
EUROPE (UK, Germany, France, Italy, Rest of Europe)
ASIA-PACIFIC (China, Japan, India, South Korea, Rest of Asia-Pacific)
LAMEA (Latin America, Middle East, Africa)

Key Market Players
BOSTON DYNAMICS (SOFTBANK GROUP CORP.), KONGSBERG MARITIME, SOFTBANK ROBOTICS, IROBOT CORPORATION, AMAZON ROBOTICS (AMAZON.COM), KUKA AG, UBTECH ROBOTICS, INC, NORTHROP GRUMMAN CORPORATION, HONDA MOTOR CO., LTD., LOCKHEED MARTIN CORPORATION