The global motorcycle ADAS market was valued at $1.86 billion in 2025, and is projected to reach $3.34 billion by 2035, growing at a CAGR of 6.3% from 2026 to 2035.
The COVID-19 impact on the motorcycle ADAS market is unpredictable, and is expected to remain in force for a few years. The COVID-19 outbreak forced governments across the globe to implement stringent lockdown and ban import–export of essential raw material items for most of 2020, and few months in 2021. This led to sudden decline in availability of important raw materials for vehicle components. As a result of interrupted supply chains and production schedules caused by the COVID-19 pandemic, aviation production and sales suffered severely, which, in turn, negatively impacted the market for motorcycle ADAS market in 2020. To prevent the spread of the COVID-19 virus, governments across the globe implemented strict lockdowns and made social distancing mandatory. Consequently, several organizations began work from home programs as precautionary measure. This led to a sudden decline in global demand for traveling, which has affected the motorcycle ADAS market. However, vaccination drive enabled lowering of barriers to economic activity, as well as domestic and international travel. As the restrictions lifted, travel recovered quickly leading to increase in vehicle commutation which expected to boost the motorcycle ADAS market.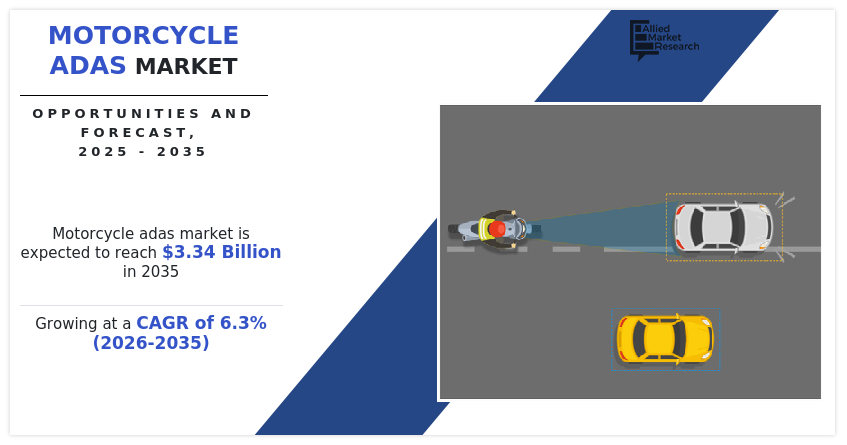 The motorcycle ADAS market is segmented into Sales Channel, Price Range, Propulsion, Component and System.
Advanced driver assistance systems (ADAS) are electronic components in vehicles that provide the driver with an intelligent driving experience. These systems comprise unique sensors such as ultrasonic sensor, image sensor, radar, and others. Deployment of ADAS in vehicles enhance comfort and ensure safety on road, which are anticipated to be one of the major trends being witnessed in the automotive industry. Application of motorcycle ADAS includes adaptive cruise control (ACC), traction control system (TCS), anti-lock braking system (ABS), and others.
Factors such as increase in demand from customers for technologically advanced motorbikes, surge in number of road accidents and rise in demand for advanced motorcycles are anticipated to boost the growth of the global motorcycle ADAS market during the forecast timeframe. However, high initial investment cost and software failures associated with automotive sensors are expected to hinder the growth of the global market during the forecast timeframe. Moreover, increase in demand for bike taxi services and upsurge in the inclusion of e-bikes are expected to create an opportunity for the motorcycle ADAS market in near future.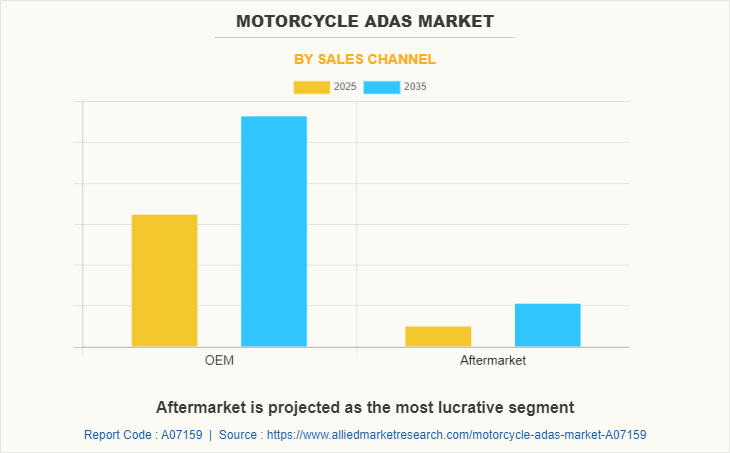 The motorcycle ADAS market is segmented on the basis of propulsion, component, system, sales channel, price range, and region. By propulsion, it is divided into gasoline and electric. On the basis of component, it is segmented into ECU, Sensors, gear assistors, and others. By system, it is divided into ABS, ACC, TCS, and others. By sales channel, the market is divided into OEM and aftermarket. By price range, the market is divided into low, medium, and high. By region, the market is analyzed across North America, Europe, Asia-Pacific, and LAMEA.
he key players that operate in this motorcycle ADAS market are Brakes India Private Limited, BMW, BWI Group, Continental AG, D. Gubellini and C. Sas., Ducati Motor Holding S.P.A, Garmin Ltd., Hasqvarna Group, Honda Motor Co. Ltd., KTM AG, Robert Bosch GmbH, NXP Semiconductors, TVS motor Co., Suzuki Motor Corporation, Valeo, YAMAHA Motor Co., and ZF Friedrichshafen AG.
Increase in demand for from customers for technologically advanced motorbikes
Motorbikes are the most used conveyance option to travel from one location to another. They let the riders move through constricted spaces, are fast & highly maneuverable, and offer a thrilling experience while traveling on different terrains. Over the years, different kinds of motorcycles such as sport bikes, cruiser bikes, touring bikes, and mopeds have been launched to cater to different customer needs. With an increasing number of cars being fitted with advanced navigation, infotainment, telematics, and autonomous technologies, the demand for such features in bikes is anticipated to increase in the coming years. While a rising number of companies installing features such as GPS and connected bikes, some companies are developing bikes with ADAS features that is anticipated to offer a superior driving experience to riders. For instance, in November 2019, Kawasaki Heavy Industries, Ltd has announced, the advanced rider assistance system developed by the Robert Bosch GmbH is expected to be included in future Kawasaki motorcycles. By installing state-of-the-art sensor systems and AI technologies, bikes would offer features that is projected to cater to the requirements of a skilled as well as an untrained rider. Hence, rise in demand for technologically advanced bikes is expected to propel the growth of the global motorcycle ADAS market during the forecast period.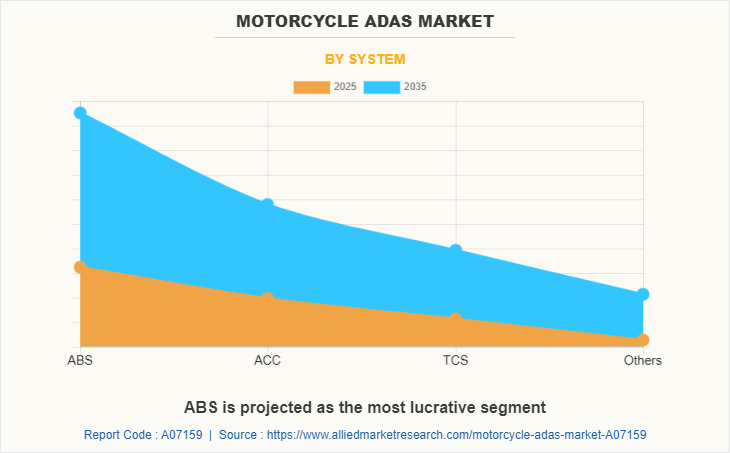 Increasing number of road accidents
Despite the rapid development of motorized two-wheelers owing to their various advantages and advancements, the increase in risk of road accidents for riders often becomes a factor limiting the use of motorcycles. Yearly, millions of motorcyclists' encounter crashes in the U.S. alone. According to data publicized by the National Highway Traffic Safety Administration (NHTSA), a total of 6,756,000 police-reported motor vehicle traffic crashes were recorded in 2019. Moreover, according to data from the European Commission, about 80% bikers killed on the roads suffered head injuries. As the report states, the use of these bikes is the most dangerous way to travel on roads, and in the European Union, more than 6,500 two-wheeler riders die every year in Europe, and the risk of death for riders is 20 times that of the passengers. However, several initiatives and campaigns are being proposed to endorse using helmets and take other preventive measures to help manufacturers overcome this limitation. The recent boom in the development of driver assistance technology is expected to improve the safety of motorcycle riders in the near future. The use of advanced safety features such as ADAS in motorbikes is expected to reduce these risks. With surge in demand for safer bikes, motorcycle ADAS are expected to gain high traction during the forecast period.
Software failures associated with automotive sensors
The increasing installation of sensors and devices in motorcycles has made the driving convenient. Sensors provide additional services such as music controls, navigation, hands-free calls, and messages. Built-in computer systems and sensors provide a better driving experience, but if mismanaged or incorrectly updated, they can cause catastrophic accidents and injuries. Automotive software failure, depending on where and how it occurs, can place vehicle occupants in severe danger of catastrophic injury. Automotive software has evolved into complicated and sophisticated programs for operating advanced automobile technology and components such as camera systems, sensors, and others. As the automotive software gets intricate, the risk of failure increases. Many modern vehicles contain multiple electronic control units (ECUs) connected through network connections, most of which are required to perform essential safety systems such as antilock braking system (ABS), Adaptative Cruise Control (ACC), traction control system (TCS), object detection based on camera images, and others. A company in the automotive supply chain may provide software for ECUs, or the manufacturer may develop and code it. When working with ECUs, one must test the complete system to ensure that all components are working properly. The failure of the vehicle's automated braking and forward collision avoidance systems might result in accidents and injuries if an ECU has a malfunction. Moreover, accidents can occur when software malfunctions and essential vehicle systems cease operating. In addition, software bugs create misalignment or disruption in the automotive sensors' real-time environmental monitoring capability. The failure of automotive software and sensors has a negative effect on the performance of ADAS system, limiting the growth of the motorcycle ADAS market.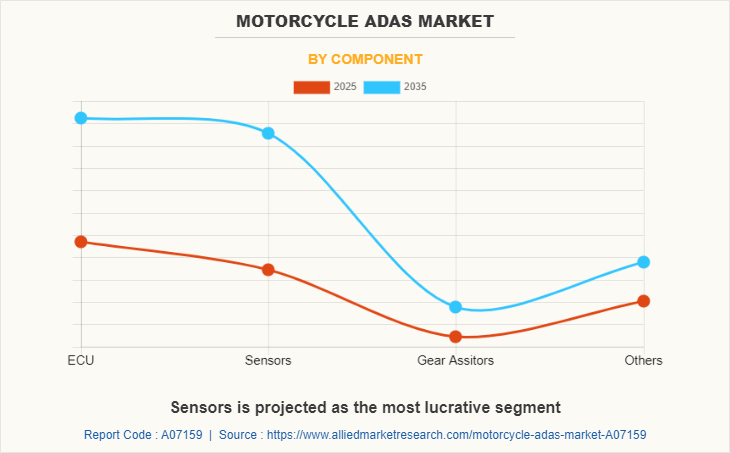 Surge in demand for bike taxi services
Ride-hailing services such as bike taxis enable passengers to hail a vehicle using online platforms and provide door-to-door services to their customers owing to which it is one of the most convenient means of transportation. According to AMR analysis, the global market for demand-responsive mobility services offered by technology-enabled platforms is expected to touch $80 billion by 2030.
Moreover, while hailing a ride, information of the driver and the passenger is exchanged that make ride-hailing services much safer than the traditional taxi services. In recent years, demand for ride-hailing services has increased significantly, especially among office commuters. Moreover, a significant rise in the preference for on-demand services such as taxis, passenger vehicles, and charter vehicles, which provide tracking of vehicles, real-time feedback, and rating for service experience provided to the end customers has encouraged the consumers to opt for ride-hailing services. In addition, an increase in the bike taxi services offered by the leading market players, including LYFT, DiDi, Rapido, Uber, & Ola, and the option to choose convenient pick-up and drop locations has encouraged the consumers to opt for ride-hailing services. Furthermore, ride-hailing services ensure that customers can accurately locate the vehicles and track their journey alongside offering safety to the occupants. Moreover, to ensure safety of the vehicle and customers, the bike taxi service providers are expected to promote the use of advanced safety features such as ADAS in their vehicles. Owing to all these factors, the increase in demand for bike taxi market is expected to create an opportunity for motorcycle ADAS market during the forecast period.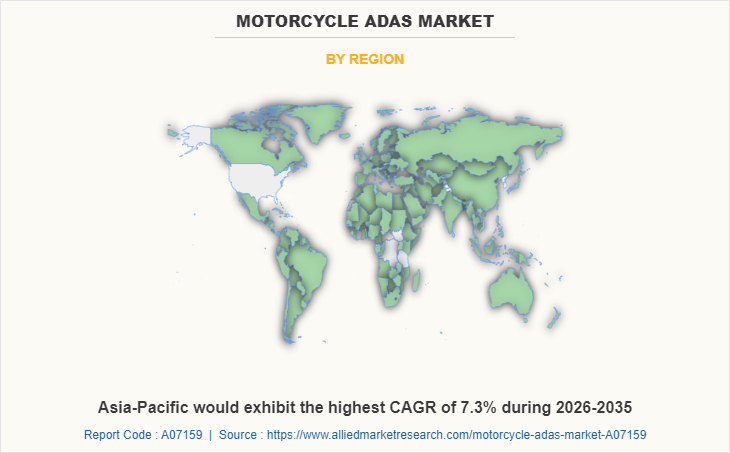 Key Benefits For Stakeholders
This report provides a quantitative analysis of the market segments, current trends, estimations, and dynamics of the motorcycle adas market analysis from 2025 to 2035 to identify the prevailing motorcycle adas market opportunities.
The market research is offered along with information related to key drivers, restraints, and opportunities.
Porter's five forces analysis highlights the potency of buyers and suppliers to enable stakeholders make profit-oriented business decisions and strengthen their supplier-buyer network.
In-depth analysis of the motorcycle adas market segmentation assists to determine the prevailing market opportunities.
Major countries in each region are mapped according to their revenue contribution to the global market.
Market player positioning facilitates benchmarking and provides a clear understanding of the present position of the market players.
The report includes the analysis of the regional as well as global motorcycle adas market trends, key players, market segments, application areas, and market growth strategies.
 Motorcycle ADAS Market Report Highlights
Aspects
Details
By Sales Channel
By Price Range
By Propulsion
By Component

ECU
Sensors
Gear Assitors
Others

By System
By Region

North America (U.S., Canada, Mexico)
Europe (Germany, France, Russia, U.K., Italy, Spain, Rest of Europe)
Asia-Pacific (China, India, Japan, South Korea, Asean, Rest of Asia-Pacific)
LAMEA (Brazil, UAE, Saudi Arabia, South Africa, Rest of LAMEA)

Key Market Players
Suzuki Motor Corporation, Brakes India Pvt. Ltd.,, BWI Group, Continental AG, TVS motor Co., BMW AG, Ducati Motor Holding S.P.A, NXP Semiconductors, YAMAHA Motor Co., Hasqvarna, D. Gubellini and C. Sas., ZF Friedrichshafen AG, KTM AG, Honda Motor Co. Ltd., Valeo, Robert Bosch GmbH, Garmin Ltd.