Nano Silver Market Overview:
Global Nano Silver Market was valued at $433 million in 2015, and is expected to reach $1,605 million by 2022, supported by a CAGR of 20.5%. Nano silver has at least one external dimension in the range of 1100 nanometers approximately. It is available in a number of physical and chemical forms such as metallic particles, silver ion, soluble silver compounds, and combinations that are available in solution, dispersion, colloidal, suspensions, and matrix of different substances (polymers, zeolites, and others).
The two main aspects that change the behavior of silver at nano scale are:
Higher surface to volume ratio: the large surface area favors the formation of silver ions that enhance its antibacterial effect
The mobility in the human body (and, in principle, in other biological media)
Nano silver particles are presumably capable of entering almost all human organs and penetrating cell membranes. This bioavailability could result in a potential impact on human health and environment, both in terms of hazard and exposure in the different biological media.
Figure no. 1. Breakdown of Primary Respondents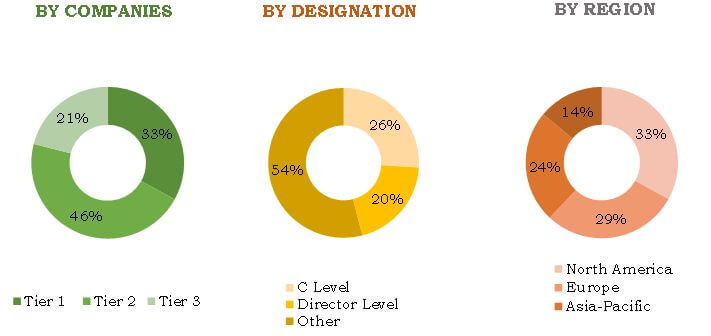 The report focuses on current market trends and future growth opportunities of nano silver, in various end-user industries such as electrical & electronics, pharmaceuticals, clothing & textile, food & beverage, personal care & cosmetics, water treatment, and others. Furthermore, it provides insights on various methods used for synthesis of nano silver, including physical synthesis, biological synthesis, and chemical reduction. The report suggests growth opportunities by analyzing the current nano silver market trends and government regulations & policies in different geographies. The figures provided in this report are based on the consumption quantity across various synthesis methods and end users, while the market value and volume are derived by means of a bottom-up approach and considering price trends across various regions.
World Nano Silver Market Segmentation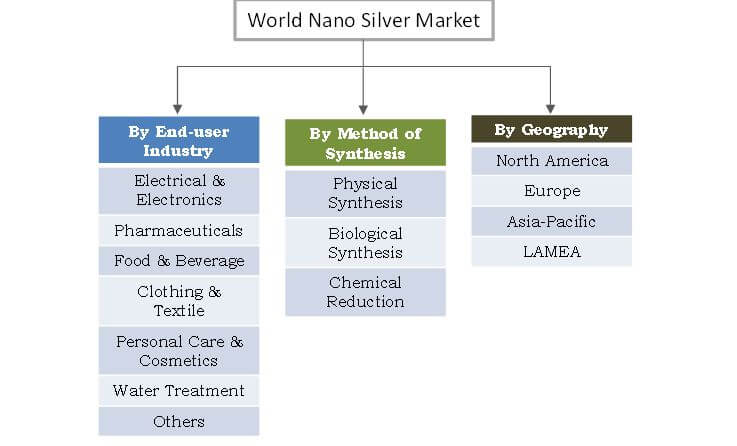 Rise in application scope and demand from various end-user industries, funding support from government, and drop in nano silver prices are key factors driving the market growth. Typically, nano silver is added in small quantities to improve the product performance. However, stringent environmental regulations and high manufacturing cost of nano silver may hamper its market growth. Currently, it is utilized majorly by electrical & electronics, pharmaceuticals, food & beverage, clothing & textile, personal care & cosmetics, and water treatment segments.
Key players in the world nano silver market have adopted different business strategies such as capacity and business expansion, partnerships, mergers, acquisitions, and product & application development to survive in the global competitive market. The market players profiled in this report are nano silver manufacturers who either use it internally in some applications or supply it to other end users in the industry.
Figure no. 2. Top Investment Pockets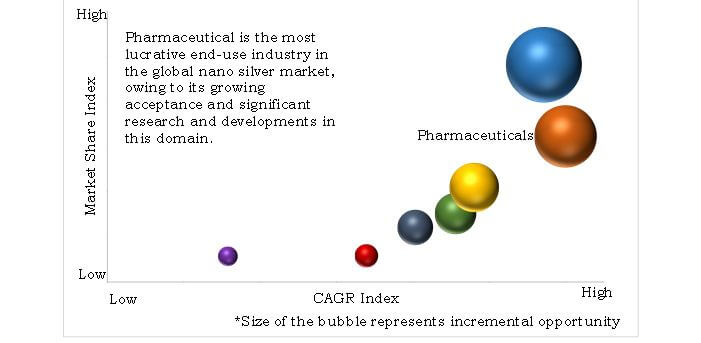 Based on end user, electrical & electronics, pharmaceuticals, food & beverage, clothing & textile, personal care & cosmetics, and water treatment are some of the market segments. Further, pharmaceuticals is expected to be the most attractive market for new entrants as well as for the industry players.
Figure no. 3. Opportunities in Nano Silver Market

Nano silver has unique optical, electronic, antimicrobial, and thermal properties that are inherent or sometimes, engineered. Increasing disposable income in the emerging economies coupled with significant opportunities in end-user industries are expected to provide significant opportunities for key players operating in the market.
Key trends that drive the market penetration of nano silver are:
New application development and product design
Drop in prices of nano silver
Business and capacity expansion by existing players and new entrants
Continuous efforts to simplify manufacturing process
A trend towards miniaturization of products in the electronics industry
China Review:
The rapid industrialization coupled with an increase in investments in medical, electronics, and construction industry in China makes it one of the leading countries worldwide, in terms of demand and commercialization of nano silver. Key players from Asia-Pacific include Nanogist Co. Ltd., Advanced Nano Products, Silvix Co. LTD., Nano Labs, Guangzhou Jiechuang Trading Co., Ltd., and Zhengzhou Dongyao Nano Materials Co., Ltd.
Figure no. 4. China Nano Silver Market: 2014-2022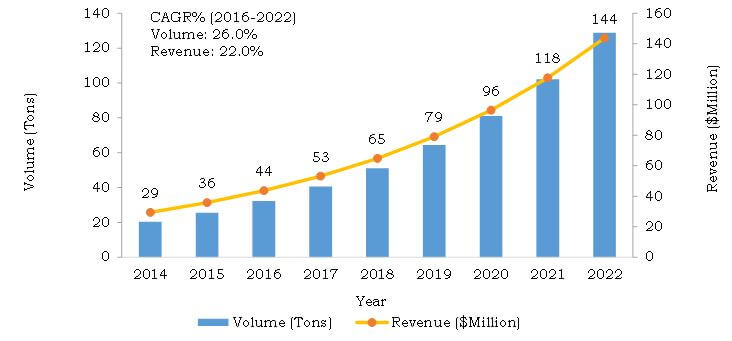 The nano silver manufacturers either use in-house materials or buy from raw material suppliers to process them. Major companies that manufacture nano silver are Cambrios Technologies Corp., Cima Nano Tech, Inc.; Blue Nano, Inc.; Applied Nanotech Holdings, Inc; Advanced Nano Products, Ames Goldsmith Corporation, NovaCentrix Corp., NanoMas Technologies, Silvix Co. Ltd., and ABC Nanotech, Ltd.
Other players in the value chain include Agfa Specialty Products, Reinste Nano Venture Pvt. Ltd., Carestream Health, Inc., Chengdu Huarui Industrial Co., Ltd., Zhengzhou Dongyao Nano Materials Co., Ltd., and Nano Labs Corp.
Key Benefits of Nano Silver Market:
The study provides quantitative analysis of the world nano silver market with current trends and future estimations through 20142022 to identify the prevailing market opportunities to capitalize on.
Extensive analysis by end-user industry and method of synthesis predicts the various types of nano silver used in different end-user applications.
Competitive intelligence highlights the business practices followed by leading players across various regions.
An in-depth analysis of current research and clinical developments within world nano silver market is provided with key dynamic factors that affect the market behavior.
Comprehensive analysis of all geographic regions are provided to determine the prevailing opportunities in these geographies.
Key market players and their strategies are analyzed to identify the competitive outlook.
 Nano Silver Market Report Highlights
Aspects
Details
By Method Of Synthesis

Physical Synthesis
Biological Synthesis
Chemical Reduction

By End User Industry

Electrical & Electronics
Pharmaceuticals
Food & Beverage
Clothing & Textiles
Personal Care & Cosmetics
Water Treatment
Others

BY REGION

North America (U.S., Canada, Mexico)
Europe (UK, Germany, France, Spain, Italy, Rest of Europe)
Asia-Pacific (china, Japan, Korea, Taiwan, Rest of Asia-Pacific)
LAMEA (Brazil, Argentina, South Africa, Rest of LAMEA)

Key Market Players
Applied Nanotech Holdings, Inc., Ames Goldsmith Corp., Blue Nano Inc., Cambrios Technologies Corp., Cima NanoTech, Inc., Advanced Nano Products Co., Ltd, Novacentrix Corp., SILVIX CO., LTD., ABC NANOTECH., LTD.