Network Analytics Market Research, 2032
The global network analytics market was valued at $2.9 billion in 2022, and is projected to reach $17 billion by 2032, growing at a CAGR of 19.7% from 2023 to 2032.
Network analytics is the application of big data principles and tools to the data used to manage and secure data networks. It provides deeper insight into how the network is performing and how an organization is using the network. IT can use analytics to improve security, fine-tune performance, troubleshoot subtle problems, predict traffic trends, spot potential trouble, and perform deep forensic investigations and audits. Network analytics is most useful to organizations with complex networks, overtaxed networks or high-level security requirements. As a result, large enterprises are more likely to use network analytics broadly than smaller companies. As the tools become easier to use, more standardized, less expensive or embedded in more managed services, companies with smaller networks find it more approachable to use analytics. But companies of every size consume network analytics as a built-in feature of cloud-managed network services, such as a network-as-a-service offering, managed software-defined WAN or managed wireless LAN service.
Additionally, the network analytics market is expected to witness notable growth owing to rising network complexities, surge in network optimization and growing adoption of cloud-based network analytics solutions. Moreover, increasing regulatory compliance and data privacy requirements is expected to provide lucrative opportunity for the growth of the market during the forecast period. On the contrary, security and privacy concerns limits the growth of the network analytics market.
Network analytics involves the use of advanced tools and algorithms to collect, monitor, and analyze data from computer networks. One significant trend in this field is the integration of artificial intelligence (AI) and machine learning (ML) techniques to enhance the capabilities of network analytics platforms. These technologies enable more intelligent and automated decision-making processes, such as predicting network failures, identifying security threats, and optimizing network performance. Another emerging aspect is the increasing focus on real-time analytics, allowing organizations to respond swiftly to changing network conditions and security incidents. With the growing complexity of modern networks, network analytics becomes crucial for organizations to gain insights, enhance efficiency, and ensure the security and reliability of their IT infrastructure.
The network analytics market is segmented on the basis of component, deployment mode, enterprise size, application, end user, and region. On the basis of component, the market is categorized into network intelligence solution and services. By deployment mode, it is categorized into on-premise and cloud. On the basis of enterprise size, the market is categorized into large enterprise and small and medium-sized enterprise. In terms of application, the market is classified into customer analysis, risk management and fault detection, network performance management, quality management, and others. On the basis of end user, the market is categorized into cloud service providers, managed service providers, telecom providers, and others. By region, the market is analysed across North America, Europe, Asia-Pacific, and LAMEA.
The report focuses on growth prospects, restraints, and analysis of the global network analytics market trends. The study provides Porter's five forces analysis to understand the impact of various factors, such as bargaining power of suppliers, competitive intensity of competitors, the threat of new entrants, threat of substitutes, and bargaining power of buyers on the global network analytics market analysis.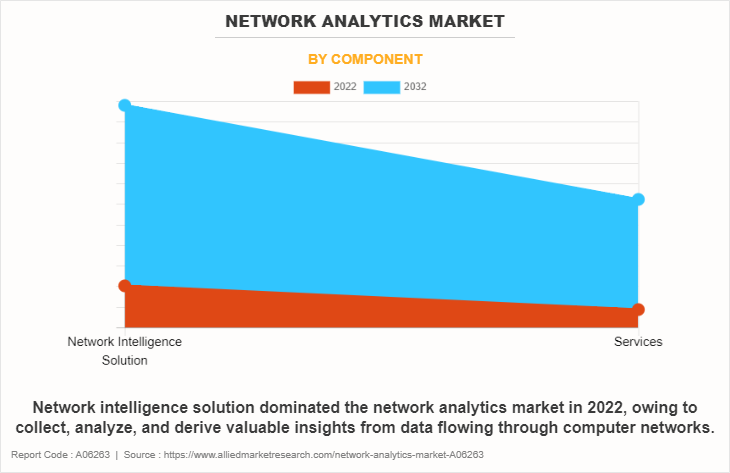 On the basis of component, the network intelligence solution segment dominated the network analytics market size in 2022, owing to increase in integration of artificial intelligence (AI) and machine learning (ML) into these solutions. AI and ML capabilities enhance the ability to analyse vast amounts of network data, identify patterns, and predict potential issues, thereby enabling more proactive and efficient network management. However, the services segment is expected to witness the fastest growth, owing to increase in emphasis on cloud-native network analytics services to support organizations' migration to cloud environments. This involved solutions that could seamlessly operate in hybrid and multi-cloud architectures, providing consistent visibility and control.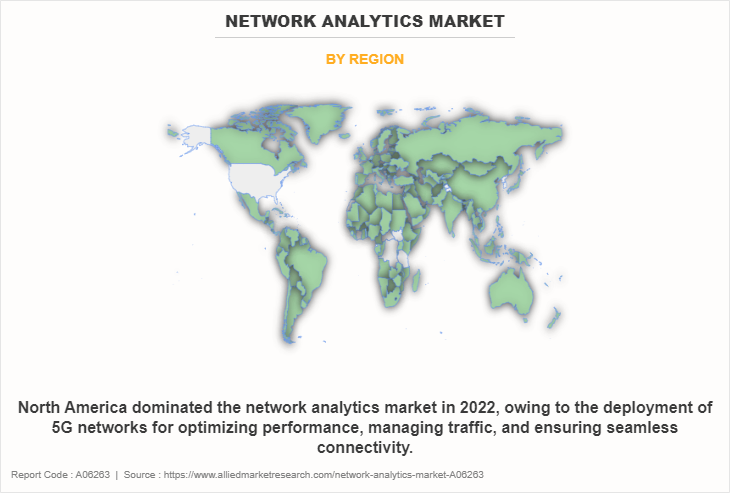 Region-wise North America dominated the network analytics market share in 2022, owing to increase in prevalence of cyber threats has made network security analytics. In addition, the deployment of 5G networks is driving the adoption of network analytics for optimizing performance, managing traffic, and ensuring seamless connectivity. However, Asia-Pacific is expected to witness the fastest growth in the upcoming year, owing to the deployment and optimization of 5G networks, drives the adoption of analytics tools to enhance performance and support new applications. The region is witnessing surge in cloud-native solutions, providing scalability and flexibility for evolving digital infrastructures.
Competition Analysis
Competitive analysis and profiles of the major players in the network analytics industry include Cisco Systems, Inc., Broadcom, IBM Corporation, Hewlett Packard Enterprise Development LP, Accenture, Huawei Technologies Co., Ltd., SAS Institute Inc, Telefonaktiebolaget LM Ericsson, Juniper Networks, Inc., and Ciena Corporation. Major players have adopted product launch, partnership, collaborations, and acquisition as key developmental strategies to improve the product portfolio and gain strong foothold in the network analytics industry.
Recent Partnership in the Network analytics Market
On March 2023, IBM partnered with Nokia to help the growing sector so that enterprises can benefit from secure, customized connectivity services enabled by a highly available 5G cloud network.
On November 2023, Vodafone Group Plc partnered with Accenture, to commercialize Vodafon's shared operations to accelerate growth, enhance customer service, and drive significant efficiencies for Vodafone's operating companies and partner markets, as well as create new career opportunities for its people.
On April 2023, Accenture partnered with Google Cloud to help businesses better protect critical assets and strengthen security against persistent cyber threats.
Recent Upgrade/Product Launch in the Network Analytics Market
On June 2023, Cisco launched the Networking Cloud Platform to simplify the management of networking gear through a single, common interface. The platform has been rolled out alongside enhancements to several of Cisco's products, including ThousandEyes infrastructure monitoring service, and Catalyst portfolio.
On November 2023, Accenture launched a network of generative AI studios in North America where companies can explore ways to optimize and reinvent their business through the responsible use of generative AI applications.
Recent Acquisition in the Network Analytics Market
On June 2023, Cisco acquired Accedian's network performance monitoring technology, to expand its portfolio for troubleshooting and fixing network problems that could degrade the quality-of-service carriers guarantee for private 5G networks and critical enterprise applications.
On March 2023, Hewlett Packard Enterprise acquired cloud security services provider Axis Security. The acquisition aimed at incorporating the Axis security service edge (SSE) platform into HPE's edge-to-cloud network security capabilities to deliver integrated networking and security solutions as-a-service.
Recent Collaboration in the Network Analytics Market
On February 2023, Juniper Networks, a leader in secure, AI-driven networks, announced the collaboration with IBM to pursue the integration of IBM's network automation capabilities with Juniper's Radio Access Network (RAN) optimization and Open Radio Access Network (O-RAN) technology.
Top Impacting Factors
Rising network complexities
Rise in network complexities in network analytics stem from increase in interdependence of applications and services. With the growth of distributed computing and microservices architectures, individual components of an application may be spread across different servers, containers, or even geographic locations. This decentralization poses challenges for traditional network management, requiring advanced analytics to track and optimize the flow of data between these dispersed elements. Moreover, surge in data volumes poses a significant challenge. The sheer amount of data generated by devices, applications, and user interactions necessitates robust analytics capabilities to sift through and extract meaningful insights. This big data aspect requires scalable solutions capable of handling large datasets in real-time, adding another layer of complexity.
Security considerations add to the intricacy of network analytics. As cyber threats become more sophisticated, network analytics tools must not only monitor regular network activities but also detect anomalous behaviour indicative of potential security breaches. This requires a comprehensive understanding of normal network behaviour and the ability to adapt to emerging threats. Also, the need for compliance with regulatory requirements further complicates network analytics. Industries such as finance, healthcare, and government must adhere to specific data protection and privacy standards, requiring network analytics solutions to incorporate compliance monitoring and reporting features.
Surge in network optimization
The surge in demand for network optimization through network analytics is also influenced by the growing complexity of hybrid and multi-cloud infrastructures. As organizations increasingly embrace cloud services, they are confronted with the challenge of managing data flows across on-premises servers, private clouds, and various public cloud platforms. Network analytics plays a crucial role in optimizing these diverse environments, ensuring efficient communication and minimizing latency. Furthermore, the rise of remote and mobile workforces adds another layer of complexity to network management. The need to support a geographically dispersed workforce requires networks to be agile, scalable, and capable of providing seamless connectivity. Network analytics tools, with their ability to monitor and analyze network performance in real-time, assist organizations in adapting to the dynamic requirements of remote work.
The Internet of Things (IoT) contributes significantly to the demand for network optimization. The proliferation of IoT devices across industries generates vast amounts of data that traverse networks. Effective network analytics allows organizations to manage and prioritize this influx of data, ensuring that critical information is processed promptly while optimizing bandwidth usage. Moreover, as digital transformation initiatives progress, organizations are recognizing the strategic importance of data-driven insights. Network analytics not only identifies areas for optimization but also provides actionable intelligence for strategic decision-making, enabling businesses to align their network infrastructure with broader organizational goals.
Key Benefits For Stakeholders
This report provides a quantitative analysis of the network analytics market growth, current trends, estimations, and dynamics of the network analytics market analysis from 2022 to 2032 to identify the prevailing network analytics market opportunities.
The market research is offered along with information related to key drivers, restraints, and opportunities.
Porter's five forces analysis highlights the potency of buyers and suppliers to enable stakeholders make profit-oriented business decisions and strengthen their supplier-buyer network.
In-depth analysis of the network analytics market forecast to determine the prevailing market opportunities.
Major countries in each region are mapped according to their revenue contribution to the global market.
Market player positioning facilitates benchmarking and provides a clear understanding of the present position of the market players.
The report includes the analysis of the regional as well as global network analytics market trends, key players, market segments, application areas, and market growth strategies.
 Network Analytics Market Report Highlights
Aspects
Details
Market Size By 2032
USD 17 billion
Growth Rate
CAGR of 19.7%
Forecast period
2022 - 2032
Report Pages
492
By Enterprise Size

Large Enterprise
Small and Medium-sized Enterprise

By End User

Cloud Service Providers
Managed Service Providers
Telecom Providers
Others

By Component

Network Intelligence Solution
Services

By Deployment Type
By Application

Customer Analysis
Risk Management and Fault Detection
Network Performance Management
Quality Management
Others

By Region

North America (U.S., Canada)
Europe (UK, Germany, France, Italy, Spain, Rest of Europe)
Asia-Pacific (China, Japan, India, Australia, South Korea, Rest of Asia-Pacific)
LAMEA (Latin America, Middle East, Africa)

Key Market Players
Accenture, Hewlett Packard Enterprise Development LP, Juniper Networks, Inc., IBM Corporation, Broadcom, SAS Institute Inc, Ciena Corporation., Cisco Systems, Inc., Telefonaktiebolaget LM Ericsson, Huawei Technologies Co., Ltd.
Analyst Review
Network analytics have recognized the technology's crucial role in enhancing network performance, security, and overall operational efficiency. Analysts often emphasize the growing importance of leveraging advanced analytics, machine learning, and artificial intelligence in network management to gain actionable insights and proactively address issues. Network analytics is acknowledged for its ability to provide organizations with real-time visibility into their networks, enabling faster problem resolution and optimizing resource allocation. The integration of predictive analytics is particularly praised, as it empowers businesses to anticipate and mitigate potential network disruptions before they impact end-users. In addition, analysts highlight the significance of network analytics in the context of cybersecurity, emphasizing its role in detecting and responding to security threats. While acknowledging the positive aspects, analysts also underscore the need for organizations to carefully choose and implement network analytics solutions that align with their specific requirements and the evolving nature of their IT infrastructures.
Moreover, analysts highlight the importance of network analytics in optimizing network performance in the era of cloud computing. As organizations increasingly migrate to cloud environments, there is a need for analytics solutions that can effectively monitor and manage hybrid and multi-cloud architectures. This adaptability is crucial for ensuring a seamless user experience and efficient utilization of cloud resources.
Furthermore, scalability and ease of integration of network analytics solutions into existing infrastructures are key considerations in analyst reviews. Solutions that can seamlessly integrate with diverse network architectures and provide a user-friendly interface for administrators tend to receive positive evaluations.