Network-as-a-service Market Research, 2031
The global network-as-a-service market was valued at $11.2 billion in 2021, and is projected to reach $72.2 billion by 2031, growing at a CAGR of 20.8% from 2022 to 2031.
The COVID-19 outbreak has high impact on the growth of network-as-a-service market, as increasing number of smartphone users, growing adoption of connected devices, and surging e-commerce sector provide lucrative opportunities for the growth of the network-as-a-service market. COVID has caused crises in social, economic, and energy areas and medical life worldwide throughout 2020. The global demand for network-as-a-service has surged due to work from home during the pandemic. The augmented demand has contributed considerably to the development of cloud networking services leading to increased network-as-a-service market growth during the pandemic.
Network-as-a-service, is a cloud service model that allows users to operate networking services from cloud providers instead of building up their network. Network-as-a service eliminates the need for owning or building its networking infrastructure in order to achieve the outcomes. Network-as-a-service carries software-defined networking (SDN), transport, programmable networking, and API-based operation to WAN services, multi-cloud, hybrid cloud, Private Network Interconnect, and Internet Exchanges. The increasing digital transformation through data and networking technologies, such as IoT, blockchain, cognitive, and advanced analytics, intensifies the adoption of connectivity advances in various industries. Network-as-a-service offers companies greater flexibility and even performance gains in their network infrastructure. Companies can be more cost-conscious with on-demand purchasing and pay only for the necessary networking services. Network-as-a-service can also help companies that want greater flexibility in provisioning without having to re-architect networks or redo contracts from the ground up. The rising need for wireless communication for industrial as well as commercial operations is likely to provide novel opportunities for the network-as-a-service market in the near future. Network-as-a-service is a cloud delivery approach that makes net management easier for companies. It allows for significant elasticity and flexibility, as well as the option to switch from CapEx to OpEx. Since this makes it possible for companies to achieve desired results without having to own, create, or keep up infrastructure, the demand for the market is expected to grow in the global market.
Growth in demand for low-cost IT infrastructure and faster data accessibility, increasing number of small & medium businesses, rapid growth of cloud technology are the key factors that drive of the growth of the network-as-a-service market. However, security concerns over private cloud deployment are expected to hinder the growth of the market. On the contrary, growth in cloud adoption among SMEs is expected to offer remunerative opportunities for expansion during the network-as-a-service market forecast.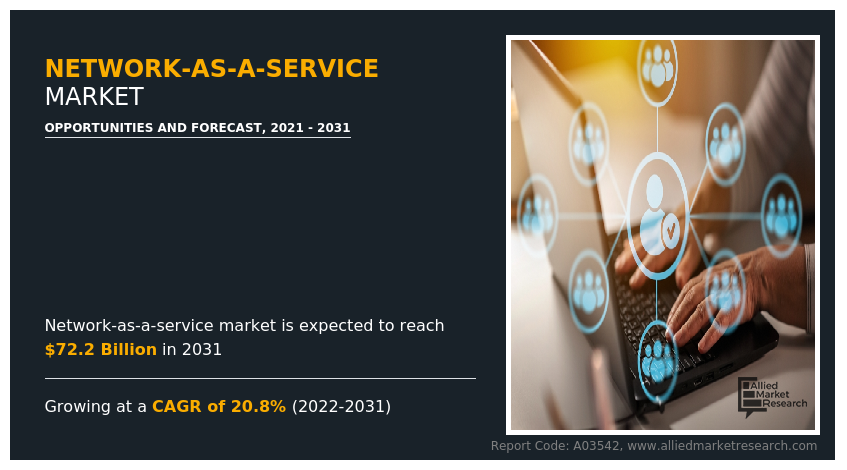 The network-as-a-service market is segmented into Type, Industry Vertical, Application and Enterprise Size.
The network-as-a-service market is segmented on the basis of type, application, enterprise size, industry vertical, and region. By type, it is segmented into WAN-as-a-service and LAN-as-a-service. By application, it is segmented into WAN optimization, bandwidth on demand, cloud and saas connectivity, network access control, virtual private network, secure web gateway, UCaaS/video conferencing, and others. By enterprise size, the market is categorized into large enterprise and SMEs. By industry vertical, the market is categorized into IT and telecom, BFSI, healthcare, manufacturing, retail and e commerce, government and public sector, and others. Region wise, it is analyzed across North America, Europe, Asia-Pacific and LAMEA.
The key players profiled in the network-as-a-service market analysis are China Mobile, Cloudflare, Inc, GTT Communications Inc., KDDI Corporation, NTT communications, Tata Communications Ltd, Telefonica, Verizon Communications Inc., Vodafone Group plc, and Wipro Limited. These players have adopted various strategies to increase their market penetration and strengthen their position in the network-as-a-service market industry.
Network-as-a-service Market

---
By Type
WAN-as-a-service dominates the market in 2021, owing to extensive adoption of BYOD and cloud based application by various organizations to work in the pandemic from different areas.
Get more information on this report :
Request Sample Pages
Depending on type, the WAN-as-a-service segment dominated the network-as-a-service market share in 2022 and is expected to continue this trend during the forecast period, owing to adoption of deployment and integration types amongst industry verticals, because it guarantees powerful functioning of information middle networking solution at some stage in the process. However, the LAN-as-a-service segment is expected to witness the highest growth in the upcoming years, owing to connectivity anywhere and seamless, also secure the companies use different network technologies for more advance service delivery.
Network-as-a-service Market

---
By Region
North America dominates the market in 2021, owing to extensive research and development in network expansion technology.
Get more information on this report :
Request Sample Pages
Region-wise North America dominates the network-as-a-service market size in 2021. The region's growth was attributed to extensive research and development in network expansion technology and the region's technological maturity in data centers and network infrastructure. Furthermore, North America suffers the highest frequency of cyber-attacks and stringent compliance regulations in the world. Therefore, the region is more prone to threats, intrusions, and security breaches and as a result, it has the largest number of security vendors, which will provide the lucrative opportunities for the network as a service market. However, the Asia-Pacific contributes to the significant growth in the market in 2021, owing to rapid technological advancements, digitization of economies, and government initiatives are the key factors powering the growth of Asia-Pacific region.
Top impacting factors
Increasing use of cloud services by enterprises
The need for cloud-based solutions is expanding as a result of rising technology usage and customer preference for the cloud, which enables users to access data from a distance. The demand for cloud-based solutions among businesses is rising as more organizations become aware of the importance of saving money and resources by moving their data to the cloud rather than building and maintaining on-premise infrastructure. According to the CISCO Global Cloud Index, 94% of all workloads and computing instances will likely be processed by cloud data centers by 2021, while traditional data centers will process only 6%. This shows the potential for the adoption of cloud-based contact centers in the future. Important businesses like banking are predicted to employ cloud-based service provision more frequently. This is because solution developers can obtain application and infrastructure components from many providers to build a hybrid cloud-based solution and because the IT industry is still looking for efficient infrastructure. This is expected to accelerate market expansion.
Increasing inclination toward cloud technology
Increasing investments and collaborations in cloud computing, network virtualization, and software-defined networking (SDN) by the leading market players for automating networking services aid the market growth. For instance, in March 2021, SDx Networks and Masergy Communications Inc. partnered to launch Australia's next generation of ICT managed service providers. This partnership offers cloud networking in New Zealand, Asia Pacific, and Australia. SMEs and large corporations are increasingly adopting cloud-based services. They are more cost-effective than keeping an on-premises data center and a costly IT resource to manage the organization's whole network.
Furthermore, corporations need a network that allows them to have on-demand access to their infrastructures, apps, and other IT resources. As a result, the virtual resource-sharing framework's adoption has accelerated. Corporations use network-as-a-service components to turn physical networking elements into shareable virtual resources for data center connectivity needs. The majority of businesses are attempting to centralize their operations and consolidate data from different sites in multi-tenant premises. As a result, organizations migrate to cloud-based platforms to conduct their operations.
Technological Trends
Over the last decade, network-as-a-service have been heavily used in IT organizations, as well as a significant adoption trend has been noticed in non-IT organizations. This is attributed to the core principles of network-as-a-service that help organizations to deal with complex network systems and processes within an organization. Network-as-a-service can replace virtual private networks (VPNs), multiprotocol label switching (MPLS) connections, or other legacy network configurations. It can also replace on-premise networking hardware such as firewall appliances and load balancers.
In addition, enterprises are planning to invest more in key capabilities for newly created demand, from cloud and AI-based networking to analytics and assurance, as well as the challenge of supporting much more distributed teams. Essentially, enterprises using network-as-a-service can more simply consume and scale products and services as they need based on what their business requires or the rapidly changing global economy.
KEY BENEFITS FOR STAKEHOLDERS        
The study provides an in-depth analysis of the global network-as-a-service market forecast along with current & future trends to explain the imminent investment pockets.

Information about key drivers, restraints, & opportunities and their impact analysis on global network-as-a-service market trends is provided in the report.

The Porter's five forces analysis illustrates the potency of the buyers and suppliers operating in the industry.

The network-as-a-service market analysis from 2022 to 2031 is provided to determine the market potential.
 Network-as-a-service Market Report Highlights
Aspects
Details
Market Size By 2031
USD 72.2 billion
Growth Rate
CAGR of 20.8%
Forecast period
2021 - 2031
Report Pages
242
Type

WAN-as-a-service
LAN-as-a-service

Industry Vertical

BFSI
Healthcare
Manufacturing
Retail and E commerce
Government and Public Sector
Others
IT and Telecom

Application

WAN Optimization
Bandwidth on Demand
Cloud and SaaS Connectivity
Network Access Control
Virtual Private Network
Secure Web Gateway
UCaaS/Video Conferencing
Others

Enterprise Size
By Region

North America (U.S., Canada)
Europe (UK, Germany, France, Italy, Spain, Netherlands, Rest of Europe)
Asia-Pacific (China, Japan, India, South Korea, Australia, Rest of Asia-Pacific)
LAMEA (Latin America, Middle East, Africa)

Key Market Players
NNT Communications, Verizon Communications Inc., Telefonica, Vodafone Group plc, Tata Communications Ltd, Cloudflare, Inc., Wipro Limited, China Mobile, KDDI CORPORATION, GTT Communications Inc