Neurothrombectomy Devices Market Research, 2031
The global neurothrombectomy devices market size was valued at $481.10 million in 2021, and is projected to reach $1.2 billion by 2031, growing at a CAGR of 9.5% from 2022 to 2031.
Neurothrombectomy is a surgical procedure in which blood clot is removed from blood vessel. A blood clot in the brain can cause an ischemic stroke, which is caused by an artery to the brain becoming blocked and starving a portion of the brain of oxygen and nutrients. A clot in the brain can further cause a buildup of cellular waste and carbon dioxide because the brain will be unable to clear this waste properly. This can cause the cells around the blockage to die, and the neurons in this portion of the brain to stop working, thus resulting in damage throughout the body. Neurothrombectomy is used to treat such acute ischemic strokes, which is associated with poor outcomes and high healthcare burden. According to the Centers for Disease Control and Prevention (CDC), 87.0% of all strokes reported in the U.S. are ischemic strokes. The first treatment of choice for ischemic stroke is mechanical thrombectomy, where a clot is removed mechanically by a specialist using clot retrievers or suction devices and thrombolytic therapy, in which medication is administered to dissolve the clot.
The COVID-19 outbreak is anticipated to have a negative impact on growth of the global neurothrombectomy devices market, as hospital visits and use of healthcare services for stroke treatment have significantly reduced due to the social distancing measures by government. The outbreak of COVID-19 directly impacted the development and manufacturing of neurothrombectomy devices, creating a disturbance in distribution in supply chain and increasing the financial burden of companies.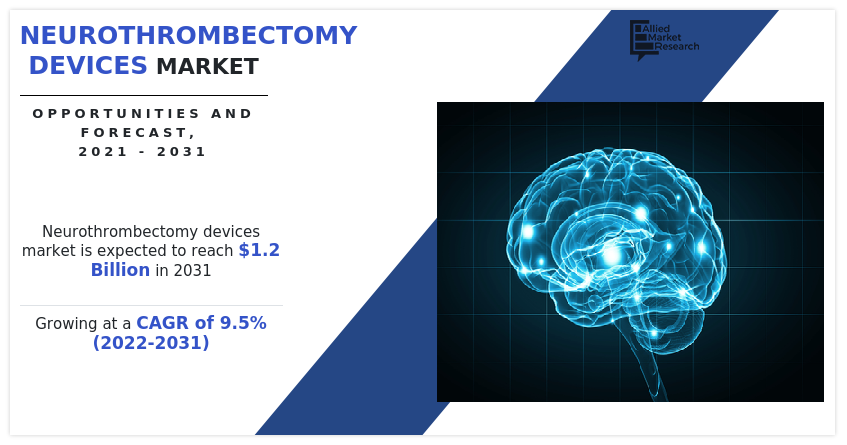 Globally, the increasing adoption of these devices is due to the rising awareness and incidences of acute ischemic stroke along with the demand for minimally invasive procedures. For instance, according to the data published by the American Stroke Association, it was reported that more than 690,000 ischemic strokes are reported annually in the U.S. Moreover, increase in investments by market players in research and development of advanced devices and availability of reimbursement policies to cover treatment costs are some of the factors responsible for the growth of the market.
Also, owing to increase in incidence of ischemic stroke, the need to introduce advanced products in the market has escalated. Although the design and manufacturing of these devices are complicated, major players in the market are focusing on investing in research and development to launch innovative products. The development of new aspiration or suction devices, clot retrievers, and aspiration catheters based on advanced technology for ischemic stroke is driving the neurothrombectomy devices market growth. These latest devices are integrated with advanced features and offer distinct benefits such as high tracking ability, smooth retrieval, and easy usage. For instance, in October 2021, Phenox GmbH launched pRESET 6-50 mechanical thrombectomy devices globally to expand its technology for acute ischemic stroke. The product has the longest stent retriever in the phenox product portfolio. This addition of a long stent retriever helps in better patient outcomes and improved mortality rates.
Coronavirus (COVID-19) was discovered in late December in the Hubei province of Wuhan city in China. The disease is caused by a virus, namely, severe acute respiratory syndrome coronavirus 2 (SARS-CoV-2), which is transmitted from humans to humans. After its discovery in Wuhan, the disease has rapidly spread to other parts of the globe. This virus causes various symptoms in a patient; for instance, common symptoms include fever, dry cough, and fatigue. However, serious symptoms include difficulty in breathing or shortness of breath, chest pain or pressure, and loss of speech or movement.
Furthermore, the virus has high potential of lethality in the geriatric population. On March 11, 2020, the World Health Organization assessed that COVID-19 can be characterized as a pandemic. Thus, social distancing was observed as the most important measure to stop the spread of this disease. Furthermore, to maintain social distancing, various countries across the world adopted nationwide lockdown. Although the COVID-19 pandemic continues to impact the growth of various industries, and the immediate impact of the outbreak varies from industry to industry.
The neurothrombectomy devices market is segmented into Product Type and End User. On the basis of product type, the neurothrombectomy devices market size is classified into clot retrieval devices, aspiration devices, and snares. By end user, the market is fragmented into hospitals, specialty clinics, and others. Region wise, neurothrombectomy industry is analyzed across North America, Europe, Asia-Pacific, and LAMEA.
Segment review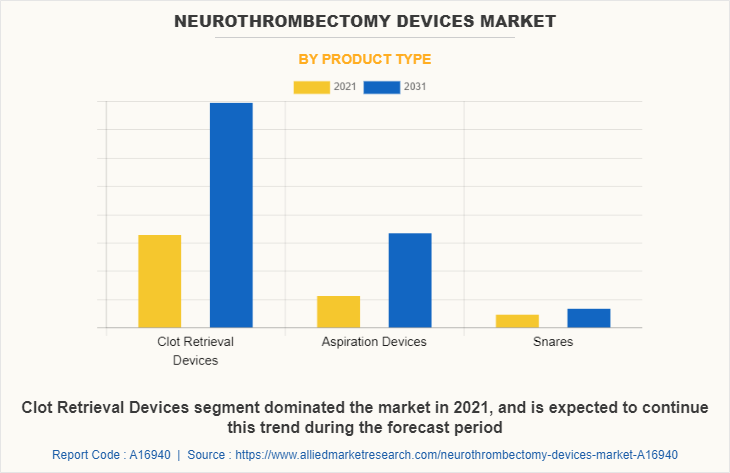 By product type, the clot retrieval devices generated maximum revenue in 2021, owing to rise in number of temporary as well as permanent blood clot surgeries. The aspiration devices segment is expected to witness highest CAGR during the forecast period, owing to increase in prevalence of ischemic stroke, significant improvement in clinical outcome with a good safety profile leading to increase in popularity of aspiration devices among healthcare professionals, and rise in awareness regarding neurothrombectomy devices among patients.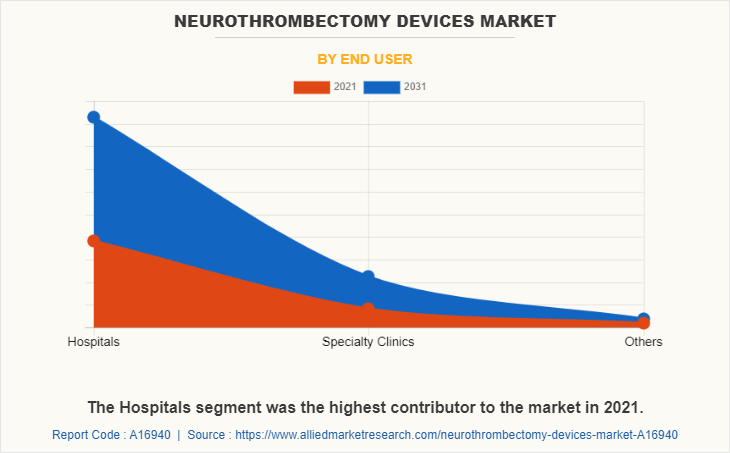 On the basis of end user, the hospitals segment generated maximum revenue in 2021, owing to increase in healthcare units, rise in number of patient admissions for surgery of blood clots in neurovascular region, and surge in venous thromboembolism cases. The specialty clinics segment is expected to witness highest CAGR during the forecast period, due to increase in trend experienced in particular treatment and rise in effectiveness of treatment given by specialty clinics.
North America captured largest neurothrombectomy devices market share in 2021, owing to increase in cases of ischemic strokes, robust healthcare infrastructure, presence of key players, and rise healthcare expenditure. However, Asia-Pacific is expected to witness highest CAGR during the neurothrombectomy devices market forecast, owing to rise in geriatric population, unmet medical demands, initiatives by government & non-governmental organizations (NGOs) to promote awareness regarding neurothrombectomy devices, and increase in public–private investments in the healthcare sector.
The key players that operate in the neurovascular thrombectomy devices market include, Acandis GmbH, Boston Scientific Corporation, Medtronic, Microvention Inc., Penumbra Inc., Phenox GmbH, Stryker Corporation, Teleflex, and Vesalio.          
Key Benefits For Stakeholders
This report provides a quantitative analysis of the market segments, current trends, estimations, and dynamics of the neurothrombectomy devices market analysis from 2021 to 2031 to identify the prevailing neurothrombectomy devices market opportunity.
The market research is offered along with information related to key drivers, restraints, and opportunities.
Porter's five forces analysis highlights the potency of buyers and suppliers to enable stakeholders make profit-oriented business decisions and strengthen their supplier-buyer network.
In-depth analysis of the neurothrombectomy devices market segmentation assists to determine the prevailing market opportunities.
Major countries in each region are mapped according to their revenue contribution to the global market.
Market player positioning facilitates benchmarking and provides a clear understanding of the present position of the market players.
The report includes the analysis of the regional as well as global neurothrombectomy devices market trends, key players, market segments, application areas, and market growth strategies.
 Neurothrombectomy devices Market Report Highlights
Aspects
Details
By Product Type

Clot Retrieval Devices
Aspiration Devices
Snares

By End User

Specialty Clinics
Hospitals
Others

By Region

North America (U.S., Canada, Mexico)
Europe (Germany, France, U.K., Italy, Spain, Rest of Europe)
Asia-Pacific (Japan, China, Australia, India, South Korea, Rest of Asia-Pacific)
LAMEA (Brazil, Saudi Arabia, South Africa, Rest of LAMEA)

Key Market Players
Phenox GmbH, Vesalio, Teleflex Incorporated, Penumbra Inc., Boston Scientific Corporation, Acandis GmbH, MicroVention Inc., Medtronic, Stryker Corporation