Tequila is a sort of mezcal, a distilled alcohol made form heaven agave plant. The agave is native to Mexico and is grown and gathered specifically in the areas of Jalisco, Nayarit, Guanajuato, Michoacan, and also Tamaulipas, where it is then fermented and also distilled. Tequila is highly identifiable today as a typical spirit found in bars, restaurants as well as off-premise alcohol shops and has become a preferred beverage of option for youths searching for an unique and also flavor-full beverage to appreciate. North America holds a substantial market share for tequila intake as well as is expected to expand as a result of its vast selection of offerings and boosting customer acceptance.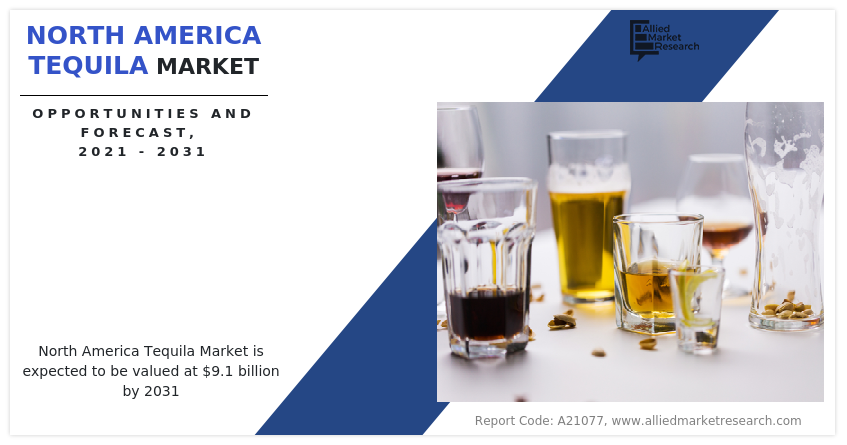 A raising fad towards distilled spirits due to their flavor as well as strong sensory influence, distilled spirits such as tequila are in high need. This is specifically real in the Millennial (aged 18-24) and also Gen Z (aged 25-34) demographic, who usually view the spirit as a luxurious product to be appreciated. This has brought about an increase in sales as well as production of tequila within North America, as more and more customers are choosing the unique taste profiles connected with the beverage. Unlike various other distilled spirits, tequila is naturally low in sugar content as well as has numerous minerals and vitamins, such as Vitamin C as well as calcium. This has made the spirit a prominent choice for those aiming to indulge while also dealing with their health. This aspect is most likely to drive the growth of tequila within the region in the coming years.
North America Tequila Market

---

By Type
By Type, the Tequila Blanco segment held the major share of the market in 2021.

The tax obligations and also guidelines troubled distilled spirits are quite reduced, allowing for a far more consumer-friendly market than with other alcohols. This has actually led to a wealth of more affordable, a lot more obtainable tequilas available to be bought.
North America Tequila Market

---

By Price Range
The Economy segment held the major revenue share in 2021 and is expected to grow with the highest CAGR during the forecast period.

In spite of greater need for costs tequilas, the beverage is still extensively viewed as an affordable, low-end drink, offering it a little a stigma. This understanding has actually created many individuals to select various other spirits, such as bourbon and rum, rather than tequila. In addition, the minimal availability of certain tequila brand names can be a major restriction to the market. This lack of availability is frequently because of the fact that the best-quality tequilas are produced in restricted batches, making them more costly as well as tough ahead by.

North America Tequila Market

---

By Distribution Channel
By Distribution Channel, the B2B segment held the major share of the market in 2021.
Tequila is typically connected with adverse behaviors, such as extreme alcohol consumption and also rowdiness. This has actually triggered many people to avoid consuming alcohol the drink and has actually consequently brought about a stagnancy in sales.
Specialty tequila galleries as well as restaurants have actually acquired popularity in recent times as a way to showcase and celebrate the different sorts of tequila offered. These facilities typically supply sampling solutions, permitting clients to sample a series of tequilas without having to purchase. This is a terrific way to boost the sale of tequila by providing customers with an unique experience. Moreover, marketing campaign targeting the millennial demographic can aid to raise the presence as well as an understanding of tequila as a quality drink. By involving with influencers, funding occasions, and also producing content, brand names can boost the value of their product as well as maximize the pattern in the direction of spirits consumption.
The increasing demand for tequila has actually opened chances for companies to increase right into new markets. This can be achieved via the establishing of distribution centers in various regions or the launch of a brand-new product targeting a certain group.
North America Tequila Market

---

By Country
By country, the U.S. held the major share of the market in 2021.
The tequila market is segmented into product type, price range, distribution channel, and region. On the basis of product type, the tequila market is segregated into tequila blanco, tequila reposado, tequila anejo and tequila joven. By price range, it is classified into premium and economy. Depending on distribution channel, it is categorized into B2B and B2C.
Flavorful tequilas are ending up being progressively popular, with numerous brand names using a variety of flavors. These consist of spicy, fruity, and also natural selections, with some brand names likewise supplying non-alcoholic versions.Sales of high-end tequilas, such as aged and book, have actually seen solid growth over the past few years. This is largely due to their unique taste profiles, as well as an enhancing variety of consumers who can afford to acquire them.
 
Key Benefits For Stakeholders
The report provides a comprehensive analysis of the current market estimations through 2021-2031, which would enable the stakeholders to capitalize on prevailing market opportunities.

Major countries are mapped according to their revenue contribution to the north america tequila market.

In-depth analysis of the north america tequila market segmentation assists to determine the prevailing market opportunities.

Identify key players and their strategic moves in north america tequila market.

Assess and rank the top factors that are expected to affect the growth of north america tequila market.

Analyze the market factors in various countries and understand business opportunities.

Player positioning provides a clear understanding of the present position of key market players.
 North America Tequila Market Report Highlights
Aspects
Details
Forecast period
2021 - 2031
Report Pages
121
By Type

Tequila Blanco
Tequila Reposado
Tequila Anejo
Tequila Joven

By Price Range
By Distribution Channel
By Country
Key Market Players
Constellation Brands, Jose Cuervo International, Tequila Ocho, Proximo Spirits, Sazerac Company, Patrón Spirits International, Cazadores Tequila, Milagro Tequila, La Gran Señora, Casa Noble