Note Sorter Market Outlook – 2027
The global note sorter market size was valued at $6.31 billion in 2019, and is projected to reach $9.53 billion by 2027, growing at a CAGR of 7.9% from 2020 to 2027. Note sorters are used as sorting units that facilitate the management of notes for cash-intensive businesses. The note sorter machine helps banks reduce the human efforts as well as reduces different types of error in sorting and counting of cash. In addition, it provides different benefits to end users that include reduced decreased operational expenses, reduced risk of internal theft occurring during the process of sorting and counting, faster processing of bank procedures, and decline in financial losses. 
The COVID-19 outbreak had a negative impact on growth of the note sorter market, owing to decline in cash transactions in various industries such as retail and rapid adoption of contactless payment across the globe. In addition, high demand for mobile payments across the retail shops such as grocery and drug stores for reducing the chances of transmission of the virus, negatively impacts the growth of cash usage and note sorter market in the pandemic situation..
The key factors that drive the growth of the global note sorter market trends rise in demand among the developing nations to hassle-free handling of notes and increase in adoption of note sorter machine in commercial banks and retail industry are some the important factors that boost the growth of the note sorter market across the globe. In addition, increase in adoption among the bank and financial institutions due to its numerous benefits such as increase in the security and accuracy during the process of cash counting and increase in in-flow and out-flow of cash propels the growth of the market.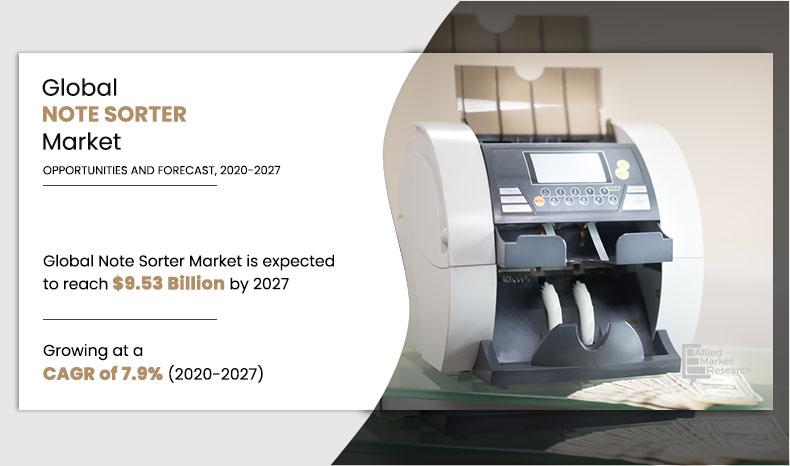 However, high implementation and maintenance cost of note sorter machine is expected to hamper the growth of the note sorter market. On the contrary, increase in penetration of virtual currency and digital transactions and presence of highly advanced note sorter machines are expected to offer remunerative opportunities for the expansion of the global note sorter market during the forecast period. 
The small-size note sorter segment dominated the note sorter industry in 2019, and is projected to maintain its dominance during the forecast period, owing to rise in demand for the note sorter machines among the developing nations of Asia-Pacific In addition to this, the adoption of small-size note sorters has gained traction among end users, owing to the rapidly evolving infrastructural money handling needs, their increased application areas, rise in number of cash-intensive environment facilities, and higher acceptance of end-of-the-day deposit management solutions and others. Furthermore, the medium-size note sorter is expected to grow at a significant CAGR during the forecast period, owing to surge in integration of advance technologies such as artificial intelligence, machine learning, and IoT technologies among the medium-sized note sorter machine. 
Note Sorter Market

---
By Sorter Type
Small-Sized Note Sorter Market holds a dominant position throughout the forecast period
Region wise, the note sorter market was dominated by North America in 2019, and is expected to retain its position during the forecast period. This is attributed due to increase in demand of note sorter machine among business owing to its numerous benefits such as improved efficiency and increase in accuracy of cash counting. However, Asia-Pacific is expected to witness significant growth rate during the forecast period, owing to rise in investment in note sorter machine by various banks and financial institutions in order to establish automated cash handling process for notes.
The report focuses on the growth prospects, restraints, and trends of global note sorter market analysis. The study provides porter's five forces analysis to understand the impact of various factors such as bargaining power of suppliers, competitive intensity of competitors, threat of new entrants, threat of substitutes, and bargaining power of buyers on global note sorter market.
Segment Review
The global note sorter market is segmented on the basis of sorter type, enterprise size, end user, and region. In terms of sorter type, the market is fragmented into small-sized note sorter, medium-sized note sorter, and large-sized note sorter. On the basis of enterprise size, the market is bifurcated into large enterprises and small and medium enterprises (SMEs). Depending on end user, it is divided into BFSI, retail, and others. Region wise, it is analyzed across North America, Europe, Asia-Pacific, and LAMEA.
Note Sorter Market

---
By End User
BFSI segment will grow at a highest CAGR of 7.6% during 2020 2027
Competitive Analysis
The key players operating in the global note sorter industry include Bcash, Electronics Co., Cummins-Allison Corp., De La Rue plc, Giesecke & Devrient GmbH, Glory Global Solutions (International) Limited, GRGBanking, Julong Europe GmbH, Kisan Electronics, Laurel and Toshiba Infrastructure Systems & Solutions Corporation. These players have adopted various strategies to increase their market penetration and strengthen their foothold in the note sorter industry. 
COVID-19 Impact Analysis
The emergence of COVID-19 is expected to have negative impacted on the note sorter market growth. This is attributed to increase in stringent government rules and regulation to restrict the COVID- 19 outbreak. The banks and financial institutions are shutting down their offices and individuals are not allowed to receive fund from the banks, which is negatively impacting the growth of the market. In addition, the government across the globe have been creating awareness to use online banking and mobile payment service to send and receive money at business store. Furthermore, decrease in COVID-19 rule and regulation for the business is expected to provide lucrative opportunity to boost note sorter market after COVID-19 outbreak. 
Top Impacting Factors
Growth Potential from Developing Economies
Growth associated with retail and commercial banks industry among developing nations such as China, Japan, and India is expected to augment the demand to implement note sorters. Note sorter machines are widely applicable in retail industries for smooth & hassle-free handling of notes. Furthermore, the growth in the market for automated cash handling products and increase in demand for technologically advanced self-service machines are expected to increase the market potential in developing economies. Thus, increase in banked population among the developing nation is expected to provide a significant market for the note sorter machines. 
Note Sorter Market

---
By Region
Asia-Pacific would exhibit the highest CAGR of 10.6% during 2020-2027.
Numerous Benefits of Note Sorting Machines
Note sorting machines offer varied benefits to banks and financial institution, which include reduced errors in sorting and counting, decreased operational expenses, decline in financial losses, and faster processing of bank procedures. These are some of the important benefits that allows bank and financial institutions to use note sorter machine.
Key Benefits For Stakeholders     
The study provides an in-depth analysis of global note sorter market forecast along with the current trends and future estimations to elucidate the imminent investment pockets.
Information about key drivers, restraints, and opportunities and their impact analysis on global note sorter market share is provided in the report.
Porter's five forces analysis illustrates the potency of the buyers and suppliers operating in the industry.
The quantitative analysis of the market from 2020 to 2027 is provided to determine the market potential.
Key Market Segments
By Sorter Type
Small-Sized Note Sorter
Medium-Sized Note Sorter
Large-Sized Note Sorter
By Enterprise Size
Large Enterprises
Small and Medium Enterprises 
By End-user
By Region
North America
Europe 

UK
Germany 
France
Italy
Spain
Netherlands
Rest of Europe

Asia-Pacific 

China
Japan
India
Australia
South Korea
Singapore
Rest of Asia-Pacific

LAMEA

Latin America 
Middle East 
Africa
Key Market Players
Bcash, Electronics Co.
Cummins-Allison Corp.
De La Rue plc
Giesecke & Devrient GmbH
Glory Global Solutions (International) Limited
GRGBanking
Julong Europe GmbH
Kisan Electronic
Laurel
Toshiba Infrastructure Systems & Solutions Corporation
 Note Sorter Market Report Highlights
Aspects
Details
By SORTER TYPE

SMALL SIZE SORTER
MEDIUM SIZE SORTER
LARGE SIZE SORTER

By ENTERPRISE SIZE

LARGE ENTERPRISES
.SMALL AND MEDIUM ENTERPRISES

By END USERS
By Region

North America (U.S., Canada, Mexico)
Europe (France, Germany, Italy, Spain, UK, Russia, Rest of Europe)
Asia-Pacific (China, Japan, India, South Korea, Australia, Thailand, Malaysia, Indonesia, Rest of Asia-Pacific)
LAMEA (Brazil, South Africa, Saudi Arabia, UAE, Argentina, Rest of LAMEA)

Key Market Players
DE LA RUE PLC, CUMMINS-ALLISON CORP, GLORY GLOBAL SOLUTIONS LIMITED, LAUREL, GRGBANKING, KISAN ELECTRONICS, BCASH, ELECTRONICS CO, TOSHIBA INFRASTRUCTURE SYSTEMS AND SOLUTION CORPORATION, GIESECKE AND DEVRIENT GMBH, JULONG EUROPE GMBH