Oatmeal Market Overview:
The Global Oatmeal Market was valued at $10,475 million in 2017, and is projected to reach at $11,907 million by 2027, growing at a CAGR of 1.3% from 2018 to 2027.
Oatmeal is the preferred choice in breakfast cereal for many people across the world. It is consumed for its high nutrient content, which includes high protein, starchy carbohydrates, dietary fiber, vitamin, and mineral. Generally the oatmeal is enjoyed with fruits, barriers, nuts, and milk. Oatmeal, which is rich in anti-oxidants and contains over 26 bioactive substances helps the body in safeguarding against chronic diseases, such as heart disease, diabetes, and cancer. Oatmeal is an ideal food for hectic lifestyle since it is easy to cook and fulfils the daily nutritional requirement of the body.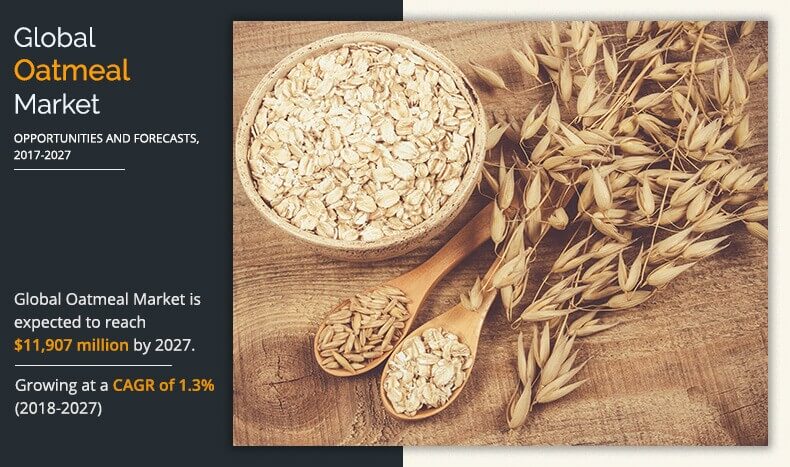 Increase in preference for healthy meals and changing food habits. Furthermore, demand for convenience food and high nutrition content of oatmeal also boosts the market. Though, availability of substitute products such as quinoa, buckwheat, brown rice, and cornflakes are expected to hamper the growth of this market in the near future. Development of different flavored oatmeal and the use of oatmeal in the cosmetics industry offer great growth opportunities for the oatmeal market.
The oatmeal market is segmented based on type, distribution channel, and geography. By type, the market is divided into whole oat groats, steel cut oats, scottish oats, regular rolled oats, quick rolled oats, instant oats and others. Based on distribution channel, the market is divided into hypermarket, supermarket, specialty retailers, convenience stores, independent retailers and others. By geography, it is analyzed across North America, Europe, Asia-Pacific, Latin America, Middle East & Africa and ROW.
The key players operating in the oatmeal market are Quaker Oats Company, Nature's Path Foods, Inc., Nestlé S.A, Kellogg NA Co., General Mills, Inc., Hamlyn's Of Scotland, World Finer Foods, Weetabix Ltd., Cargill, Incorporated, and Bagrry's India Ltd.
Global Oatmeal Market Share, by Geography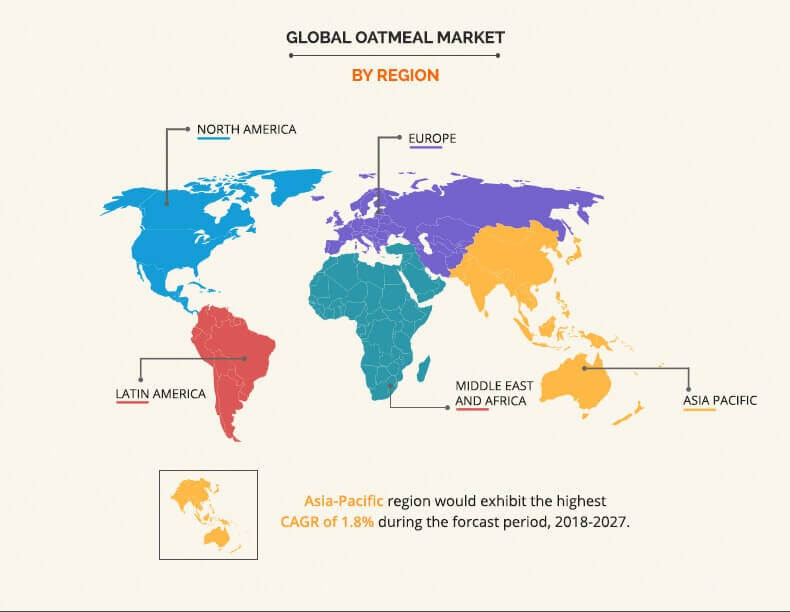 The Asia-Pacific oatmeal market witnessed a rapid growth as increased penetration of breakfast cereal products in the Asia-Pacific region, expanding product range by established manufacturers and increasing population are major factors driving oatmeal market in the Asia-Pacific region. In addition, introduction of low priced, smaller versions of instant oatmeal by established companies have supplemented market growth in the region
Global Oatmeal Market by Type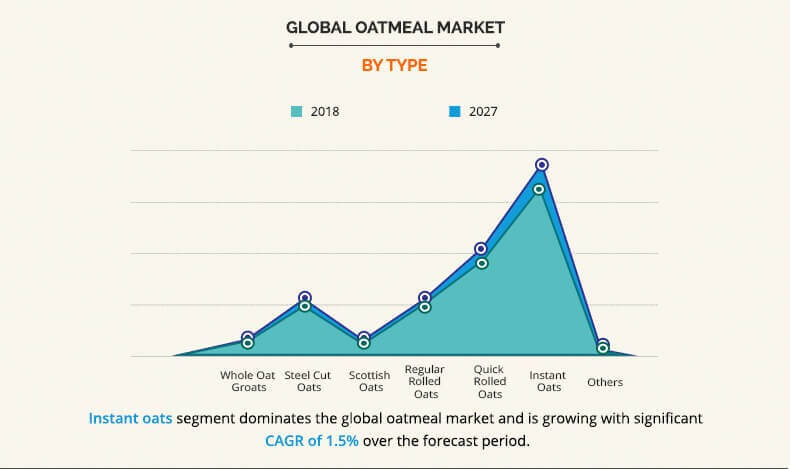 The instant oatmeal segment is estimated to be the most lucrative market in the global market due to high consumer preference, owing to its ease of cooking, availability of different flavor and a good source of vitamins & mineral.
Global Oatmeal Market by Distribution Channel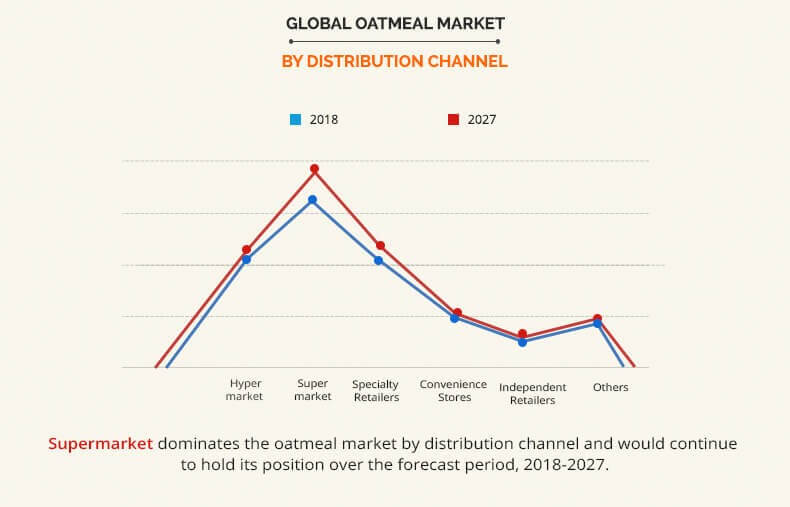 Supermarket by distribution channel dominates the oatmeal market. They have gained high preference among consumers as these stores offer considerable depth in the product portfolio by price range. In addition, high service quality and a sense of authenticity in products to shoppers enhances shopping experience of consumers.
Key Benefits
The study provides an in-depth analysis of the market, with current trends and future estimations to elucidate the investment pockets.
Comprehensive analysis of factors that drive and restrict the growth of the market is provided.
The report provides a quantitative analysis to help the stakeholders to capitalize on prevailing market opportunities.
Extensive analysis of different segments facilitates to understand various products of the market.
Key players are profiled and their strategies are analyzed thoroughly, which predict the competitive outlook of the market.
 Oatmeal Market Report Highlights
Aspects
Details
By Type

Whole Oat Groats
Steel Cut Oats
Scottish Oats
Regular Rolled Oats
Quick Rolled Oats
Instant Oats
Others

By Distribution Channel

Hypermarket
Supermarket
Specialty Retailers
Convenience Stores
Independent Retailers
Others

By Region

North America (U.S., Canada, Mexico)
Europe (UK, Germany, France, Spain, Italy, Rest of Europe)
Asia-Pacific (China, Japan, India, Australia, South Korea, Rest of Asia-Pacific)
Latin America (Brazil, Argentina, Rest of Latin America)
Middle East & Africa (GCC Countries, Saudi Arabia, South Africa, Turkey, Rest of Middle East & Africa)
ROW

Key Market Players
Kellogg Company, Post Holdings, Inc. (Weetabix ltd.), Cargill Incorporated, PepsiCo, Inc. (The Quaker Oats Company), Hamlyn's Of Scotland, Bagrry's India Ltd., Nestle S.A., General Mills, Inc., Nature's Path Foods, Inc., World Finer Foods inc.