Omega 3 Market Overview:
Fish Oil, krill Oil, algal oil, walnut, pumpkin seeds, squid, and others are rich sources of Omega-3 fatty acids such as EPA and DHA. Awareness amongst consumers regarding the health benefits associated with it is now increasing. Scientific studies showing multiple benefits in the consumption of Omega-3 have raised awareness among consumers and also with the incorporation of fish and algae oils into food and beverages. Hence, a substantial change in the diet of the consumers and their lifestyles is observed. Due to these health benefits, the demand for omega-3 is accelerating globally. Omega-3 food products are among the expanding product segments and Asia will be the fastest-expanding market for this category. Omega-3 intake helps to prevent chronic diseases such as cancer, arthritis, and cardiovascular diseases. In addition, Omega-3 supplements such as EPA and DHA helps in the inhibition of prostrate, colon, and breast cancer. With consumption of a variety of fish twice a week reduces cardiovascular disorders. There have been a lot of suggestions from a number of large renowned medical organizations that with the optimal dosage of omega-3 fatty acid heart conditions can be improved. Omega-3 fatty acids are the most important fats that protect the heart and arteries. This drives the need for omega-3 supplements all over the world thus growing the food and nutrition market.
Omega 3 Market is expected to garner $6,955 million by 2022, registering a CAGR of 14.9 % during the forecast period 2016-2022.
The report on the global omega-3 market exclusively focuses on different types of omega-3, such as ALA, DHA, and EPA. The market is analyzed based on the different sources of omega-3 such as marine, nuts & seeds, vegetable oils, and others. The report also highlights various omega-3 applications, which include dietary supplement, pharmaceutical, infant formula, food & beverages, pet food, and fish feed. It analyzes the current omega-3 market trends in different geographies and suggests future growth opportunities.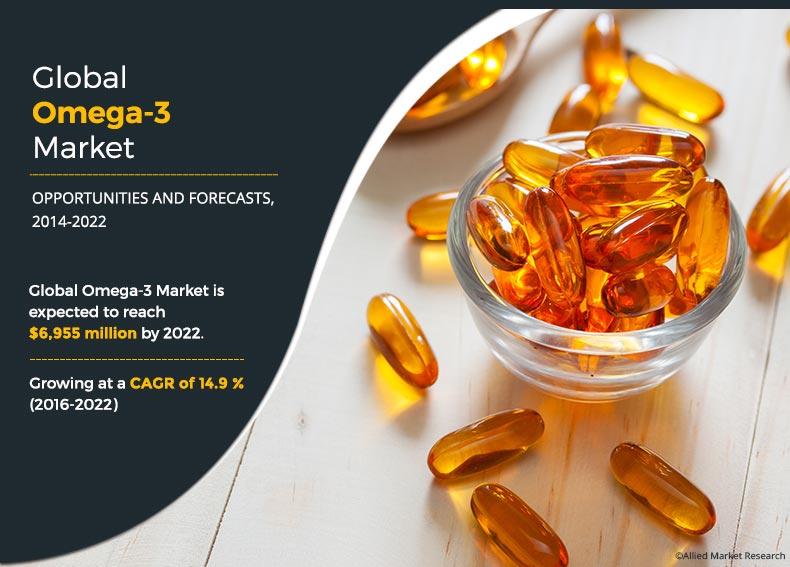 Rising demand from end users, and increasing awareness among consumers regarding healthy eating and health benefits of omega-3 are the key drivers of the global omega-3 market. The industry is constituted by ω-3 fatty acids market and n-3 fatty acids market segments which contribute significantly to the omega 3 fatty acids market size. However, stringent regulation barriers and high cost are likely to hinder the market growth. In addition, Asia-Pacific is projected to register significant growth as compared to the saturated markets of North America and Europe. The share of omega-3 fish oil market is expected to reduce, owing to the low cost of vegetative sources such as vegetable oil, nuts & seeds, and soya products. The production from these vegetative sources is expected to be commercialized from 2017.
Top Investment Pockets
Asia-Pacific is the most attractive region in the global omega-3 market and is expected to be the first preference for new entrants due to the increasing end-use applications in the region. Consumer awareness regarding the benefits of omega-3 has increased recently that has influenced its demand for omega-3. Europe is the second most attractive market for new entrants in the omega-3 industry, which is expected to grow at a CAGR of 14.5%.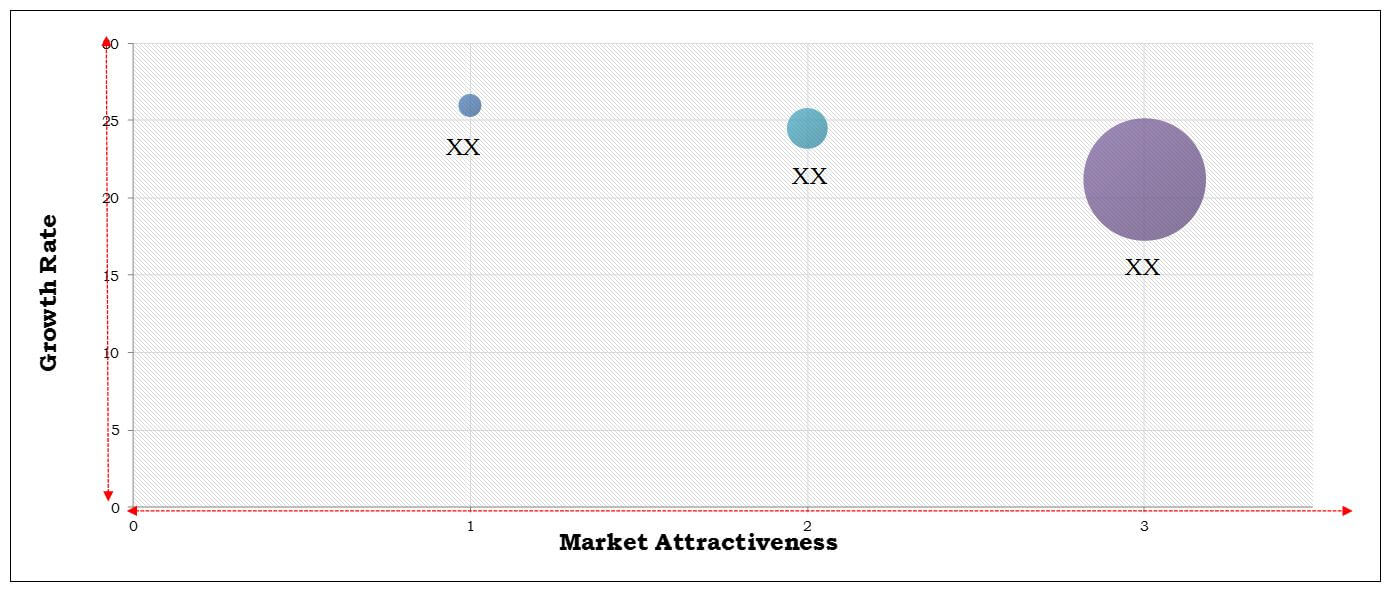 Segment Review:
The global omega-3 market is segmented on the basis of various parameters such as type, source, application, and geography. Based on omega-3 type, the market is classified into ALA (alpha-linolenic acid), DHA (docosahexaenoic acid), and EPA (eicosapentaenoic acid). DHA dominate the overall market with more than three-fourth of revenue share in 2015, whereas the ALA and EPA coupled together occupied one-fourth of the revenue share. ALA is the fastest growing type of omega-3 with a CAGR of 15.8% from 2016 to 2022. Omega-3 is also classified based on its sources such as marine, nuts and seeds, vegetable oils, and soya & soya products. Further on the basis of applications of Omega-3 the market is segmented into dietary supplements, pharmaceuticals, infant formulas, food & beverages, pet food and fish feed. The Omega-3 supplement market size is substantial part of the global industry. Pharmaceutical application is growing at a rapid pace with a CAGR of 18% from 2016-2022. Geographically, the global market is segmented into North America, Europe, Asia-Pacific, and LAMEA. North America is the largest region for the market, with a revenue share more than one-third of the total in 2015, followed by Asia-Pacific and Europe.
Top players in the market are investing huge capital in R&D activities to develop enhanced products, in order to cater current demand. Some of the major players in the omega-3 industry are Cargill, Incorporated, FMC Corporation, Croda International Plc, Royal DSM, OLVEA Fish Oils, Omega Protein Corporation, GC Rieber Oils, Luhua Biomarine (Shandong) Co., Ltd., Pharma Marine AS and Polaris.
Raw Material Analysis
Marine sources such as fish oil is currently the best and generally a safe source of omega-3. In most of the major countries, fish oil production experienced a drop in 2015.
Fish oil is rich in DHA and EPA type of omega-3 content. As the demand for omega-3 is continuously rising, new alternative sources are required to fill the demand gap. Emerging sources include krill oil, algal oil and other vegetable oil. As the global supply of fish oil in omega-3 fish oil market remains static or on the decline, the demand for these alternative sources of omega-3 is on the rise.
GLOBAL FISH OIL PRODUCTION, 2015-2020 (KT)
KEY BENEFITS
The report provides an in-depth analysis of the global omega-3 market size, omega-3 fatty acids market size, and future estimations, in terms of both value and volume, from 2016 to 2022, including information about the current market situation, changing market dynamics, expected omega-3 market trends, and market intelligence.

The factors that drive and impede the growth of the global omega-3 market size are comprehensively analyzed in this study.
SWOT analysis highlights the internal environment of leading companies for effective strategy formulation.
The report contains a comprehensive study of the key strategies adopted by companies to gain traction in the market.
Micro-level analysis is conducted based on type, source, application, and region.
The report thoroughly analyzes various types and applications of omega-3 at country level.
 Omega-3 Market Report Highlights
Aspects
Details
By Type

ALA (alpha-linolenic acid)
DHA (docosahexaenoic acid)
EPA (eicosapentaenoic acid)

By Source

Marine
Nuts and Seeds
Vegetable oils
Soya and Soya Products

By Application

Dietary Supplement
Pharmaceutical
Infant Formula
Food & Beverage
Pet Food
Fish Feed

By Geography

North America
Europe

Austria
Norway
Ireland
Iceland
Sweden
Switzerland
Netherlands
Poland
Spain
UK
Italy
Germany
Russia
France
Finland
Belgium
Rest of Europe

Asia-Pacific

China
India
Indonesia
Rest of Asia-Pacific

LAMEA

South Africa
Brazil
Rest of LAMEA

Key Market Players
Royal DSM, Olvea Fish Oils, Omega Protein Corporation, Polaris, Croda International Plc., Cargill, Inc., FMC Corporation, GC Reiber Oils, LUHUA BIOMARINE (SHADONG) CO., LTD., Pharma Marine AS