Online Banking Market Outlook - 2027
The global online banking market size was valued at $11.43 billion in 2019 and is projected to reach $31.81 billion by 2027, growing at a CAGR of 13.6% from 2020 to 2027. 
With an unprecedented COVID-19 crisis, the demand for online banking services continues to rise, attributed to shutdown of physical branches and shift of customers towards online platforms to fulfill their banking needs during the lockdown.
Online banking is an electronic payment system, which allows the user to conduct financial transactions via the internet. In addition, it is also known as internet banking or web banking, and is designed to be convenient, thereby providing time-saving banking experience and real-time problem resolution services. However, banks should aim to provide more seamless experience between online & mobile channels and accelerate customer engagement to meet their demand, needs, & preferences.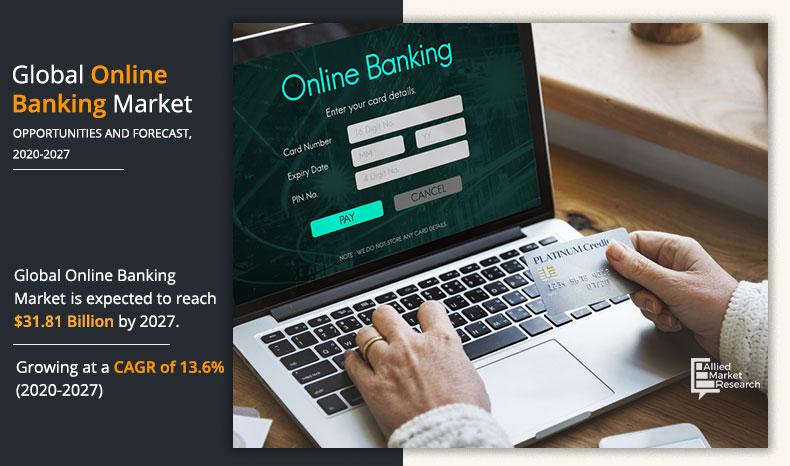 With changing consumer demands, lifestyle, and expectations toward banking, the banks are largely switching toward internet or digitalized banking by implementing technologies. In addition, cloud computing, application programming interfaces (APIs), robotic process automation (RPA), chatbots, machine learning, and blockchain are the major technologies that accelerate the online banking market growth. Moreover, real-time payment solutions, convenience, & easier options to access online banking and increased usage of smartphones drive the growth of the online banking market. 
However, security & technical issues, privacy concerns, and transaction difficulties are some of the factors that hamper the market growth. Moreover, countries, such as China, India, Japan, and Australia, have high demand for massive internet usage to avail banking services online. As a result, this is expected to provide lucrative opportunities to the market growth in the coming years. 
The payments segment dominated the online banking industry in 2019 and is projected to maintain its dominance during the forecast period. Due to huge number of consumers shifting towards online payment platforms, as it provides more convenience and time-saving features as compared to the conventional methods of payments in the market. 
The report focuses on growth prospects, restraints, and trends of the online banking market analysis. The study provides Porter's five forces analysis to understand the impact of various factors such as bargaining power of suppliers, competitive intensity of competitors, threat of new entrants, threat of substitutes, and bargaining power of buyers on the online banking market.
Segment review
The online banking market is segmented on the basis of service type, banking type, and region. By service type, it is classified into payments, processing services, customer & channel management, wealth management, and others. In terms of banking type, it is divided into retail banking, corporate banking, and investment banking. Region-wise, the market is analyzed across North America, Europe, Asia-Pacific, and LAMEA. 
The key players profiled in the online banking market analysis include ACI Worldwide, Inc., Capital Banking Solution, CGI Inc., COR Financial Solutions Limited, EdgeVerve Systems Limited, Fiserv, Inc., Microsoft, Oracle, Tata Consultancy Services Limited, and Temenos Headquarters SA. These players have adopted various strategies to increase their market penetration and strengthen their position in the industry.
Online Banking Market

---
By Service
Wealth management is projected as one of the most lucrative segments.
COVID-19 impact analysis
In the COVID-19 pandemic situation, the online banking market has witnessed significant growth and recorded continuous development globally. In addition, consumers have been largely availing banking services online via mobile phones and web browsers, owing to the global fear of the virus and maintain social distancing. Therefore, the changing patterns of consumers toward online banking services have accelerated the growth of the online banking market. Furthermore, online banking experienced a positive impact of COVID-19, and is expected to maintain its dominance during the forecast period. 
Top impacting factors
Increased smartphone usage & internet penetration   
With increase in emphasis on smartphone usage and massive internet penetration across several countries, the demand for online banking is continuing to rise, and is expected to maintain its dominance in the market. In addition, customers are using online banking more frequently as banks are providing real-time payment solutions, allowing regular banking transactions online, features of bill payments, and others. Furthermore, the banking industry has witnessed massive expansion & standardization in terms of products & services offered via mobile application and increased brand loyalty among consumers, thereby propelling the online banking market growth.
Online Banking Market

---
By Banking Type
Retail banking accounted for the largest market share in 2019.
Convenience and better rates of interest  
With providing convenience & easier options to access online banking products & services, the high yield interest rate is becoming the prime factor for the market growth. In addition, there are no branches to maintain in online banking and other operational costs are declined eventually, which further improve its cost efficiency in business operations. Therefore, banks provide saving options with better rate of interest to their customers due to reduction in these added expenses. Furthermore, consumers use online banking without purchasing any software device, storage or backup data as all transaction information is stored at the bank's terminal. As result, these factors are making it more convenient for consumers to use online banking, thereby driving the market growth. 
Innovative banking services and increase in corporate investors 
Rise in digitalization and increase in corporate banking are expected to propel the market growth. Moreover, online banking has enabled investors to keep a real-time track of their investment portfolio while invest or trade online with a continuous access to their funds. Therefore, these online banking features are expected to accelerate the market growth and enhance innovative banking services for increase in corporate investors in the near future. Furthermore, increased corporate investors and expansion of online banking services are expected to provide lucrative opportunities to the market in the coming years.
Online Banking Market

---
By Region
Asia-Pacific would exhibit the highest CAGR of 15.2% during 2020-2027.
Key benefits for stakeholders 
The study provides in-depth analysis of the online banking market share along with the current & future trends to explain the imminent investment pockets.
The key drivers, restrains, & opportunities and their impact analysis on the online banking market size are provided in the report.
Porter's five forces analysis illustrates the potency of buyers and suppliers operating in the industry.
An extensive analysis of the key segments of the industry helps to understand the online banking market trends.
The quantitative analysis of the global online banking market from 2020 to 2027 is provided to determine the market potential.
 Online Banking Market Report Highlights
Aspects
Details
BY SERVICE TYPE

Payments
Processing Services
Customer & Channel Management
Wealth Management
Others

BY BANKING TYPE

Retail Banking
Corporate Banking
Investment Banking

BY REGION

North America (U.S, Canada)
Europe (UK, France, Germany, Italy, Spain, Netherlands, Rest of Europe)
Asia-Pacific (China, India, Japan, Singapore, Australia, Rest of Asia-Pacific)
LAMEA (Latin America, Middle East, Africa)

Key Market Players
ACI WORLDWIDE, INC, CAPITAL BANKING SOLUTION, CGI INC, COR FINANCIAL SOLUTIONS LIMITED, EDGEVERVE SYSTEMS LIMITED, FISERV, INC, MICROSOFT, ORACLE, TATA CONSULTANCY SERVICES LIMITED, TEMENOS HEADQUARTERS SA