Open Banking Market Research, 2031
The global open banking market was valued at $13.9 billion in 2020, and is projected to reach $123.7 billion by 2031, growing at a CAGR of 22.3% from 2022 to 2031.
Surge in use of online platforms for making payments and rapidly expanding development of big data analytics in payment methods is anticipated to propel the market growth in the upcoming years.
Open banking is a financial service which includes sharing of financial information electronically. Furthermore, open banking services make use of application programming interface (APIs) to carry out a secure transfer of financial data. In addition, the financial information is exchanged between banks and third-parties service providers. An open API offers security to private data of customers, such as a third party's service providers collect user's transaction history and patterns, which provides easy access to openly available data such as a bank's product offerings. Thus, the financial information collected for a customer is utilized in developing advanced applications which are aimed at improving consumer experience associated with the use of financial services.
The major factor which contributes toward the growth of the open banking market includes an increase in the number of people using new wave apps and services. In addition, an upsurge in customer engagement and attending banking customers need boost the growth of the open banking market. Furthermore, there are a lot of benefits associated with an open banking platform and are advantageous for all parties involved in the financial services sector, including banks, enterprises, Fintechs, and innovators. This is an important factor that fosters the growth of open banking market. However, an increase in events of online fraud and data insecurity is expected to restrict the open banking market growth. On the contrary, significant increase in the collaboration of financial service providers, and traditional banking with FinTech is expected to be opportunistic for the open banking market growth.
The report focuses on growth prospects, restraints, and trends of the open banking market outlook. The study provides Porter's Five Forces analysis to understand the impact of various factors such as bargaining power of suppliers, competitive intensity of competitors, threat of new entrants, threat of substitutes, and bargaining power of buyers on the data analytics in banking market outlook.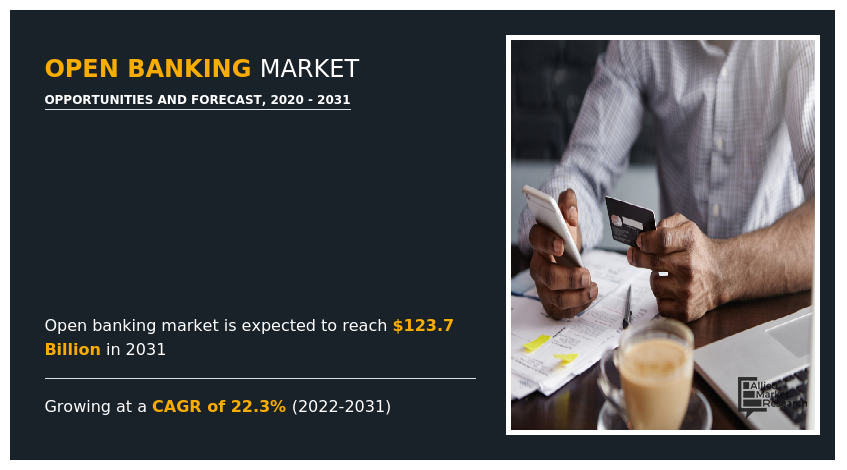 The open banking market is segmented into Financial Services and Distribution Channel.
Segment review
The open banking market is studied on the basis of financial services, distribution channel, and region. By financial service, the market is divided into bank & capital market, payments, digital currencies, and others. As per distribution channel, it is classified into bank channels, app market, distributors, and aggregators. Region wise, the market is analyzed across North America, Europe, Asia-Pacific, and LAMEA

.
Open Banking Market

---

By Financial Services
Banking & capital markets segment accounted for the highest market share in 2020.
Get more information on this report :
Request Sample Pages
By financial service, the banks & capital segment acquired the majority of the open banking market share in 2020. This is attributed to the fact that banking and capital markets utilize open banking services to collect customer related demographical information to increase their reach and to acquire new customers. In addition, the concept of open banking is fairly new for banking and capital markets.
Open Banking Market

---
By Region
Europe accounted for the highest market share in 2020.
Get more information on this report :
Request Sample Pages
Region-wise, Europe acquired the majority of open banking market size in 2020. This is attributed to growth in open banking platform and need to increase security of online payments. Furthermore, the government directives for banks to mandatorily open APIs is another factor that boosts the growth of the market in this region.
The key players operating in the open banking market forecast include as Banco Bilbao Vizcaya Argentaria. S.A., Credit Agricole, Deposit Solutions, Finastra, Jack Henry & Associates, Inc., Nordigen Solutions, Revolut Ltd., Societe Generale, Tink (Visa Inc.), and Yapily Ltd. These players have adopted various strategies to increase their market penetration and strengthen their position in the open banking industry.
COVID-19 Impact Analysis
COVID-19 pandemic has a significant impact on the open banking industry, owing to increase in usage and adoption in application programming interfaces (APIs) by customers to carry out the payment processes. Open banking is experiencing massive growth owing to technological advancements in the market. Moreover, banks and fintech industries are providing their customers with useful and appropriate features in APIs to promote the open banking platforms. This, in turn, has become one of the major growth factors for the open banking market during the global health crisis.
Top Impacting Factors
Potential benefits of open banking
Open banking is beneficial across the value chain of financial services industry, including consumers, businesses, Fintech companies, banks, and financial institutions. A customer in financial services receives access to better banking services, along with access to innovative and personalized financial products through the implementation of open banking across the industry. A customer can reap benefit of choice as they have multiple options or service providers to choose from for their financial needs. Open banking pushes banks to provide more customized and relevant product offerings to the customers by understanding their demographics, requirements, and other credible financial information such as KYC documents. These customized offerings help a customer in the decision-making process and enhance the overall value of the financial service/product. Open banking is an easy way for bank to extend their services. The open banking platforms are beneficial to banks to understand their customers as well as competitors. Moreover, it helps banks to enhance their services and product offerings, and further deliver better customer service and engagements. Open banking offers easy operations that help customers to access the required information in a consolidated form. Further, it enhances centralization model for the banking services. Through these banks achieve full control over various services, such as advice, loans, transfers, and financing, which are offered to the customers.
Increase in adoption of new applications and services
Open banking related third-party providers and banks developed applications that help customers to attain consolidated details of their accounts from various financial service providers. Furthermore, the use of these applications and services helps manage customer data and money. In addition, these series also offer advice to customers for improved management of their wealth. Customers are enhanced with digital services from open banking and other banking sectors. According to the Forrester Research report 2019, a total of 34% of European adults use an application or bank's mobile website for banking activities. Furthermore, 64% of the adults are expected to adopt open banking in the coming years. In addition, open banking is expected to create a new and advanced channel for banks to connect with customers. This is also anticipated to provide opportunity to the third-party services for development of better applications and services. This offers financial institution to launch applications and other innovative services to improve overall open banking experience. The increase in the adoption of new applications and services help customers to opt for better experience and drive the overall market growth.
Improved overall customer engagement with open banking API's
Open banking API offers a unique way to improve customer needs by providing easy accessibility to the customers. The banking and financial firm provides its own application programming interfaces (APIs) that allow the third parties and banks to provide innovative services, which further offer expected growth in the financial revenue. In addition, an open banking application platform encourages customers to engage with their financial data in an innovative way. Further, banks are recognizing the potential of open banking and enhancing services offering customer experience and customer engagement. Hence, open banking demands new approaches to drive customer engagement. This in turn is anticipated to drive the growth of the open banking market.
KEY BENEFITS FOR STAKEHOLDERS
This report provides a quantitative analysis of the market segments, current trends, estimations, and dynamics of the open banking market analysis from 2020 to 2031 to identify the prevailing open banking market opportunity.

    The market research is offered along with information related to key drivers, restraints, and opportunities.

    Porter's five forces analysis highlights the potency of buyers and suppliers to enable stakeholders make profit-oriented business decisions and strengthen their supplier-buyer network.

    In-depth analysis of the open banking market segmentation assists to determine the prevailing market opportunities.

    Major countries in each region are mapped according to their revenue contribution to the global market.

    Market player positioning facilitates benchmarking and provides a clear understanding of the present position of the market players.

    The report includes the analysis of the regional as well as open banking market trends, key players, market segments, application areas, and market growth strategies.
 Open Banking Market Report Highlights
Aspects
Details
By Financial Services

Banking & Capital Markets
Payments
Digital Currencies
Value Added Services

By Distribution Channel

Bank Channel
App market
Distributors
Aggregators

By Region

North America (U.S., Canada)
Europe (United Kingdom, Germany, France, Italy, Spain, Rest of Europe)
Asia-Pacific (China, Japan, India, Australia, South Korea, Rest of Asia-Pacific)
LAMEA (Latin Amercia, Middle East, Africa)

Key Market Players
Nordigen Solutions, Jack Henry & Associates, Inc., Tink, Societe Generale, Revolut Ltd., Credit Agricole, Deposit Solutions, BBVA SA, Yapily Ltd., Finestra