Over-the-air (OTA) Testing Market Outlook-2025
The global over-the-air testing Market size was valued at $1,513.0 million in 2017, and is projected to reach $3,093.9 million by 2025, growing at a CAGR of 9.4% from 2018 to 2025.
Over-the-air (OTA) testing measures system performance and antenna and receiver performance of numerous wireless devices, such as smartphones, tablets, laptops, wireless routers, and Internet of Things (IoT) devices. The OTA test is conducted to meet industry standards and facilitate evaluation of antenna and receiver performance. Moreover, the antenna and receiver performance is vital for efficient working of wireless devices. The OTA testing of wireless devices is mandated by many regulatory agencies, standard organizations, industrial bodies, and telecom carriers, because it is a requirement laid by the cellular telecommunications and internet association (CTIA); for instance, wireless service providers, such as Verizon, Sprint, AT&T, and others, require their suppliers to verify that wireless devices function seamlessly under various conditions. OTA testing plays a vital role in guaranteeing that each wireless device delivers an enhanced experience to users.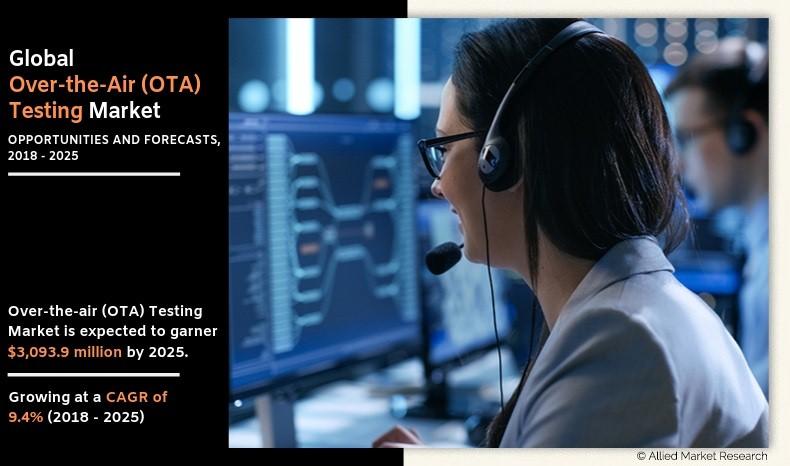 The growth of the global OTA testing industry is driven by increase in penetration of IoT and smart devices and growth of smart cities. However, testing during extreme conditions restrains the market growth. On the contrary, roll out of 5G technology is expected to provide lucrative growth opportunities for the market.
The OTA testing market is segmented by technology, industry vertical, application, and region. On the basis of technology, the market is categorized into cellular, Bluetooth, and Wi-Fi. As per industry vertical, it is classified into aerospace & defense, consumer electronics, automotive, logistics & transportation, healthcare, and government. According to application, the market is bifurcated into home automation, mobile payment system, utilities management product, traffic control system, and others.
Region-wise, the OTA testing market is analyzed across North America, Europe, Asia-Pacific, and LAMEA.The major players in the global OTA testing market that are profiled in the report are Intertek, UL LLC, Anritsu, Keysight Technologies, Rohde & Schwarz, Cetecom, Eurofins Scientific, Bureau Veritas, Microwave Vision Group (MVG), and SGS.
Increase in penetration of IoT and smart devices
The OTA is a mandatory test to get the cellular telecommunications and internet association (CTIA) certification. In addition, it is also a requirement for various carriers, vendors, and standard organizations to determine if wireless devices meet the applicable standards. Owing to increase in IoT and adoption of smart devices, the frequency of OTA testing is expected to increase, which would propel the OTA testing market growth. In addition, smart devices, such as fitness wearables, medical devices, and numerous mobile devices, connected with the help of cellular networks, Wi-Fi, Bluetooth, and other wireless devices have been fueling the market growth of OTA testing. Furthermore, testing for IoT and smart devices is increased, owing to emerging standards and numerous wireless technologies that are used to connect the devices. These factors altogether have been driving the growth of the OTA testing industry.
Growth of smart cities
The number of smart cities worldwide has been increasing at a rapid pace, which has been significantly increasing the number of wireless and smart connected devices. This is expected to result in the rise of OTA testing of wireless devices to meet the industry standards and facilitate assessment of antennas and receiver performance. The need for OTA testing is to check the reliability and accessibility of wireless devices. In addition, numerous associations, mainly cellular telecommunications and internet associations (CTIA), vendors, carriers, and standard organizations, have mandated the OTA testing for wireless devices. Thus, the growth in smart cities is anticipated to lead to the overall OTA testing market growth.
Key Benefits For Over-the-air (OTA) Testing Market:
This report provides an extensive analysis of the current and emerging market trends and dynamics in the global OTA testing market.
An in-depth analysis is carried out by constructing market estimations for key market segments between 2017 and 2025.
This report entails a detailed quantitative analysis of the current trends and future estimations from 2017 to 2025, which helps to identify the prevailing market opportunities.
An extensive analysis of the OTA testing market share is conducted by following key product positioning and monitoring the top competitors within the market framework.
Porters five forces model analysis of the industry illustrates the potency of the buyers and suppliers participating in the OTA testing market.
Current and future trends have been outlined to determine the overall attractiveness and single out profitable trends to gain a stronger foothold in the OTA testing market.
 Over-the-Air (OTA) Testing Market Report Highlights
Aspects
Details
By Technology
By Industry Vertical

Aerospace & defense
Consumer electronics
Automotive
Logistics & transportation
Healthcare

By Application

Home automation
Mobile payment system
Utilities management system
Traffic control system
Others

By Region

North America (U.S., Canada, Mexico)
Europe (UK, Germany, France, Russia, Rest of Europe)
Asia-Pacific (China, India, Japan, Australia, Rest of Asia-Pacific)
LAMEA (Latin America, Middle East, Africa)

Key Market Players
Anritsu Corporation, UL LLC, Eurofins Scientific SE, Intertek Group Plc., Microwave Vision Group, RWTÜV GmbH (CETECOM GmbH), Keysight Technologies, Inc., SGS SA, ROHDE & SCHWARZ GmbH & Co. KG, Bureau Veritas SA