Passwordless Authentication Market Research, 2031
The global passwordless authentication market was valued at $12.8 billion in 2021, and is projected to reach $40.2 billion by 2031, growing at a CAGR of 12.2% from 2022 to 2031.
Enterprises throughout the world saw a 40% surge in cybersecurity assaults during the COVID-19 pandemic, including password leaks, credential compromises, phishing, and ransomware. Due to the disruption caused by COVID-19, firms must use cutting-edge security solutions like passwordless authentication to streamline their corporate governance and transparency, workplace health and safety, data privacy, supply chain, and working capital. Through COVID-19, the transition to digitalization has been accelerated. Because of the changing dangers and threats, companies and individuals are switching from password-based authentication to passwordless solutions like biometrics, iris scanning, facial recognition, and fingerprint scanning. Passwordless authentication is one security option that is becoming more popular, and this trend is anticipated to continue during the forecast period.
Due to shifting security paradigms, businesses must strike a compromise between employee convenience and strong security. Passwords are one of the biggest sources of irritation for end users since they must be managed across hundreds of websites and accounts. Security professionals are concentrating more on passwordless authentication, which allows users to access company networks and services without a password while yet maintaining high levels of security.
Platforms for identity and access management as well as individual systems may verify and authenticate users without the use of passwords with passwordless authentication. Users utilize alternate techniques to verify their identities, such as security tokens or biometrics. Multi-factor authentication often adds a second level of security to the password. Therefore, passwords are no longer necessary owing to passwordless authentication technologies.
Furthermore, due to dependability issues and security risks like cyber scams and man-in-the-browser vulnerabilities, old authentication techniques like knowledge-based authentication and SMS-based two-factor authentication are no longer regarded as recommended standards. In order to more reliably establish the online identities of new customers (during the account setup process) and current users for authentication events, modern online businesses are increasingly looking for facial authentication solutions. These events, particularly high-risk ones like wire transfers or password resets, are among the most common examples. Facial authentication has several real benefits over conventional authentication techniques.
The passwordless authentication market is expected to witness notable growth during the forecast period, owing to the growing advancement in technologies such as the internet of things (IoT) and artificial intelligence. Furthermore, the rising awareness of the application of passwordless authentication in the banking sector and the increase in penetration of consumer electronic devices has driven the growth of the market. However, the increased cost of the deployment of passwordless authentications is the prime factor restraining the market growth. On the contrary, the surge in demand for cybersecurity and the adoption of the shift in authentication processes to enhance customer experience is expected to propel the passwordless authentication market growth, during the forecast period.
The global passwordless authentication market research is segmented into type, authentication type, industry vertical, and regions. Based on type, the market is bifurcated into authentication using face recognition (selfie authentication), challenge-response authentication mechanism (CRAM), fingerprint/thumbprint authentication, and others. By authentication type, the market is categorized into single-factor and multi-factor. Based on the industry vertical the market is segmented into aerospace & defence, BFSI, government & law enforcement, healthcare, IT & telecom, retail, transportation & logistics, and others.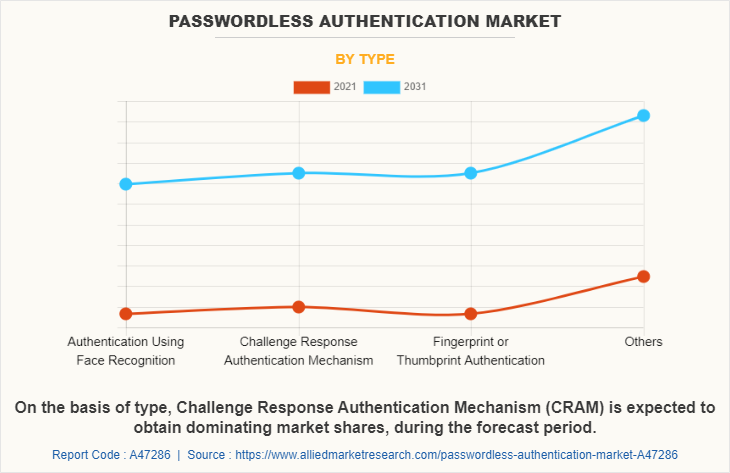 Passwords have served as protections over the years by preventing illegal access to one's data. With the development of technology, password usage has evolved and become much more secure while also being more user-friendly than it was previously. However, the flaws found and seen in this conventional approach have prompted businesses and researchers to seek alternatives where there is no risk of theft, hacking, or password cracking. Various types of passwordless authentication such as facial recognition, renal recognition, and smart are a few examples that authenticate a password-free secure access control system.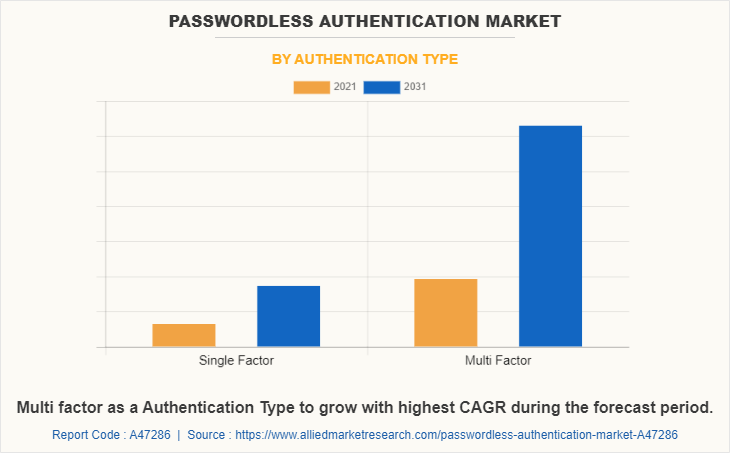 By moving verification to the device rather than sending credentials via an internet connection, passwordless authentication technology alters the fundamental security architecture. Although passwordless solutions are more advanced, traditional multi-factor authentication (MFA) still provides security and convenience to the authentication process. It's common for businesses to try to combine supply chain security, which is crucial for B2B financial infrastructure, with user experience and worker access security.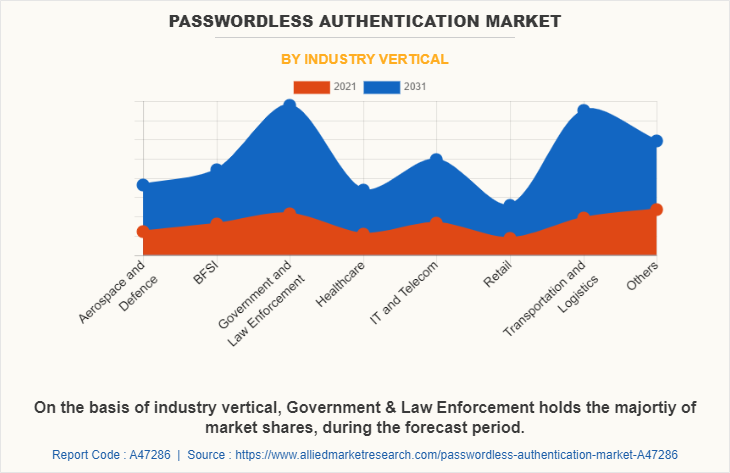 Such security solutions are still in high demand in the industry. Many businesses are still committed to helping SMEs overcome the hurdles of digitization and financial infrastructure. The banking industry is moving toward passwordless authentication as an additional layer of protection for its clients' accounts due to duplicate passwords across work and home accounts. There are many ways to lower risk in IT, but here is where professional security specialists are mostly focused. Passwordless authentication solutions are increasingly being employed in the banking industry due to the vulnerability of passwords and the possibility of password theft.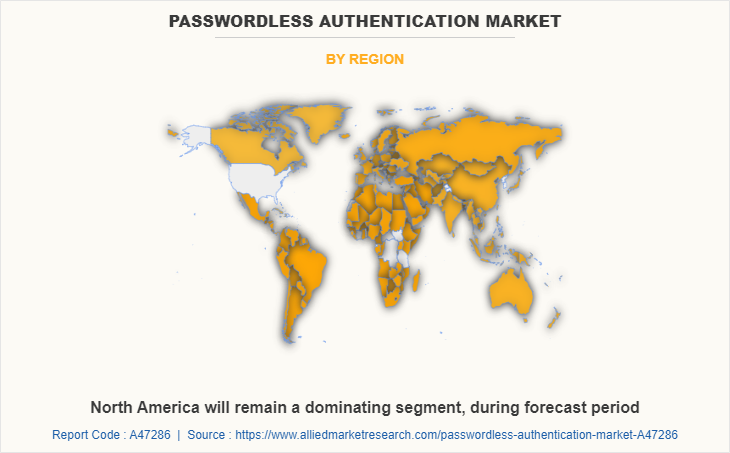 Region-wise, the passwordless authentication market trends are analyzed across North America (U.S. and Canada), Europe (Germany, Italy, France, Spain, UK, and the rest of Europe), Asia-Pacific (China, Japan, India, South Korea, and Rest of Asia-Pacific), and LAMEA (Latin America, Middle East, and Africa). North America, specifically the U.S. and Canada, remains a significant participant in the global passwordless authentication industry.
TOP IMPACTING FACTORS
Due to the continuing development of technologies like the internet of things (IoT) and artificial intelligence, the market for passwordless authentication is anticipated to expand significantly throughout the projected period. Additionally, the market has grown as a result of increased consumer electronics device penetration and growing awareness of the use of passwordless authentication in the banking industry. However, the main issue limiting market development is the rising expense of deploying passwordless authentications. The expansion of the passwordless authentication market share, on the other hand, is anticipated to be fueled by the rise in demand for cybersecurity and the adoption of new authentication methods to improve customer experience.
In order to access end-user logins and accounts, additional consumer gadgets are following the trend of increasing smartphone use. The growing usage of passwordless authentication as an additional layer of security on top of passwords is another factor driving the passwordless authentication industry. The swift adoption of technologies like artificial intelligence and the internet of things in consumer electronics like smartphones and tablets, among other items, has increased the demand for passwordless authentication. The problem of data theft on numerous devices, such as laptops, smartphones, and tablets, has also boosted the use of passwordless authentication.
Many complicated, long passwords may be challenging for employees to remember. Passwordless authentication therefore greatly improves the user experience because there is no need to memorize passwords. If passwordless authentication is implemented and Single Sign On is enabled in Azure Active Directory, employees only need to log in once to access all frequently used apps and services. For instance, the Microsoft Authenticator app, which is comparable to windows hello for business, debuted another passwordless authentication solution in February 2022 that uses either biometrics or a PIN. Users must have the Microsoft Authenticator app installed on their Android or iOS smartphone to use this option. This helps to detect the issue and save from data breaches, which fuels the market for passwordless authentication.
COMPETITION ANALYSIS
Competitive analysis and profiles of the major passwordless authentication market players, such as Cognitec Systems GmbH, Fujitsu Limited, Google LLC, HID Global Corporation, IBM Corporation, Microsoft Corporation, NEC Corporation, Okta, Secret Double Octopus (SDO), and Thales Group are provided in this report.
KEY BENEFITS FOR STAKEHOLDERS
This study comprises an analytical depiction of the passwordless authentication market size along with the current trends and future estimations to depict the imminent investment pockets.

The overall passwordless authentication market analysis is determined to understand the profitable trends to gain a stronger foothold.

The report presents information related to key drivers, restraints, and opportunities with a detailed impact analysis.

The current passwordless authentication market forecast is quantitatively analyzed from 2021 to 2031 to benchmark financial competency.

Porter's five forces analysis illustrates the potency of the buyers and suppliers in passwordless authentication.

The report includes the market share of key vendors and passwordless authentication market trends.
 Passwordless Authentication Market Report Highlights
Aspects
Details
Market Size By 2031
USD 40.2 billion
Growth Rate
CAGR of 12.2%
Forecast period
2021 - 2031
Report Pages
208
By Type

Fingerprint or Thumbprint Authentication
Others
Authentication Using Face Recognition
Challenge Response Authentication Mechanism

By Authentication Type

Single Factor
Multi Factor

By Industry Vertical

Aerospace and Defence
BFSI
Government and Law Enforcement
Healthcare
IT and Telecom
Retail
Transportation and Logistics
Others

By Region

North America (U.S., Canada)
Europe (Germany, Italy, France, Spain, UK, Rest of Europe)
Asia-Pacific (China, Japan, India, South Korea, Rest of Asia-Pacific)
LAMEA (Latin America, Middle East, Africa)

Key Market Players
NEC CORPORATION, Fujitsu Limited, Google LLC (Alphabet), IBM Corporation, Okta, Thales Group, Secret Double Octopus (SDO), HID Global Corporation, Microsoft Corporation, Cognitec Systems GmbH