The global peanut milk market size was valued at $268.6 million in 2020, and is expected to garner $664.2 million by 2030, registering a CAGR of 9.5% from 2021 to 2030. In 2020, the conventional segment accounted for the highest share in the peanut Milk market, and is expected to grow at a CAGR of 8.7% throughout the forecast period.    
Peanut milk is a non-dairy beverage made by using peanut and water. It offers proteins, vitamins, and minerals such as manganese, vitamin B3, among others. They act as a substitute to dairy products for consumers who are allergic to dairy products.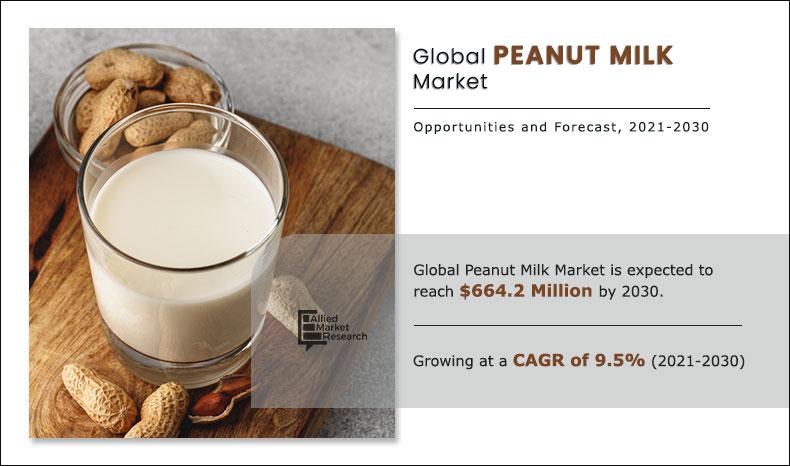 Nuts are emerging ingredients gaining momentum as sources for plant-based beverages. Many niche products have launched over the past few years, which include cashew, hazelnut, and peanut Moreover, increase in researches regarding the benefits of ingredients such as walnuts and peanut are continuously being published, which further drives consumers toward its adoption in beverages products, smoothies, and so no. All these factors together are expected to drive the growth of the peanut milk market. 
Rise in demand for plant-based milk is one of the major factors expected to boost the peanut milk market growth. A huge demand for naturally prepared plant-based milk has been noted over the past few years, which is expected to continue during the forecast period. Consumers' attractiveness toward high nutrient natural milk is one of the main factors that drives the market growth.
Increase in vegan population has been registered in the global market over the past few years. The growth in vegan population is anticipated to increase the demand for plant-based milk products such as peanut milk, almond milk, pea milk, among others. Consumers in countries such as Canada are avoiding animal products and demanding healthier and cleaner naturally prepared plant-based food. Around 7.5 million people in the U.S. take animal-free diet assuming that it would keep them healthier in the future. Therefore, increase in number of vegan consumers is anticipated to increase the demand for various sources of plant-based products; thereby, driving the market growth.
The price of peanut milk is higher in comparison to conventional milk and to other plant-based milk such as almond and soy. Major nutrients present in peanut milk include proteins, vitamins, calcium, phosphorus, vitamin D, vitamin B12, riboflavin, and magnesium. High nutritional content of peanut milk increases its production cost, which, in turn, escalates its overall cost. Therefore, high cost associated with peanut milk might hinder the market growth in the developing economies such as India and China, where consumers are price sensitive.
Strong global concerns about the pandemic, have largely but negatively influenced the global peanut milk market. Moreover, owing the high demand and low supply trends, prices of products increased in 2020 to overcome on economic instability. On the contrary, disruptions to supply chain in shipping could lead to temporary shortages in the supply, putting upward pressure on prices in the short term.      
Peanut Milk Market

---
By Nature
Organic segment would witness the fastest growth, registering a CAGR of 10.7% during the forecast period.
COVID-19 impact on global peanut milk market
Consumers are re-evaluating and changing their drinking and eating habits with the outbreak of COVID-19 pandemic. Consumers are focusing on improving their health and immunity
Market players are adhering to consumer demand and are acting toward it
World's largest food companies are rapidly increasing investments in plant-based products, partly to meet surging consumer demand for alternative protein sources and partly to offset risks associated with meat production that the COVID-19 pandemic has exposed
The Unilever Group set a new annual global sales target of €1 billion from plant-based meat and dairy alternatives within the next five to seven years
In September 2020, U.K.'s largest supermarket chain, Tesco PLC announced plans to increase sales of plant-based products by 300% by 2025 compared to sales in 2018
With such initiatives taken by the well-established market players, pea protein market is expected to witness rapid growth post COVID-19
According to the peanut milk market analysis, the market is segmented into nature, packaging type, application, distribution channel, and region. On the basis of nature, the market is categorized into organic and conventional. On the basis of packaging type, it is segmented into bottles and aseptic cartons. Based on application, it is segregated into food processing industry, bakery & confectionery, Beverages, proteins and supplements, and others Based on distribution channel, it is classified into supermarkets/hypermarkets, convenience stores, specialty stores, and others. Region-wise, it is analyzed across North America (the U.S., Canada, and Mexico), Europe (the UK, France, Italy, Germany, Spain, Russia, and the rest of Europe), Asia-Pacific (China, Japan, India, South Korea, Australia, Indonesia, Thailand, and the rest of Asia-Pacific), and LAMEA (Brazil, Argentina, the UAE, Nigeria, Turkey, South Africa, and the rest of LAMEA).
Peanut Milk Market

---
By Packaging Type
Others Segment witnssed a major growth rate of 6.8%
On the basis of nature, the conventional segment accounted for the maximum share in the global peanut milk market in 2020, and is expected to remain dominant during the peanut milk market forecast period. Organic segment witness a high annual growth rate during the forecast period 2021-2030.
On the basis of packaging type, the aseptic cartoons segment accounts to higher value share. Aseptic cartons are used for pre-sterilized products such as milk, juices, and soups, and non-sterile products, including yoghurt. As a result of the multilayer packaging, the product's shelf life is extended and peanut milk can be stored for longer period of time. Slim-shaped, mid-shaped, and square-shaped aseptic cartons are majorly used in the packaging of beverages and milk products.
Peanut Milk Market

---
By Application
Food & Beverages Segment held the major share of 35.3% in 2020
On the basis of sales channel, the supermarket/hypermarket segment held the significant peanut milk market share in 2020 and is likely to remain dominant throughout the forecast period.
Hypermarkets/supermarkets cover large set of product portfolio from various food & beverages domains in the market, thus making it easily accessible for customers. Hypermarket/supermarket is an organized store having both domestic as well as international presence. Consumers can access niche products available in the market in these types of stores.
Peanut Milk Market

---
By Distribution Channel
Others Segment witnssed a major growth rate of 6.8%
On the basis of region, North America dominated the peanut milk market in 2020, and accounted for maximum market share. North America is one of the leading markets of the peanut milk industry due to extreme growing demand for Peanut Milk and huge production of peanut kernel, 
Players in the Peanut Milk market have adopted business expansion and product launch as their key developmental strategies to expand their market share, increase profitability, and remain competitive in the market. The key players profiled in the report include Elmhurst Milked Direct, LLC, Good Karma Foods, Inc., Miruku, Nest & Glow, Nest & Glow, and Yinlu foods Group.
Peanut Milk Market

---
By Region
North America held the major share of 42.5% in 2020
Key benefits for stakeholders  
The report provides quantitative analysis of the current Peanut Milk market trends, estimations, and dynamics of the market size from 2020 to 2030 to identify the prevailing Peanut Milk market opportunities. 
Porter's five forces analysis highlights the potency of buyers and suppliers to enable stakeholders to make profit-oriented business decisions and strengthen their supplier–buyer network.
In-depth analysis and the market size & segmentation assist to determine the market potential.
The major countries in each region are mapped according to their revenue contribution to the market.    
The market player positioning segment facilitates benchmarking and provides a clear understanding of the present position of the market players in the Peanut Milk industry. 
Key market segments 
By Nature
By Packaging Type
By Application
Food processing industry
Bakery & confectionery
Beverages
Proteins bars & Supplements
Others
By Sales Channel
Supermarket/Hypermarket
Convenience Stores
Specialty Stores
Others
By Region
North America
Europe

Germany 
France
UK
Italy
Spain 
Russia
Rest of Europe

Asia-Pacific

China
Japan
Australia
South Korea
Thailand
Indonesia 
Rest of Asia-Pacific 

LAMEA 

Brazil
Argentina
UAE
Nigeria
Turkey
South Africa
Rest of LAMEA
 Peanut Milk Market Report Highlights
Aspects
Details
By Nature
By Packaging Type
By Application

Food processing industry
Bakery & confectionery
Beverages
Proteins bars & Supplements
Others

By Sales Channel

Supermarket/Hypermarket
Convenience Stores
Specialty Stores
Others

By Region

North America (U.S., Canada, Mexico)
Europe (France, Germany, Italy, Spain, UK, Russia, Rest of Europe)
Asia-Pacific (China, Japan, India, South Korea, Australia, Thailand, Malaysia, Indonesia, Rest of Asia-Pacific)
LAMEA (Brazil, South Africa, Saudi Arabia, UAE, Argentina, Rest of LAMEA)

Key Market Players
Good Karma Foods, Inc., Elmhurst Milked Direct, LLC, ShanTou YiLi Foods Co., Ltd., Yinlu foods Group, Nest & Glow, Miruku