Pet Food Packaging Market Research, 2030
The global pet food packaging market size was valued at $9.4 billion in 2020, and is projected to reach $16.6 billion by 2030, growing at a CAGR of 5.7% from 2021 to 2030. Pet food packaging keeps items fresh, long-lasting, and clean. It helps to keep the food contamination-free and ensures freshness & hygiene of animal feed. Concerns over pets' nutritional intake have prompted an increase in the production of diverse pet foods, as well as increased demand for superior materials for pet food packaging. The expansion in pet population has boosted pet dietary options, which is good news for the pet food packaging market.
The COVID-19 pandemic stagnated production activities in various areas, such as food production, food packaging, and food and beverage sector. Supply chain disruptions of raw materials to these industries led to decline in the demand for pet food packaging.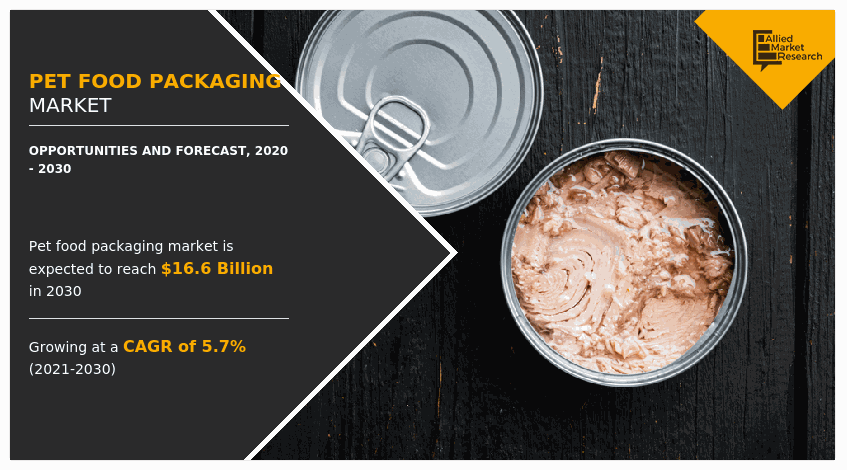 The pet food packaging market growth is due to rise in demand & accessibility for high-quality food products and surge in urban population, which leads to increased pet adoption, rising disposable income of pet owners, and multi-functionality of pet food packaging. Furthermore, materials used in pet packaging include plastic, laminate, metal, and aluminums. Improved and specifically processed pet food is typically sold in small packaging with excellent presentation qualities. Plastic is one of the most often used materials for pet food packaging. Moreover, food packaging materials pose a number of risks and governments around the world have established a variety of regulations to address them.
The novel coronavirus (COVID-19) rapidly spread across various countries and regions in 2019, causing an enormous impact on lives of people and the overall community. It began as a human health condition and has now become a significant threat to global trade, economy, and finance. The COVID-19 pandemic halted production of many products in the pet food packaging market, owing to lockdowns. Furthermore, the number of COVID-19 cases is expected to reduce in the future with the introduction of the vaccine for COVID-19 in the market. This has led to the reopening of pet food packaging companies at their full-scale capacities. This is expected to help the market recover by the mid of 2022. After COVID-19 infection cases begin to decline, equipment & machinery producers must focus on protecting their staff, operations, and supply networks to respond to urgent emergencies and establish new methods of working.
In addition, as the humanization of pet's spreads, pet owners want their pets to eat as well as they do. With more and more brands launching premium pet food lines, quality packaging is required to protect and preserve the ingredients. For instance, in February 2021, Berry Global, a company that offers packaging solutions has manufactured Berry Superfos Hobbock pail, a robust and reliable plastic storage container for pet food. The new product helps in storing pet food for longer duration and helps in maintaining sustainability of packaging. As a result, all such factors are expected to drive the global market.
Pet Food Packaging Market

---
By Material Type
The paper and paperboard segment is the largest segment in 2020.
By material type, the market is segmented into paper & paperboard, plastic, and metal. Paper and paperboard are fast-increasing section of the packaging industry that offers various benefits to end users in a variety of industries, including food, beverage, pet food, distribution centers, and more. However, the paper & paperboard segment is expected to grow at a fast pace during the forecast period. Metal packaging is highly adopted in food and beverage industry that currently represents as one of the key factors driving the growth of the market. Organic food companies are increasingly using metal packaging as they become more concerned with health benefits and consumer happiness.
Pet Food Packaging Market

---

By Animals Type
The cat segment has registerd highest CAGR during the forecast period
On the basis of animals, dog segment dominated the market in 2020, as it has observed substantial growth in developing nations such as Mexico, India, Thailand, and China. Furthermore, dog ownership rates have increased in these regions as a result of fast urbanization and rising disposable incomes. 
Pet Food Packaging Market

---
By Region
North America is largest region in terms of revenue in 2020, Asia-Pacific will registerd highest CAGR during the forecast period.
On the basis of region, North America was the largest revenue generating region in 2020. Some of the primary driving variables supporting the growth of the North American pet food market are increasing pet humanization and pet ownership, the emergence of private label retail brands, and rising urbanization. The pet food industry in North America has grown very competitive. Manufacturers are concentrating on providing more intelligent packaging solutions in response to growing demand from pet owners for protective, informative, and sustainable packaging. However, Asia-Pacific is expected to be the fastest growing region during the forecast period due to rise in animal adoption rates in the region, which have risen as a result of growing awareness of animal abuse and increased humanization. Further, as a result of technological advancement, the pet food packaging market in the region has expanded to a great extent. This is further expected to boost the market in Asia-Pacific during the forecast period.
The pet food packaging market is segmented into Material Type, Food Type, Animals Type, and region. On the basis of material type, the market is divided into paper & paperboard, plastic, and metal. On the basis of animal type, the market is divided into dog, cat, and other. On the basis of food type, the market is divided into dry food, wet food, and others. Region wise, the market analysis is conducted across North America (the U.S., Canada, and Mexico), Europe (the UK, France, Germany, Italy, and Rest of Europe), Asia-Pacific (China, Japan, India, South Korea, and Rest of Asia-Pacific), and LAMEA (Latin America, the Middle East, and Africa).
Competition Analysis
The key players that operating in the global market are Amcor Limited, American Packaging Corporation, Ampac Packaging, Ball Corporation, Berry Plastics, Constantia Flexibles, Crown Holding, Mondi Group, Sonoco Product, TC Transcontinental.
Key Benefits For Stakeholders
The report provides an extensive analysis of the pet food packaging 

market

trends and dynamics. 

In-depth pet food packaging 

market

analysis is conducted by constructing market estimations for key market segments between 2021 and 2030.

Extensive analysis of the

pet food packaging market

is conducted by following key product positioning and monitoring of top competitors within the market framework.

A comprehensive analysis of all the regions is provided to determine the prevailing opportunities.

The pet food packaging market

forecast from 2021 to 2030 is included in the report.

The key players with in pet food packaging market are profiled in this report and their strategies are analyzed thoroughly, which help understand the competitive outlook of the pet food packaging industry.
 Pet Food Packaging Market Report Highlights
Aspects
Details
By Material Type

Paper and Paperboard
Plastic
Metal

By Food Type
By Animals Type
By Region

North America (U.S., Canada, Mexico)
Europe (Germany, France, U.K., Italy, Rest of Europe)
Asia-Pacific (China, India, Japan, South Korea, Rest of Asia-Pacific)
LAMEA (Latin America, Middle East, Africa)

Key Market Players
Mondi Group, Sonoco Products, Berry Plastics, Amcor Limited, American Packaging Corporation, Ampac Packaging, Ball Corporation, Bemis Company