Planar Lightwave Circuit Splitter Market Overview:
Planar lightwave circuit (PLC) splitters regulate the power of optical signals via splitting and routing, delivering reliable light distribution. They have a broader operating wavelength range, i.e. 1260-1650 nm as compared to low-cost fused biconic-tapered (FBT) couplers. The planar lightwave circuit splitter offers a comprehensive temperature range, improved uniformity, enhanced reliability, and a smaller size. PLC is a recent technology where waveguides are fabricated using lithography and a silica glass substrate. These splitters are known to offer accurate and even splits with minimum loss. It is widely used in PON networks to realize optical signal power splitting.
 
The developments in fiber optics field has transformed the ways of transmitting data over long distances with minimum loss and are immune to electromagnetic inferences. Such favorable characteristics are expected to further enhance market in the future. Innovations and technological advancements have resulted in overall cost reduction and consumer awareness, which in turn are expected to drive the industry growth over the forecast period. The increase in e-business activities by various business organizations is a reason to increase in the demand of internet speed, drives the demand for effective optical network. Rising demand for 5G/4G networks globally is expected to augment the industry over the forecast period. However, the manufacturing process is complex, and more expensive for engaging in smaller ratio. PLC splitters are expected to explore opportunities in surveillance, standard telephone cables, and sensors application segments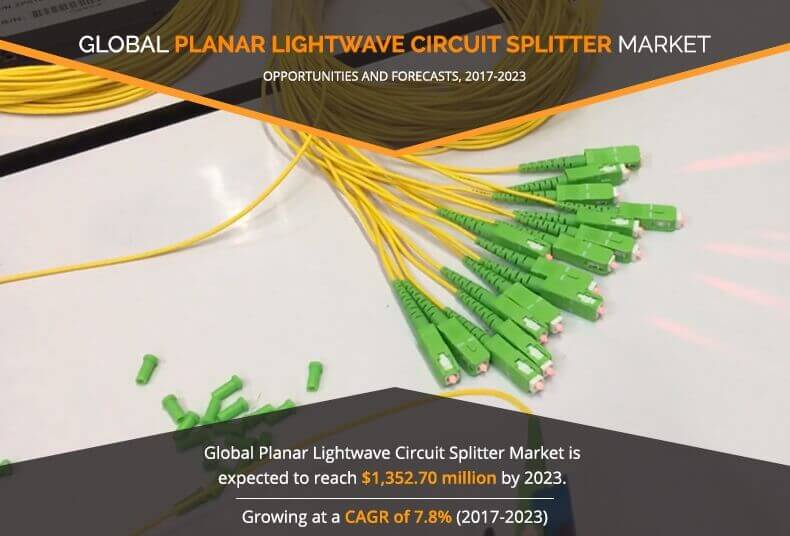 Key players in the global market are Corning Inc., Exfiber Optical Technologies, Fiberon Technologies, Go Foton, Huihong Technologies, Ntt Electronics, Oemarket, Opto-Link Corporation, Prysmian and other companies include Reliable Photonics, Shenzhen Technologies and Sun Telecom.
Segment Overview
The market for the Planer Lightwave Circuit Splitters is segmented on the basis of type, application, and geography. By type, the market is categorized into 1N and 2N. Applications covered in the study include telecommunication, fiber to the X system (FTTX), passive optical network (PON), cable television network (CATV), others includes local area network (LAN) & wide area network (WAN). Geographically, the market is analyzed across North America, Europe, Asia-Pacific, and LAMEA.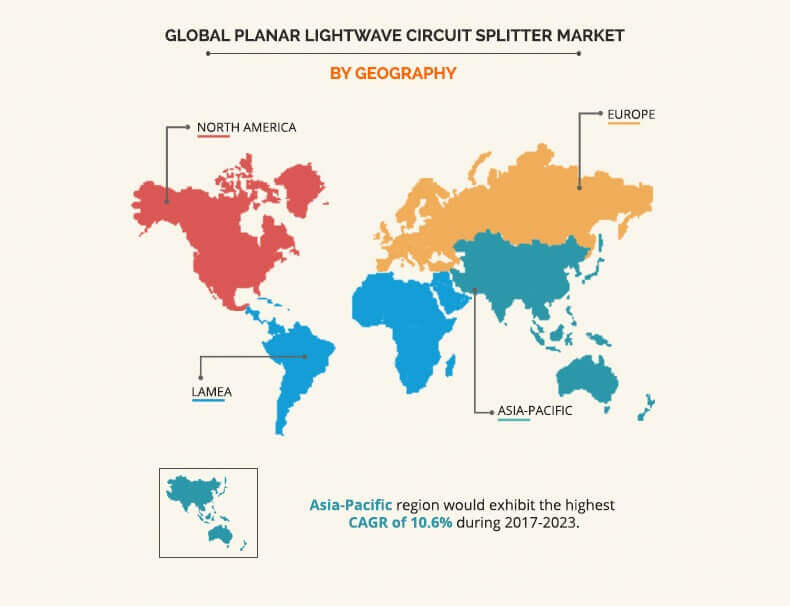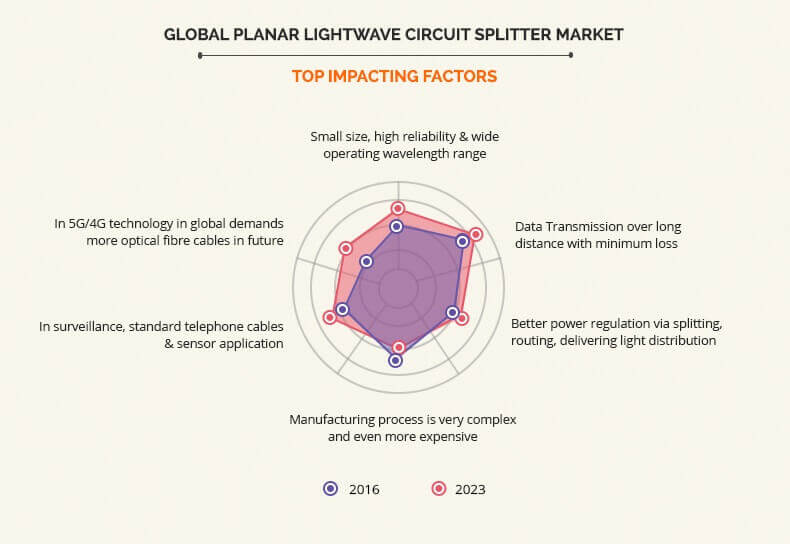 Small Size, High Reliability & Wide Operating Wavelength Range
Recent technological advancements and need for simple & smaller component, drives the demand for planar lightwave circuit splitter in the market. The PLC do not require any external power for operations, and thus, provides reliability in terms of operations.
Data Transmission Over Long Distance with Minimum Loss
To drive the power flow over the long distance without any disturbance, cascading technology is used in the splitter. This ensures effective optical power management, which leads to superior functionality and permits equal splitting of a signal.
Manufacturing Process in Very Complex and Even More Expensive
The components which are required in manufacturing process are smaller in size and requires higher precision to create the product worthy. Such processes increases the complexity of the overall manufacturing process which in turn incur significant product cost and thereby impede the market growth.
Key Benefits for Stakeholders
The report provides an extensive analysis of the current & emerging market trends and dynamics in the planar lightwave circuit splitters market.
In-depth analysis of the planar lightwave circuit splitters market is carried out by constructing market estimations for key market segments between 2016 and 2023.
Extensive analysis of the market is conducted by following key product positioning and monitoring the top competitors within the market framework.
 Planar Lightwave Circuit Splitter Market Report Highlights
Aspects
Details
By Type
By Application

Telecommunication
Fiber to the X system (FTTX)
Passive Optical network (PON)
Cable television network (CATV)
OTHERS

By Region

North America (U.S., Canada, Mexico)
Europe (UK, Germany, France, Russia, Rest of Europe)
Asia-Pacific (China, India, Japan, Australia, Rest of Asia-Pacific)
LAMEA (Latin America, Middle East, Africa)

Key Market Players
EXFIBER OPTICAL TECHNOLOGIES, PRYSMIAN, SUN TELECOM, NTT ELECTRONICS, SHENZHEN TECHNOLOGIES, OEMARKET, OPTO-LINK CORPORATION, FIBERON TECHNOLOGIES, HUIHONG TECHNOLOGIES, GO FOTON