Plastic Recycling Market Research, 2031
The global plastic recycling market was valued at $27.9 billion in 2021, and is projected to reach $61 billion by 2031, growing at a CAGR of 8.7% from 2022 to 2031. Plastic recycling is the process of retrieving waste or used plastic materials and converting them into new products. Plastic waste is collected, sorted, cleaned, and processed in this process to produce a new material that can be utilized to make other products. The major objective of plastic recycling is to decrease the amount of plastic waste that ends up in dumping grounds and oceans and to conserve natural resources by using recycled plastic instead of new plastic. It is a crucial aspect of waste management and environmental conservation efforts. Several key factors are driving the plastic recycling market.
The COVID-19 outbreak has had a substantial impact on the plastic recycling sector. The outbreak disrupted the supply chain, and the overall economic conditions of numerous countries, and decreased demand for recycled plastic. Due to the pandemic, recycling plants were closed, there was a labor shortage, as well as there, were delays in transportation. As a result, during the outbreak, there was less plastic waste that could be gathered and processed.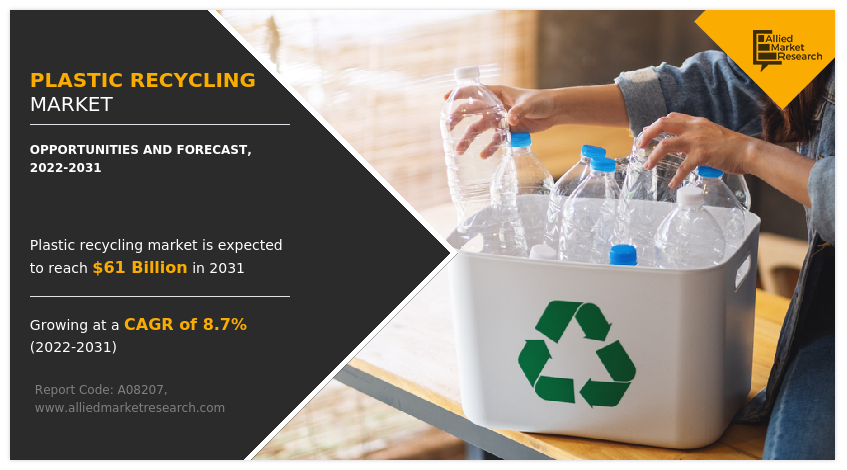 The rising awareness of the negative impacts of plastic waste on the environment, such as ocean pollution and harm to wildlife, is one of the major factors driving the growth of the market. Due to this, there is now more demand for plastic recycling as a means of reducing plastic waste and lowering its environmental impact. The growing desire by consumers and businesses for environmentally friendly and sustainable goods is another factor driving the plastic recycling industry. Recycled plastic is increasingly being used in goods by many businesses, which has increased demand for the material.
Although there are a number of market drivers for plastic recycling, there are also some major barriers that can hamper the plastic recycling market size. Lack of infrastructure and funding for plastic recycling facilities, particularly in developing nations, is one of the major obstacles. This makes it difficult to gather, sort, and treat plastic waste, which can impede the expansion of the market for plastic recycling in developing countries.
The government policies and programs targeted at boosting recycling and reducing plastic waste are expected to offer ample opportunities to the plastic recycling industry. Governments all around the world are putting into place laws and policies that encourage businesses to use recycled plastics and cut down on their plastic waste.
The industry players are investing a lot of effort on the research and development of smart and unique strategies to sustain their growth in the market. These strategies include product launches, mergers & acquisitions, collaborations, partnerships, and refurbishing of existing technology. For example, in 2022, SCG Chemicals acquired plastic recycling firm Sirplaste, one of the leading plastic recycling companies in Portugal. The acquisition is expected to help SCG Chemicals enter into the High-Quality Post-Consumer Recycled Resin (PCR) markets in Europe and Portugal.
The key players profiled in this report include are REMONDIS SE & Co. KG, Biffa, Stericycle, Republic Services, Inc., WM Intellectual Property Holdings, L.L.C., Veolia, Shell International B.V., Waste Connections, CLEAN HARBORS, INC., and Covetsro AG.
The global plastic recycling market forecast report is segmented on the basis of product, source, application, and region. By product, the market is sub-segmented into polyethylene (PE), polyethylene terephthalate (PET), polypropylene (PP), polyvinyl Chloride (PVC), polystyrene (PS), and others. By Source, the market is classified into plastic bottles, plastic films, polymer foam, and others. By application, the market is classified into building & construction, packaging, electrical & electronics, textiles, automotive, and others. By region, the market is analyzed across North America, Europe, Asia-Pacific, and LAMEA.
The plastic recycling market is segmented into Product, Source and Application.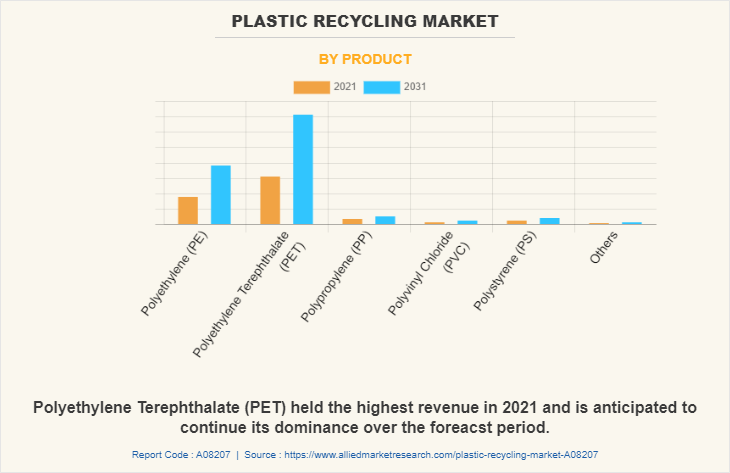 By product, the polyethylene terephthalate (PET) sub-segment dominated the plastic recycling market share in 2021. PET is a thermoplastic polymer that can be used for a variety of purposes. It is most frequently used to create transparent plastic bottles for juices, soft drinks, and water. Moreover, it is employed in the production of food packaging materials like trays, containers, and films. One of the plastics that is recycled the most widely worldwide is PET. It is commonly accepted for recycling and can be converted into a range of items, including new bottles and containers as well as fibers for carpets, insulation, and clothing.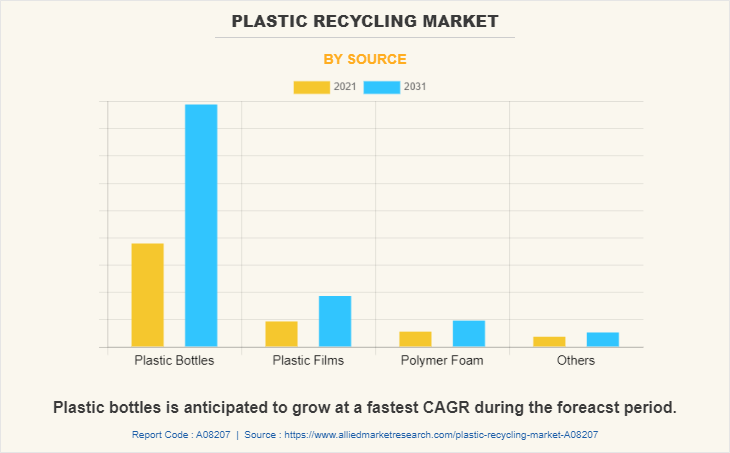 By source, the plastic bottles sub-segment accounted for the largest market share in 2021. There has been growing usage of plastic bottles across the globe owing to their convenience and affordability. They are relatively inexpensive to produce and lightweight, making them a popular option for packaging beverages and other goods. While plastic bottles have numerous advantages, their environmental impact is also significant, including their contribution to plastic pollution. Hence, to address this issue, many organizations and governments have increased their efforts to recycle plastic bottles. Plastic bottle recycling has a lot of advantages. It lowers the amount of plastic waste that is dumped in landfills and oceans, conserves resources by lowering the need for new plastic manufacture, and significantly saves energy by utilizing less energy to produce recycled materials compared to new materials.
By application, the packaging sub-segment accounted for the largest market share in 2021. Recycled plastic is being increasingly utilized for packaging purposes as an environmentally friendly substitute. Less waste, less energy use, and a smaller carbon footprint are some of the major advantages of using recycled plastic in packaging. Compared to the manufacture of virgin plastic, the production of recycled plastic uses less energy and emits fewer greenhouse gases. All these factors contribute to the growth of the packaging sub-segment.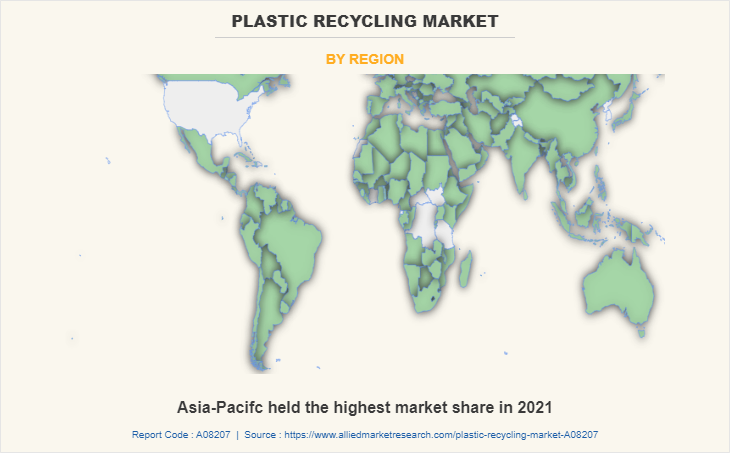 By region, Asia-Pacific region accounted for the largest market share in 2021. There is a rising concern about the environmental effect of plastic waste in this region, especially in nations with high population densities and a lack of waste management infrastructure. This has significantly increased awareness and demand for sustainable waste management practices, including plastic recycling in the Asia-Pacific region. Moreover, the demand for recycled plastic is boosting in this region, due to the growth of the consumer goods and packaging industries.
Impact of COVID-19 on the Global

Plastic Recycling

Industry
The COVID-19 pandemic has had a severe impact on the global plastic recycling market growth. The pandemic has impacted the industry by disrupting supply chains, reduced R&D funding, transportation constraints.

Owing to these factors, there was significant reduction in the plastic garbage collection across the globe that could be processed throughout the recycling process.

However, post COVID-19 pandemic, the plastic recycling business recovered significantly, and it is anticipated to keep growing as governments are focusing more on sustainability and plastic waste reduction.
Key Benefits For Stakeholders
This report provides a quantitative analysis of the market segments, current trends, estimations, and dynamics of the plastic recycling market analysis from 2021 to 2031 to identify the prevailing plastic recycling market opportunities.
The market research is offered along with information related to key drivers, restraints, and opportunities.
Porter's five forces analysis highlights the potency of buyers and suppliers to enable stakeholders make profit-oriented business decisions and strengthen their supplier-buyer network.
In-depth analysis of the plastic recycling market segmentation assists to determine the prevailing market opportunities.
Major countries in each region are mapped according to their revenue contribution to the global market.
Market player positioning facilitates benchmarking and provides a clear understanding of the present position of the market players.
The report includes the analysis of the regional as well as global plastic recycling market trends, key players, market segments, application areas, and market growth strategies.
 Plastic Recycling Market Report Highlights
Aspects
Details
Market Size By 2031
USD 61 billion
Growth Rate
CAGR of 8.7%
Forecast period
2021 - 2031
Report Pages
280
By Product

Polystyrene (PS)
Polyethylene (PE)
Polyethylene Terephthalate (PET)
Polypropylene (PP)
Polyvinyl Chloride (PVC)
Others

By Source

Plastic Bottles
Plastic Films
Polymer Foam
Others

By Application

Building and Construction
Packaging
Electrical and Electronics
Textiles
Automotive
Others

By Region

North America (U.S., Canada, Mexico)
Europe (Germany, UK, France, Spain, Italy, Rest of Europe)
Asia-Pacific (China, Japan, India, South Korea, Australia, Rest of Asia-Pacific)
LAMEA (Brazil, Saudi Arabia, UAE, South Africa, Rest of LAMEA)

Key Market Players
Berry Global Group Inc, biffa, Covetsro AG, Waste Connections, Inc., Veolia, Clean Harbors, Inc., REMONDIS SE & Co. KG, shell international b.v., Republic Services, Inc., Stericycle
Analyst Review
The plastic recycling market is likely to experience robust growth in the coming years backed by stringent regulatory norms and standards imposed by environmental authorities to channelize the disposing of plastic efficiently in order to reuse and recycle plastic related products across different end verticals. For instance, selected Asian countries namely Singapore, Malaysia, and Thailand are stepping up their regulatory efforts by imposing new laws and national plastic roadmaps to create sustainable environment and encourage plastic recycling activity. However, the major limitation faced by the plastic recycling market is the lack of proper infrastructure, especially in developing countries. There is a need for more advanced technology and facilities to effectively collect, sort, and recycle plastic waste. This activity mainly emphasizes compulsory household waste sorting and dumping efficiently to reduce CO2 emissions and oil consumption deliberately. Furthermore, plastic recycling players are proactively focusing on introducing new technologies to enable more efficient plastics recycling methods which are aligning with the commitments to the new plastics economy mission stated by environmental authorities to reduce, reuse and recycle plastics. Owing to this, the plastic recycling market is expected to showcase high growth in the coming years.  
Among the analyzed regions, Asia-Pacific region accounted for the highest market share in 2021, followed by North America, Europe, and LAMEA. The Asia-Pacific region is home to some of the world's fastest-growing economies, which has led to an increase in the generation of plastic waste in this region.