Port Wine Market Outlook: 2030
The global port wine market size was valued at $780.2 million in 2020, and is projected reach $774.7 million by 2030, registering a CAGR of 2.6% from 2021 to 2030.The tawnysegment led in terms of themarketshare in 2020, and is expected to retain its dominance throughout the forecast period.
Port wine is a type of fortified dessert wine, owing to its sweat and pleasant flavor, which is made primarily in the Douhro valley of Portugal. There are two main types of port wines, ruby and tawny. Ruby wine has a fruity flavor and isaged for a maximum of three years in cement or steel barrels. This variety of port wine is mass produced, hence is readily available. Tawny ports have a complex nuts and dried fruit flavor, which is obtained by aging it in wooden barrels in small batches. A lot of tawny ports fall under the premium category as they can be aged for many years and develop more textured taste due to longer aging.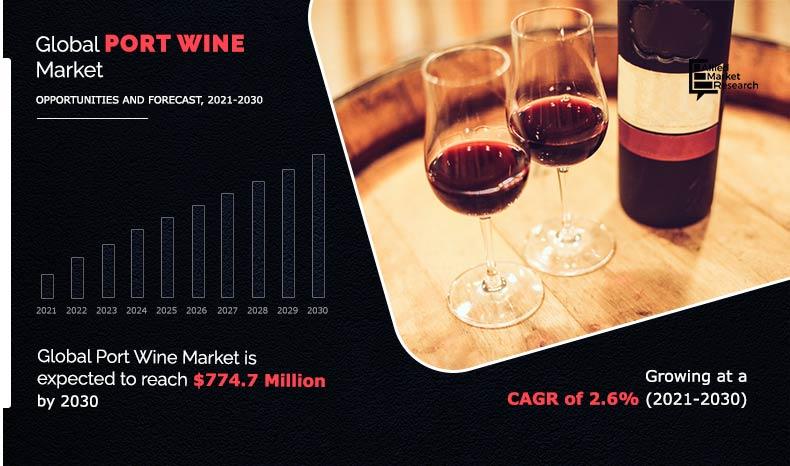 Compared with beer and spirit industry, the port wine market is highly localized with majority of players operating in Europe. Nevertheless, perceived health benefits of wine such as reduction in risk of heart diseases andstroke, enhancement in immune system, and managing cholesterol levelshave resulted in changing consumer orientation from hard spirits to light alcohol, which propels the market growth. Nevertheless, owing to increase in affordability and availability of wine, lower-middle-income households residing in developing economies are becoming now becoming more familiar with theproduct. Furthermore, increasing access to affordable imported wines have resulted in increased consumer demandfor imported wines.
However, changing climatic and increasing overall temperature is expected to negatively impact the global market. High temperature might result in modification of taste, loss of color of wine, and decrease in yield. According to a research with average increase in temperature of 2ºC about, 56 percent of the world's wine grapes cultivating areas may no longer be suitable for growing wine grapes. Climatic changes may also influence the impact of diseases and pests on grapes production with parasites and fungi on plants causing irreversible damages.This, in turn, can hamper the market growth.
Segment review
The global port wine market is segmented on the basis of type, price point, sales channel, and region. By type, the global market is bifurcated into tawny and ruby ports. By price point it is bifurcated into premium and mass. By sales channel,it is studied across on trade and off trade. The global port wine market is analyzedstudied across North America, Europe, Asia-Pacific, and LAMEA.
Tawny segment would exhibit the highest CAGR of 2.8% during 2021-2030.
By type, Ruby port is produced on a larger scale than tawny, however, popularity of tawny port exceeds that of ruby port. It occupies majority of the market share and is set to have the highest growth during the forecast period.
Port Wine Market

---
By Price Point
Premium segment would exhibit the highest CAGR of 3.3% during 2021-2030.
By price point, premium port wines are rare, hence their prices are high while mass produced port wines are regularly priced and are very cost-effective. The premium segment is expected to grow with highest CAGR, owing to rise in demand, especially from affluent population.
Port Wine Market

---
By Sales Channel
On Trade segment would exhibit the highest CAGR of 3.0% during 2021-2030.
By sales channel, the port wine market is divided into on trade sales and off trade sales. Off trades sales for port wines are more popular as consumers prefer to have wine at home after a meal or just as a hobby. However, sales of port wine through commercial establishments is poised to increase duringthe forecast period.
Port Wine Market

---
By Region
Asia-Pacific region would exhibit the highest CAGR of 5.6% during 2021-2030.
The report focuses on the port winemarketgrowth prospects, restraints, and opportunities. The study provides Porter's five forces analysis to understand the impact of various factors such as competitive intensity of competitors, bargaining power of suppliers, threat of substitutes, threat of new entrants, and bargaining power of buyers of the port winemarket.
Some of the major players profiled for in the port wine market analysis include Adriano Ramos Pinto, Calabria Family Wines, Davy & Co Limited, GrupoSogevinus Fine Wines, Precept Wine, Quevedo, Quinta do Crasto, Sula Vineyards, Symington Family Estates, and The Fladgate Partnership. Other prominent players analyzed in the report are Contratto, Albina& Hanna, Sogevinus Fine Wines SL, Liberty Wines Limited, Offley, Forrester & Weber, Martinez Gassiot, Vinhos SA, C N Kopke Wineries, and AA Calem.
COVID-19 Impact Analysis
Port wineindustry was negativelyimpacted by the pandemic, owing to closure of international trades and high localization of the product.
Closing down of commercial establishments and categorizing of alcohol as a non-essential item was also responsible for loss in sales.
However, reopening of bars and pubs in the post pandemic scenario and adoption of omnichannel selling by producers provided growth impetus to the staggering market.
Key Benefits For Stakeholders
The report provides an extensive analysis of the current and emerging port winemarkettrends and opportunities.
The report provides detailed qualitative and quantitative analysis of the currenttrends and future estimations that help evaluate the prevailing port winemarket opportunities in the market.
The port winemarketforecast is offered along with information related to key drivers, restraints, and opportunities.
Themarket analysis is conducted by following key product positioning and monitoring the top competitors within the market framework.
The report provides extensive qualitative insights on the potential and niche segments or regions exhibiting favorable growth.
 Port Wine Market Report Highlights
Aspects
Details
By Type
By Price Point
By Sales Channel
By Region

North America (U.S, Canada, Mexico)
Europe (UK, Portugal, France, Italy, Spain, Rest of Europe)
Asia-Pacific (China, Japan, India, Australia, South Korea, Rest of Asia-Pacific)
LAMEA (Brazil, Argentina, South Africa, Rest of LAMEA)

Key Market Players
ADRIANO RAMOS PINTO, CALABRIA FAMILY WINES, DAVY & CO LIMITED, GRUPO SOGEVINUS FINE WINES, PRECEPT WINE, QUEVEDO, QUINTA DO CRASTO, SULA VINEYARD, SYMINGTON FAMILY ESTATES, THE FLADGATE PARTNERSHIP