Poultry Feed Market Research, 2031
The global poultry feed market was valued at $110.8 billion in 2020, and is projected to reach $217.7 billion by 2031, growing at a CAGR of 6.3% from 2022 to 2031.
In practically all nations, the COVID-19 epidemic impacted the supply of raw materials used to prepare chicken feed. Corn and soybeans are the two most important elements in chicken feed. Many countries throughout the world that rely on imports of these raw materials to manufacture chicken feed have had significant difficulty obtaining the components. Due to the closure of the feed plants, the availability of chicken feed was limited in most areas. The global consumption of poultry meat has substantially decreased.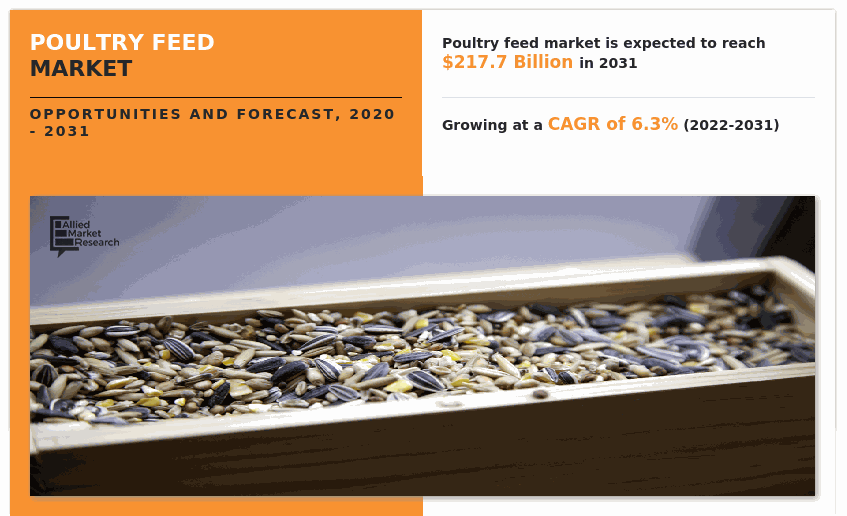 Farmers use poultry feed to feed poultry birds such as ducks, turkeys, chickens, geese, and other domestic birds. Modern feed is made by carefully selecting and mixing ingredients to offer a highly nutritional diet that protects the health of poultry birds while also improving the quality of end products such as meat and eggs. Minerals, vitamins, carbs, proteins, and water are the primary elements that poultry birds require for development, reproduction, maintenance, and health. Carbohydrates and lipids provide majority of the energy required for development. Furthermore, protein is an important source of energy for poultry birds, especially if carbohydrate and fat intake is minimal. The lack of anti-nutritional elements such as phytic acid, as well as the effect of unprescribed feed intake on the digestive tract of poultry birds, is increasing the demand for poultry feed.
Rise in worldwide population is a crucial element that is likely to drive the growth of the global poultry feed industry. Furthermore, consumption of poultry-based products has increased significantly around the world, owing to their low cost and a shift in customer taste toward white meat rather than red meat. Furthermore, increased awareness regarding protein intake in daily diet is a critical component in increasing global per capita meat consumption. Furthermore, high economic expansion in Asia-Pacific and MEA countries has increased meat production and consumption in these regions, which is significantly driving the market growth.
Increase in demand for poultry meat products is the primary driver of the poultry feed industry. Other factors contributing to the market's growth include rise in industrial livestock production and surge in demand for organic feed. Because poultry requires 60% protein, 13% fat, and 3% calcium, the requisite nutrient content is mostly provided by poultry by-products and fish meal. The by-product accounts for approximately 50% of the live market weight of ruminants and 30% of the live market weight of poultry. These byproducts are converted, pulverised, and made accessible as a poultry feed source. Poultry meat consumption is increasing globally, rising from 119,205.21 metric tonnes in 2018 to 120,884.63 metric tonnes in 2019 (OECD, 2020).
The demand for poultry products is significantly influenced by population and income. When compared to traditional chicken feed, packaged poultry feed is likely to develop at a faster rate, creating new opportunities for industry participants.
The quality and pricing of feed products have emerged as two of the most important variables in this market, and suppliers are playing an important role in the poultry feed sector. To keep pricing in check, chicken feed companies are likely to strengthen their involvement in raw material production, which is expected to modify market procurement practices.
In terms of chicken numbers and output per bird, China's poultry sector has grown rapidly during the last two decades. Higher production levels are connected with the spread of intensive systems with high food conversion ratios. The share of poultry output in China's total animal production increased, increasing much faster than pork production. The demand for poultry feed remains high in Asia-Pacific growing nations such as China and India. This results in a greater usage of quality feed for a larger poultry population. Furthermore, global poultry meat output is increasing, with Asia-Pacific accounting for two-thirds of the market share.
The poultry feed market is segmented on the basis of nature, feed type, distribution channel, and region. By feed type, the market is classified into complete feed, concentrates, and premix. The market is analyzed across North America, Europe, Asia-Pacific, and LAMEA.
On the basis of nature, the market is divided into conventional and organic. The fast-growing poultry feed business necessitates quick manufacturing and demands for continuous supply for poultry feed. Conventional feed contains the same amount of nourishment as organic feed, if not more in some cases. Conventional poultry rations typically include a variety of cereals such as maize, rice, wheat, oat, and barley, as well as a few cereal byproducts such as wheat-bran or rice polish, as well as animal and vegetable protein sources such as fish-meal, meat-meal, soybean-oil-meal, groundnut-cake, and others, depending on availability. The entire meal is enriched with sufficient minerals and vitamins, either chemically or through food known to be high in these components. Such benefits contributed to hold the maximum share during the poultry feed market forecast.
Poultry Feed Market

---

By Nature
The Organic segment is the fastest growing segment throughout the forecasted period.
On the basis of feed type, the market is segmented into completed feed, concentrates, and premix. By feed type, the complete feed segment led the market in 2021, and is expected to continue this trend throughout the forecast period. This is attributed to low cost of complete feed and its higher production.
Poultry Feed Market

---

By Feed Type
The Complete Feed segment is the fastest growing segment throughout the forecasted period.
On the basis of distribution channels, market is divided into offline and online. Physical routes to market continue to be the most popular channel for purchasing poultry feed. As the market for feed is growing and presence of poultry feed on online sales channel is increasing, online sales channels are anticipated to grow at the fastest growth rate during the forecast period.
Poultry Feed Market

---

By Distribution Channel
The Online Channels segment is the fastest growing segment throughout the forecasted period.
In terms of region, Asia-Pacific was the largest market for poultry feed in 2020, owing to population growth and rising need for food to meet the needs of the growing population. Furthermore, an increase in government initiatives to enhance meat production to satisfy rising demand in the region is likely to drive market expansion. According to the FAO, annual meat consumption in China alone is expected to rise from 50 kilogrammes per capita today to 70 kg per capita by 2030. Furthermore, increased urbanisation and rising disposable income in the region are likely to be the primary market drivers.
Poultry Feed Market

---

By Region
Asia-Pacific was the most prominent regional segment and is expected to keep its dominance throughout the forecasted period.
The market analysis focuses on the Poultry Feed market growth prospects, restraints, and opportunities of the global market. The study provides Porter's five forces analysis to understand the impact of various factors such as competitive intensity of competitors, bargaining power of suppliers, threat of substitutes, threat of new entrants, and bargaining power of buyers of the poultry feed market share.
The top market players in the global poultry feed market include Cargill Inc., Cargill Inc., Land O'Lakes, Inc., Tyson Foods, Inc., Alltech, ADM Animal Nutrition, Perdue Farms Inc., J.D. Heiskell & Co., Kent Nutrition Group, Inc., Hi-Pro Feeds, Inc., and Southern States Cooperative.
Key Benefits For Stakeholders
This report provides a quantitative analysis of the market segments, current trends, estimations, and dynamics of the poultry feed market analysis from 2020 to 2031 to identify the prevailing poultry feed market opportunities.

The market research is offered along with information related to key drivers, restraints, and opportunities.

Porter's five forces analysis highlights the potency of buyers and suppliers to enable stakeholders make profit-oriented business decisions and strengthen their supplier-buyer network.

In-depth analysis of the poultry feed market segmentation assists to determine the prevailing market opportunities.

Major countries in each region are mapped according to their revenue contribution to the global poultry feed market size.

Market player positioning facilitates benchmarking and provides a clear understanding of the present position of the market players.

The report includes the analysis of the regional as well as global poultry feed market trends, key players, market segments, application areas, and market growth strategies.
 Poultry Feed Market Report Highlights
Aspects
Details
By Nature
By Feed Type

Complete Feed
Concentrates
Premix

By DISTRIBUTION CHANNEL
By Region

North America (U.S., Canada, Mexico)
Europe (U.K., Germany, France, Italy, Spain, Rest of Europe)
Asia-Pacific (China, India, Japan, Australia, Indonesia, Rest of Asia-Pacific)
LAMEA (Brazil, Argentina, UAE, South Africa, Rest of LAMEA)

Key Market Players
Anko Food Machine Co. Ltd., Berkshire Hathaway Inc., Bucher Industries, John Bean Technologies Corporation (JBT), Hosokawa Micron Corp., GEA Group, Mallet & Company, Inc., NICHIMO CO., LTD., SPX Corporation, Tetra Laval International S.A.