Power Bank Market Outlook - 2027
The global power bank market size was valued at $17.41 billion in 2019, and is projected to reach $22.34 billion by 2027, registering a CAGR of 3.4% from 2020 to 2027.
The smartphones have become a crucial part of our day to day life and are equipped with powerful operating systems such as Android, Symbian, and iOS that allow the user to play games, run multimedia player, access video calling and stay connected to external world via high speed internet services, which leads to high consumption of battery in smartphone. Mobile power bank is a portable battery charging device by which the user can charge mobile devices anywhere and anytime. It is medium-sized electronic device comprising special battery with electronic circuits to control the power flow range. Mobile power banks allows the user to store the electrical energy depending on the capacity (mAh) to charge up small computing devices such as smartphone and tablet.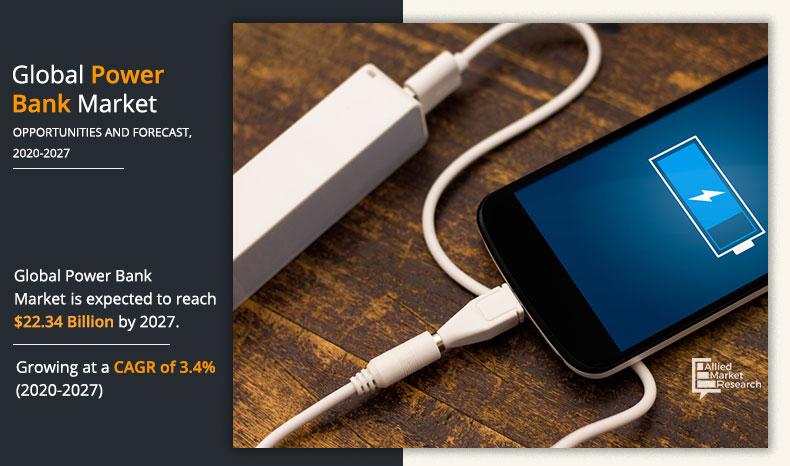 Power bank is a portable battery, which is equipped with circuit to store energy from the input source and venting it out as and when required. These gadgets have currently gained immense popularity across the world, owing to upsurge in adoption of digital products. Moreover, their distinct characteristics, which include durability, portability, multiple sockets, fast charging, and low range cost fuel their need among tech-savvy consumers. In case of a prolonged power outage or an unstable electricity supply, power bank serves as an ideal option, preventing the device from turning off. Mobile phones, digital cameras, tablets, and laptops are some of the gadgets that can be powered by power banks. 
Power banks are portable chargers, which are equipped with a circuit to control power flow range. Rapid demand for compact electronic devices equipped with rechargeable batteries such as smartphones, tablets, and laptops has boosted the growth of the global power bank market. 
In addition, the advent of 4G network and consistent use of internet services have made these devices less efficient in terms of power consumption. This has created a huge demand for power banks across the world, thereby propelling the market growth.
Power banks are categorized under consumer durables, as they can be recharged and reused multiple times. The performance of mobile power bank depends on the battery inside. The most common types of battery are Lithium-ion (Li-ion) and lithium-polymer (Li-polymer). Li-ion batteries have high energy density with low range cost; however, the efficiency of Li-ion batteries decreases with time even when not in use, and are available in only rectangular shape. Li-ion battery is suitable for frequent use of mobile power bank.
According to power bank market analysis, rise in demand for smartphones across the globe, increase in sales of power banks on online portals & e-commerce websites and increase in demand for power banks for laptops and wearable devices are the major factors that drive the growth of the global power bank market size. However, factors such as emerging trends of wireless charging, improved battery capacity of electronic devices and increasing preference toward rental power banks among users hamper the power bank market growth. On the contrary, development of solar & hydrogen fuel-based power banks, increase in trend of wearable devices and emerging trends toward wireless power banks are expected to offer lucrative power bank market opportunity for expansion.
Power Bank Market

---
By Battery Type
Lithium Ion segment is projected as one of the most lucrative segments.
Segmentation
The global power bank market share is segmented on the basis of battery type, power rating, distribution channel, price range, and region. By battery type, the market is bifurcated into lithium-ion and lithium-polymer. Based on power rating, it is divided into up to 3,000 mAh, 3,001–8,000 mAh, 8,001–20,000 mAh, and above 20,000 mAh. Depending on distribution channel, it is segregated into online and offline.
According to price range, it is fragmented into low range, mid-range-range, and premium range. Region wise, it is analyzed across North America, Europe, Asia-Pacific, and LAMEA.
The key power bank industry leaders profiled in the report include Samsung Electronics Co., Ltd., Sony Corporation, Anker, Huawei Technologies, Mi, Intex, Zagg Inc., Panasonic Corporation, GP Batteries, and Lenovo Group Ltd. These key players have adopted strategies, such as product portfolio expansion, mergers & acquisitions, agreements, geographical expansion, and collaborations to enhance their market penetration.
Power Bank Market

---
By Power Rating
Above 20,000 mAh segment is projected as one of the most lucrative segments.
COVID Banner:
The COVID-19 crisis is creating uncertainty in the stock market due to immense slow-down in the supply chain of various business, falling business confidence, and increasing panic among the customer segments. The overall impact of the pandemic is impacting the production process of several industries including semiconductor and electronics, and many more. Trade barriers are further constraining the demand and supply outlook. As the governments of different countries have already announced total lockdown and temporary shutdown of industries, the overall production process is adversely affected.
COVID-19 is having a large impact on both consumer and the economy. Electronics manufacturing hubs have been temporarily shut down to limit the COVID-19 spread among the individuals. This has majorly affected the supply chain of semiconductor market by creating shortages of materials, components, and finished goods. Lack of business continuity has ensured significant negative impacts on revenue, shareholder returns, and revenue, which are expected to create financial disruptions in the compound semiconductor industry.
Power Bank Market

---
By Distribution Channel
Online segment is projected as one of the most lucrative segments.
Rechargeable batteries have become a trend for battery development. Even during the COVID-19 lockdown, demand for rechargeable batteries has risen particularly in Europe. However, the pandemic has resulted in limited production leading to a serious decline in business inputs. The market for 2020 has witnessed a sudden decrease due to COVID-19, which has majorly affected the R&D and supply chain of power banks. In addition, this factor is expected to affect the planned investments by companies globally in the market. Furthermore, the per capita income of individuals has also been affected due to this pandemic, which has led to decrease in demand for consumer electronics accessories such as power banks and other mobile phone accessories.
Top Impacting Factors
Factors affecting the growth of the global power bank market include rise in demand for smartphones across the globe and reduced cost of power banks and increase in demand of power banks for laptops & wearable devices. However, the emergence of wireless charging technology for smartphones and increasing preference toward rental power banks among users has a significant negative impact on the market growth. Furthermore, increase in use of solar and hydrogen cells in power banks, strong distribution network and emerging trends toward wireless power banks act as the key impacting factors.
Increase in demand of power banks for laptops and wearable devices
Power Bank Market

---
By Price Range
Mid-Range segment is expected to secure leading position during forecast period.
Laptop chargers have several features such as lightweight, efficient power outputs and promote fast charging. Most of the laptop chargers support several laptops up to 60 watts. Latest technology in laptop chargers promotes usage of LED indicators, which displays battery percentage and charging status. For instance, companies such as Lapguard, Dell, RAVPower, Anker, and MAXOAK among others, manufacture power banks especially for laptops, tablets and Macbooks.
Increasing preference toward rental power banks among users
With the growing advent toward smartphone among users worldwide, power banks have become an essential commodity among individuals. Online video streaming, gaming applications as well as increasing trends toward social media requires constant power source so that the phone can be fully charged and can be operated continuously. However, users find it very inconvenient to carry a power bank with them while traveling. Therefore, there is a growing advent toward the power bank renting industry globally, which allow users to rent a power bank for a stipulated period.
Emerging trends toward wireless power banks
Wireless power banks have gained immense popularity among consumers at the global front. Major market players in the power bank industries are coming up with this technology to cope with the high market demand. Wireless power banks eliminate the usage of cables to charge the devices, which promotes hassle-free charging facilities. In addition, wireless charging is also equipped to facilitate fast charging, which provides lucrative opportunities for its adoption.
Power Bank Market

---
By Geography
Asia-Pacific region would exhibit the highest CAGR of 4.2%% during 2020-2027
Key Benefits For Stakeholders
This study includes the analytical depiction of the power bank market forecast along with the current trends and future estimations to determine the imminent investment pockets.
The report presents information regarding the key drivers, restraints, and opportunities in the power bank market.
The power bank market trends are quantitatively analyzed from 2019 to 2027 to highlight the financial competency of the industry.
Porter's five forces analysis illustrates the potency of the buyers and suppliers in the industry.
 Power Bank Market Report Highlights
Aspects
Details
By Battery Type

Lithium Ion
Lithium Polymer

By Power Rating

Up to 3,000 mAh
3,001–8,000 mAh
8,001–20,000 mAh
Above 20,000 mAh

By Distribution Channel
By Price Range

Low Range
Mid-Range
Premium Range

By Region

North America (U.S., Canada, Mexico)
EUROPE (UK, Germany, France, Rest of Europe)
ASIA-PACIFIC (China, Japan, India, South Korea, Rest of Asia-Pacific)
LAMEA (Latin America, Middle East, Africa)

Key Market Players
ANKER INNOVATIONS LTD, GP BATTERIES, HUAWEI TECHNOLOGIES, PANASONIC CORPORATION, LENOVO, ZAGG INC, XTORM (TELCO ACCESSORIES B.V.), XIAOMI CORPORATION, SAMSUNG ELECTRONICS CO. LTD., SONY CORPORATION