Prepaid Card Market Outlook – 2030 
The global prepaid card market size was valued at $1.73 trillion in 2019, and is projected to reach $6.87 trillion by 2030, growing at a CAGR of 18.2% from 2021 to 2030. The prepaid card market is expected to exhibit high growth during the forecast period, owing to the convenience offered similar to that of a credit or debit card with the ability to allow the end user to set the spending limit according to the budget. Prepaid cards are a plastic alternative to carrying money around and are often called everyday cards. 
The covid-19 pandemic has created opportunities for digital and e-prepaid cards; thus protecting the interest of business and consumers.
Prepaid cards have taken the place of cash, cheques, and other payment cards where consumers or businesses want to use an electronic means of payment, without linking the payment to a credit or debit account. However, various fees and security issues are expected to restrain the market growth. These restraints are expected to have a reduced impact in the near future, owing to the increase in popularity of prepaid cards among teenagers and students.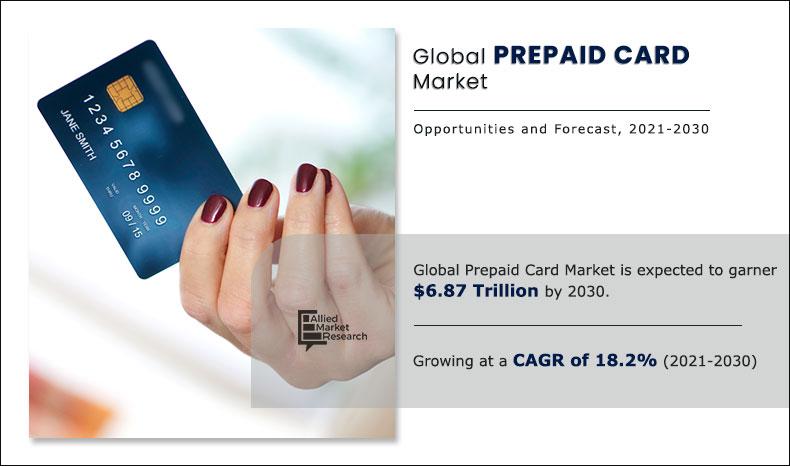 The prepaid card industry is expected to exhibit robust growth during the forecast period. The key factors impacting the growth of the prepaid card market include rise in demand for cash alternatives, increase in number of internet users, and rise in adoption of prepaid cards due to adding funds through multiple avenues. Furthermore, lack of standardization hinders the growth of the market. Moreover, increase in unbanked and under banked population is expected to boost the market growth in the future. However, each of these factors is anticipated to have a definite impact on the overall prepaid card market growth during the forecast period.
The closed loop prepaid cards segment is expected to garner a significant share during the forecast period, owing to use by travelers as a temporary payment medium for facilitating currency exchange and instantly transferring money between cards. However, the open loop prepaid cards segment is expected to grow at the highest rate during the forecast period, as it is cost-effective and used for carrying out transactions from a particular company. Which offers various advantages such as low risk of frauds, easy accessibility, and low interest charges.
Region wise, the prepaid card market share was dominated by North America in 2019, and is expected to retain its position during the forecast period. The major factors that drive the growth of the market in this region include rise in adoption of prepaid card by different workers and favorable government regulations for prepaid cards. However, Asia-Pacific is expected to witness the highest growth rate during the forecast period due to increase in number of applications in retail establishments, governments, and corporate institutions and growing government support in the developing countries of Asia-Pacific.
The report focuses on the growth prospects, restraints, and trends of the global prepaid card market share. The study provides Porter's five forces analysis to understand the impact of various factors such as bargaining power of suppliers, competitive intensity of competitors, threat of new entrants, threat of substitutes, and bargaining power of buyers on the global prepaid card market.
Segment Overview
The prepaid card industry is segmented on the basis of offering, card type, end user, and region. By offering, the market is categorized into general purpose card, gift card, government benefit/disbursement card, incentive/payroll card, and others. By card type, it is bifurcated into closed loop card, and open loop card. By end user, the market is analyzed across retail, corporate, government/public sector. By region, the market is studied across North America, Europe, Asia-Pacific, and LAMEA.
Competitive Analysis
The key players profiled in the prepaid card market report are American Express Company, BBVA USA Bancshares Inc., Brink's Incorporated, Green Dot Corporation, H&R Block Inc., JPMorgan Chase & Co., Kaiku Finance LLC., Mango Financial Inc., MasterCard, and PayPal Holdings Inc. These key players have adopted various strategies, such as product portfolio expansion, mergers & acquisitions, agreements, geographical expansion, and collaborations, to increase their market penetration and strengthen their foothold in the industry.
COVID-19 Impact Analysis
The prepaid card market has witnessed significant growth in the past few years; however, due to the outbreak of the COVID-19 pandemic, the market is projected to witness a huge decline in 2020. This is attributed to increase in remote working and social distancing, which creates challenge for prepaid cards in retail, corporate, any other sector for shopping, travel, and cash flow. All these factors have completely reduced the usage of prepaid cards, vouchers, and others. It has been witnessed that different ways of working are bringing different ways of communicating. This presents a challenge for businesses to ensure that customers who are buying vouchers at this time are bringing instant revenue. 
For instance, in April 16, 2020, Instagram has officially announced the addition of its new prepaid card, and fundraiser tools for stories and profiles, which is expected to provide businesses with another way to generate income during the ongoing crisis. To overcome from these challenges, businesses are approaching toward e-commerce tools and offer discounts on vouchers, including free "add on" items to vouchers. These reasons are expected to boost the prepaid card market growth during the forecast period.
Top Impacting Factors
Rise in Demand For Cash Alternatives
Several studies have shown that advisers have witnessed surge in demand for cashless transactions from clients, looking for low-risk investments, and higher returns than traditional cash-based accounts. These prepaid cards minimize the risk of overspending as they have limit spending to no more than the card balance. In addition, it also provides facilities to load the card via multiple platforms in various ways including bank account transfers, direct deposit or cash, via online and in person, thus making prepaid card a vital option for various applications. 
Furthermore, corporates are also focused on new cash alternatives to manage their daily transactions. The card providers are offering convenient payment options. For instance, VA Tech Ventures introduced "Happay," the new corporate expense card that can be remotely controlled by administrators from a mobile or web interface. This card also helps the company to track down expenses, fund card, set limits, and approve expenses in real time. All these factors are expected to boost the prepaid card market growth
Increase in Unbanked and Under Banked Population
High unbanked and under banked rates have been reported among the large number of groups such as lower-income households, less-educated households, younger households, and others. According to the Federal Deposit Insurance Corporation (FDIC) in 2018, 6.5% of the U.S. household were unbanked, which indicates that 8.4 million U.S. households are still left in the economy to operate without bank account. Generally, this population opts for prepaid cards as these cards are safe, inexpensive, and essential banking substitutes to cater to their financial transaction needs. 
For instance, the use of prepaid cards in LAC out of Mexico has been increased by 37% in 2018, due to that, the usual number of transactions has also been increased with an impressive growth rate of 58%. This spending pattern is one of the clear indicators that prepaid instruments have been become integrated into daily life among the aforementioned groups, and consumers are open to explore options for prepaid cards. As a result, the increase in adoption of prepaid cards among the unbanked population is expected to create lucrative opportunities for the players operating in the global prepaid card market.
Key Benefits For Stakeholders 
This study includes the prepaid card market analysis, prepaid card market trends, and future estimations to determine the imminent investment pockets.
The report presents information related to key drivers, restraints, and prepaid card market opportunity.
The prepaid card market size is quantitatively analysed from 2019 to 2030 to highlight the financial competency of the industry.
Porter's five forces analysis illustrates the potency of buyers & suppliers in the prepaid card market forecast.
Prepaid Card Market Key Segments
By Offering
General Purpose Card 
Gift Card
Government Benefit/Disbursement Card
Incentive/Payroll Card
Others
By Card Type
Closed Loop Card
Open Loop Card
By End User
Retail
Corporate
Government/Public Sector
By Region
North America
Europe 

UK
Germany
France
Netherlands
Spain
Italy
Nordic Countries
Rest of Europe

Asia-Pacific 

China
India
Japan
Australia
South Korea
Rest of Asia-Pacific

LAMEA

Latin America 
Middle East 
Africa
Key Market Players
American Express Company
BBVA USA Bancshares, INC.
Brink's Incorporated
Green Dot Corporation
H&R Block Inc.
JPMorgan Chase & Co.
Kaiku Finance, LLC 
Mango Financial, Inc.
Mastercard 
PayPal Holdings, Inc.