The global proteomics market was valued at $21,122.32 million in 2019, and is projected to reach $49,978.8 million by 2027 at a CAGR of 12.2% from 2020 to 2027. Proteomics is the study of protein structure and function. At the cellular level, proteomics deals with the topics, such as which proteins are expressed, when and where they are expressed, what their structures in both active and inactive states are, what roles they play in the life of the cell, and how they interact with other proteins and molecules.
The COVID-19 outbreak that started from the Wuhan city of China has now widespread globally. Almost every nation is dealing with the outbreak. Most markets are dropping down as COVID-19 outbreak has negatively affected various healthcare related markets. This pandemic is expected to present growth opportunities in the future. The development of therapeutic and preventive strategies requires an accurate understanding of the role that proteins play in the SARS-CoV-2 infection process and progression of COVID-19. A wide array of identification and separation techniques can isolate proteins from complex mixtures, facilitating the analysis of protein-protein interactions, temporal expression patterns, and cellular or subcellular distribution. For instance, most common separation methods are one- and two-dimensional gel electrophoresis and high-performance liquid chromatography, whereas mass spectrometry (MS) forms the backbone of protein detection and identification. Protein identification using MS techniques has overcome the limitations of other proteomic technologies (including 2D gel-electrophoresis) that require a large amount of purified protein for analysis. MS-based viral peptide detection has previously been used to profile viral proteins that affect respiratory pathways. Presently, reverse transcription-polymerase chain reaction (RT-PCR) is the primary method used to detect viral genes in COVID-19-positive patients.
However, the high mutability of SARS-CoV-2 can mean RT-PCR is not sensitive enough to detect these genes. Furthermore, the technique is low throughput owing to its long reaction times. Conversely, MS-based detection, can provide simple and rapid detection of SARS-CoV-2, even among recovered patients. Hence, in the perspective of COVID-19, proteomics can help to reveal novel biomarkers and define point-of-care procedures that could mean cost-effective healthcare can be delivered closer to the patient.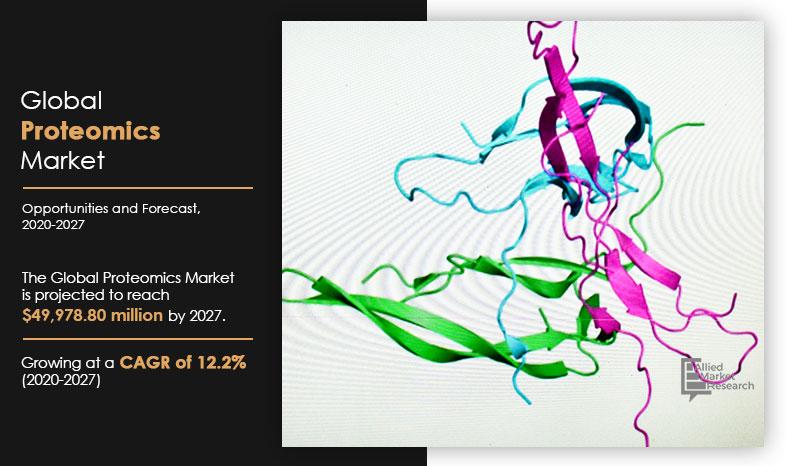 Get more information on this report : Request Sample Pages
Proteomics market growth is driven by rise in popularity of personalized medicines, surge in R&D expenditure, and technological advancements associated with proteomics components. Moreover, high costs associated with components and dearth of skilled professionals hamper the market growth. Conversely, lucrative opportunities associated with biomarker identification and developments in mass spectrometry-based proteomics are expected to provide lucrative growth opportunities for the proteomics market growth.
The global proteomics market is segmented on the basis of component, application, and region. On the basis of component, the market is categorized into reagents, instruments, and services. The reagents segment is further classified into microarray, spectrometry, X-ray crystallography, chromatography, electrophoresis, immunoassay, and protein fractionation reagents. Likewise, the proteomics instruments segment is sub segmented into protein microarray, spectrometry, chromatography, electrophoresis, surface plasmon resonance, X-ray crystallography, and protein fractionation systems. The spectrometry segment is subdivided into mass spectrometry and NMR spectrometry. Similarly, the chromatography segment is sub classified into HPLC systems, ion chromatography, affinity chromatography, and supercritical fluid chromatography. The applications covered in the study include drug discovery, disease diagnosis, and others. Region wise, the proteomics market is analyzed across North America, Europe, Asia-Pacific, and LAMEA.
Component type segment review
Protein microarray segment generated the highest revenue in 2019 in the proteomics instruments market, owing to high usage of this technology to track protein interactions in lesser time as compared to other technologies. Moreover, this method is labor-intensive and cost-effective. With the help of protein array, the comprehensive information about the DNA/RNA binding proteins can be made available. By reagents segment, immunoassays generated the highest revenue in 2019 in the proteomics market, as they are extensively utilized in primary screening in drug discovery and microarray technologies. 
Proteomics Market

---
By Product
Reagents

segment held a dominant position in 2019 and would continue to maintain the lead over the forecast period.
Get more information on this report : Request Sample Pages
Application segment review
On the basis of application, the drug discovery segment accounted for the majority proteomics market share in 2019, owing to increase in awareness of personalized medicines in both emerging and developed markets.
Proteomics Market

---
By Application
Drug Discovery

segment held a dominant position in 2019 and would continue to maintain the lead over the forecast period.
Get more information on this report : Request Sample Pages
Region segment review
North America held the largest market share of nearly 39.0% of the total proteomics market in 2019, due to increase in popularity and adoption of personalized medicines and favorable government funding & initiatives to develop novel therapeutics. However, Asia-Pacific is expected to grow at a CAGR of 15.6% from 2019 to 2027, owing to rise in prevalence of chronic diseases and increase in interest of researchers to utilize proteomics in disease diagnosis & treatment.
Proteomics Market

---
By Region
North America

was holding a dominant position in 2019 and would continue to maintain the lead over the analysis period.
Get more information on this report : Request Sample Pages
Some of the key players operating in the proteomics market include Agilent Technologies Inc., Danaher Corporation, LI-COR, Inc., PerkinElmer, Inc., Thermo Fisher Scientific, Inc., HORIBA, Ltd., Bio-Rad Laboratories, Inc., Bruker Corporation, General Electric (GE), and Waters Corporation. The other players included in the value chain analysis (but not included in the report) are Becton, Dickinson and Company, Caprion Biosciences, and others.
Key Benefits For Stakeholders
The study provides an in-depth analysis of the global proteomics market size with current trends and future estimations from 2019 to 2027 to elucidate the imminent investment pockets.
Comprehensive analysis of factors that drive and restrict the proteomics market growth is provided.
Identification of factors instrumental in changing the proteomics market size, rise in opportunities, and identification of key companies that can influence this market on a global & regional scale are provided.
A deep dive analysis of various regions provides insights that would allow companies to strategically plan their business moves.
Key players are profiled, and their strategies are analysed thoroughly to understand the competitive outlook of the proteomics market.
 Key Market Segments
By Component

Instruments

Microarray
Spectrometry

Mass Spectrometry
NMR Spectrometry

X-ray Crystallography
Chromatography

HPLC Systems
Ion Chromatography
Affinity Chromatography
Supercritical Fluid Chromatography

Electrophoresis
Surface Plasmon Resonance
Protein Fractionation Reagents

Reagents

Microarray
Spectroscopy
X-ray Crystallography
Chromatography
Electrophoresis
Immunoassay
Protein Fractionation Reagents

Services

By Application

Drug Discovery
Disease Diagnosis
Others

By Region

North America
Europe

Germany
France
UK
Italy
Spain
Rest of Europe
Asia-Pacific
Australia
Japan
India
China
Rest of Asia-Pacific

LAMEA

Brazil
Saudi Arabia
South Africa
Rest of LAMEA