Radar Sensor Market Outlook – 2030 
The global radar sensor market size was valued at $10.63 billion in 2020, and is projected to reach $33.14 billion by 2030, to register a CAGR of 13.1% from 2021 to 2030. Radar sensor is an electronic device which transform microwave echo signals into electrical signals. Basically, it uses wireless sensing technology to sense motion by figuring out the shape, object's position, motion trajectory, and motion characteristics. Radar sensor is generally used for longer distances and it is safe for animals and humans. 
Automotive segment impacted negatively, due to COVID 19 scenario.
These sensors aren't influenced by darkness & light. Also, automotive radar sensor is widely used these days for radar-based driver assistance systems such as collision warning and adaptive cruise control. These are capable of recognizing & detecting objects up to 240 meters. For instance, infineon automotive radar products offer features such as lane change assistance (LCA), blind spot detection (BSD), collision mitigation (CM), among others.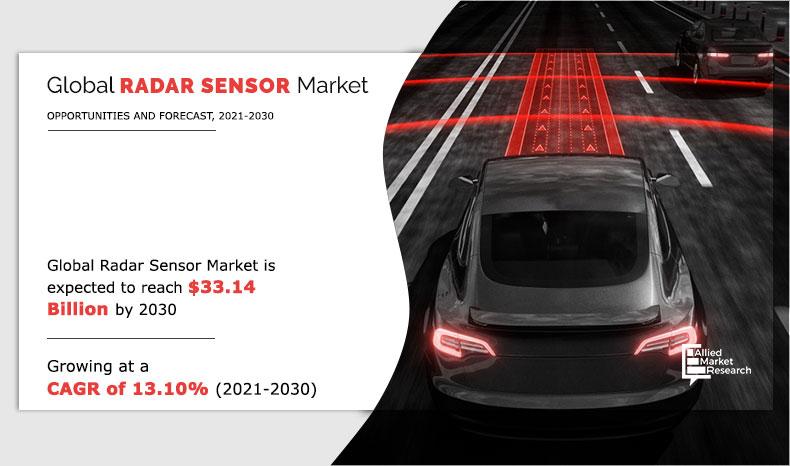 The global radar sensor market is anticipated to witness significant growth during the forecast period. Factors such as safety and security needs in automotive application, and increase in need for border security systems drive the growth of the radar sensor market. Also, adoption of the wideband 5G & millimeter wave–based RF systems boost the overall market growth. However, high development & installation cost is a major restraint to global radar sensor industry. In addition, growing defense sector in Asia-Pacific region is expected to create lucrative opportunities for the radar sensor industry.
Segment Overview
The global radar sensor market is segmented into type, range, application, end user, and region. By type, the market is segmented into imaging, and non-imaging. By range, the market is segmented into short range, medium range, and long range. By application, market is divided into air traffic control, remote sensing, ground traffic control, space navigation and control, and others. By end user, market is segmented into automotive, aerospace and defense, environment and weather monitoring, industrial, and others.
Region wise, the radar sensor market trends are analyzed across North America (U.S., Canada, and Mexico), Europe (UK, Russia, France, Italy, Germany, and Rest of Europe), Asia-Pacific (China, India, Australia, Japan, South Korea, and Rest of Asia-Pacific), and LAMEA (Latin America, the Middle East, and Africa). Asia-Pacific is dominating the market owing to growing demand for the aerospace and defense products. Also, Asia-Pacific is projected to register significant growth rate during the forecast period. Furthermore, LAMEA holds the subsequent position and is expected to increase its growth rate by the end of the forecast period, followed by Europe. 
Leading radar sensor market manufacturers such as, Lockheed Martin Corporation, Thales Group, Texas instruments and others, are focusing their investment on technologically advanced, cost effective and more secure products and solutions for various applications.
Top Impacting Factors
The prominent factors that impact the radar sensor market growth are increase in demand for radar systems in automotive and defense industries, and emerging applications of radar in remote sensing. In addition, surge in territorial battles across globe drives the market growth. However, high cost of radar system restricts the market growth. On the contrary, high investment from developed countries in military sector is expected to create lucrative opportunities for the market. Therefore, these factors are expected to definitely affect the development of the global radar sensor market during the forecast period.
Competitive Analysis
Competitive analysis and profiles of the major market players such as Honeywell International Inc., Infineon Technologies, L3harris Technologies Inc., Lockheed Martin Corporation, NXP Semiconductors N.V, Raytheon Technologies Corporation, Saab AB, STMicroelectronics N.V., Texas Instruments, and Thales Group are analyzed in the report. These key players have adopted various strategies, such as product portfolio expansion, mergers & acquisitions, agreements, geographical expansion, and collaborations, to increase their market penetration and strengthen their foothold in the industry.
COVID-19 Impact Analysis
The arrival of COVID-19 has significantly affected the electronics and semiconductor sector. Business and manufacturing units across various countries were closed, owing to increase in number of COVID-19 cases, and are estimated to remain closed in 2021. Furthermore, partial or complete lockdown has disrupted global supply chain posing challenges for manufactures to reach customers.
The COVID-19 pandemic is impacting the society and overall economy across the globe. The impact of this outbreak is growing day-by-day as well as affecting the overall business globally. The crisis is creating uncertainty in the stock market, falling business confidence, massive slowing of supply chain, and increasing panic among the customer segments.
The Asian and European countries under lockdowns have suffered a major loss of business and revenue, due to the shutdown of manufacturing units in the region. The operations of the production and manufacturing industries have been heavily impacted by the outbreak of the COVID-19 disease, which leads to impact the growth of the radar sensor market in 2020.
The COVID-19 pandemic has impacted the electronics sector as the production facilities have stalled, which in turn have the significant demand for electronics and semiconductor products in the industries. Its major impact includes, a large-scale manufacturing interruption across Europe, interruption in Chinese parts exports, which may hinder the radar sensor market. 
Key Benefits For Stakeholders
This study comprises analytical depiction of the global radar sensor market size along with the current trends and future estimations to depict the imminent investment pockets.
The overall radar sensor market analysis is determined to understand the profitable trends to gain a stronger foothold.
The report presents information related to key drivers, restraints, and opportunities with a detailed impact analysis.
The current radar sensor market forecast is quantitatively analyzed from 2020 to 2030 to benchmark the financial competency. 
Porter's five forces analysis illustrates the potency of the buyers and the radar sensor market share of key vendors.
The report includes the market trends and the market share of key vendors.
Radar Sensor Market Key Segments
By Type 
Imaging 

Continuous Wave (CW) Radar

Unmodulated Continuous Wave Radar
Frequency Modulated Continuous Wave Radar

Pulse Radar
Others

Non-Imaging

Speed Gauge
Radar Altimeter
By Range 
Short Range
Medium Range
Long Range
By Application
Air Traffic Control
Remote Sensing
Ground Traffic Control
Space Navigation and Control
Others
By End User
Automotive
Aerospace and Defense
Environment and Weather Monitoring
Industrial
Others
By Region
North America
Europe

UK
Russia
France
Italy
Germany
Rest of Europe

Asia-Pacific

China
India
Australia
Japan
South Korea
Rest of Asia-Pacific

LAMEA

Latin America
Middle East 
Africa
Key Market Players
Honeywell International Inc.
Infineon Technologies
L3harris Technologies Inc.
Lockheed Martin Corporation
NXP Semiconductors N.V
Raytheon Technologies Corporation
Saab AB
STMicroelectronics N.V.
Texas Instruments
Thales Group