The global railway system market size was valued at $27.2 billion in 2021, and is projected to reach $42.4 billion by 2031, growing at a CAGR of 4.6% from 2022 to 2031.
Railway system market incorporates various systems and services that enable enhanced rolling stock performance and better management of the rail industry. Railway systems include a wide range of equipment, parts and signal communication systems for high-speed trains, subway trains, diesel cars, locomotives, passenger cars, and light rails.
Companies operating in the market are introducing and integrating advanced technologies to rolling stock systems, power supply systems and information systems. Railway systems also include propulsion systems, auxiliary power supply systems, and air-conditioning systems among others. Adoption of advanced railway systems results in benefits such as reduced maintenance costs, greater safety, superior operational flexibility, improved reliability, and more predictable operation.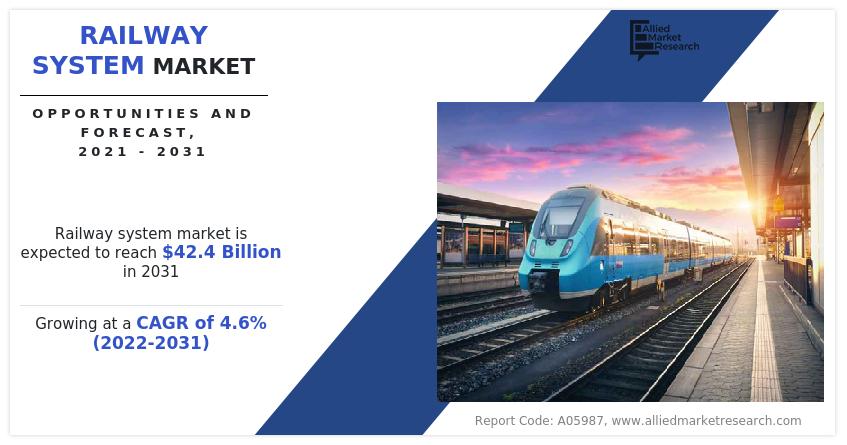 Factors such as an increase in allocation of budget for development of railways, rise in demand for secure, safer, and efficient transport system, rise in use of public transport services as a solution to minimize traffic congestion, growth in demand for safety and compliance in rail transit, and increase in demand for passenger and freight capacity drive the growth of the railway system market. However, high capital requirement, lack of technology infrastructure and consistency in developing countries, and high overhaul and maintenance costs hinder the growth of the market.
Further, improvement in railway infrastructure in developing countries, technological advancements in autonomous rail and green transport, and integration of automation and advanced technologies in railway system offers remarkable growth opportunities for the players operating in the railway system market.
The railway system market is segmented on the basis of type, end use, system type and region. By type, it is segmented into locomotives, metros, monorails, trams, freight wagons, passenger coaches, and others. By end use, the market is classified into passenger transit, and cargo train. By system type, it is segmented into auxiliary power, HVAC, propulsion, on-board vehicle control, train information, and train safety. By region, the market is analyzed across North America, Europe, Asia-Pacific, and LAMEA.
Europe comprises the UK, Germany, France, Russia, and rest of Europe. Europe has one of the advanced railway sectors across the globe. Countries such as France, Germany, and others in the region are highly developed in terms of train automation, and are presently equipped with fully automated trains. Moreover, an increase in the investment in metros and railway infrastructure in the region is expected to boost the growth of the market.
Advancements in the railway infrastructure and penetration of digital solutions in railways are the leading factors that boost demand for railway systems across Europe. In addition, increase in government activities toward adoption of green mobility and introduction of railways that operate on alternative fuel are expected to create lucrative growth opportunities for the railway system market in the region.
Railway System Market

---

By Type
Metros is projected as the most lucrative segment
Germany is promoting investment in high-speed railway projects, driving the demand for rail systems in the country. For instance, in October 2020, German railway operator Deutsche Bahn announced to invest around $10 billion in enhancing its high-speed connections and expanding the dedicated train fleet. They include 13 carriages with a seating capacity for carrying up to 918 passengers. Starting from early 2021, this type of trains will perform scheduled services from Hamburg in the north to Munich and Stuttgart in the south of the country.
Germany invests heavily for the implementation of significant rapid transit projects. For instance, in March 2021, Humburg, Germany senate approved an investment of approximately $426.3 million for the procurement of 64 class 490 S-Bahn trains within 10 years. The trains are expected to be equipped with a modern passenger information system, energy-efficient heating, ventilation, and air conditioning (HVAC) system. Therefore, an increase in investment to install advanced railway systems such as train information or passenger information system, and HVAC systems in railway industry is expected to boost the growth of the market.
Moreover, In October 2022, Hamburger Hochbahn AG launched a tender to acquire multiple units of the new DT6 trainsets. The company aims to procure trains for fully automated operation on U5 line. Hochbahn announced to order 48 DT6 vehicles and is planning the procurement of up to 250 DT6-F trains comprising 190 trainsets to replace the DT4 vehicles and 60 units for the planned metro extensions. The DT6 trainsets are expected to be equipped with new passenger information system to improve the customer communication.
Railway System Market

---

By End Use
Passenger transit is projected as the most lucrative segment
Some leading companies profiled in the report comprises Alstom SA, CRRC Corporation Limited, Siemens AG, Hitachi Ltd., Stadler Rail AG, Transmashholding, Knorr-Bremse AG, ABB Ltd., Toshiba Corporation, and Wabtec Corporation. The prominent companies operating in the market are adopting strategies such as product launch and expasion to strengthen their market position. In July 2022, Alstom's industrial center in Trápaga, Spain, supplied propulsion system for the new Zefiro Express high-speed trains. This project is part of the contract awarded to Alstom to supply 25 Zefiro Express electric high-speed trains, with an option of 15 additional trains.
In July 2022, Siemens Mobility announced the establishment of a new component facility as an expansion of its rail village in Goole. The component facility, due to open in 2023, would be built by GMI Construction. The new unit will maintain traction drives and motors, and HVAC air conditioning units for Siemens Mobility UK train fleets. In June 2019, The Dallas Area Rapid Transit (DART) signed a contract with Stadler Rail AG to assemble and build eight FLIRT in Texas. To ensure passenger safety, Stadler plans to install a comprehensive CCTV system on each train. In addition, the trains are to be equipped with an automatic passenger counting system, which can count the number of passengers boarding and alighting the train at each stop.
Increase in the allocation of budget for development of railways
Developing countries such as India, China, and others are focused on the development of their railway infrastructure by allocating higher budgets. For instance, India allocated a budget of around $15.06 billion (₹1.10 lakh crore) for the railways, with total capital expenditure outlay of $30.80 billion (₹2.15 lakh crore) for the financial year 2021-2022, which highlights an increase of 33% in total capital expenditure for 2021-22 over $22.4 billion (₹1.61 lakh crore) for 2020-21.
Similarly, various countries across the globe are continuously increasing their rail budget to deploy latest technologies and improve their infrastructure. For instance, the UK government invested over $6.28 billion (£5.3 billion) in new & enhanced rail infrastructure and rolling stock in 2019-2020. Investment in the railway consists of enhancements to existing rail infrastructure, and private investment, largely in new rolling stock.
Moreover, the government of India plans to install railway systems such as Automatic Train Protection (ATP) System in the 300 to 400 Vande Bharat trains that are expected to be announced in the Budget 2023-24 to modernize its rolling stock. Similarly, heavy investment to deploy latest technologies and improve railway infrastructure is expected to drive the growth of the market. For instance, in June 2022, the European Union (EU) announced investment of $5.7 billion to support 135 transport infrastructure projects across the continent. Therefore, an upsurge in budget allocation acts as a key factor that drives the growth of the global railway system market.
Railway System Market

---

By System Type
Train safety is projected as the most lucrative segment
Rise in demand for secure, safer, and efficient transport system
According to the fact sheet of the World Health Organization (WHO), road traffic injuries are the leading cause of fatality among people aged between 15 and 29 years, thus accounting for 1.25 million deaths every year due to road accidents.
According to the Centers for Disease Control and Prevention, every day, almost 3,700 people are killed globally in crashes involving cars, buses, motorcycles, bicycles, trucks, or pedestrians. Railway transportation is considered the safest and most economical mode of transportation, which has boosted the demand for railways. Latest trains are equipped with onboard cameras, sensors, and communication devices. Moreover, such trains in most locations run underground or at the ground level and are highly secured by fences or walls to prevent trespassing.
In addition, trains are equipped with railway systems to enhance efficiency, reduce accidents, and prevent collisions. In addition, modern advanced trains consume less energy due to better acceleration, traction, and braking system, resulting in reduction of energy consumption by around 30% based on the degree of automation. For instance, in February 2022, Alstom launched its first French hybrid train in partnership with SNCF Voyageurs. This electric-diesel-battery regional train is equipped with two energy storage systems, which offer reduced energy consumption and greenhouse gas emissions, with a solution that makes it possible to adapt to existing diesel fleet without the need to modify the current infrastructure. Furthermore, such trains can provide a flexible way to coordinate in terms of frequency, which results in the improvement of the system performance in all aspects, which is boosting the growth of the market.
Rise in the use of public transport services as a solution to minimize traffic congestion
The population rate has increased the sales of private vehicles such as bikes, passenger cars, and more across the globe which contribute to traffic congestion on roads. Meanwhile, people are increasingly opting for public transport as it reduces on-road congestion and provides a time-saving, comfortable, and economical mode of transportation.
Hence, factors such as a rise in vehicle emissions, increase in concerns related to safety, and greater demand for faster commutes have increased the preference of individuals for rail transport. Moreover, various railway authorities across the globe work toward expanding rail networks and investing in developing high-speed trains to meet the growing demand for public transport.
For instance, in July 2021, the U.S. Department of Transportation (USDOT) and the State of California allocated around $929 million in federal grant funding to support California's High-Speed Rail project. In September 2022, British Columbia announced an investment in a high-speed rail study to link major Pacific Northwest cities. The province is expected to provide $300,000 to study the next phase of the Ultra-High-Speed Ground Transportation Project designed to link Vancouver, Seattle, and Portland. In addition, because of insufficient road network infrastructure, road congestion has increased and led to a rise in travel time in urban areas. In 2019, the average time spent driving in traffic congestion in major urban areas across the globe was 102 hours, and 21% was during peak time. This is increasing the preference for rapid urban transits such as metros, trams, monorails, and passenger trains. Therefore, the rise in the use of public transport services as a solution to minimize traffic congestion fuels the railway system market growth.
Railway System Market

---

By Region
Asia-Pacific would exhibit the highest CAGR of 6.3% during 2022-2031
The decline in demand for railway system during the pandemic was majorly due to the reductions in budget allocations for the railway sector by governments. However, as the lockdown was lifted throughout the world, it led to easing of the trade and travel restrictions. The demand for railway systems experienced recovery as the operations of manufacturing companies and factories were resumed, initiating the continuation of railway projects around the world.
Key Benefits For Stakeholders
This report provides a quantitative analysis of the market segments, current trends, estimations, and dynamics of the railway system market analysis from 2021 to 2031 to identify the prevailing railway system market opportunities.
The market research is offered along with information related to key drivers, restraints, and opportunities.
Porter's five forces analysis highlights the potency of buyers and suppliers to enable stakeholders make profit-oriented business decisions and strengthen their supplier-buyer network.
In-depth analysis of the railway system market segmentation assists to determine the prevailing market opportunities.
Major countries in each region are mapped according to their revenue contribution to the global market.
Market player positioning facilitates benchmarking and provides a clear understanding of the present position of the market players.
The report includes the analysis of the regional as well as global railway system market trends, key players, market segments, application areas, and market growth strategies.
 Railway System Market Report Highlights
Aspects
Details
Market Size By 2031
USD 42.4 billion
Growth Rate
CAGR of 4.6%
Forecast period
2021 - 2031
Report Pages
292
Type

Locomotive
Metros
Monorails
Trams
Freight wagons
Passenger coaches
Others

End Use

Passenger transit
Cargo train

System Type

Auxiliary Power
HVAC
Propulsion
On board vehicle control
Train information
Train safety

By Region

North America (U.S., Canada, Mexico)
Europe (France, Germany, UK, Russia, Rest of Europe)
Asia-Pacific (China, Japan, India, Australia, Rest of Asia-Pacific)
LAMEA (Latin America, Middle East, Africa)

Key Market Players
Alstom SA, CRRC CORPORATION LIMITED, Siemens AG, STADLER RAIL AG, Knorr-Bremse AG, Toshiba Corporation, Hitachi Ltd., TRANSMASHHOLDING, Wabtec Corporation, ABB Ltd.