Recommendation Engine Market Research, 2031
The global recommendation engine market was valued at $2.7 billion in 2021, and is projected to reach $43.8 billion by 2031, growing at a CAGR of 32.1% from 2022 to 2031.
"The COVID-19 outbreak had positive impact on the growth of the recommendation engine market owing to, growth in e-commerce industry on account of the increasing penetration of the Internet, the growing reliance on smartphones, and the emerging social media trend are contributing to the market growth. This can also be attributed to changing consumer spending habits and the rising need for convenience, immediacy, and simplicity during shopping which processes to cater the growing demand. Moreover, the rising need for seamless product manufacturing, distribution, and delivery has encouraged small and medium businesses to adopt efficient recommendation engine solutions during the COVID-19 pandemic, consequently driving the growth of the recommendation engine market."
Recommendation engine is a data filtering technology that allows marketers to provide customers with relevant product recommendation in real time. It uses complex algorithms and data analysis techniques, such as machine learning (ML) and artificial intelligence (AI), to recommend appropriate product catalog to an individual. Moreover, it can present products on the basis of user preferences, historical browsing history, traits, and situational context on website, application, and emails. It is currently used in business-to-consumer (B2C) e-commerce industries, such as entertainment, mobile app, and education, that demand a customized strategy. 
Growth in adoption of digital technologies and increase in focus on enhancing the customer experience is boosting the growth of the global recommendation engine market. In addition, surge in use of the deep learning technology in AI recommendation engine solution positively impact the growth of the recommendation engine market. However, lack of skills & expertise and concerns over accessing customers personal data hamper the recommendation engine market growth. On the contrary, increase in demand for analyzing large volume of data   is expected to offer remunerative opportunities for expansion of the recommendation engine market during the forecast period.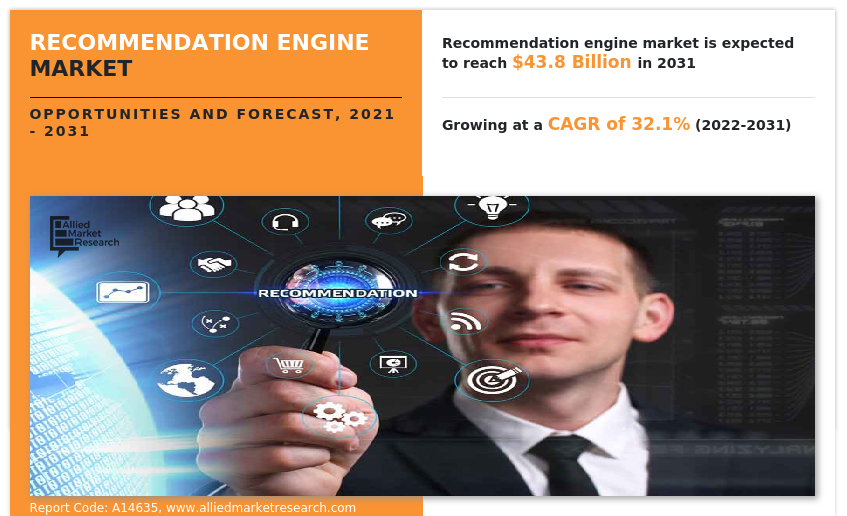 The recommendation engine market is segmented into Industry Vertical, Type, Deployment Model, Enterprise Size and Application.
The recommendation engine market is segmented on the basis of by type, deployment model, application type, enterprise size, industry vertical, and region. On the basis of type, the market is categorized into collaborative filtering, content-based filtering, and hybrid recommendation. On the basis of deployment model, the market is fragmented into on-premise and cloud. On the basis of enterprise size, the market is bifurcated into large enterprises and SMEs. By application type, the market is divided into personalized campaigns & customer delivery, strategy operations & planning, and product planning & proactive asset management. By industry vertical, it is classified into BFSI, IT & telecom, healthcare & life science, retail & consumer goods, media & entertainment, and others. By region, the market is analyzed across North America, Europe, Asia-Pacific, and LAMEA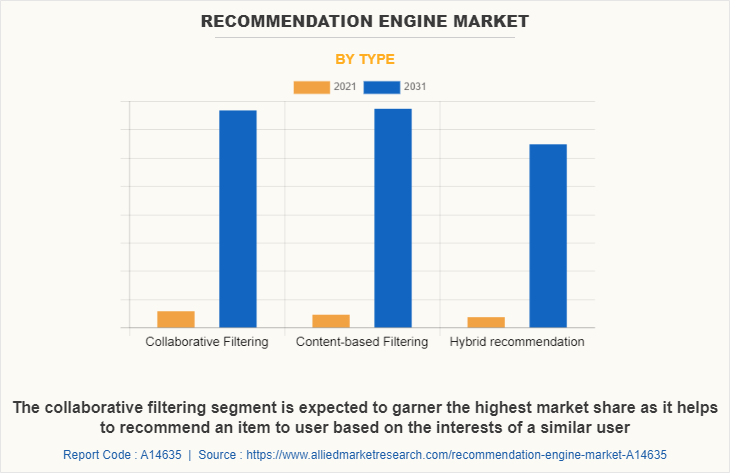 In terms of type, the collaborative filtering segment holds the highest digital recommendation engine market share owing to increase in demand for reliable recommendation engines from e-commerce platforms to enhance their customers' shopping experience by suggesting products on the basis of their tastes and preferences. However, the hybrid recommendation segment is expected to grow at the highest rate during the forecast period, owing to rise in usage of hybrid systems to improve the effectiveness of end-user solutions and also to improve the algorithm efficiency.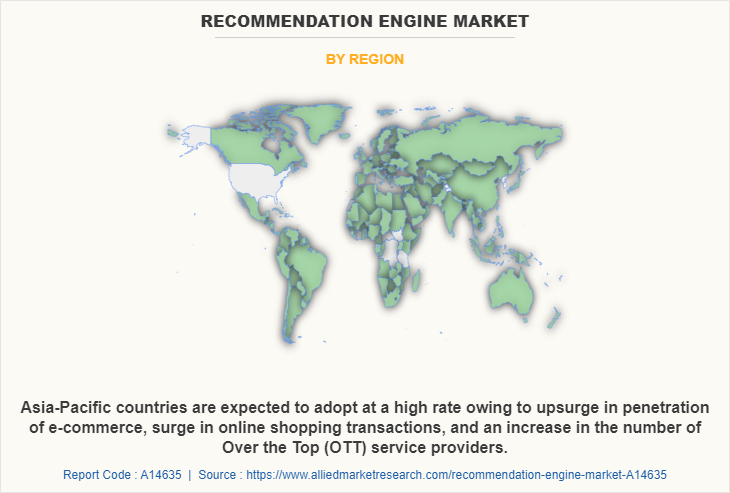 Region-wise, the recommendation engine market size was dominated by North America in 2021. The region is expected to retain its position during the forecast period owing to rise in adoption of advanced technologies and increase in government support for emerging technologies in the region. Asia-Pacific is expected to witness significant growth during the forecast period owing to upsurge in penetration of e-commerce,  surge in online shopping transactions, and an increase in the number of Over the Top (OTT) service providers.
The key players that operate in the recommendation engine industry are Adobe, Amazon Web Services, Google LLC, Hewlett Packard Enterprise Development LP, IBM Corporation, Intel Corporation, Microsoft Corporation, Oracle Corporation, Salesforce, Inc., and SAP SE. These players have adopted various strategies to increase their market penetration and strengthen their position in the recommendation engine industry. 
Digital Capabilities: 
A recommendation engine works using a combination of data and machine learning technology.  It is an advanced data filtering system that uses behavioral data, computer learning, and statistical modeling to predict the content, product, or services required by the customers. The more data it has, the more efficient and effective it is expected to be in making relevant revenue-generating suggestions. Recommendation engines complete a standard four-step process. The first and most important step for creating a recommendation engine is to gather data. Data that are collected are of two main types, secondly implicit data and explicit data.   Implicit data helps to collect information from activities such as web search history, clicks, cart events, search log, and order history. Explicit Data is information gathered from customer input, such as reviews & ratings, likes & dislikes, and product comments. Moreover, recommender systems are often seen as a "black box", the model created by these large companies are not very easily interpretable. The results which are generated are often recommendations for the user for things that they need / want, however, are unaware that they need / want it until they have been recommended to them. 
Moreover, there are many different ways to build recommender systems, some use algorithmic and formulaic approaches such as Page Rank while others use more modelling centric approaches such as collaborative filtering, content based, and link prediction. All of these approaches can vary in complexity; however, complexity does not translate to "good" performance. Often simple solutions and implementations yield the strongest results. For example, large companies such as Reddit, Hacker News, and Google have used simple formulaic implementations of recommendation engines to promote content on their platform 
Key Benefits: 
A recommendation engine is a piece of software that carefully examines market data to generate suggestions that website visitors find interesting. A system that identifies and provides employees with recommended content is referred to as a recommendation engine. Mobile applications are one example of how other technological advancements continue to change consumer interest and make use of the available data. Within the ICT industry, advice engine is regarded as a crucial component of software and application products. The recommendation system looks for items that match the user's likes and tastes using information analysis techniques. Different advice engines are available for diverse applications. These include the image recommendation engine, the e-commerce product recommendation, the content recommendation engine, and the product suggestion engine for products. The demand for recommendation engines is being met by the rise in need to improve customer experience. The exponential demand for recommendation engine solutions is a result of organizations' increasing adoption of digital technologies. Many businesses are trying to integrate technologies, including computer science (AI), with their apps, businesses, analytics, and services as a result of the increasing diversity of enterprises and the resulting surge in competition among them. Globally, many businesses are undergoing digital transformation, focusing on increasing worker and customer expertise through the use of automation solutions. . 
The revenue and margins are positively impacted by these edges. During the forecast period, this favorable impact is likely to create significant prospects for the adoption of recommendation engines. The recommender may collect user identification information, demographic information, activity data, purchase history, ranking history, and other data. The privacy of this data is also important. Giving the recommender access to this information in the open could present intolerable privacy hazards. Without the client's consent, the recommender might sell the client's information to a third party, and it might even become the target of determined thieves. 
End-user Adoption: 
With an increase in competition, major market players have started partnering with companies to expand their market penetration and reach. For instance, in March 2023 ReadWorks partnered with Tailor-ED, announces a program that directly supports the student learning experience and reading outcomes through an artificial intelligence recommendation engine. 
Owing to technological advancements across the world and the rise in demand for recommendation engine, various companies have expanded their current product portfolios and innovations with increased diversification among customers. For instance, in January 2021, Adobe launched the same page enhanced personalization with Adobe Target and a real-time customer data platform. This new integration with Adobe Real-time Customer Data Platform (CDP) provides Adobe Target with a unified profile sourced from all online and offline interactions. Growing investment from digital technology drives demand in the recommendation engine market. For Instance, in June 2019, Amazon.com, Inc. announced the availability of its machine learning service, Amazon Personalize. It is a service that enables users to make personalized as well as non-personalized recommendations for their applications, allowing them to curate recommendations without requiring any machine learning experience. 
Top Impacting Factors 
Growth in adoption of digital technologies   
With rise in digitalization, online shopping has increased across e-commerce platforms. In addition, recommendation engines allow user-friendly browsing and show the products or information to the customer as per the previous search. Moreover, mobile phone ownership is rapidly contributing to e-commerce growth and prompting e-commerce websites to embrace recommendation engines. For instance, in 2022, according to Global System for Mobile Communications Association (GSMA), the number of mobile subscribers is expected to reach 5.8 billion in 2025, from 5.3 billion in 2021. This anticipated rise is anticipated to boost the growth of the e-commerce industry, which drives the market for  recommendation engine. 
Increase in focus enhance customer experience   
Development in emphasis to improve customer experience is a major factor driving the development of the demand for the recommendation engine. In addition, it is important to enhance customer experience to achieve customer engagement and retention, higher sales and return on investment (RoI). Smart product recommendations also allow natural, logical opportunities for upselling and cross-selling. Customers show interest through their actions and experience, and the product recommendation system automatically matches the behavior with the right recommendations. Small transactions will become larger, and customers who may not have been on the track to make a purchase are suddenly interested in doing so. For instance, 31% of ecommerce site revenue is generated from customized recommendations and almost 35% of Amazon's revenue is generated by its recommendation engine, which in turn is driving the growth of the market. 
KEY BENEFITS FOR STAKEHOLDERS  
The study provides an in-depth analysis of recommendation engine market forecast along with current trends and future estimations to explain the imminent investment pockets. 

Information about key drivers, restraints, and opportunities and their impact analysis on recommendation engine market trends is provided in the report. 

Porter's five forces analysis illustrates the potency of the buyers and suppliers operating in the industry. 

The recommendation engine market analysis from 2022 to 2031 is provided to determine the market potential. 
 Recommendation Engine Market Report Highlights
Aspects
Details
Market Size By 2031
USD 43.8 billion
Growth Rate
CAGR of 32.1%
Forecast period
2021 - 2031
Report Pages
339
By Industry Vertical

Retail and Consumer Goods
IT and Telecom
Healthcare and Life Science
BFSI
Media and Entertainment
Others

By Type

Collaborative Filtering
Content-based Filtering
Hybrid recommendation

By Deployment Model
By Enterprise Size

Large Enterprises
Small and Medium Enterprises

By Application

Personalized Campaigns and Customer Delivery
Strategy Operations and Planning
Product Planning and Proactive Asset Management

By Region

North America (U.S., Canada)
Europe (UK, Germany, France, Italy, Spain, Rest of Europe)
Asia-Pacific (China, Japan, South Korea, India, Australia, Rest of Asia-Pacific)
LAMEA (Latin America, Middle East, Africa)

Key Market Players
Hewlett Packard Enterprise Development LP, Amazon Web Services, Intel Corporation, Oracle Corporation, Salesforce, Inc., IBM Corporation, SAP SE, Microsoft Corporation, Adobe, Google LLC
Analyst Review
Recommendation engine, also known as a recommender system, is a software that analyzes available data to make suggestions for something that a website user might be interested in. Moreover, recommendation engine can significantly boost revenues, Click-Through Rates (CTRs), conversions, and other essential metrics. It can have positive effects on the user experience, thus translating to higher customer satisfaction and retention.  
The global recommendation engine market is expected to register high growth due to  rise in desire to improve the consumer experience. The need for recommendation engine solutions is rising as a result of enterprises' increasing in adoption of digital technology. Surge in techniques to improve customer experience and the growth in scope of digital transformation are a few of the key drivers expected to boost industry growth. Thus, increase in adoption of recommendation engine, owing to its security, is one of the most significant factors driving the growth of the market. With surge in demand for recommendation engine, various companies have established alliances to increase their capabilities. For instance, in January 2023, Microsoft Corporation partnered with OpenAI extend to introduce new categories of digital experiences built on OpenAI's technology. This includes Microsoft's Azure OpenAI Service, which empowers developers to build innovative AI applications through direct access to OpenAI models backed by Azure's trusted, enterprise-grade capabilities and AI-optimized infrastructure and tools.  
In addition, with further growth in investment across the world and the rise in demand for recommendation engine, various companies have expanded their current product portfolio with increased diversification among customers. For instance, in May 2021, IBM Corporation expanded IBM Watson Advertising Accelerator for OTT and video, designed to help marketers move beyond contextual relevance alone. The Accelerator aims to leverage artificial intelligence to optimize OTT ad creative dynamically for improved campaign outcomes at scale, not dependent on traditional advertising identifiers. .  
Moreover, with increase in competition, major market players have started acquisition of companies to expand their market penetration and reach. For instance, in March 2021,  SAP SE acquired Signavio, a significant provider in the enterprise business process intelligence and process management space. Signavio's products became part of SAP's business process intelligence portfolio and complemented SAP's holistic process transformation portfolio.