Red Sauce Market Research, 2031
The global red sauce market size was valued at $3.1 billion in 2021, and is projected to reach $5.6 billion by 2031, growing at a CAGR of 6.1% from 2022 to 2031.
A sauce that is made from tomatoes and is often served as an entrée rather than a side dish can be referred to as red sauce. Despite the fact that red sauces are regularly used with meat and vegetables, they are perhaps best known as the base for the sauces in Mexican salsas and Italian pasta dishes. 
The popularity of indirect sales is further boosted by rising urbanization, an increase in the working-class population, and competitive prices. Customers can purchase goods from these sales formats at competitive prices, and they are typically situated in locations that are simple to get in these stores. As a result, consumers can fulfill all of their buying demands, saving them time and drawing a sizable consumer base to the red sauce industry.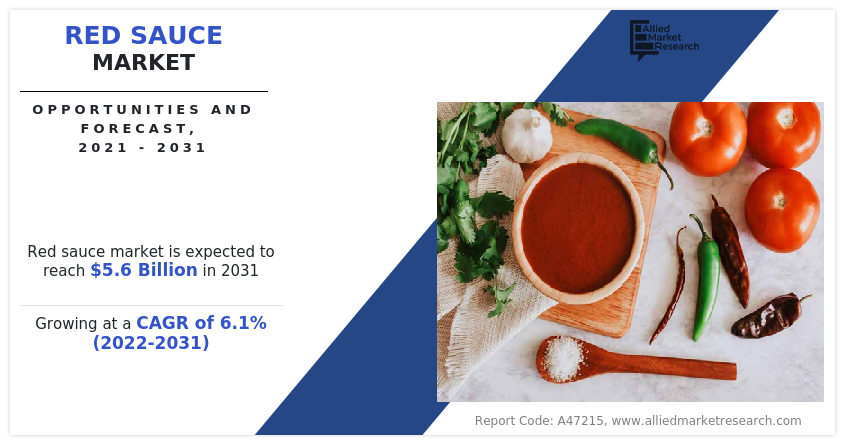 In the years following COVID, red sauce demand is expected to increase significantly. People are now more concerned about their health, and they want more nutritious cuisine. The use of red sauce in the food and beverage industries is also expected to expand significantly in the near future. Thus, the COVID-19 outbreak has led to an increase in red sauce production and demand across businesses. 
In addition, the demand for the product in the red sauce market is expected to rise quickly in the next years as a result of the return of all economic activity in the post-pandemic period. Moreover, consumer spending on red sauce is projected to increase as active participants in the food & beverage industry launch new products in the red sauce market to offer customers nutritional value. The red sauce market demand is projected to experience growth due to developments, improvement in red sauce quality, and need to deliver a savory taste in the post-pandemic period. 
Moreover, in addition to other health advantages, the red sauce also helps prevent cancer. Furthermore, it includes lycopene, a potent antioxidant. It includes carotenoids and other antioxidants like lycopene to protect the body and cells from oxidative damage. Preclinical studies show that these carotenoids inhibit the growth of cancer cells while also killing them. According to research, eating tomatoes may reduce the risk of stomach, colon, and lung cancer. Also, diets high in lycopene-rich tomato products may reduce the risk of dying from cancer. In addition, consuming lycopene-rich tomato products like red sauce may reduce the risk of getting heart disease as well and such factors are likely to boost the red sauce market demand. High blood levels of lycopene may also reduce the risk of having a stroke. In addition, diets high in carotenoids increase bone mineral density and reduce the risk of osteoporosis, a serious bone disease that increases the risk of fractures. Furthermore, red sauce market offers various health advantages such as regulating blood sugar, reducing chronic pain, and promoting stronger bone owing to vitamin A, vitamin B6, and potassium 
Convenience meals are created or packaged by manufacturers to be consumed whenever and wherever they are needed with little to no preparations, such as thawing or heating. Convenience food is usually sold as ready-to-eat meals or items that are stable at room temperature and come in portable, portion-controlled, single-serve packaging. Convenience meals are mostly driven by the trend toward easier food preparation and consumption, as a result of a busy lifestyle. Convenience food must satisfy consumer demands for taste and nutrition while also meeting standards for usability, safety, variety, packaging, nutritional value, and aesthetic appeal. Convenience food also appeal to customers because of their variety, ease of use, and year-round availability. In addition, a significant portion of red sauce is consumed worldwide with convenience food. Red sauce consumption in the market is therefore expected to rise along with the desire for convenience food. 
However, tomato farmers confront a number of difficulties, particularly in developing countries. Farmers encounter challenges since there aren't any storage facilities close to the production site, there isn't any packing, and there isn't a processing plant. Furthermore, the production of tomatoes suffer from poor irrigation infrastructure.  In addition, the trading, certification, and marketing of organic tomatoes provide difficulties for growers. Because of all these difficulties, farmers are supposed to pay more expenses, which causes market changes in the price of raw materials, thus affecting the red sauce industry. Therefore, tomato prices may suffer due to changes in climatic conditions, which may also lead to an increase in red sauce pricing. Moreover, a huge number of challenges including high cost, and climate conditions are faced by farmers. These are expected to hamper the growth of the red sauce market. 
On the contrary, natural-based products are becoming more popular among consumers and it is one of the red sauce market trends across the globe. There has been a slight decline in the market for synthetic substances. As a natural and organic component, red sauce is growing in popularity. The demand for red sauce is expected to increase due to the high consumption of convenience food like pizza and pasta. Consuming red sauce has health benefits in addition to a delicious taste. The gastrointestinal and immune systems get better when red sauce products are consumed. It also aids in keeping blood sugar levels stable. As a result, the red sauce market opportunity is expanding due to consumers' growing health consciousness. 
The red sauce industry is segmented on the basis of packaging type, nature, distribution channel, and region. By packaging type, the market is categorized into bottles, pouches, and others. By nature, the red sauce market is fragmented into conventional and organic. By distribution channel, the market is divided into direct sales and indirect sales. Moreover, the red sauce market is further classified into third-level segmentation through the distribution channel. By indirect sales, the market is divided into hypermarket/supermarket, convenience stores, e-commerce, and others. Region-wise, the market is analyzed across North America (the U.S., Canada, and Mexico), Europe (Germany, UK, France, Italy, Spain, Switzerland and Rest of Europe), Asia-Pacific (China, India, Japan, South Korea, Australia and Rest of Asia-Pacific), and LAMEA (Brazil, South Africa, UAE, Argentina and Rest of LAMEA). 
Red Sauce Market

---
By Packaging Type
Bottles holds largest share due to its effective protection. In addition, glass bottles are desirable for red sauce due to their transparency, high shine, and range of available designs.
By packaging type, the bottle segment was the highest revenue contributor in 2021 with a CAGR of 6.0%. Moreover, a bottle is a round, narrow-necked container that is frequently used to transport red sauce all over the world. A snugly fitting stopper or cap is often included to protect the liquid inside from spills, evaporation, and other items. In addition, glass bottles are preferred for red sauce, because of their transparency, high shine, and variety of available patterns. These bottles offer their protect the contents efficiently. Glass bottles that may be returned and used repeatedly by manufacturers to store liquids like red sauce are the least expensive to produce. Therefore, better bottle protection and design are expected to boost the growth in the red sauce market forecast period. 
Red Sauce Market

---
By Nature
Conventional holds largest share across the globe. In addition, conventional red sauce is widely preferred across industries such as food & beverages. Furthermore, the expansion of the food & beverages industry has created new growth avenues for the segment across the regions.
By nature, the conventional segment had the highest red sauce market size in 2021 i.e., $2576.3 million in 2021, and is expected to reach $4580 million by 2031 at a CAGR of 6.0%. Tomatoes are grown conventionally guaranteeing a good yield for the farmers and bringing in a sizable profit for the farmers. As a result, the manufacturers exhibit a lot of inexpensive opportunities to produce a red sauce. In addition, traditional red sauce is favored by many in the food and beverage industry. Moreover, the growth of the food and beverage industry has opened up new regional growth opportunities for this sector. However, the conventional segment still has the upper hand in the market, despite the organic option's fierce competition due to its affordable prices and widespread availability. During the projected period, the aforementioned factors are expected to fuel the conventional red sauce market growth. 
Red Sauce Market

---
By Distribution Channel
Indirect sales holds largest share attributed to gaining popularity. Moreover, availability of a broad range of nutritional products under a single roof. Consumers prefer to buy health benefited products including red sauces that are on sale.
By distribution channel, the indirect sales segment held the largest share in 2021 and is expected to have the largest market share in 2031 due to the availability of a wide variety of nutritional items under one roof. Customers prefer to purchase red sauces that are on sale and have health benefits. In addition, products are positioned close to one another, allowing customers to compare them easily and choose which item to purchase.
Red Sauce Market

---
By Region
North America holds largest share due to it provides an exotic aroma to food that has grown in popularity among consumers and its texture aids in enhancing the flavor. Its vast flavor notes allow it to be added to numerous food such as pizza, pasta, and spaghetti to alleviate the taste.
By region, North America held the largest red sauce market share in 2021 i.e., $1012.9 million in 2021, and is expected to reach $1767.1 million by 2031 at a CAGR of 5.8%. Red sauce is gaining popularity among North American customers for a number of reasons, including the numerous cuisines it may be used in. Due to its flexibility, it can be used to mask the taste of many food, including pizza, pasta, and spaghetti. The state of California produces 255,388 thousand centum weights (cwt) of tomatoes annually, according to the WorldAtlas. As a result, it is ranked as the leading producer of tomatoes in the U.S. and among the top tomato growers worldwide. More specifically, California produces about one-third of the tomatoes grown globally and 95% of the tomatoes grown in the U.S. All of these elements combine to make the North American region the market leader for red sauce. 
The market is being driven by factors such as rapid growth in infrastructural development as well as technological advancement in developing countries. The major players operating in the global red sauce are Chilzo, General Mills, The Kraft Heinz Company, Victoria, Organicville, Newman's Own, ConAgra Food, Mezzetta Family Co., Campbell Soup Company, Barilla, Ragu, Goya Food, Mutti, Rao's Homemade and Cento Fine Food. 
Key Benefits For Stakeholders
This report provides a quantitative analysis of the market segments, current trends, estimations, and dynamics of the red sauce market analysis from 2021 to 2031 to identify the prevailing red sauce market opportunities.
The market research is offered along with information related to key drivers, restraints, and opportunities.
Porter's five forces analysis highlights the potency of buyers and suppliers to enable stakeholders make profit-oriented business decisions and strengthen their supplier-buyer network.
In-depth analysis of the red sauce market segmentation assists to determine the prevailing market opportunities.
Major countries in each region are mapped according to their revenue contribution to the global market.
Market player positioning facilitates benchmarking and provides a clear understanding of the present position of the market players.
The report includes the analysis of the regional as well as global red sauce market trends, key players, market segments, application areas, and market growth strategies.
 Red Sauce Market Report Highlights
Aspects
Details
Market Size By 2031
USD 5.6 billion
Growth Rate
CAGR of 6.1%
Forecast period
2021 - 2031
Report Pages
450
Packaging type
Nature
Distribution channel

Direct sales
Indirect sales

Subtype

Hypermarket/Supermarket
Convenience stores
E-commerce
Others

By Region

North America (U.S., Canada, Mexico)
Europe (Germany, UK, France, Italy, Spain, Switzerland, Rest of Europe)
Asia-Pacific (China, India, Japan, South Korea, Australia, Rest of Asia-Pacific)
LAMEA (Brazil, South Africa, UAE, Argentina, Rest of LAMEA)

Key Market Players
General Mills, Inc., The Kraft Heinz Company, Conagra Brands, Inc., Barilla Holding S.r.l., Mizkan Holdings Co., Ltd., Mutti S.p.A., Sovos Brands, Inc., Cento Fine Foods, Nectorius Foods Manufacturer Pvt. Ltd., Newmans Own, Inc., G.L. Mezzetta, Inc., B&G Foods, Inc., Litehouse, Inc., Campbell Soup Company, Goya Foods, Inc.