The global reefer container market size was valued at $9.7 billion in 2022, and is projected to reach $19.8 billion by 2032, growing at a CAGR of 7.5% from 2023 to 2032.
Reefer containers, also known as refrigerated containers, have become an integral part of the transportation industry, revolutionizing the movement of temperature-sensitive goods. These specialized containers are designed to maintain precise temperature and humidity levels, making them indispensable across various industries. In the food industry, reefer containers ensure that perishable goods such as fruits, vegetables, and dairy products remain fresh during transportation, enabling global trade in fresh produce. Pharmaceuticals, which require strict temperature control, also heavily rely on reefer containers to maintain the integrity of medications and vaccines.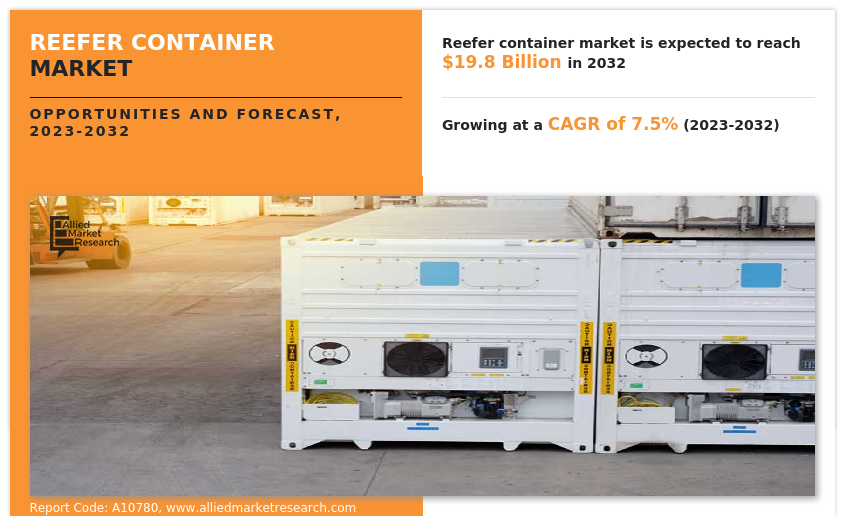 The floral industry benefits from these containers as well, as they help extend the lifespan of delicate flowers during transit. Furthermore, reefer containers play a crucial role in the transportation of chemicals, especially hazardous or sensitive substances that require specific temperature conditions. In terms of transportation, reefer containers can be transported via shipping, where they are loaded onto container vessels, ensuring the goods remain at the required temperature throughout the sea voyage.
Reefer containers can also be transported via trucks for shorter distances or when precise delivery timelines are necessary. Trucks equipped with temperature control systems guarantee that the goods reach their destination without compromising their quality. Overall, reefer containers have transformed the transportation of temperature-sensitive goods across industries, enabling the efficient and reliable movement of products while maintaining their integrity.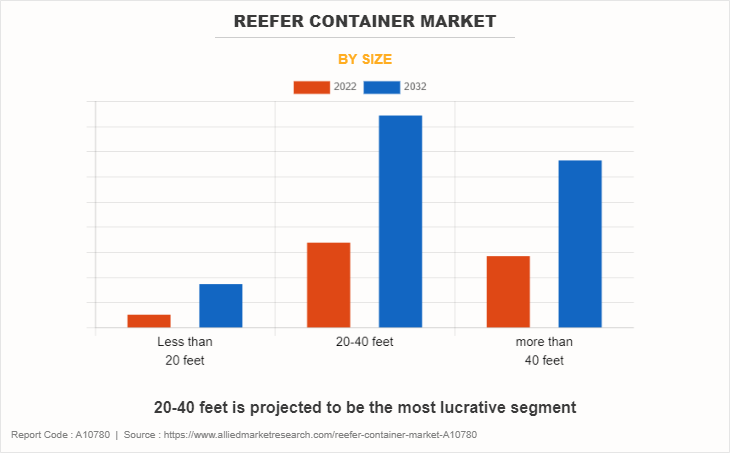 Factors such as growing demand for fresh and frozen food and expansion of international trade supplement the reefer containers industry growth. However, high capital investment and operational complexities are expected to hamper the growth of the reefer container market. In addition, advancement in cold chain technologies and integration of other Technology creates lucrative opportunities for the key players operating in the market. Daikin Industries, CMA CGM Group, and Singamas Container Holdings Ltd. have a substantial market share in the reefer container business.
The reefer container market is segmented into by size, industry, mode of transportation, and by region. By size, the market is classified into below less than 20 feet, 20-40 feet, and above 40 feet. By industry, the market is classified into food & beverage, healthcare, chemicals, and others. By mode of transportation the market is classified into railways, roadways, and waterways. By region, the market is analyzed across North America, Europe, Asia-Pacific and LAMEA.
The leading players operating in the reefer container market are A.P. Moller - Maersk, Daikin Industries, China International Marine Containers Co. Ltd, Singamas Container Holdings Ltd., Ocean Network Express Pte. Ltd., ZIM Integrated shipping services, Hapag-Lloyd AG, MSC Mediterranean Shipping Company S.A., CMA CGM Group, SeaCube Containers LLC.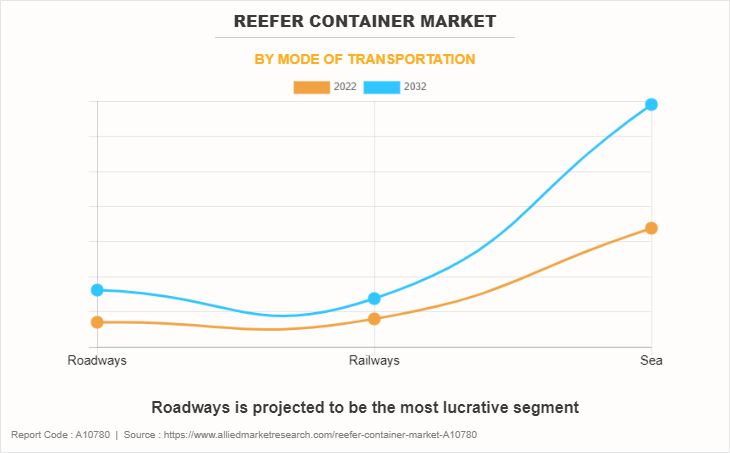 Expansion of international trade
Technological developments, changing geopolitical dynamics, and increase in awareness of the advantages of interconnected economies are propelling   international trade within the dynamic framework of global business. Several factors have developed such as global and regional trade agreement that influence cross-border transactions and promoted global economic development between many countries, leading to increase of international trade. Increased economic interconnection due to technology is a major factor driving the growth of international trade. Businesses may now easily access customers in far-off marketplaces owing to the internet, which has completely changed how businesses function. The establishment of regional and global trade agreements has played a crucial role in expanding international trade. Agreements such as, the Australia-India Economic Cooperation and Trade Agreement (ECTA), which entered obligation on December 2022, is now accessible to Australian businesses and consumers.
Over 85% of Australian goods, which export to India, are now tariff-free, and are expected to rise to 90% by 2026.  Furthermore, 96% of Indian imports are presently duty-free, and the number is expected to rise to 100% by 2026. Similarly, The European Union's Single Market is an economic area where 27 European countries participate in trading activities. There are some non-EU countries, which include Iceland, Liechtenstein, and Norway that participate in trading within the single market through sectoral treaties. The European Union's single market facilitates free movement of products, services, capital, and people among the European Union members. The single market fuels growth and presents market opportunity to the players within the region. The agreement and the regional trades boost the expansion of the international trade and helps in the growth of the reefer container market.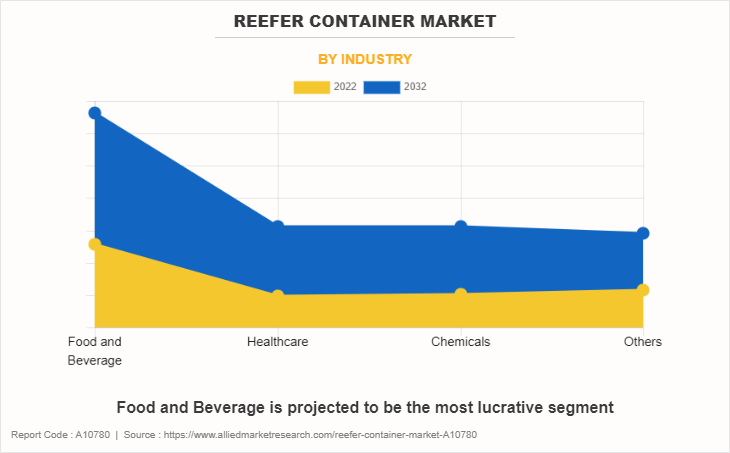 Growing demand for fresh and frozen food
The reefer container market is driven by the growing demand for fresh and frozen food products. As disposable incomes rise and consumer preferences shift towards healthier and more diverse diets, there is increase in need for efficient cold chain logistics to transport perishable goods across continents. The demand for reefer containers is particularly evident in the global market for fresh fruits and vegetables, as well as the seafood and meat industries. Governments and international organizations have implemented stringent regulations to ensure the safety and quality of perishable goods during transportation, further bolstering the demand for reefer containers. Consumers seek fresh produce and high-quality perishable products year-round, regardless of seasonal limitations. Reefer containers enable the transportation of these goods while maintaining the required temperature range to prevent spoilage, contamination, and the proliferation of harmful bacteria.
Operational complexities
Reefer containers, also known as refrigerated containers, are essential for transporting temperature-sensitive cargo such as perishable goods and pharmaceuticals. However, their operational complexities can pose challenges. For instance, proper loading and stowage of cargo inside reefer containers is crucial to maintain the desired temperature and prevent damage. Ensuring proper airflow and avoiding temperature variations within the container can be challenging, especially when dealing with different types of perishable goods with varying temperature requirements. Another issue is related to the management of containers. Managing exceptions and addressing issues that arise during reefer container operations can be complex. This includes handling situations such as power failures, equipment malfunctions, delays, and temperature deviations. Promptly identifying and resolving these exceptions is crucial to prevent spoilage or damage to the cargo.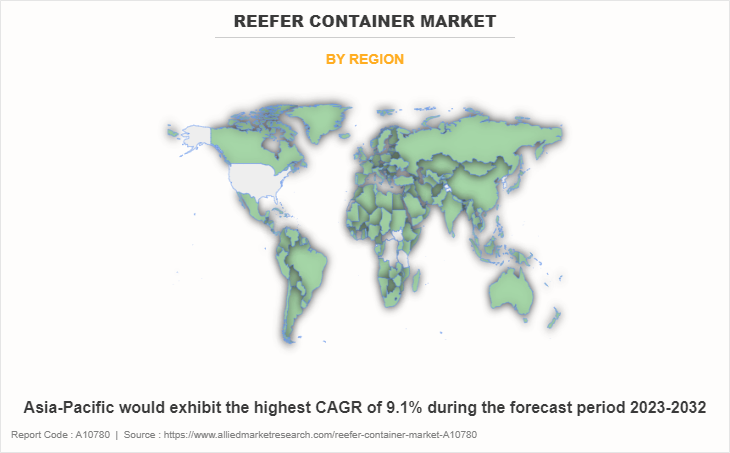 Advancement in cold chain technologies
Reefer containers, short for refrigerated containers, have seen significant advancements in recent years. such as smart technology for monitoring and management of reefer containers. Through this technology, shipping companies can gain greater visibility and control over their reefer containers. The smart technology allows real-time monitoring of temperature, humidity, and other vital parameters, ensuring that perishable goods are kept in optimal conditions throughout the journey. For example, Maersk, a shipping company, has developed the remote container management system, which provides customers with visibility on the state of their in-transit reefer goods. This smart technology improves the quality and safety of transported goods as well as enhances operational efficiency and reduces the risk of spoilage or damage.
Key Developments in Reefer Container Market
In September 2023, Daikin Reefer collaborated with major industry players (name undisclosed) to transition cut flower shipments from air to sea, allowing the floriculture industry to lower transportation costs and reduce its carbon footprint. The collaboration is expected to attract more customer for the organization. 
In August 2023, Daikin Reefer collaborated with a Thai mango shipper SWIFT Co. Ltd and CMA CGM on both static and live trial shipments of Nam Doc Mai (Honey) and Mahachanok (Rainbow) mangoes from Thailand to Korea and Japan using Daikin Active CA technology. The collaboration is expected to gather new customers and expand business in the Asian region for the organization.
In August 2023, A.P. Moller – Maersk launches the new Captain Peter(remote container management system) integrated package allows data integration via Application Programming Interface (API) for clients to access raw data logs with temperature readings into their preferred system. This launch is expected to attract new customers and as the system grant access for their shippers and consignees to log in and view shipment details directly in Captain Peter.
Russia and Ukraine are two of the world's largest producers of agricultural products. In addition, countries like Russia export some of the rare elements, such as palladium and neon which are required to produce the semiconductors. However, both countries are agricultural exporters and major suppliers of food and fertilizers to global markets. The war is also having an influence on shipping far outside the conflict zone. Sanctions imposed by the U.S and the European Union constitute a huge compliance burden for shipping businesses and insurers
Key Benefits For Stakeholders
This report provides a quantitative analysis of the market segments, current trends, estimations, and dynamics of the reefer container market analysis from 2022 to 2032 to identify the prevailing reefer container market opportunities.
The market research is offered along with information related to key drivers, restraints, and opportunities.
Porter's five forces analysis highlights the potency of buyers and suppliers to enable stakeholders make profit-oriented business decisions and strengthen their supplier-buyer network.
In-depth analysis of the reefer container market segmentation assists to determine the prevailing market opportunities.
Major countries in each region are mapped according to their revenue contribution to the global market.
Market player positioning facilitates benchmarking and provides a clear understanding of the present position of the market players.
The report includes the analysis of the regional as well as global reefer container market trends, key players, market segments, application areas, and market growth strategies.
 Reefer Container Market Report Highlights
Aspects
Details
Market Size By 2032
USD 19.8 billion
Growth Rate
CAGR of 7.5%
Forecast period
2022 - 2032
Report Pages
250
By Size

Less than 20 feet
20-40 feet
more than 40 feet

By Industry

Food and Beverage
Healthcare
Chemicals
Others

By Mode of Transportation
By Region

North America (U.S., Canada, Mexico)
Europe (Germany, UK, France, Netherlands, Rest of Europe)
Asia-Pacific (China, India, Japan, South Korea, Rest of Asia-Pacific)
LAMEA (Middle East, Latin America, Africa)

Key Market Players
Daikin Industries, Ltd., MSC Mediterranean Shipping Company S.A., CMA CGM Group, Seacube Containers LLC, China International Marine Containers (Group) Co., Ltd., ZIM Integrated Shipping Services Ltd., Ocean Network Express Pte. Ltd., Hapag-Lloyd AG, A.P. Moller - Maersk, Singamas Container Holdings Ltd.