Retail Ready Packaging Market Research, 2031
The global retail ready packaging market size was valued at $65.1 billion in 2021, and is projected to reach $107.8 billion by 2031, growing at a CAGR of 5.1% from 2022 to 2031. Retail ready packaging is a kind of secondary packaging that displays brands of products, which help in product identification. Retail ready packaging exhibits numerous benefits for retailers as well as brand owners; for instance, its design helps in effective and efficient stocking and sales. In addition, it provides easy transportation with easy shelf replenishment to retailers while displaying brand without removing external secondary packaging, which acts as a value-added specialty for brand owners.
The retail ready packaging market was hampered during the initial period of lockdown as the retail stores were operating with limited capacity. In addition, not many new products were launched during the lockdown period. However the market recovered with ease in restrictions and re-initiation of manufacturing activities.
The most important market driver is recyclability, which is the key characteristic of retail ready packaging market. Retail ready packaging predominantly use paper and paperboard, which make them easy to recycle. The styles and details added to the box add value to the product and provide excellent brand promotion. This is highly desirable for consumers as they are interested in using products that are aesthetically pleasing. They are lightweight, easy to handle with efficient replenishment, and make the product easier for consumers to use.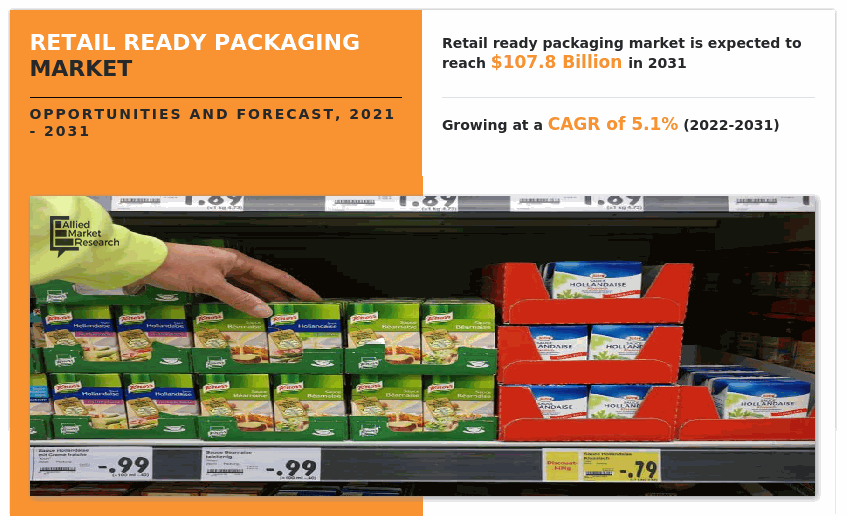 Increase in demand for packaged processed foods & beverages is expected to spur growth of the market.  Growth in fast moving consumer goods which mainly consist of packed food is anticipated to boost the retail ready packaging market growth. FMCG goods raised demand for retail ready packaging, owing to its creative and effective functional design that helps retailers in product identification to facilitate effective stocking, improve store efficiency, and reduce labor efforts by placing products directly on retail shelves without unpacking inner contents and turnover time for re-stocking that ultimately increase sales and profit of a store. Other than these benefits, it helps in improving shelf life of fragile and sensitive products. From consumer's perspective, its product identification character facilitates consumers with convenient shopping experience, which propels the growth of the retail ready packaging industry in global market.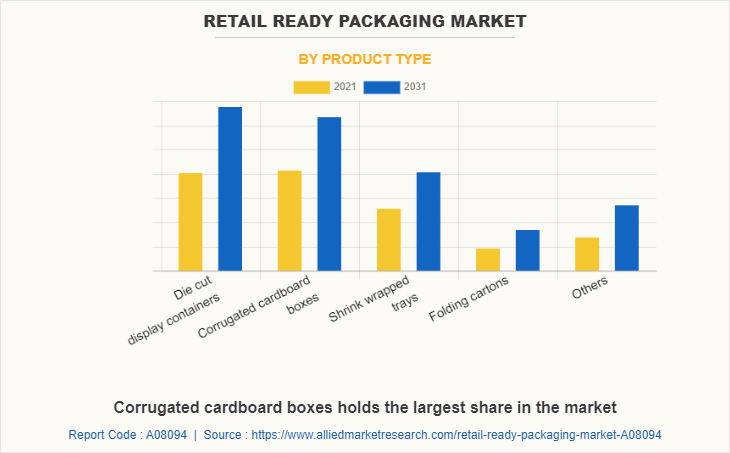 However, lack of standardization in packaging process hinders the market growth. Furthermore, different types of products requires different packaging quality, as that product goes through different situation of transport and wear and tear. Following the same packaging process for every products reduces the life of product and quality, which further restrains the growth of retail ready packaging market.
Furthermore, during the outbreak of the COVID-19 pandemic, construction, manufacturing, hotel, and tourism industries were majorly affected. Manufacturing activities were halted or restricted. Construction and transportation activities, along with their supply chains, were hampered on a global level. This led to decline in manufacturing of retail ready packaging, thereby restraining the growth of the market. Conversely, industries are gradually resuming their regular manufacturing and services. This is expected to lead to re-initiation of retail ready packaging companies at their full-scale capacities, which is likely to help the retail ready packaging market to recover by end of 2021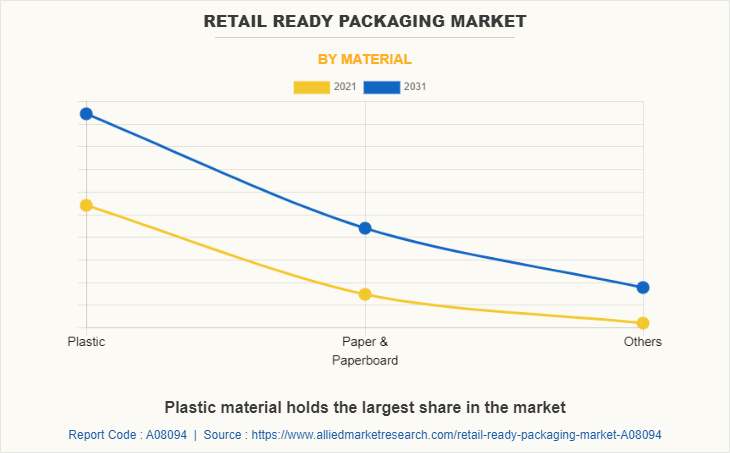 Recent advancements made in packaging such as QR code scanning for product details, handbook, and other details reduce the size of packaging and make it environment sustainable. Moreover, rise in penetration of e-commerce platforms with growing supply chains and logistics is anticipated to fuel the global the demand for retail ready packaging. E-commerce has a huge role of logistics, which requires retail ready packaging to facilitate easy transportation services for large quantity of products. Retail ready packaging proves to be the best suitable packaging for transporting large quantity of products by providing product identification facility without affecting quality, integrity, and appearance of the product. Thus, all these factors collectively are anticipated to create remunerative opportunity for the expansion of the retail ready packaging market during the forecast period.
The retail ready packaging market is segmented into Product Type, Material and Application. Depending on product type, the market is fragmented into die cut display containers, corrugated cardboard boxes, shrink wrapped trays, folding cartons, and others. On the basis of material, the market is categorized into paper & paperboard, plastics, and others. By application, it is segregated into food & beverages, pharmaceuticals, personal care & cosmetics, electronics, and others. Region wise, the retail ready packaging  market analysis is conducted across North America (the U.S., Canada, and Mexico), Europe (the UK, France, Germany, Italy, and rest of Europe), Asia-Pacific (China, Japan, India, South Korea, and rest of Asia-Pacific), and LAMEA (Latin America, the Middle East, and Africa). In 2020, Asia-Pacific was the highest contributor to the global retail ready packaging market share, however, LAMEA is anticipated to secure a leading position during the forecast period.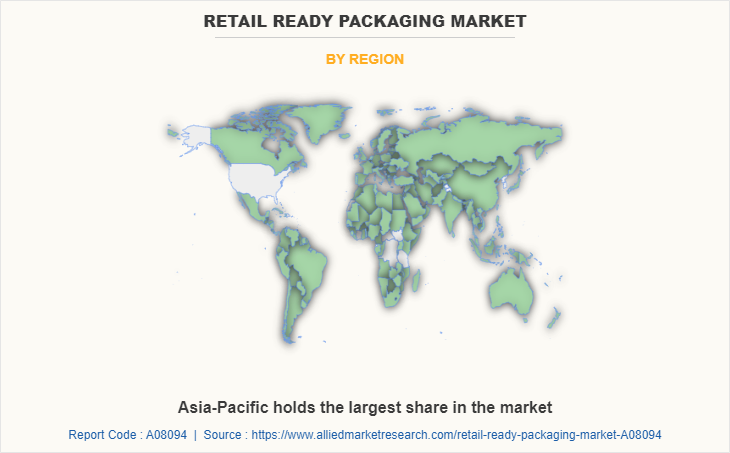 On the basis of product type, in 2021, the corrugated cardboard boxes segment dominated the market, in terms of revenue, whereas the others segment is expected to witness growth at the highest CAGR during the forecast period. As per material, in 2021, the plastic segment led the retail ready packaging market, however, the paper & paperboard segment is expected to exhibit highest CAGR in the near future. By application, the food & beverage segment led the market in 2021, in terms of revenue; however, the other segment is anticipated to register highest CAGR during the forecast period. Region wise, Asia-Pacific garnered the highest revenue in 2021, and is anticipated to register highest CAGR during the forecast period.
COMPETITION ANALYSIS
The major players profiled in the retail ready packaging market include DS Smith, Georgia-Pacific LLC, Green Bay Packaging Inc., International Paper , Mondi , Smurfit Kappa, the Cardboard Box Company, Vanguard Packaging, LLC, Weedon Group Ltd., and WestRock Company. Major companies in the market have adopted business expansion, acquisition, and product launch as their key developmental strategies to offer better products and services to customers in the retail ready packaging market.
Key Benefits For Stakeholders
This report provides a quantitative analysis of the market segments, current trends, estimations, and dynamics of the retail ready packaging market analysis from 2021 to 2031 to identify the prevailing retail ready packaging market opportunities.
The market research is offered along with information related to key drivers, restraints, and opportunities.
Porter's five forces analysis highlights the potency of buyers and suppliers to enable stakeholders make profit-oriented business decisions and strengthen their supplier-buyer network.
In-depth analysis of the retail ready packaging market forecast.
Major countries in each region are mapped according to their revenue contribution to the global market.
Market player positioning facilitates benchmarking and provides a clear understanding of the present position of the market players.
The report includes the analysis of the regional as well as global retail ready packaging market trends, key players, market segments, application areas, and market growth strategies.
 Retail Ready Packaging Market Report Highlights
Aspects
Details
By Product Type

Die cut display containers
Corrugated cardboard boxes
Shrink wrapped trays
Folding cartons
Others

By Material

Plastic
Paper & Paperboard
Others

By Application

Food & Beverage
Pharmaceuticals
Electronics
Personal Care & Cosmetics
Other

By Region

North America (U.S., Canada, Mexico)
Europe (Germany, U.K., France, Italy, Rest of Europe)
Asia-Pacific (China, Japan, South Korea, India, Rest of Asia-Pacific)
LAMEA (Latin America, Middle East, Africa)

Key Market Players
WestRock Company., Weedon Group, Georgia-Pacific LLC., Green Bay Packaging Incorporated, Mondi Group, Vanguard Companies, DS Smith PLC., The Cardboard Box Company, International Paper Company, Smurfit kappa Group