The global roselle market size was valued at $122.8 million in 2020, and is projected to reach $252.6 million by 2030, registering a CAGR of 7.5% from 2021 to 2030. In 2020, the powder form of the roselle segment accounted for the highest share in the roselle market.   
Roselle, also known as Hibiscus sabdariffa L., is an annual crop used in food, animal feed, nutraceuticals, cosmeceuticals, and pharmaceuticals. It is used in production of jelly, jam, juice, wine, syrup, gelatin, cake, ice cream, and others. The product has anti-inflammatory and exfoliating properties, as a result of which it is becoming a vital raw material for organic and natural cosmetics.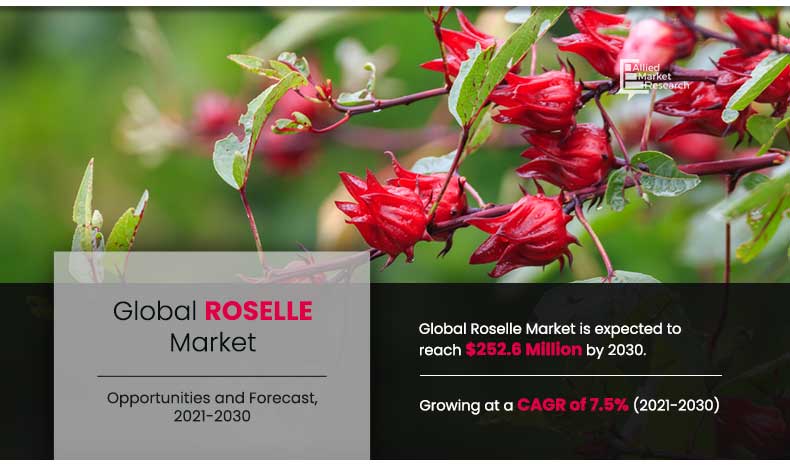 Get more information on this report : Request Sample Pages
Roselle extract is prepared from the flower and is available in liquid as well as powder form. The extract is widely used for different purposes such as cosmetics and skin care products, pharmaceuticals, and dietary supplements. Roselle possesses anti-oxidants, anthocyanin, and various other plant acids, which are healthy for humans.
Roselle is usually sold in dry form in the market. It is used in herbal tea that has distinct maroon color along with sweet and tart flavor similar to that of cranberries. The demand for herbal tea comprising roselle is driven by several health benefits associated with it, for instance, it is rich in antioxidants such as polyphenols, which include flavonoids and catechins. They prevent large-scale cellular destruction via stabilization of harmful free radicals present in human body. In addition, the nutritional composition of herbal tea includes vitamins (C, K, B12, B6, and E), minerals (trace amount of potassium, manganese, magnesium, and calcium), and amino acids (L-theanine). Thus, multiple health benefits associated with roselle drive the growth of the roselle market.
On the contrary, excess usage of roselle in the products may cause stomach pain, gas, constipation, nausea, painful urination, headache, and ringing in the ears, which is expected to hamper the growth of the market.
Roselle powder is beneficial for hair and skin and hence, is widely used in a range of cosmetic and personal care products such as hair oils and soaps. Roselle is widely used in cosmetics, bakery, & confectionery industries. It is also widely used as an effective alternative to other extract products. It has become increasingly popular, owing to its high nutrient content, which is beneficial for skin and hair and hence, is expected to experience high growth in the future. The rise in demand for Roselle in the cosmetic industry is projected to drive the roselle market growth. 
As the diversified players that dominate the food industry have limited presence, stakeholders are planning to invest and expand their business by innovating new products. Thus, small and medium enterprises (SMEs) can take advantage over premium priced products. Furthermore, several companies are completely dedicated on the production and sale of roselle products. For instance, in 2019, Buddha Teas expanded its facility across the U.S. in order to announce 325 sprouts farmers market, which offers seven Buddha teas blends.
Strong global concerns about the pandemic, coronavirus, have largely but negatively influenced the global Roselle market. Moreover, due to the high demand and low supply trends, the prices of ingredients increased in 2020 to overcome on economic instability. On the contrary, disruptions to the supply chain in shipping could lead to temporary shortages in the supply, putting upward pressure on prices in the short term.      
According to the roselle market analysis, the market is segmented on the basis of form, end use, sales channel, and region. By form, it is divided into powder and liquid. On the basis of end use, the market is split into food & beverages, pharmaceuticals, animal feed, and cosmetics & nutraceuticals. Based on sales channel, the market is segmented into supermarket/hypermarket, online stores, specialty stores, and others.
Region wise, it is analyzed across North America (the U.S., Canada, and Mexico), Europe (Germany, France, the UK, Spain, Italy, Russia, and rest of Europe), Asia-Pacific (China, Japan, India, Australia, South Korea, Thailand, Sri Lanka, and rest of Asia-Pacific), and LAMEA (Brazil, Sudan, Egypt, Tanzania, Turkey, South Africa, and rest of LAMEA).   
On the basis of type, the powder segment accounted for the maximum share in the global Roselle market in 2020, and is expected to remain dominant during the Roselle market forecast period. The demand for powder form of Roselle in the developed markets is growing rapidly, due to its antibacterial properties and applications. Moreover, it can be used in jelly, jam, juice, wine, syrup, gelatin, cake, and ice cream. 
The Liquid segment would witness the fastest growth, registering a CAGR of 8.1% during the forecast period.
Get more information on this report : Request Sample Pages
On the basis of end use, the food & beverages segment held the significant market share in 2020. Increase in demand for roselle products in the food & beverages industry is a key factor that drives the market growth. Furthermore, rise in demand for antibacterial products by the consumers in the developed nations is expected to boost the market growth.
Roselle Market

---
By End Use
Pharmaceuticals Segment witnssed a major growth rate of 8.1%
Get more information on this report : Request Sample Pages
On the basis of sales channel, the supermarket/hypermarket segment held the significant roselle market share in 2020. These channels offer various goods and often act as a one-stop solution for shopping for all everyday requirements. 
Roselle Market

---
By Sales Channel
Online Stores Segment witnssed a major growth rate of 8.2%
Get more information on this report : Request Sample Pages
On the basis of region, North America dominated the roselle market in 2020, and accounted for maximum market share. North America currently is one of the leading markets of the roselle industry due to the extreme growing demand for roselle products in medicinal products. 
North America

held the major share of 34.8% in 2020
Get more information on this report : Request Sample Pages
Players in the roselle market have adopted business expansion and product launch as their key developmental strategies to expand their market share, increase profitability, and remain competitive in the market.
The key players profiled in the report include Roselle Farms, Guangzhou Runming Tea Co., Ltd, Thai Organic Life, Cultivator Natural Products Pvt. Ltd, Atlantis Arena Sdn Bhd, Rossell India Ltd., Apple Food Industries, Buddha Teas, U.S. Wellness LLC, and The Tao of Tea LLC.
Key benefits for stakeholders  
The report provides quantitative analysis of the current roselle market trends, estimations, and dynamics of the market size from 2020 to 2030 to identify the prevailing Roselle market opportunities. 
Porter's five forces analysis highlights the potency of buyers and suppliers to enable stakeholders to make profit-oriented business decisions and strengthen their supplier–buyer network.
In-depth analysis and the market size & segmentation assist to determine the market potential.
The major countries in each region are mapped according to their revenue contribution to the market.    
The market player positioning segment facilitates benchmarking and provides a clear understanding of the present position of the market players in the Roselle industry. 
Key market segments 
By Form
By End use
Food & Beverages
Pharmaceuticals
Animal Feed
Cosmetics & Nutraceuticals
By Sales Channel
Sypermarket/Hypermarket
Online Stores
Specialty Stores
Others
By Region
North America
Europe

Germany 
France
UK
Italy
Spain 
Russia
Rest of Europe

Asia-Pacific

China
Japan
Australia
South Korea
Thailand
Sri Lanka
Rest of Asia-Pacific 

LAMEA 

Brazil
Sudan 
Egypt
Tanzania 
Turkey
South Africa
Rest of LAMEA