Safes and Vaults Market Outlook - 2027
The global safes and vaults market size was valued at $5.82 billion in 2019, and is projected to reach $9.14 billion by 2027, growing at a CAGR of 8.1% from 2020 to 2027. Safes and vaults are secure storage systems wherein valuable items, such as money, documents, records, and others, can be stored. These are intended to protect the contents from unauthorized use, theft, natural disasters, fire, and others. They usually comprise metal boxes made up of thick metals, making it difficult to break them by force or to protect them from fire breakouts. In addition, these safes and vaults require passcodes, numerical pins, or passwords to open them. 
The COVID-19 outbreak had a negative impact on growth of the cash management safes market, owing to surge in inclination of consumers towards digital transaction solutions such as mobile wallets, prepaid cards, contactless payment, and others is expected to hamper the market growth during the pandemic situation.
Rising concerns with respect to the safety of valuable physical assets, growth in perceived threat levels, increase in retail and commercial banks, and rise in security awareness are the major factors that drive the growth of the global safes and vaults market. However, penetration of digital transaction solution hampers the safes and vaults market growth. On the contrary, growth of smart cities and new technological developments in the safe and vaults industry are expected to provide lucrative opportunity for the market expansion during the forecast period.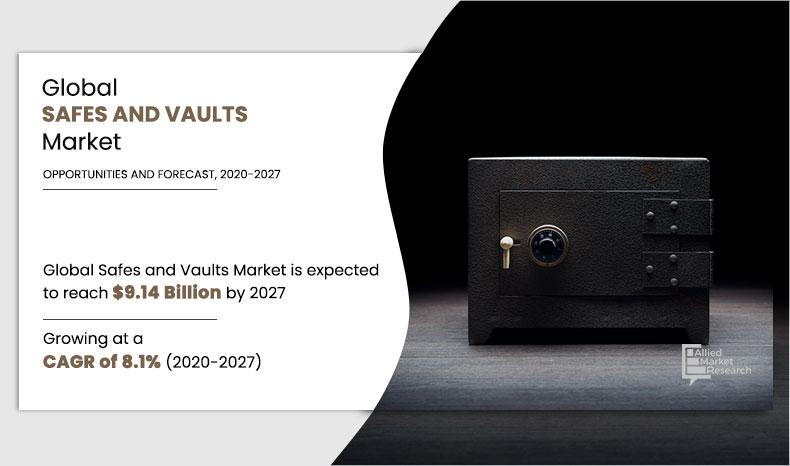 By type, the safes and vaults market was led by the cash management safes segment in 2019, and is projected to maintain its dominance during the forecast period. The adoption of cash management safes is on a continuous rise among end users, owing to the rapidly evolving infrastructure safety structure, increased application areas; increased number of cash-intensive environment facilities; increased acceptance of end-of-the-day deposit management solutions that facilitate reduction in time for counting money, cash touch points, administrative expenses; and enhanced protection from theft and armed robbery. 
However, the media safes segment is expected to grow at the highest rate during the safes and vaults market forecast period, owing to increased cyber-attack rate has created the need to store highly confidential data in offline form and rising demand from SMEs to store private data.
Region-wise, the safes and vaults market was dominated by North America in 2019, and is expected to retain its position during the forecast period. The major factor that drives the growth of the market in this region includes rising number of retail outlets. Retail outlets from the non-banking sector generate large amount of cash flow through small-dollar payments, which boosted the demand for smart safes to manage end-of-the-day deposits. 
However, Asia-Pacific is expected to witness significant growth rate during the forecast period, owing to increased adoption of cash management safes, technological advancements, and the presence of untapped potential in countries such as China, India, and Japan. Moreover, Gunnebo focuses on the Asia-Pacific region to increase its business as the region is expected to witness high growth for safety solutions. Therefore, these factors provide lucrative opportunities for the market expansion in this region.
The report focuses on the growth prospects, restraints, and trends of the global safes and vaults market analysis. The study provides Porter's five forces analysis to understand the impact of various factors such as bargaining power of suppliers, competitive intensity of competitors, threat of new entrants, threat of substitutes, and bargaining power of buyers.
Segment Review
The global safes and vaults market is segmented into type, end user, and region. In terms of type, the market is fragmented into cash management safes, depository safes, gun safes & vaults, vault & vault doors, media safes, and others. On the basis of end user, the market is categorized into banking sector and non-banking sector. Region-wise, the market is analyzed across North America, Europe, Asia-Pacific, and LAMEA.
Safes and Vaults Market

---
By Type
Media Safes segment will grow at a highest CAGR of 11.7% during 2020 - 2027
Competitive Analysis
The key players operating in the global safes and vaults market include American Security Products Co., Alpha Safe & Vault, Inc., CARADONNA, Diebold Nixdorf Incorporated, Godrej & Boyce Manufacturing Co. Limited, Gunnebo AB, Kumahira Co., Ltd. ,KASO Safeguard Safes, and Shinjin Safes. These players have adopted various strategies to increase their market penetration and strengthen their foothold in the safe and vault industry
COVID-19 Impact Analysis
The safes and vaults industry has recorded continuous investments for its developments and has become a massive contributor to the economic growth. However, this industry has been largely affected by the outbreak of the COVID-19 pandemic, leading to economic instability. In addition, it has been observed that increased uncertainty and liquidity crunch in economy influence various banks to shut down their vaults till the situation persists. 
However, factors, such as standardizing vaults & safes and quality control for financial institutes, banks, & many others, for safekeeping of important goods are expected to boost the replacement of old and outdated instruments, which indirectly increase the demand for better and quality safe in the market. In addition, the average Index of Industrial Production (IIP) percentage decreased by 5.6% in 2020 compared to 2019. While the average percentage of IIP from March 2020 to June 2020 decreased by 2.5%. Therefore, these factors display liquidity crunch in economy, which indirectly negatively impacts the safes and vaults industry. 
Safes and Vaults Market

---
By End User
Non-Banking sector segment holds dominant position throughout the forecast period
Top Impacting Factors
Increased Market for Commercial Banks and Retail Industry
The growing rate of criminal offences has increased concerns among people and organizations to secure their valuable assets during such situations. Cash management safes have witnessed high demand from cash-intensive environments such as the retail industry. Developing economies of Asia-Pacific and LAMEA possess high potential for expansion of the retail industry, which is expected to drive the market growth during the forecast period. 
According to India Brand Equity Foundation, the retail industry in India is expected to reach $ 1.6 trillion by 2026. Further, the banking sector is growing at a high rate, which supports the adoption of the ATM market. According to ATM Benchmarking Study 2018 and Industry Report by Accenture, the installed base of ATM machines globally is expected to surpass 3.5 million units by 2023, which is expected to drive the demand for safes and vaults.
New Technological Developments in the Safes and Vaults Industry
Technologies, such as geo-location, alarms, video monitoring systems, seismic detectors, finger-print scanners, and auto-locking mechanisms, provide innovative opportunities for users in the market. With these technological developments, safes and vaults distribution platforms are expected to enhance productivity for providing coverage seamlessly at the point-of-purchase. Moreover, digital transformation enables safe and vaults companies to create highly personalized user experiences to their customers such as one drive. 
Further, to maintain market position, providers consider the use of big data analytics that offer possibilities of handling large amount of cash. In addition, technologies help in data collection, cater to customer specific needs, calculate risk, and detect fraud. Therefore, easy accessibility and convenient safe and vaults offerings by technological advancements are expected to provide lucrative opportunities for providers in the safes and vaults market.
Safes and Vaults Market

---
By Region
Asia-Pacific would exhibit the highest CAGR of 9.8% during 2020-2027.
Key Benefits For Stakeholders 
The study provides an in-depth analysis of the global safes and vaults market size along with the current trends and future estimations to determine the imminent investment pockets.
Information about key drivers, restraints, & opportunities and their impact analysis on the global safes and vaults market share is provided in the report.
Porter's five forces analysis illustrates the potency of the buyers and suppliers operating in the industry.
The quantitative analysis of the global safes and vaults market trends from 2019 to 2027 is provided to determine the market potential.
Key Market Segments
By Type
Cash Management Safes
Depository Safes
Gun Safes & Vaults
Vault & Vault Doors
Media Safes
Others
By End User
Banking Sector
Non-Banking Sector
By Region
North America
Europe 

Germany
France
UK
Italy
Spain
Belgium
Rest of Europe

Asia-Pacific 

China
Japan
India
Australia
South Korea
Indonesia
Rest of Asia-Pacific

LAMEA

Latin America 
Middle East 
Africa
Key Market Players
American Security Products Co.            
Alpha Safe & Vault, Inc.
CARADONNA
Diebold Nixdorf Incorporated
Godrej & Boyce Manufacturing Co. Limited
Gunnebo AB 
Kumahira Co., Ltd. 
KASO
Safeguard Safes
Shinjin Safes