Sensor Market Outlook – 2028 
The global sensor market size was valued at $166.69 billion in 2019, and is projected to reach $345.77 billion by 2028, to register a CAGR of 8.9% from 2021 to 2028. Sensors are the devices that detect events or changes in environment and then provide corresponding output. They sense physical input such as light, heat, motion, moisture, pressure, or any other entity, and respond by producing an output on a display or transmit the information in electronic form for further processing. These have major applications in flood & water level monitoring systems, environmental monitoring, traffic monitoring & controlling, energy saving in artificial lighting, remote system monitoring & equipment fault diagnostics, and precision agriculture & animal tracking.
The emergence of COVID-19 pandemic significantly impacted the automotive sector.
Sensors have applications in almost every industry vertical, however, have highest usage in consumer electronic products, followed by automotive, and IT & telecom. Smartphones incorporate sensors such as accelerometer, gyroscope, ambient light sensor, proximity sensor, and temperature detectors to keep a track on parameters and provide a centralized system for automatic control.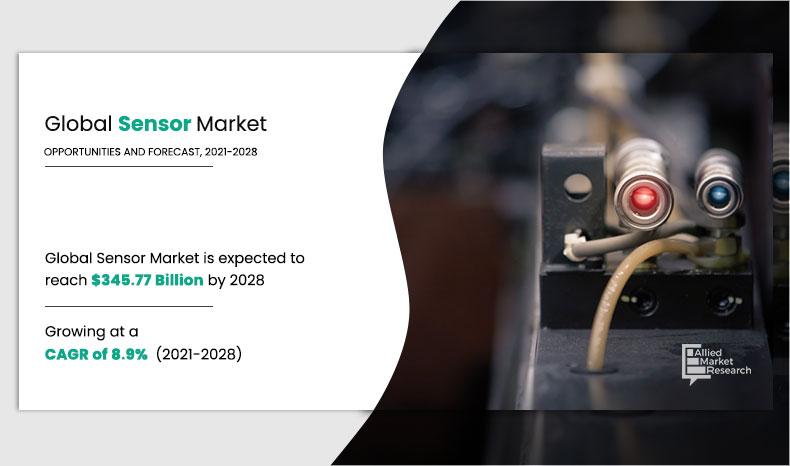 The global sensor market is anticipated to witness significant growth during the forecast period. Factors such increase in adoption of temperature & proximity sensors in portable and advance healthcare devices and adoption of motion & position sensors in industries drive growth of the sensor market. However, scalability & reliability issues in deployment of sensors in system on chip (SoC) is a major restraint for the global market. In addition, increase in adoption of gyroscopes and accelerometers in consumer electronics, coupled with innovative applications including gesture recognition, biometrics, and motion-sensing is expected to create opportunities for the sensor industry.
Radar Sensor segment is expected to dominate the market throughout the forecast period
Segment Overview 
The global sensor market trends are analyzed across various segments including type, technology, end user, and region. By type, the market is categorized into radar sensor, optical sensor, biosensor, touch sensor, image sensor, pressure sensor, temperature sensor, proximity & displacement sensor, level sensor, motion & position sensor, humidity sensor, accelerometer & speed sensor, and other sensors. By technology, it is divided into CMOS, MEMS, NEMS, and others. On the basis of end user, it is categorized into electronics, IT & telecom, industrial, automotive, aerospace & defense, healthcare, and others.
Sensor Market

---
By Technology
MEMS segment is expected to secure the leading position during 2021 - 2028
Region wise, the sensor industry is analyzed across North America (the U.S., Canada, and Mexico), Europe (the UK, Germany, France, Italy, and Rest of Europe), Asia-Pacific (China, Japan, India, South Korea, and Rest of Asia-Pacific), and LAMEA (Latin America, the Middle East, and Africa). Asia-Pacific is expected to develop at the highest rate during the forecast period, owing to surge in automotive production, industrial automation, and growth in the electronics sector. 
Leading sensor market manufacturers such as NXP semiconductors N.V., Honeywell International Inc., and Texas instruments Inc. are focusing their investments on technologically advanced, cost-effective, and secure products and solutions for various applications. 
Sensor Market

---
By End User
Electronics segment will maintain the lead during the forecast period
Top Impacting Factors
Prominent factors that impact the sensor market growth include increase in demand for IoT technology-based devices, rise in demand for sensors in development of smart cities, advancements in sensors, increase in use of smartphones and other electronics devices, advancements in the automation sector, and emerging applications of radar in remote sensing. However, incorporation of sensors in devices incurs extra value and reduces life of devices. On the contrary, rise in adoption of wearable devices & innovative applications in the biomedical sector and growth in the automotive sector is expected to create lucrative opportunities for the global market.
Asia-Pacific region would exhibit the highest CAGR of 9.9% during 2021 - 2028
Competitive Analysis
Competitive analysis and profiles of major sensor market players such as Atmel Corporation, Honeywell International Inc., Infineon Technologies AG, Johnson Controls International PLC., NXP semiconductors N.V., Qualcomm Technologies Inc., Robert Bosch GmbH, Sony Corporation, STMicroelectronics, Texas instruments Inc., and TE Connectivity. These key players have adopted various strategies, such as product portfolio expansion, mergers & acquisitions, agreements, geographical expansion, and collaborations, to increase their market penetration and strengthen their foothold in the industry.
COVID-19 Impact Analysis
Outbreak of COVID-19 has significantly affected the electronics and semiconductor sector. Business and manufacturing units across various countries were closed, owing to increase in number of COVID-19 cases, and are estimated to remain closed in 2021 as well. Furthermore, partial or complete lockdown has disrupted global supply chain posing challenges for manufactures to reach customers. The overall production process is adversely affected, however, increase in demand from healthcare and automotive sectors boost growth of the market globally.
The COVID-19 pandemic is impacting the society and overall economy across the globe. The impact of this outbreak is growing day-by-day as well as affecting the overall business globally. The crisis is creating uncertainty in the stock market, leading to fall in business confidence, massive slowdown of supply chain, and increase panic among customers. 
Asian and European countries under lockdowns have suffered a major loss of business and revenue, owing to shutdown of manufacturing units in these regions. Operations of production and manufacturing industries have been heavily impacted by the outbreak of the COVID-19 disease. However, at the same time high demand from healthcare, automotive, and IT & telecom has led to increase in growth of the sensor industry in 2020.  
COVID-19 has severely impacted the electronics sector as production facilities have been stalled, which has a significant demand in industries. The effect of COVID-19 lockdown includes large-scale manufacturing interruption across Europe and interruption in Chinese parts exports, which hinders the sensor market growth. 
Key Benefits For Stakeholders
This study comprises analytical depiction of the global sensor market size along with the current trends and future estimations to depict imminent investment pockets.
The overall sensor market analysis is determined to understand the profitable trends to gain a stronger foothold. 
The report presents information related to key drivers, restraints, and opportunities with a detailed impact analysis.
The present sensor market forecast is quantitatively analyzed from 2019 to 2027 to benchmark the financial competency. 
Porter's five forces analysis illustrates the potency of the buyers and the sensor market share of key vendors.
The report includes the market trends and the market share of key vendors.
 Sensor Market Report Highlights
Aspects
Details
By Type

Radar Sensor
Optical Sensor
Biosensor
Touch Sensor
Image Sensor
Pressure Sensor
Temperature Sensor
Proximity & Displacement Sensor
Level Sensor
Motion & Position Sensor
Humidity Sensor
Accelerometer & Speed Sensor
Others

By Technology
By End User

Electronics
IT & Telecom
Industrial
Automotive
Aerospace & Defense
Healthcare
Others

By Region

North America (U.S., Canada, Mexico)
Europe (U.K., Germany, France, Italy, Rest of Europe)
Asia-Pacific (China, Japan, .India, South Korea, Rest of Asia-Pacific)
LAMEA (Latin America, Middle East, Africa)

Key Market Players
Infineon Technologies AG, Qualcomm Technologies, Inc., NXP Semiconductor, .Texas Instruments, SONY CORPORATION, Microchip Technology Inc., Taiwan Semiconductor Manufacturing Company Limited, Panasonic Corporation, STMicroelectronics, Hewlett Packard Enterprise (HPE), TE Connectivity