Skin Care Products Market Research, 2031
The global skin care products market was valued at $170.7 billion in 2021, and is projected to reach $241.5 billion by 2031, growing at a CAGR of 3.6% from 2022 to 2031.
Increase in demand for dermatological skin care items among beauty-conscious consumers worldwide, combined with increasingly effective product formulas employed by skin care product makers, are driving the market's growth. Furthermore, the usage of natural, nature derived, and organic raw materials for creation of skin care products spanning various price points to appeal to people of all economic positions would help the market grow enormously.
Face creams, body lotions, face washes, and other skin care items are available in the skin care products market. Skin care products are specialized items that are used to cure damaged skin and to give the skin a natural beauty and radiance. These products assist in moisturizing dry skin, removing excess oil from oily skin, and promote the overall health and wellness of the skin. As these products are designed to perform various functions, it is critical to utilize diverse skin care solutions for different purposes. 
Cosmetics have evolved into a vital component of the contemporary individual's lifestyle. As a result of modern standards of personal appearance and etiquette, a surge in consciousness of exterior beauty has turned into one of the primary driving forces in favour of using skin care items, driving the skin care products market demand. Global population growth, in addition to increasing per capita income, has increased the demand for skin care products. Consumers all over the world are changing their lifestyles as a result of rapid economic progress and an increase in disposable income. Customers are getting more worried about their skin as they are becoming more aware of the need of skin care and hygiene, and as a result, they are buying skin care products. Men, in addition to women, are increasing the use of skin care products in their everyday lives, moving the global skin care products market ahead. This change in lifestyle has led to the expansion of the global skin care and cosmetics businesses. As a result, changing lifestyle choices in emerging markets have aided the expansion of the global skin care products industry. 
Consumers of all ages use skin care products such as moisturizers, lotion, skin lightening cream, toner, serum, sunscreen, body lotion, and body oil, among many others, to avoid premature ageing, acne, and black patches and to enhance their beauty. Many individuals are gravitating towards skin care products to protect and maintain their skin from damage and imperfections caused by climate change. Furthermore, many customers are increasingly educating themselves to better grasp their distinct skin kinds and the specific needs of their skin, which also is contributing to a surge in the sale of skin care products that suit their skin types, helping to increase the skin care products market size. Younger customers are also increasing their need for skin care products in order to begin creating a good skin care regimen at a younger age, which is fuelling the expansion of the skin care products market. 
Raw material price increase has a significant impact on product manufacturing costs, resulting in an increase in the market price of the finished product. This is one of the key problems hindering the expansion of the global skin care products sector. Increased prices in skin care products will diminish demand in developing nations such as India and China, where clients are price sensitive. High costs are expected to result in a stronger effect on emerging economies than that on established ones that include the U.S. and the UK; nonetheless, cost conscious customers in such regions also will suffer as product prices rise. This puts a limit on the skin care products industry. Furthermore, advancements in skin care product packaging materials, including recycled plastics and cardboards, result in an extra increase in product price, in order to make up margins for skin care product makers. The rise in the cost of components and packaging materials has a detrimental impact on the skin care products market. 
Engaged players in the skin care products market are developing novel goods to capture the attention of consumers. To avoid sun damage to consumers' skin, innovative products including face creams and body lotions with greater Sun Protection Factor (SPF) in addition to skin cooling components such as aloe or coconut butter are being developed. Furthermore, in order to appeal to clients who seek cruelty-free skin care products, several companies are including natural and nature-derived ingredients in their product lines, with many of the substances being totally vegan. Numerous skin care product makers are also creating gender neutral cosmetics that are ideal for the skin of men, women, and non-binary consumers, which will help boost the skin care products market in the future.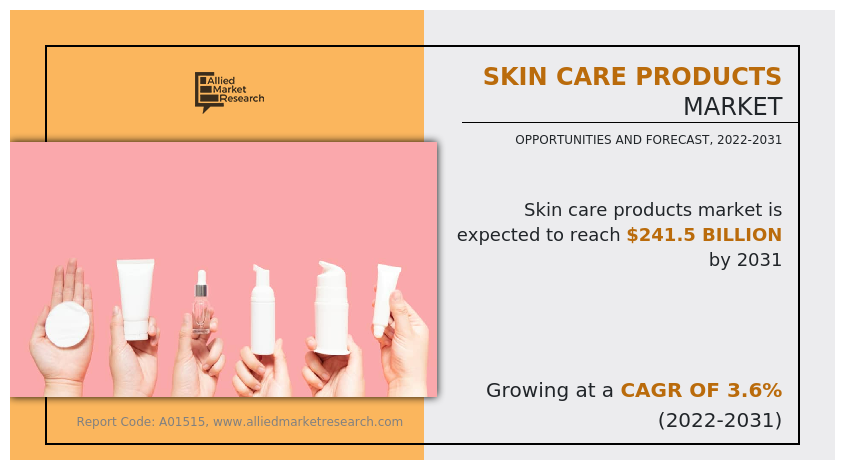 Segmental Overview
The skin care products market is segmented into End User, Price Point, Type and Distribution Channel. The skin care products market is segmented on the basis of type, end user, price point, distribution channel, and region. By type, the skin care products market is classified into face cream, body lotion, face wash, and others. Depending on end user, the market is categorized into women and men. By price point, the market is divided across mass and premium. According to the distribution channel used for the sale of skin care products the market is segmented into supermarkets and hypermarkets, specialty stores, online channels, and others. By region, the market is divided across North America (the U.S., Canada, and Mexico), Europe (UK, Germany, France, Italy, Spain, Netherlands, Rest of Europe), Asia-Pacific (China, Japan, India, South Korea, Australia, and rest of Asia-Pacific), and LAMEA (Brazil, Argentina, Saudi Arabia, United Arab Emirates, South Africa, and the Rest of LAMEA).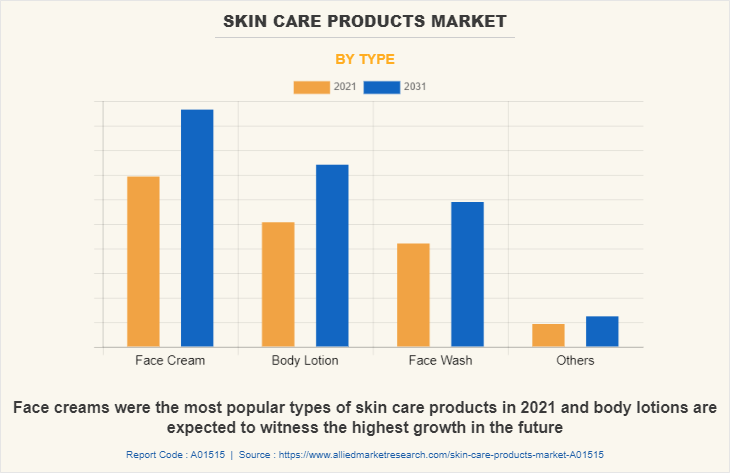 By Type
Face creams are utilized to improve the appearance of the skin on the face. These creams are designed to replenish the skin's nutrition, erase dark spots, and give the skin a healthy glow. Face creams are designed to fit specific skin types to minimize issues because the skin on the face is thin, and a non-compatible cream may cause skin injury. Due to these reasons, face creams hold a significant skin care products market Share. Body lotion is a means to keep the skin moisturized. These lotions are designed to moisturize the thicker skin on the body and can be used all over the body beginning at the neck. Body lotions are oily, but they are generally suitable for oily skin types since they are readily absorbed by the body and may be used in little amounts. Face wash is generally used to cleanse the face and remove dirt and oil from the skin. Facial washes are commonly used to exfoliate dead skin cells and revitalize the skin, resulting in a glow and luminosity. Face washes are designed to suit both men's and women's skin types, as there is a significant difference in oil production and skin quality between the sexes. Serums, scrubs, packs, toners, and other skin care products are also available. As more people are becoming aware of the advantages and uses of these goods, their use has grown over the past several years.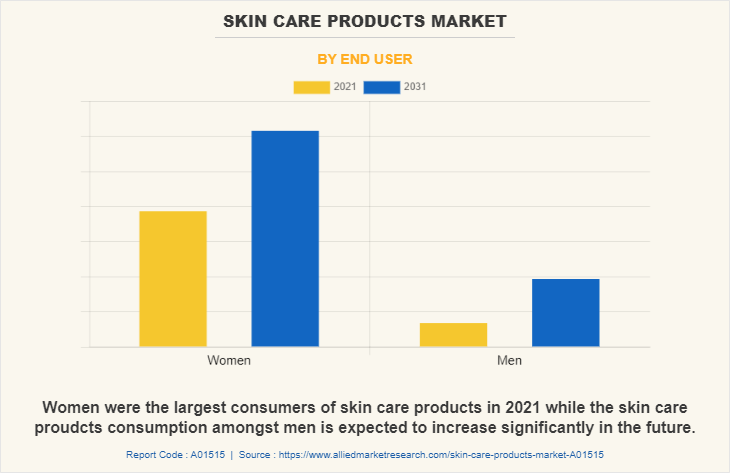 By End User
Women are more likely to use skincare products than men because they have a stronger desire to keep their skin healthy and youthful looking. Due to women's increased curiosity about various kinds of skin care products and their uses for improving skin health, the majority of items on the market are geared towards women. Women's skin care products come in a variety of smells, such as citrus, floral, herbal, vanilla, and other aromas of a like nature, all of which contribute to the pleasant scent of the product. Women are more likely to buy skin care items when the packaging for those goods is made to be visually pleasing. In general, men have thicker skin and wider pores than women. They thus generate significantly more sebum, which results in oilier skin. Men also naturally have drier skin than women do because of increased body hair development, although use of skin care products is lower in men since they have less concern about their skin's health. Men are adopting skin care regimens and products at a higher rate as a result of increased awareness of the value of skin care and effective skin care practices among males. Future skin care products market growth will also be aided by an increase in the production of skin care products tailored exclusively for the needs of male skin.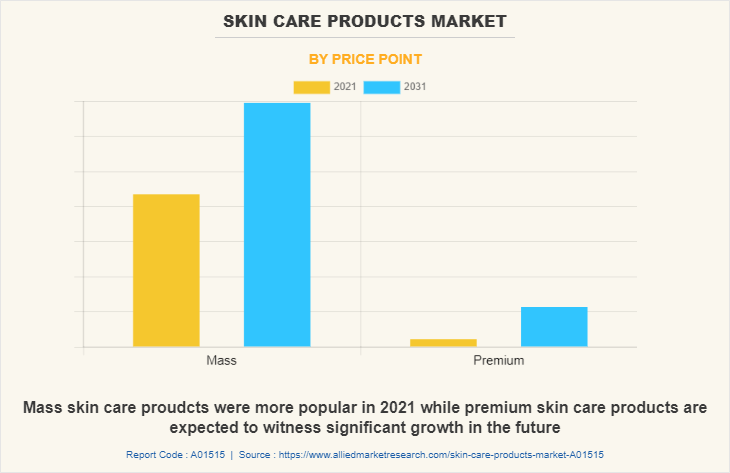 By Price Point
Mass produced skin care products that are created in large quantities are used to hydrate the skin and give it a healthy glow. These products are generally accessible in convenient places like grocery stores, superstores, and online sellers. Mass-produced skin care items are frequently bought because of their regular use and many daily applications. The inherent characteristics of the skin on the applicant's body are enhanced by the use of high-end skin care products. Due to their long-lasting effects and ability to trap in hydration without leaving the skin appearing greasy or oily, these products are not used frequently during the day. They are primarily available in specialty shops, brand stores, and online channels due to their higher costs and slightly reduced availability.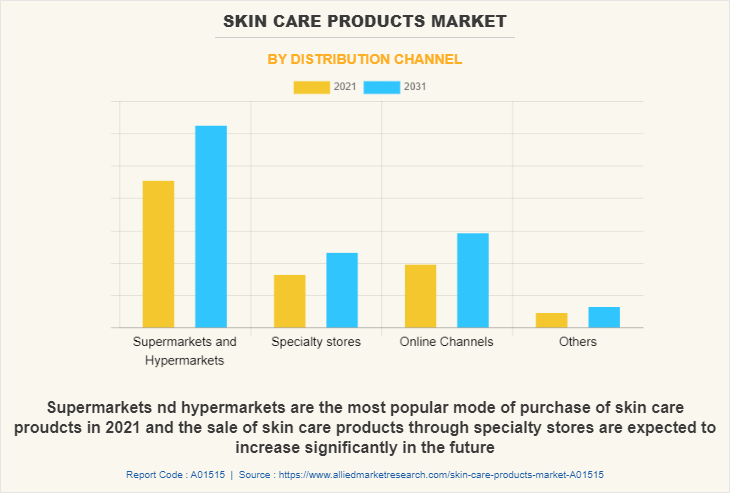 By Distribution Channel
The self-service shops known as supermarkets and hypermarkets offer a vast selection of products. Consumers are more able to associate a brand with a shopper when they can find skin care from a variety of brands and categories in one location. Due to their extensive inventory, exclusive deals, and wide range of products, the supermarkets and hypermarkets are significant sales channels in the international market. Retail facilities known as specialty stores offer a wide range of goods that belong to the same category. These specialty shops are well-versed in the different varieties and types of skin care products, which are frequently sold at exorbitant prices. Also, they offer premium, value-added items, which are often pricey. Virtual retailers that operate online sell products and services to customers. Online skin care product shopping is growing in popularity as a result of the internet's global use. Due to the convenience of online shopping, the availability of 24-hour customer support, and the wide variety of product possibilities, online retailers are growing in popularity among consumers. Skin care products are sold in brand stores, general stores, travel retail stores, and other establishments. These channels of skin care product sales are not as effective as offering a broader choice of products because of space and product limitations but they do help the market for skin care products grow, providing a positive outlook for the skin care products market forecast.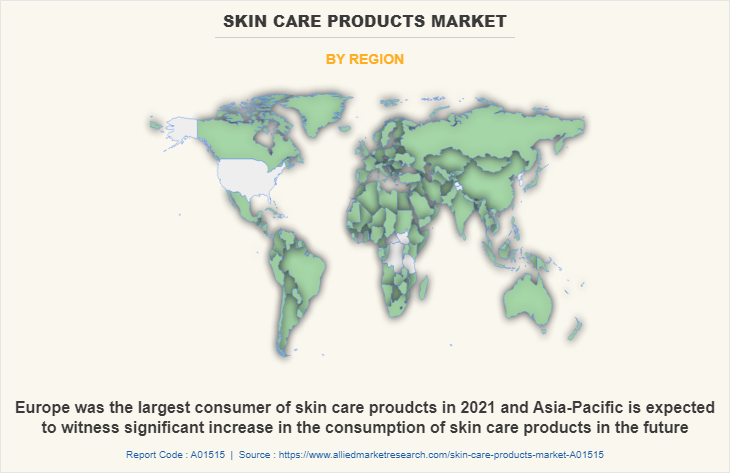 By Region
North America is the second-largest region for skin care product use. It is a significant market for skin care goods because there are many high-end skin care and personal care companies there, and ordinary skin care products are widely available. With many prestigious luxury skin care companies in the region, Europe is the biggest consumer of skin care products in the world as well as one of the leading producers and users of both premium and affordable skin care products. Among the biggest producers and exporters of skin care goods are the UK, France, and Italy. In the Asia-Pacific area, skin care products are extensively used, and luxury skin care brand adoption is on the rise. By making skin care goods more accessible to customers in the area, local skin care businesses help to advance the market. Among the major users of skin care goods in LAMEA are Brazil, Saudi Arabia, and the United Arab Emirates. Customers have a wide range of options because of the region's abundance of local and foreign skin care product manufacturers. 
Competition Analysis
Some of the major players analyzed in this report are Estee Lauder Companies Inc., Johnson & Johnson, Kao Corporation, LOREAL S. A., LVMH, Procter & Gamble, Revlon, Inc., Shiseido Company, Limited, Unilever, and Weleda AG. The companies in the market adopted strategies such as mergers, product launches, partnerships, expansions, acquisitions, and others for maintaining a strong position in the market.
Examples of Mergers include:
Kao Corporation announced to merge two beauty counseling companies namely, Sofina Beauty Counseling Co., Ltd. and Kanebo Beauty Counseling Co., Ltd., to establish Kao Beauty Brands Counseling Co., Ltd., and strengthen brand communications and expand its customer base.
Examples of Product Launches include:
The Procter & Gamble Company, through its brand Gillette, launched its first dermaplaning skincare collection. This new collection includes a cleansing primer, dermaplaning razor and hydrating serum.
Shiseido Company, Limited through its brand Sidekick, launched two new moisturizers namely, hybrid tone-on moisturizer and hybrid essence-in-gel.
Examples of Partnerships include:
Kao Corporation partnered with Mitsui & Co., Ltd., in order to expand the skin care business in Brazil.
Examples of Expansions include:
Shiseido Company, Limited established Osaka Ibaraki factory and West Japan distribution center in Ibaraki City, Osaka as a supply chain base for the production and distribution of prestige skincare products.
Key Benefits For Stakeholders
This report provides a quantitative analysis of the market segments, current trends, estimations, and dynamics of the skin care products market analysis from 2021 to 2031 to identify the prevailing skin care products market opportunities.
The market research is offered along with information related to key drivers, restraints, and opportunities.
Porter's five forces analysis highlights the potency of buyers and suppliers to enable stakeholders make profit-oriented business decisions and strengthen their supplier-buyer network.
In-depth analysis of the skin care products market segmentation assists to determine the prevailing market opportunities.
Major countries in each region are mapped according to their revenue contribution to the global market.
Market player positioning facilitates benchmarking and provides a clear understanding of the present position of the market players.
The report includes the analysis of the regional as well as global skin care products market trends, key players, market segments, application areas, and market growth strategies.
 Skin Care Products Market Report Highlights
Aspects
Details
Market Size By 2031
USD 241.5 billion
Growth Rate
CAGR of 3.6%
Forecast period
2021 - 2031
Report Pages
300
By Type

Face Cream

Sub Type

Skin Brightening Cream
Anti Aging Cream
Sun Protection Cream

Body Lotion
Face Wash
Others

By End User
By Price Point
By Distribution Channel

Online Channels
Others
Supermarkets and Hypermarkets
Specialty stores

By Region

North America (U.S., Canada, Mexico)
Europe (UK, Germany, France, Italy, Spain, Netherlands, Rest of Europe)
Asia-Pacific (China, Japan, India, South Korea, Australia, Rest of Asia-Pacific)
LAMEA (Brazil, Argentina, Saudi Arabia, United Arab Emirates, South Africa, Rest of LAMEA)

Key Market Players
Weleda AG, Unilever PLC, Revlon, Inc., The Estee Lauder Companies Inc., Kao Corporation, The Procter & Gamble Company, LOREAL S. A., Johnson & Johnson, LVMH, Shiseido Company, Limited
Analyst Review
According to the CXOs of several leading companies, Skin care products make up some of the most widely used and common cosmetics and personal care items in the world. Most people across the world use skin care products on a regular basis to either renew or eradicate skin damage caused by the sun, pollution, dust, and a variety of other factors. The large range of products and companies available in the skin care products market provides consumers with multiple options, which aids in market expansion. 
Economical skin care products have grown to be the most popular type of skin care products, particularly among middle- and lower-income consumers, due to their ease of availability and inexpensive prices. Furthermore, since these products tend to be most extensively used, the majority of the key manufacturers of skin care products appeal to the economic category. Nonetheless, as the global standard of living improves, there is a growing consumer appetite for premium products. Several brands are attempting to develop premium variations of their economic goods with the goal to strengthen consumer connections and make the shift from economic to premium products with ease with the support of familiar names, while also keeping the brands' economic versions. 
Organic and nature-derived skin care items will become more popular in the future as consumer preferences for ecological, green, and vegan products grow. Most players are also shifting towards synthetic ingredient-free skin care products to protect consumers' skin. The rising popularity of serums, scrubs, packs, toners, and other types of skin care products in emerging countries will lead to the expansion of the skin care products market. Additionally, greater innovations produced by skin care product manufacturers to provide superior outcomes to their consumers will promote market growth.